NEW RELEASE – The Bushranger's Wife by Cheryl Adnams
Published:
January 6, 2021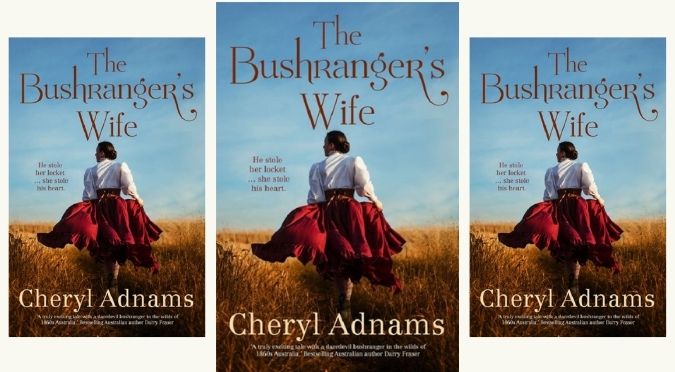 "A rollicking historical tale about following your heart, finding home in unexpected places – and bushrangers."
PAPERBACK RELEASE!
Read a few words from the author, read an excerpt – and then read Cheryl's answers to The 5 Big Questions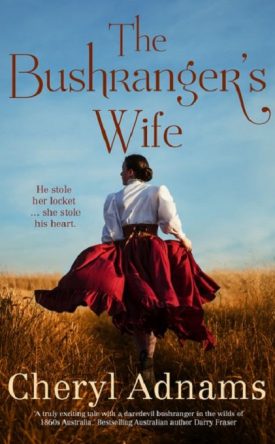 He stole her locket … she stole his heart.
Central Highlands of Victoria, 1861
Jack the Devil's reputation precedes him. The most notorious bushranger on the Central Highlands, nothing throws him off his game … until he holds up Prudence Stanforth and her grandmother. With her sweeping red hair and complete lack of fear, Jack can't help but be captivated by the feisty Pru.
Weeks later, Pru crosses paths with the respectable businessman, Jack Fairweather, and it's not long before she recognises him as the bushranger who stole her beloved necklace. His price for the locket's return is her silence … and a kiss. A kiss that sparks something inside them both.
When Pru discovers her grandmother has been keeping a devastating secret, running away with Jack the Devil is the perfect escape for her broken heart. The dangerous nature of his less than salubrious occupation is a poetic contradiction to her sheltered upbringing and only fuels their passion. Until that danger becomes a reality. Between the return of dark elements from Jack's past and authorities intent on his capture, Jack and Pru must fight for their future together … or risk losing everything.
A few words from Cheryl Adnams
While The Bushranger's Wife has been out in the world digitally since August 2019, I am so excited that the book will now be released in print and will be available in bookstores from January 6, 2021. If you prefer paper to screen reading then here's your chance!
It's the support of my readers that have allowed this to happen so thank you so much for continuing to buy my books.
Cheryl xxx
BUY The Bushranger's Wife
"A rollicking historical tale about following your heart, finding home in unexpected places – and bushrangers."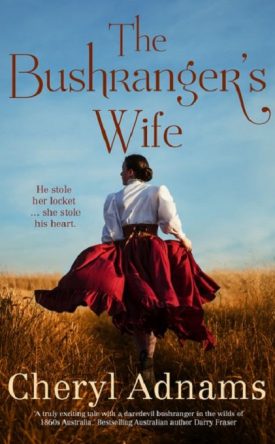 Excerpt from The Bushranger's Wife by Cheryl Adnams
Pru spent a fitful night and was up earlier than usual. She'd tossed and turned in her bed, having worked herself up to a state she knew would only be sated by Jack's kisses and hands. Hands that he still refused to lay on her, damn him. It was romantic, and she admired him for his patience and his strength, but didn't he know how much she wanted him to make love to her?
Having dressed and made breakfast, she went to the little spare room to see if Jack was awake. He must have returned very late from town, as she hadn't heard him come home. The door was slightly ajar and she pushed it a little to see if he was there. No Jack. The bed was made, just as she had left it the day before.
She followed her instincts out to the barn, where Persephone and Misha stood chomping on their morning feed. They lifted their heads to look at her momentarily before digging back into their chaff. He must have come back at some point in the night, or early that morning, and had taken the time to feed the horses. But why had he gone out again?
'He's run away again, has he?' she asked Misha, giving her a good scratch.
A few hours later Pru heard a horse and wagon coming up the driveway, and opening the front door she stepped out onto the wide wooden porch to see Jack pulling a small dray to a halt at the bottom of the steps. When he grinned at her before jumping down off the wagon, she smiled and placed a hand over her belly. It never failed to amaze her how the sight of him caused butterflies to wake in her stomach.
'Where have you been?' she asked. 'And where did you get the dray?'
'I'm sorry I was gone so long,' Jack responded. 'I needed to go a little further afield for this particular delivery, and required something larger to carry it in.'
'Another present? For me?' she asked, clapping her hands in delight.
Taking a step forward to help him unload the dray of whatever he'd bought, she stopped dead when instead he unloaded a man, bound and gagged.
Jack walked his prisoner towards the house and her eyes widened as she saw the man's distinctive clothing.
'What's this?'
'It's a priest.'
'I can see that,' she said. 'Why is he bound and gagged and standing on our doorstep?'
'He wouldn't come of his own accord.'
'So … you kidnapped him? You kidnapped a priest?'
'He said we had to come to church on Sunday,' Jack said, as though it ought to make sense to her. 'But I needed him to marry us today. He refused. So I talked him into it.'
Pru struggled against the smile that threatened. 'How romantic?'
Jack removed the gag from the old priest's mouth. The man coughed and spluttered. 'He dragged me out of my bed before dawn. Made me get dressed. Dragged me all the way here from Daylesford.'
'Daylesford?' Pru shot another angry look at Jack.
'Well, I couldn't use a priest from Ballarat. They all know me.'
'Really?' Pru raised an eyebrow. 'Priests know you?'
Jack rolled his eyes. 'Fine, so I've never set foot inside a church in my life. But I couldn't risk anyone recognising me from town. This was the only way.'
'Untie his hands too,' Pru ordered.
'But …' Jack started, rubbing his chin as he hesitated. 'He already hit me once.'
'I'd say you deserved at least one, wouldn't you?'
'What happened to "how romantic"?' Jack huffed.
She stepped down the wooden steps and kissed him. Then she slapped him across the back of the head.
'Ow!'
'I was being sarcastic, you madman.' Pru shook her head and turned to the priest.
'Father, I apologise for my wayward, romantic, husband to be. You are free to go.'
'Now hold on,' Jack complained. 'I brought him here to marry us and that's exactly what he's going to do.'
'I'll not be married by a man of God who is being held against his will.'
'I do not know why you agreed to marry this reprobate, child,' the priest said, rubbing his rope-burned wrists.
'She proposed to me,' Jack grumbled.
Pru ignored him. 'Can I at least offer you a cup of tea before you go, Father?'
The priest looked from Jack to Prudence with some remaining suspicion before he yielded. 'The name is Father Flaherty. Your friend here did not even bother to ask.'
'You were too busy taking swings at me,' Jack threw in.
'You were dragging me out of my bed!'
'Jack, enough!' Pru ordered.
'A cup of tea, you say?' the priest said, ignoring Jack and stepping up onto the porch. 'Don't mind if I do.'
Both of them turned their backs on Jack and walked into the house.
Cheryl Adnams
Author of contemporary rural romance and historical Australian fiction
Read more about Cheryl and her books and discover where to follow her on social media
The 5 Big Questions
Cheryl, how long did it take you to write the book?
It took about a year to write which is about average for me. I began writing it at the same time I was working on The Girl from Eureka. Jack the Devil is a side character in my first Australian historical romance and he started yelling for his own story before I'd even finished writing The Girl from Eureka.
What was the most difficult or complex aspect of writing your book?
The Bushranger's Wife was a little easier than The Girl from Eureka because I'd already done the research in to the era and the area. It was also easier because I didn't base it around real events this time. The most complex aspect was putting it aside to finish The Girl from Eureka.
What gave you the most pleasure when writing your book? 
The Bushranger's Wife is a more character driven story and it was fun seeing where Jack and Pru would go next in their emotional journey. It's not your usual romance where the characters find each other and love at the end. Pru and Jack find each other early but just because they marry quickly, doesn't mean their relationship is a smooth one and they have to try and navigate their rather unconventional lives together.
Are you nervous when a new release comes out? 
I'm always a little nervous. But I've learned after seven books that you can never predict how well a book is going to be accepted by readers. There will be readers who love it and readers who don't. That's just life in general. If everyone liked all the same things, books or otherwise, it would be a boring world.
What's the best thing a reader could do if they enjoyed your book?
If you enjoy the book, please leave a review on the platform you bought it from or even just a star rating. It makes a huge difference to authors. And maybe buy another of my books! Thanks as always to those of you who have supported me and my work over the years.
xxx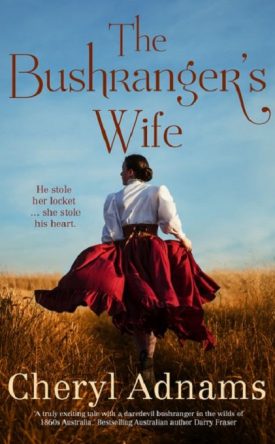 Released in 2019 in eBook only, this is a brand new paperback release available from all your favourite online platforms or in-store!
Subscribe below by email to receive our occasional blog posts – and never miss a new book release
Stay up-to-date on the latest Australian fiction releases and news