NEW RELEASE – The Buchanan Girls by Emily Madden
Published:
September 1, 2021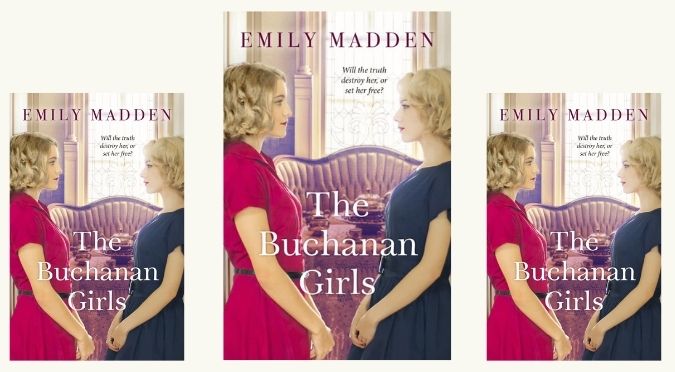 Will the truth destroy her or set her free?
A sweeping family saga about betrayal, forgiveness and the cost of love.
Out Now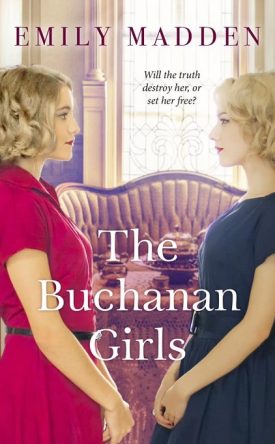 Sydney, 1941: Olive and Ivy may be identical twins, but they couldn't be more different. While Olive is focused on marrying a man appropriate to her station, Ivy wants to do more, to be more. Joining the Australian Women's Service Army is the perfect chance for her to escape her family obligations and make a real difference in the world. She doesn't expect serving her country to lead to romance … or devastating betrayal and unthinkable grief.
As the war progresses, both Olive and Ivy find themselves wanting the same thing: for their loves to return safely. But neither of the Buchanan girls is ready for what the future has in store for them.
Sydney, 2008: Escaping her husband's betrayal and an impossible personal loss, Madeline returns home to Sydney to nurse her broken heart. As she settles into her new routine, it's too easy to consider never returning to New York and her old life. But her husband won't give up on what they have so easily, and Madeline can't ignore his messages reminding her of why they fell in love in the first place. With her grandmother's support, Madeline has to decide if forgiveness means reconciliation. But is the biggest betrayal yet to come?
Read an excerpt and then read Emily's answers to The 3 Big Questions – but first, a few words from the author
The Buchanan Girls by far has been my hardest book to write, it's also taken me the longest to write of all my books, close to three years. I rewrote large chunks of the book over lockdown last year, and now as I endure yet another lockdown, the book is released!  I hope for those of you still stuck in lockdown limbo, The Buchanan Girls is a welcome distraction, and for those who have read Heart of the Cross, keep your eyes peeled for a cameo from a former favourite of mine!
Emily
Buy The Buchanan Girls
A sweeping family saga about betrayal, forgiveness and the cost of love.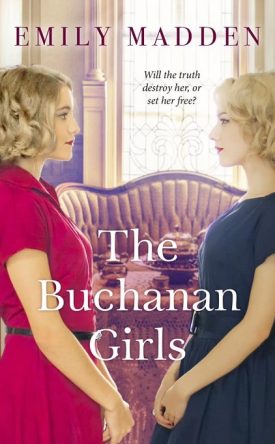 Excerpt from The Buchanan Girls by Emily Madden
Prologue
Sydney, July 1924
When Andrew Buchanan returned home from the Great War with a bride in tow, his parents were not pleased to say the least. His father stated that at twenty-one he should be amassing a fortune not shackling himself to a woman; his mother was simply unimpressed that his wife, in her esteemed opinion, lacked proper breeding.
His mother wept, begging her son to send the girl back home to London, and of course he steadfastly refused. Andrew was in love with Louisa Crawly and he didn't care for his parents' bigoted views. He'd never been one infatuated with the fairer sex until one cold February morning when amongst the grey and dreary buildings he spied a waif-thin girl, barely older than sixteen, walking towards him wearing an emerald green dress. The rich jewel colour juxtaposed with the grey surroundings made her look almost unreal, like an apparition amongst the dreary buildings. As she drew close, he could tell she was no girl, she was a woman.
Her bonneted head was tipped down, her gaze trained on the wicker basket in her hands, but not a second later, as if sensing someone was watching, she looked up and Andrew swore he felt his heart skip a beat. She was beautiful, with a delicate face, porcelain skin and a smile that seemed out of place against such gloominess.
The moment he had clapped eyes on his darling Louisa on that deserted street in London, he knew without a doubt that she was to be his wife.
Their courtship had been a whirlwind and they were married within a month of that fateful meeting. It was his idea to wed in haste; Andrew knew he would be called back to battle, and, merely days after they became man and wife, he was. Prior to their meeting, he had become disillusioned with the war. Andrew had freely joined to serve King and country, but after years of losing what seemed like an endless stream of his men, he had started to question it all. Now, he had a reason to return home, a purpose—his Louisa.
But now, some five years later, a part of him perhaps wished he'd listened to his parents. For if he had, he wouldn't be standing at the foot of a hospital bed, his beloved dead before him. Just hours after giving birth to their children.
Twin daughters. A surprise to them both, a happy one—or so Louisa had convinced him to believe. Their physician, Dr Howard, claimed that it was not unheard of for women to pass away from the strain of childbirth, even more common when it was, as he termed it, a multiple. As the doctor spoke, Andrew could not help but shift his gaze to the second child. If it had been just the one child, Louisa may have survived; he had to shake off his resentment.
His daughters were identical, but he could already see the difference between the two. The first one, precious Olive, slept so soundly, so contentedly. Yet the second child, who'd caused the pain, who would undoubtedly be the cause of inevitable havoc, was wide awake as if eager to explore the world she'd only just entered.
If it were not for you …
Just then the baby seemed to look straight at Andrew and shame overcame him.
His dear, sweet Louisa, who was overjoyed that after four years of marriage they were finally to become parents. She had relished her time of confinement, her face lighting up with delight at each flutter and kick. She would take his hand, guide it to her ripe belly, and even he had to marvel at the wonder of the life she was carrying.
But there hadn't been only one life, there were two. And now, one of those lives had taken that of his precious wife.
The shame intensified.
What would his Louisa think of his despicable thoughts? Perhaps the real question Andrew Buchanan should've asked that frosty winter dawn was whether he would ever forgive Ivy Elizabeth Buchanan for killing her mother.
Emily Madden
Australian Author
Get swept away by love…
Read more about Emily and her books and discover where to follow her on social media
Emily answers The 3 Big Questions
What gave you the most pleasure when writing the book?
Most definitely the weaving of the past and present and drip feeding the story so layers of the story and little bits of the puzzle were revealed slowly. I write chronologically, and I love being able to follow the journey and write the story the way the reader would experience it, it's so much fun.
Were there any difficult aspects you faced when writing the book?
When you write a story that had a thread centred in the second world war, there are always going to be difficult aspects. For me writing about the hardships of war, and the brave men and women who gave up so much to defend our country was rewarding, but the reality was that these sacrifices often meant they paid with their lives. The asylum in the historical storyline was also a hard element to write about, but I'm hoping that the link I've added to the contemporary balances the melancholy (in some ways)
When you wave your story goodbye and it's on its way to the printers and out of your hands – how do you feel?
Relieved, anxious, elated, terrified!  Relieved that it's done, anxious that I've not done enough justice to the story, elated that the character's journey is now complete and terrified that soon, it will be shared with the world! It is ironic – we write a story to share it with others, and then we are amazed when others want to read it.
Buy The Buchanan Girls
A sweeping family saga about betrayal, forgiveness and the cost of love.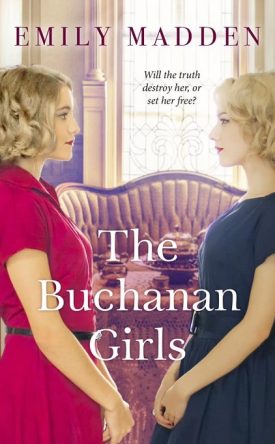 We hope you're enjoying our Book News 
Subscribe below by email to receive our occasional Book News blog post – and never miss a new book release!
We'd also love you to follow us on Facebook & Instagram
Stay up-to-date on the latest Australian fiction releases and news