NEW RELEASE Summer at Kangaroo Ridge by Nicole Hurley-Moore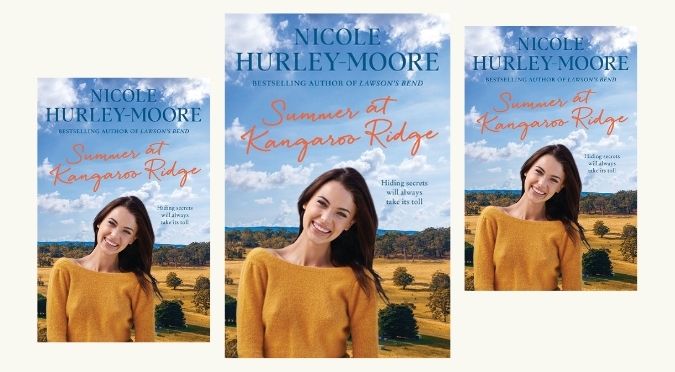 'A stunning new rural romance from the bestselling author of The McCalister Legacy
and Lawson's Bend.'
OUT NOW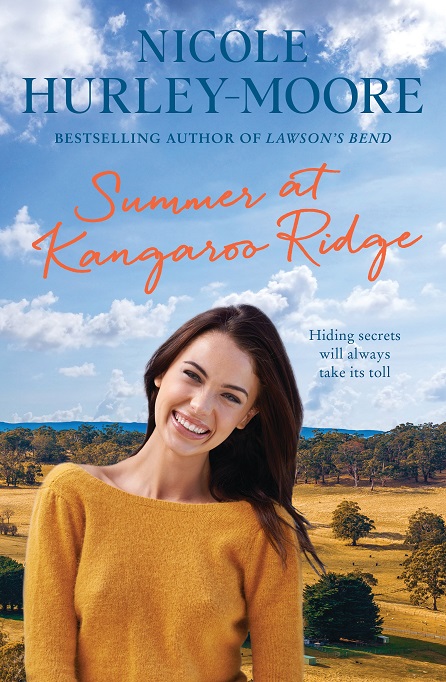 The Carrington family own the only pub in the small country town of Kangaroo Ridge. It's been eight years since the five siblings became orphans and since twins Sebastian and Tamara stepped up to look after their younger brothers and sister with the help of their aunt Maddie.
Seb and Tam gave up their teenage years to make sure the family stayed together, but that's been hard and they've grown apart. Seb is silent and stoic; Tam, on the other hand, wants to kick over the traces and catch up on the life she missed out on.
To complicate matters, Tam is in a secret relationship – one she is sure Seb will disapprove of. But can Tam ever allow herself a happy future while she still, deep down, blames herself for the accident that killed her parents?
Read an excerpt, read a few words from Nicole who also answers The 3 Big Questions
A few words from the author
Just over a year ago my family and I moved to twenty acres in what my Grandad would have referred to as 'the sticks'. Most of my life has been spent in a rural town in Regional Victoria which has been the inspiration for several of my stories. But we wanted a change and I wanted somewhere quiet to write, so we moved about fifteen minutes away into the bush.
It's quiet here with lots of birds, frogs and the occasional mob of kangaroos hopping through the top end of the paddock. From my desk, I see a family of fairy wrens, magpies, kookaburras and listen to the tinkling sound of a dozen wind chimes as the breezes blows through the gums and whips around the house. It's an easy place to get lost in thought.
It's also the place that inspired me to write Summer at Kangaroo Ridge. The story is about the relationships and love that bind families together. No family is perfect and we all have our secrets, just like the Carringtons of Kangaroo Ridge. Tamara has given up a lot to ensure that she and her four siblings can stay together after a tragedy takes away their parents. She's stepped up and sacrificed what should have been the most carefree years of her life for her family. Tam doesn't resent it but there's something inside her that wants to kick over the traces and make up for everything she's missed out on. This has always led to conflict with her twin brother, Seb who is her polar opposite. After years of struggle, Tam has fallen love, has a growing business and should be happy. But guilt from a past mistake threatens her happiness and future.
I hope that you enjoy Summer at Kangaroo Ridge and maybe even fall in love with the Carringtons as much as I have.
Nicole
Buy Summer at Kangaroo Ridge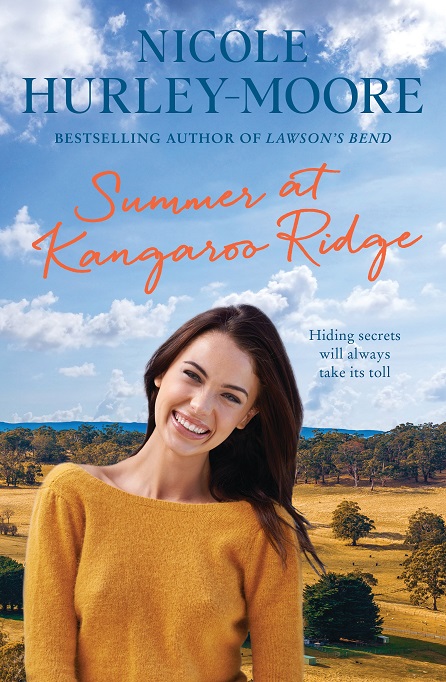 Excerpt from Summer at Kangaroo Ridge
by Nicole Hurley-Moore
Eight Years Ago
'Sorry Gemma, I don't think I can make it,' Tam said as she stepped outside so her parents wouldn't hear the phone call. It was a couple of days before Christmas and her best friend, Gemma Allen, was trying to persuade her to go to a party the next day—Christmas Eve.
'What do you mean you can't come? Look, your dad will be working and your mum is super busy, so she won't even miss you.'
'Yeah right,' Tam responded.  She looked back at the house with all its Christmas decorations, and through the window she could see the beautiful tree that her parents had set up.
'No, seriously, she won't. Besides, it starts in the afternoon and we could be back before it gets dark. No one would ever know.'
'Have you even met my parents?' Tam wrinkled her nose and shook her head. 'If they found out that we were going to the Hendersons' place, they'd chuck a fit.'
'Oh come on, everyone is going,' Gemma cajoled.
'Who's everyone?'
'Most of our class, even some of the Year Twelves – —you know, everyone.'
'I still don't think I can go,' Tam replied. She wandered through the front garden, with its little shrubs and ornamental bushes, scattered haphazardly among the garden beds, where all of Mum's flowers grew.
'I need you,' Gemma pleaded. 'Will Griffith will be there – this could be the chance I've been waiting for.'
Tam sighed. 'Gem, you've had all year.'
'You can't just blurt these things out. What if he says no?'
'But why this party? It's not as if you won't run into him over summer – —you'll even be working together.'
'I can't ask him at work,' Gemma said.
'I just don't understand why you're making such a big thing about this party. Blake Henderson's okay but his older brother is scary.' Tam she sat down on the bench outside her house, under the old peppercorn tree. 'I really don't think we should go.'
'You don't even know that Taylor will be there.'
'It's his house, Gem – —where else would he be?'
'Tam, I'm begging you. Please come with me. I promise we won't stay late and be back before our parents miss us.'
'I don't -'
Gemma didn't let her finish. 'Please Tam?'
Tam felt like she was being torn in two. She knew that her parents wouldn't want her to go out to the Henderson's place but Gem was her best friend and she never asked for anything before. And, she had to admit it, part of her was excited about the idea of going. The Henderson parties had a raucous reputation.
'What time does it start?'
'About one, apparently there's a barbeque,' Gemma answered with a hopeful tone.
'How are we supposed to get there and back? It's miles from nowhere.'
'I've talked my brother into driving us,' Gemma said.
'He agreed?' Tam's voice was tinged with astonishment. Jace never went out of his way to help his sister.
'Let's just say he agreed almost straight away.'
'You blackmailed him, didn't you?'
'Well, I kind of pointed out how angry Dad would be if he knew that he'd been out the back paddock with a couple of his mates, smoking something other than cigarettes.'
'Really?'
'Yep, I caught him last week.' Then she added, 'Don't get judgey. It's survival of the fittest at my place and he'd do the same if the situation had been reversed.'
'I'm not judging,' Tam said quickly. Gem's parents had always played Gem and her brother off against each other. Everything was a competition about who could do better at school, at sport and at life in general. The pressure on them to succeed and outdo each other was phenomenal. Tam always thought it was a pretty messed-up way to treat your kids. It meant Gemma always saw Jace as her main rival rather than someone she could count on, and it was obvious that Jace felt the same. Tam knew her friend couldn't wait until she finished school so she could move out.
'So will you come?' Gemma asked again. 'Please.'
Tam let out a sigh. 'As long as we're back before it gets dark.'
'I promise,' Gemma replied with a laugh. 'Thanks, Tam, I really owe you one.'
'No, you don't.' she assured her. 'Just don't let Taylor anywhere near me.'
'Don't worry, there'll be so many people there I doubt he'll notice you,' Gem said before adding, 'But even if he does, I've got your back. It'll be fun.'
'Okay,' Tam said, but she didn't feel convinced.
Nicole Hurley-Moore
Bestselling Historical, Fantasy and Contemporary Romance Author
I'm a hopeless romantic who is enchanted by romance no matter the time period or realm
Read more about Nicole Hurley-Moore and her books
Nicole Hurley-Moore answers The 3 Big Questions
1.What gave you the most pleasure when writing Summer at Kangaroo Ridge?
One of the things that I really enjoyed when writing Summer at Kangaroo Ridge was being able to explore and tease out the different personalities of the five Carrington siblings. They are all very close to each other but they are also quite different and so are their dynamics when they interact with each other.
What were the difficulties you faced when writing the story?
Some of our lovely readers may know just how much I love a dual timeline. I guess it's my way of giving not only a little more information but also a bit of added depth. It also can show why a character may act a certain way in the present as a direct response to what happened to them in the past. However writing a dual timeline can be tricky as you can get carried away and end up swamping the contemporary story. So it's always a bit of a fine line and I have to remember to pull myself back.
When you waved Summer at Kangaroo Ridge goodbye, on its way to readers and out of your hands, what did you do first?
I took a week off to clear my head of the story and the characters. I do this between every book because otherwise, I find myself still thinking about the story I've just written rather than the one I'm meant to begin. So, I take the week to walk, read, cook, binge watch K.dramas and anything else on Netflix, Youtube and listen to my favourite music. And after that, I start plotting the next story.
Buy Summer at Kangaroo Ridge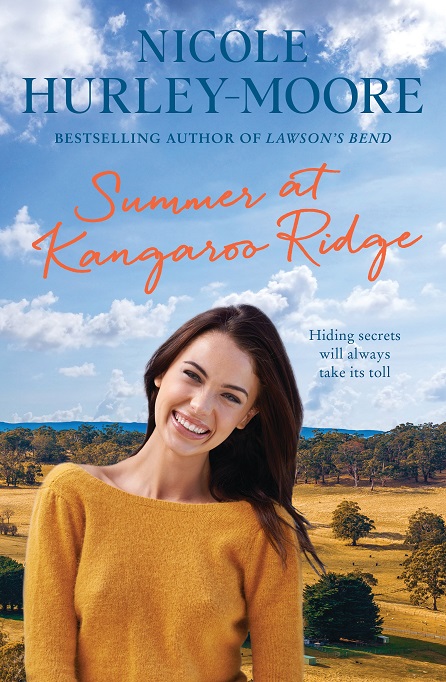 We hope you're enjoying our Book News 
We'd love you to follow us on Facebook & Instagram
Don't forget to check our COMING SOON page for 2022 releases up for pre-order now
You can also subscribe below by email to receive our occasional Book News blog post – and never miss a new book release!
Stay up-to-date on the latest Australian fiction releases and news