NEW RELEASE – Starting from Scratch by Penelope Janu
Published:
January 6, 2021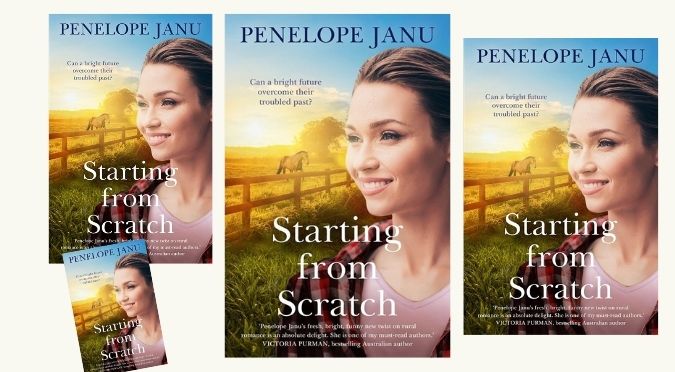 "For readers of Karly Lane and Tricia Stringer…misunderstandings and injured pride stand in the way of true love in this charming rural romance from an award-winning and much-loved author."
OUT NOW
Read a few words from the author, read an excerpt – and then read Penelope's answers to The 5 Big Questions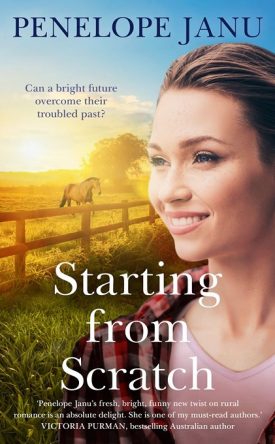 Can a bright future overcome their troubled past?
After a troubled childhood and the loss of her beloved grandmother, Sapphie Brown finally finds somewhere to call home – the close-knit rural community of Horseshoe Hill.
The locals love Sapphie because she never gives up – as chair of the environment committee, with the children in her classes, the troubled teens at the youth centre, the ex-racehorses she cares for and even the neglected farmhouse and gardens she wants make her own. Sapphie gives second chances to everything and everyone. Except Matts Laarkin.
An impossibly attractive environmental engineer who travels the world, Matts was Sapphie's closest childhood friend. He came to deliver a warning – now he doesn't want to leave.
All Sapphie wants to do is forget their painful past, but thrown together they discover an attraction that challenges what they thought they knew about each other. Do they have a chance to recapture what they lost so long ago? Or will long-buried secrets tear them apart?
A few words from Penelope Janu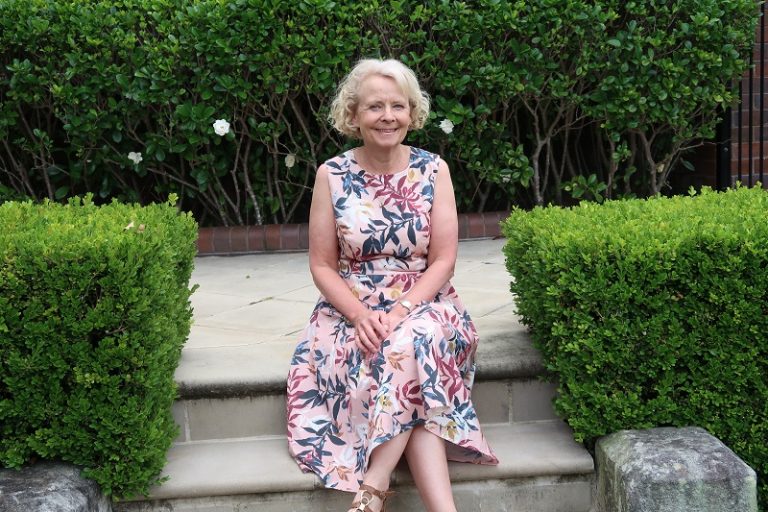 It doesn't surprise me that such an important element of Starting From Scratch came to me while I was sitting in my local library, but it was a surprise that, looking up from my laptop, I drew inspiration from a 'coffee table' book on paper flowers. And I'm still not sure why that was. It was a beautiful book, illustrated with full-page photographs, but still….
Constructing flowers from Italian crepe paper—crowns and coronets, bouquets, intricate floral arrangements and works of art to hang in gallery spaces? Why on earth was I interested in that?
I was in the final editing stages of Up on Horseshoe Hill when I saw the book in the library. It had nothing to do with what I was working on, but I had a suspicion that I needed to look at it more closely for my next book (which became Starting From Scratch). And that niggling sensation niggled so persistently that, in a final edit of Up on Horseshoe Hill, I wrote a snippet in a scene where Sapphie, one of the secondary characters, made flowers from crepe paper. Little did I know what I'd set myself up for!
There are different ways to make crepe paper flowers, but the method I chose for my character Sapphie is probably the most difficult—using templates where each part of the flower, petal, anther, filament, sepal and so on, is cut to size and shaped, and the flower is constructed literally petal by petal. The beauty of using crepe is that it can be shaped by hand—it stretches. And although myriad colours are available, crepe can also be stained or coloured using tea or coffee or other natural dyes. These methods of construction, shaping and colouring, bring with them a notion of perfect imperfection—as in real life, while two flowers on the same stem will look similar, they will always be different (and depending on natural elements like temperature and moisture, they will mature and age differently). The notion of perfect imperfection became important in terms of the characters in this novel as well as the flowers.
Flowers were also were also an important motif in terms of colour. Sapphie lives on the outskirts of Horseshoe Hill, a small country town in the central west of NSW, and the way she sees colour, her perception of shade, is something I loved exploring. 'You've always been a nut about flowers,' one of my sons said to me recently, as I deconstructed a rose on my dining room table. Admittedly, I am one of those people who talks to their flowers on the way to the letterbox. 'Oh! You need to be cut back.' Or, 'You're looking so lovely today!'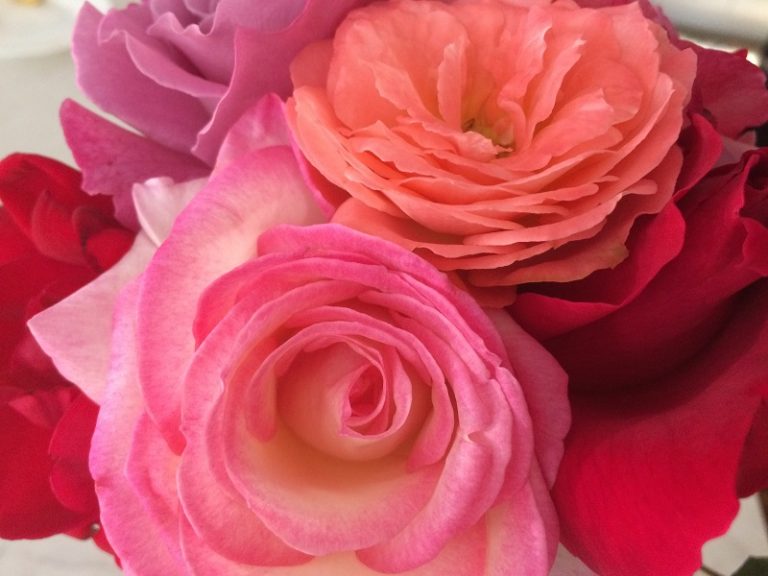 I've never been a particularly crafty person, though I did make a Christmas wreath out of a wisteria vine once. And I have a framed, though faded, cross-stitch (numbers one to ten), made when my children were little. I did think about making flowers myself while writing Starting From Scratch, but eventually decided against it. Much as I enjoyed reading about floral art, I worked out this intricate, painstaking and very creative endeavour was better left to the character I'd created. Her notion of colour and shade, and the way she drew inspiration from her love for the natural environment, was hers alone.
Penelope
BUY Starting from Scratch
"For readers of Karly Lane and Tricia Stringer…misunderstandings and injured pride stand in the way of true love in this charming rural romance from an award-winning and much-loved author."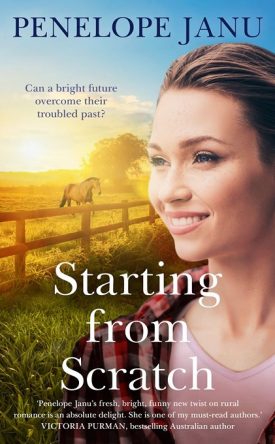 Excerpt from Starting from Scratch by Penelope Janu
Chapter 21
I glance at the broomsticks, lying side by side on the workbench in the flower room. They're roughly the same size, but one is made from a branch of an ironbark tree and the other from a red gum branch, so the colours and grains are distinct. Gus suggested I use willow for the brush, and gave me so many twisted sticks I could've made broomsticks for two Quidditch teams. I've adjusted the lengths of the branches for Atticus and Alex, but in other ways the broomsticks look much the same as those in the movies.
I run my hands over the timbers, sanded satin smooth and lightly varnished. 'I hope they like Harry Potter.'
Sitting on the bench next to the broomsticks is the crown I've made for April to wear at her wedding. Next week, we'll work out the best way to attach it to her head without messing up her hair. I glance at my watch as I pull out my ribbon, combing through my hair with my fingers until it falls smoothly down my back. My overnight bag is sitting at the door. I'm dressed in a clean white shirt, new jeans and my best brown boots, and the broomsticks are ready. Hugo is always late. I should have time to work out where the pins should go before he arrives.
I walk to the mirror that hangs against the wall near the bookcase and peer into the glass as I turn my head this way and that, attempting to see the crown at all angles. The twelve crepe roses are fixed from ear to ear on a narrow wire base, hidden by ribbon that'll match the bridal gown.
The roses are cream. Eggshell, ivory, vanilla, seashell, magnolia.
The varieties are old-fashioned. Hybrid Tea, Bourbon, Floribunda, English.
Each type of rose has a different formation of petal and shape. Some are dense with scores of petals, others simpler with only ten or twelve. Scattered amongst the roses are different-sized leaves—emerald, moss and forest green. I walk carefully back to the workbench, pushing aside crepe as I search for the bowl of pins.
'There you are.'
I secure the first few pins. But then I'm distracted by the buttonhole arrangements I've made for Gus and the father of the bride. Last week, I collected gum nuts from the park and used a hot glue gun to attach them to the stems. The crepe for the flowers was white, but I stained it with peppermint tea. I examine the tiny flowers closely. The stem and pod are wrapped in floristry tape. The flowers started out as long strips of crepe, cut myriad times to make a fringe. I wrapped them around the pods to create the delicate feathery blooms.
'Gran would be proud of me.' I smile. 'And they smell nice.'
When I lay the flowers gently back on the bench, April's crown shifts on my head. I reach for more pins, carefully finding places to hide them. April's version of a bridal waltz is an energetic folk dance and her hair is curly and short. Will the crown survive the turns? I find the old radio under a coil of wire I used for the broomsticks, pull up the antenna and switch it on.
Can't Take My Eyes Off You.
I sing with Frankie Valli as I twirl around the bench. I spin near the window on the toes of my boots. I glide towards the bookcase, one arm to the side and the other at shoulder height, as if I have a partner. The room spins around me, a blur of colour and—
'Oh!' I'm moving so fast that it takes a few moments to stop. Ma Hargreaves and Matts are standing at the door. Ma smiles and clasps her hands to her breast; Matts leans against the doorframe, one foot in front of the other.
Frankie continues to sing.
'Don't stop on our account,' Ma calls out.
My face is warm. I'm puffing quietly. My feet are frozen to the floorboards in the centre of the room. The song comes to an end. Beeps sound over the radio. The announcer's voice: 'It is precisely four o'clock.'
'I … ' I focus on Ma. I lift my hair and twist it. 'I didn't want the crown to fall off in the dance.' My words come out in a rush.
'It's for April, isn't it?' Ma says. 'What a wonderful gift.'
I glance at Matts. He's not laughing. Or angry. Or smiling. When our eyes finally meet, he peels off the wall and nods politely as if nothing has happened. He looks around.
'You make these flowers?'
It's only as I follow his gaze that I realise how many flowers are in the room. A garland of crimson chrysanthemums hangs above the door. Bottlebrush and grevillea in vibrant shades of saffron and ruby spill out of a basket near the window. Giant gerbera flowers I made for last year's high school formal are propped up in a corner and reflected in the mirror. The Remembrance Day poppies I'll give to Gus's friends in November are lined up on the shelves of the bookcase.
'I—y … Yes.'
'Sapphie's grandmother taught her how to do it,' Ma tells Matts. 'It's a family tradition.'
I walk quickly to the bench and switch off the radio. 'That's right.' I take one pin out of my hair, and then another. 'Matts? What are you doing here?'
Penelope Janu
Australian Prize and Award Winning Author
Adventure and romance … fresh, fun fiction
Read more about Penelope and her books and discover where to follow her on social media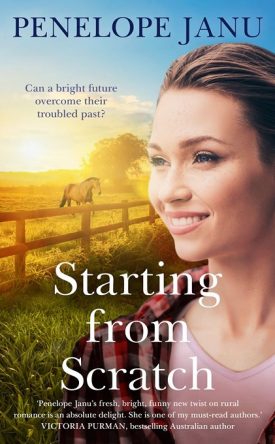 Out now in eBook and paperback!
The 5 Big Questions
1. Penelope, how long did it take you to write the book?
A year of writing, and quite a few months of editing!
2. What was the most difficult or complex aspect of writing your book?
Sapphie and Matts were always clear to me, but they were best friends as children, and had to find a new kind of love for each other in adulthood. It took quite a while to draw the threads of their story together.
3. What gave you the most pleasure when writing your book?
I enjoyed finding out more about the wetlands, and how crucial they are to our natural environment, and horses are always an important element in my novels (rescue racehorses feature in Starting From Scratch). As a romance writer, I always enjoy writing the end of the novel when all the strands of a complex relationship tie up. I need to see that these characters know and care about each other enough that their love will survive life's many ups and downs.
4. Are you nervous when a new release comes out?
Yes! But as this is my fifth novel, not as nervous as I used to be. I have a better understanding that much as some readers will (hopefully!) love this novel, others might not. And that is okay. As this been a difficult year, I am determined to celebrate the release!
5. What's the best thing a reader could do if they enjoyed your book?
Word of mouth is a wonderful way for readers to find books, so please recommend it to a friend. Or rating the book on an on-line platform like Amazon or Goodreads is another way for others to find my books, and hopefully enjoy them too.
Subscribe below by email to receive our occasional blog posts – and never miss a new book release
Stay up-to-date on the latest Australian fiction releases and news