NEW RELEASE – Spring Clean for the Peach Queen by Sasha Wasley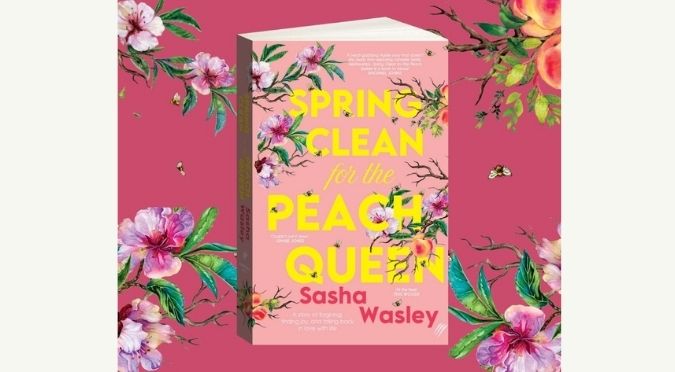 A deeply moving story about forgiving, forgetting and falling in love with life again.
OUT NOW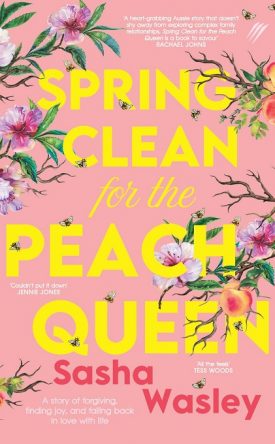 Twelve years had passed since the last Harvest Ball. I was just eighteen when my hometown crowned me their Peach Queen with a blossom coronet. And I was eighteen when I left.
One tanked career, one badly timed glamour shoot and one dead boyfriend later, thirty-year-old Lottie Bentz is finally going home.
Back in the orchard town of Bonnievale, Lottie embarks on a radical declutter of her life, Marie Kondo-style. She casts out everything that got her into trouble: her phone, socials, make-up and a tendency to tell little white lies – to herself and others. But home has its own issues, not least Lottie's staunchly feminist mother, who is furious with her.
When Lottie lands herself a place to stay in exchange for helping kindly Mrs Brooker try out the Kondo method, it seems like the perfect farm escape. That's until Angus, Lottie's former Peach King and heir to the Brooker orchards, makes it clear she's not welcome – especially when Lottie's declutter begins to stir up long buried memories and half-truths.
As Lottie finds her way back to herself, can she use her talents to coax Bonnievale and the Brookers out of the past? After all, everyone deserves to feel love, hope and the occasional spark of joy.
A few words from the author
I'm so excited to see my book out today! It's been a while since my last release and this is a little bit of a departure for me, as my last Australian titles were rural stories. Spring Clean for the Peach Queen is more in the genre of contemporary fiction or 'life lit' – although it is still set in a small town. A huge thanks to AusFictionAuthors for sharing my release and here's hoping everyone enjoys my new book!
Sasha
Sasha also answers The 5 Big Questions about writing the book,
plus – we have an excerpt for you!
BUY Spring Clean for the Peach Queen
A heart-grabbing Aussie story that doesn't shy away from exploring complex family relationships. Spring Clean for the Peach Queen is a book to savour. RACHAEL JOHNS

Excerpt from Spring Clean for the Peach Queen
by Sasha Wasley
For some it was the scent of peaches, but for me it was the inky tang of newspaper that conjured my childhood in Bonnievale. Other kids grew up among the stone-fruit orchards that made the town famous, playing in clouds of peach blossoms, taking time off school when extra hands were needed and learning to drive in rusty farm utes. Growing up, my parents' newsagency was my second home. I spent my afternoons counting stock and selling scratchies and I never, ever ran short of school stationery.
I hadn't been back to Bonnievale in almost a year. At the shire boundary, I passed the first stone-fruit tree planted in the region. It was clothed in green now, pink petals all flown away in the spring, and the visitors' centre had put up a new sign telling the story of 'The Olde Peach Tree' – dubbed thus long ago by the townsfolk. The community were valiantly trying to rebuild the region's reputation, declaring Bonnievale three years clear of peach spot at every opportunity. Bonnievale was a town in rehab – a ballet dancer sunk from former grace and beauty to something thin and weak, trying to relearn how to walk.
I tried Mum and Dad's house first, but there were no cars in the driveway, so I sought them out at the Rabbit's Foot Lucky Lotto and News.
The shop door was shut – the flies were always bad in late November – and a red Come In, We're Open sign sat at eye level. I slipped through into the air conditioning, immediately scanning the magazine rack. It looked like I was in the clear.
It had only been a couple of weeks since I was on the front of more magazines than I'd once dared hope. But my parents would hardly display those covers, no matter what the locals wanted to read. As long as I was on magazines alongside full-page shots of Jai Carradine, the townsfolk would have to go to the co-op for their fix of celebrity news. The headlines had been variations on The Party That Took Jai's Life and Oh, Jai! Oh, Why? I was just the inset – a small, grainy photo taken from the back as I sat on a limestone wall with my dress straps hanging down, Jai's blond head just visible over my shoulder. Many had speculated that we were having a tender moment – or maybe even that hot, already-made-it Jai Carradine was on bended knee, proposing to up-and- comer Charlize Beste.
Others saw it for what it was: Jai licking my nipple. We were both intoxicated – me on shots and Champagne, Jai on the prescription–illicit combination that made him fall down and die three hours later. I had a faint memory of Jai stumbling as he brought me a glass of Champagne; me giggling as he landed face-first against my chest, spilling the drink. My friend Jordan screamed with laughter as Jai pulled down my dress to kiss the Champagne off my breast. A crazy, raunchy moment between a brand-new couple.
The media was unsure at first: were we star-crossed lovers on the brink of forevermore? Or was I the bad-girl hedonist who felled poor Jai Carradine in one nipple-sucking instant?
My first ever topless photoshoot hit the stands two days later, and then it was clear to everyone what kind of girl I was. The cops asked me to stay in the city to give evidence at the inquest into Jai's death. I hid in my apartment for those few weeks, and as soon as I had permission I packed up my gear, handed back my keys and went home to Bonnievale.
My name was not Charlize. It was Charlotte. It was not Beste, either. It was Bentz. Lottie Bentz, Bonnievale's reigning Peach Queen, making an inglorious return. Tainted, just like all the other peaches in this town were for so many years.
I turned from the magazine stand and met my father's eyes where he stood at the counter.
'Hi, Dad.'
'Lott. You all right?'
'Yeah, I'm fine.'
He nodded slowly. 'You home for the weekend?'
'I thought I might stay for a few weeks, if that's okay?' Dad didn't answer straight away. I held my breath.
'Of course,' he said. 'Thanks.'
Dad studied me, his weathered face slightly puzzled, as it always was when he looked at his eldest daughter. 'How was the drive?'
'Not bad. Where's Mum?'
He gestured towards the doorway that led to the back room. My stomach twisted up another notch. Who cares? Who honestly cares? I drowned out my dread with that clear, confident inner voice that always got me through auditions and press interviews.
My mother appeared, stopping short when she caught sight of me. The shop door slid open and an old man came in, heading to the lotto counter. Taking advantage of the distraction, my mother swivelled and returned to the back room.
I gave Dad a tight smile and made my way out onto the street. Clearly, a conversation with my mother would have to wait.
Sasha Wasley
Australian stories of passion, family and society with characters who live and breathe

Read more about Sasha and her books and discover where to find her on social media
Sasha answers The 5 Big Questions
How long did it take you to write the book? 
About a year for this one. I moved houses twice while I wrote it!
What was the most difficult or complex aspect of writing your book?
Definitely the decisions about where Lottie would end up. My former books were romances so I never had any doubt who that there would be a romantic happy ending, but this one steps away from traditional romance so I had to make a big decision about whether Lottie would end up with her man or not. I also had to work out whether she would find her way back to her acting career or change direction completely.
What gave you the most pleasure when writing your book?
The growing feelings between Lottie and Angus, and also the Christmas Day argument – writing that scene was so much fun!
Are you nervous when a new release comes out?
YES.
What's the best thing a reader could do if they enjoyed your book?
Tell a friend or review it Amazon/Goodreads 😀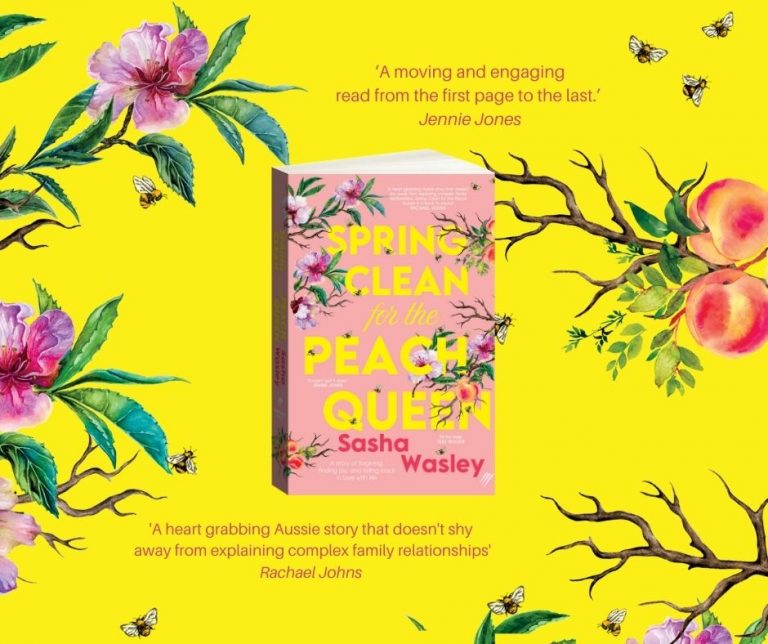 A moving and engaging read from the first page to the last. Couldn't put it down. JENNIE JONES

I loved this deeply moving, relevant novel from a wonderful Australian storyteller about family, the ties that bind, chasing dreams, and what home really means. All the feels. TESS WOODS

This joyous novel truly is a spring clean for the soul. JOANNA NELL
We hope you're enjoying our Book News 📚
Subscribe below by email to receive our occasional Book News blog post – 
and never miss a new book release!
We'd also love you to stay connected with us on Facebook & Instagram 
Stay up-to-date on the latest Australian fiction releases and news