New Release – Something to Talk About by Rachael Johns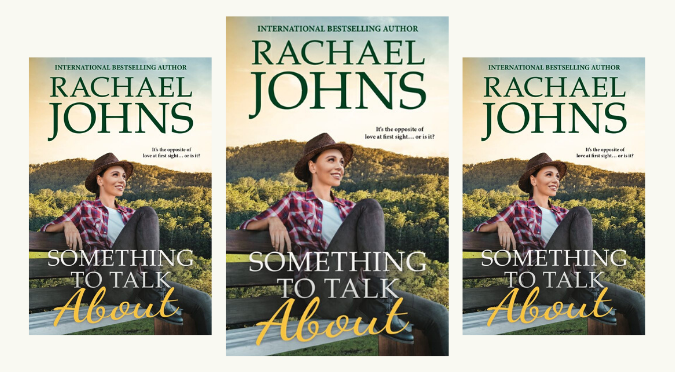 It's the opposite of love at first sight…or is it?
Something to Talk About
by Rachael Johns
OUT NOW
A moving story of overcoming obstacles and learning to love, from ABIA award-winning author Rachael Johns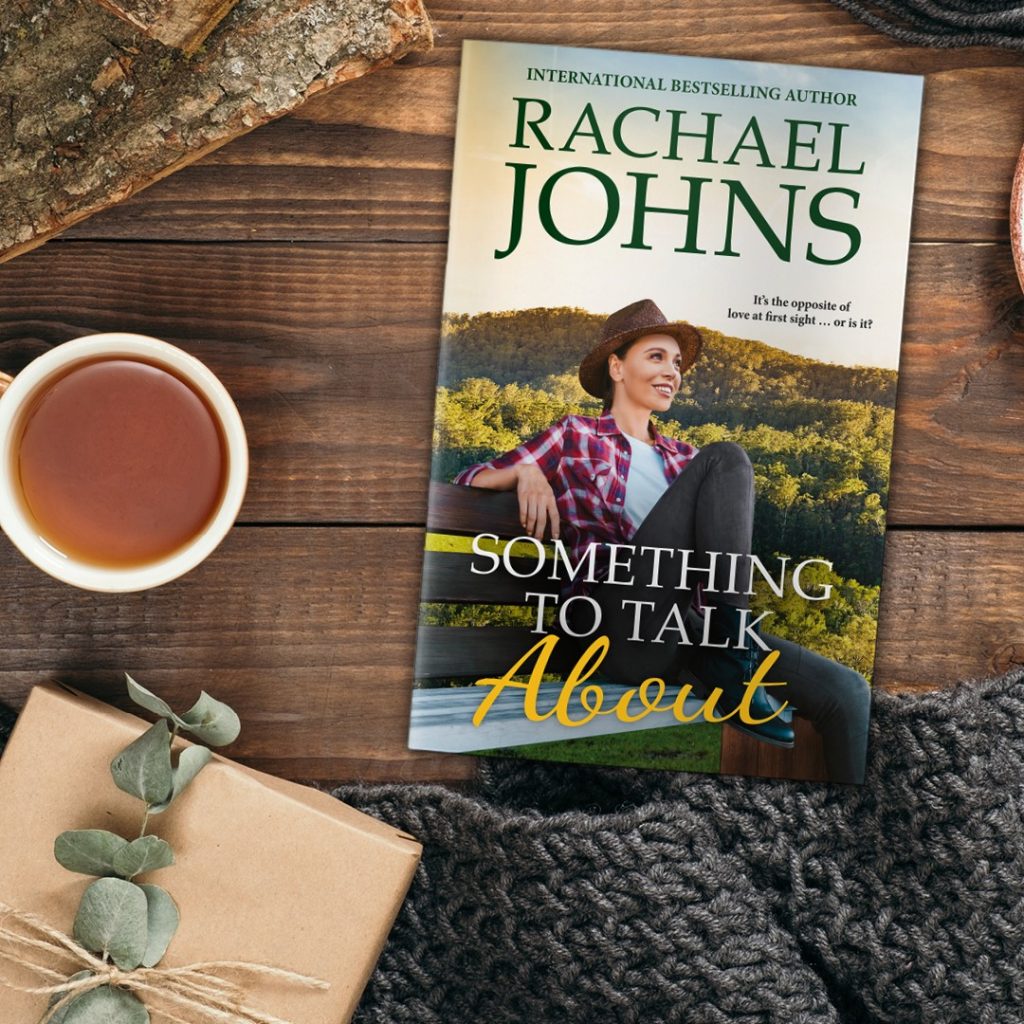 Read a few words from the author, read an excerpt – then read Rachael's answers to The 5 Big Questions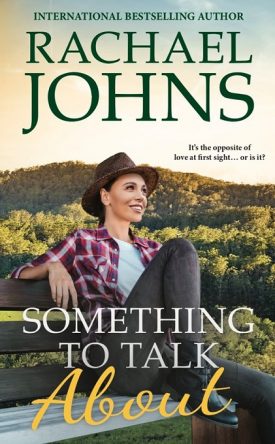 Dairy farmer Tabitha Cooper-Jones has a heart of gold, yet she's the eternal bridesmaid. Everyone's best mate. Despite facing some serious challenges over the years, she's built a successful ice-cream business and cafe, she's adored by her family and is an integral part of her hometown – there's just one thing missing from her life. But the last thing Tab wants is a man – or worse, love – to stop her achieving her dream.
In town for a temporary teaching contract, Fergus McWilliams thinks the small community of Walsh will be the perfect place to stay under the radar but he couldn't be more wrong. Suddenly, the kids' cricket team coached by Ferg is inundated with female supporters – single female supporters – and that's only the beginning.
The only woman who doesn't seem to have her sights set on Ferg is Tabitha. Despite a disastrous first meeting and a visit from a past love, circumstances keep throwing them together. Neither can deny the sparks between them, but can friendship even be possible for these two strong-willed people?
A few words from the author
I'm so excited to be sharing SOMETHING TO TALK ABOUT with you all. It feels like a long-time between rural romances (three years to be precise) and I've been wanting to write Tabitha's story for a while, but other books just kept getting in the way! Below is part of the scene where Tabitha and Fergus (the hero of the story) meet for the first time and it was very fun to write!
Happy reading.
x Rach!
Buy Something to Talk About
A moving story of overcoming obstacles and learning to love, from ABIA award-winning author Rachael Johns.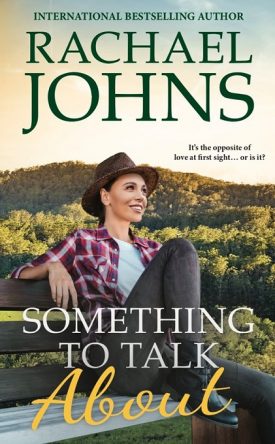 Buy from the publisher HarperCollins
Or head to your favourite online eRetailer
(See our POSTSCRIPT below for other places to safely and easily buy the paperback online.
The digital version is available from all your preferred eRetailers.)
Excerpt from Something to Talk About by Rachael Johns
Then, forgetting about the plate she was holding, Tab shot out her hand to offer it to him and ended up somehow throwing scones and hedgehog slice at him instead. Dammit, why hadn't she taken the time to cover them with cling-wrap?
'Oh my God, I'm so sorry.' Almost dropping the plate in her efforts to put it down, she stepped forward and tried to wipe the cream off his impressive six-pack.
Fergus quickly stepped back, wiped his chest with the heel of his hand and then wiped his hand against his faded jeans, which sat very snugly on his hips.
Realising she was once again staring quite inappropriately, Tab dragged her eyes back up to his face, only to find him staring at her in an equally disconcerting way. For one ridiculous split second she imagined he too was checking her out and then realised it was her arm, or rather lack thereof, that had stolen his attention. Most of the time she forgot she only had one functioning arm—after almost a decade without it, she simply didn't notice the loss anymore—but whenever she met someone new, she was reminded. People always stared when they first saw her 'little arm' and generally it didn't bother her. Mostly they didn't mean offence, they were simply shocked, and gawked before their brain kicked in to remind them that staring was rude.
Usually she'd break the ice by telling them the story of how she lost it—let's face it, that's what everyone wanted to know—but today the words died on her tongue.
'Well, now you'll have to take my word that these goodies were indeed delicious,' she said as she dropped to her haunches to collect the scattered cakes.
He stooped down beside her to help. As he snatched up the plate and took control, Tab quickly realised it wasn't so much that he was being gentlemanly but that he didn't think her capable of doing it with only one arm.
'Would you like me to take this back to your car?' he asked.
'No thanks. I can manage.' She graciously thanked him as she took the plate again and held it close to her body.
For the first time in a long while she was acutely aware of her little arm hanging awkwardly beside her. A voice in her head told her to walk away, but she hadn't always been good at following instructions.
'So why are you painting the wall?' she asked in an attempt to defeat the awkwardness. 'Isn't that a job for maintenance?'
'I thought it needed it.'
'Right. Fair enough.' So he wasn't a chatty one. Personally she'd have chosen a brighter colour than the dull grey that matched his personality.
'Anyway, I better get back to it. Thanks for … ah, the gesture.'
At this, she decided maybe he was shy rather than rude or maybe he was simply better at interacting with children than he was with adults. Her judging him on this would be almost as bad as him making assumptions about her because of her little arm. And, if he was shy and awkward, how on earth would he handle the onslaught of single women that was about to unleash themselves on him?
'You're welcome. I wanted to welcome you to town, and … I should also probably give you a warning.'
'Oh?' One of his dark eyebrows crept skywards.
'I've just come from the town hall—we have a fortnightly knitting session where we make things for charities, local fundraisers and stuff like that … Anyway, you should know that you're the first male teacher this town, hell, this region has seen in at least thirty years and that makes you very interesting.'
'I'm flattered.'
'Have you lived in the country before?' she found herself asking.
'Nope.'
'Well, there's kind of this thing about new teachers. Especially if they're good ones. The town wants to keep them, so they try to marry them off to single farmers—only usually the teachers are women and the local guys are happy to go with the flow and see what happens. Not so some of the single women around here—they're voracious so you're fair game. Just thought I'd warn you what was coming.'
Fergus pushed his sunglasses atop his thick black curls. 'Are you single?'
Tab blinked. OMG, those eyes—the whites were so bright compared to the warm caramel of his pupils. 'Well … Yes.' Something fizzed inside her—was this cute guy about to make a move? How ironic would that be?
'So what makes you any different to these women you're telling me about?'  He glanced around as if the fact single girls didn't jump out from behind the bushes called her out as a liar.
She opened and closed her mouth—speechless for the first time in as long as she could remember. Speechless and feeling stupid. As if someone like him would look twice at someone like her.
'How do I know your attempt to bring me food isn't a ploy to get to my …' He paused and she flushed more. 'Heart?'
'What?' she blurted, stunned at his cockiness. The man didn't deserve her courtesy.
He merely cocked his head to one side.
'I can assure you,' Tab said, resisting the urge to throw the plate of now dirt-covered food at him again, 'that is not the case. I'm quite happily single. So happy that even if you were good-looking, charming, rich and the last man on earth, I wouldn't be interested. I was simply trying to be nice!'
'That's good then,' he said with a smirk. 'Because I too am happily single and have no interest whatsoever in dating you or anyone else in this town. Now, if you don't mind, I'd like to get back to my painting.'
Mind? Tab couldn't stand to be in his insufferable presence a moment longer and couldn't get out of the car park, out of the town, fast enough!
Rachael Johns
Award Winning International Bestselling Author
Romance and Women's Fiction
The 5 Big Questions
How long did it take you to write the book?
I think about three months for the first draft (most books take about three-to-four months for me) and then another couple of months editing.
What was the most difficult or complex aspect of writing your book?
That Fergus and Tabitha wouldn't play nice with ME. First, I wanted them to have a fake relationship, but it just wouldn't work because that's not the kind of person Tabitha is. But without the fake relationship trope, then so many other things that I'd planned on happening wouldn't work. It took a lot of time and a few long walks to work out how to get around this and once I did, the book flowed to the end.
What gave you the most pleasure when writing your book?
I loved the scenes when Tabitha was interacting with the wider community for the committee meetings and knitting group she goes to, but the best fun was when Tab and Fergus kept getting off on the wrong foot and so are annoyed and frustrated with each other, while at the same time being wildly attracted to each other. It made for some fun banter!
Are you nervous when a new release comes out?
Always. I don't believe writers are the best judge of their own work and I'm never sure if what I've written is any good, so I'm always nervous that I'm going to let my readers down. I just hope they'll give me another chance!
What's the best thing a reader could do if they enjoyed your book?
Ooh, can I be greedy and say two things? 1) Leave a book review somewhere (like Goodreads or on the site of the shop you purchased the book from) and/or post about it on your social media. 2) Let me know by sending me an email or tagging me on my social media. Those messages always seem to arrive at the right moment, when I'm most doubting my ability to finish another book.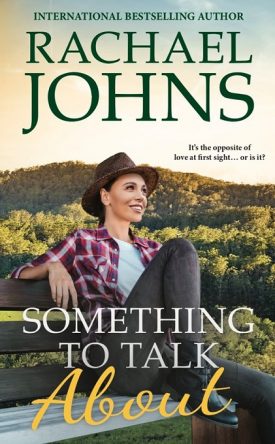 Read more about Rachael and her books and discover where to find her on social media
Subscribe by email to receive our occasional blog posts – and never miss a new book release!
POSTSCRIPT
Standing together while keeping our distance
reading throughout the COVID-19 crisis
Many of our wonderful bookshops and online bookstores are changing the way they work simply to keep us reading.
We thank them all for the tremendous support to Australian authors and we will support them right back.
Don't forget! Purchasing a book on pre-order also means you are helping to keep the wheels of small and independent businesses turning.
BOOKTOPIA
have *currently waived all postage costs in Australia – go buy! Then find them on Facebook and give them a Like.
DYMOCKS
stores have online ordering and *individual stores throughout Australia are offering various means of buying and delivering books. Check with your local store. Find your local Dymocks store and then give them a Like on Facebook to keep up to date.
Find a Dymocks Store
https://www.dymocks.com.au/stores
BOOK DEPOSITORY
*Free postage even if the books are coming from overseas – but don't be disappointed if your favourite author's books are not available. It's one of those things – not every author's book is available on Book Depository.
https://www.bookdepository.com/publishers/Australian
INDEPENDENT BOOKSHOPS
There are many in all states and territories. Some are offering *free postage for a certain length of time or free postage with orders over a certain amount. Check with your local independent bookshop. Contact them directly by phone or email or through their websites. Find them on Facebook and give them a Like to keep up to date.
BIGW
Order and *buy online including pre-orders
(*Standard delivery $3.90 – conditions apply)
TARGET
Order and *buy online
(*Free click & collect available, free home delivery on orders over a certain amount. Free delivery available for Club Catch members)
https://www.target.com.au/c/entertainment/books/adult-fiction/W406087
* Please note individual businesses may change their online purchasing conditions at any time. Always check with the individual business.
Stay up-to-date on the latest Australian fiction releases and news