NEW RELEASE! Snowy Mountains Daughter by Alissa Callen
Published:
February 3, 2021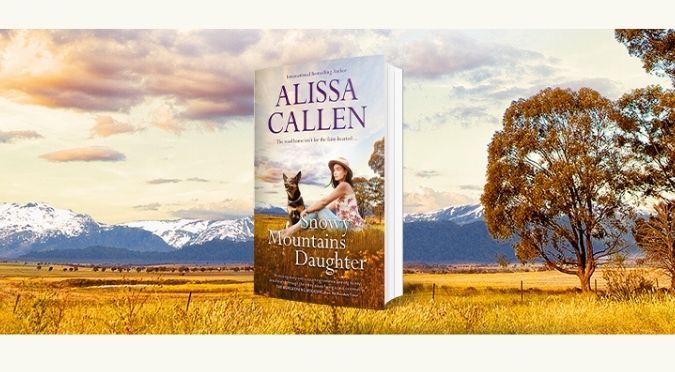 Welcome to Bundilla. A new close-knit community where romance can blossom.
OUT NOW
SNOWY MOUNTAINS DAUGHTER
A compelling story of homecoming and family secrets by bestselling Australian author Alissa Callen.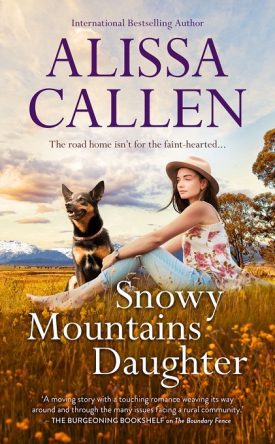 The road home isn't for the faint-hearted…
Peony flower farmer Clancy Parker was born and bred in the Australian high country. Small-town Bundilla is the only place she will ever truly belong, even if staying means remaining alone. The man she'd loved is long gone and single men are as rare as a summer snowfall.
As soon as he could, street artist Heath MacBride escaped his complicated family and traded mountain peaks for city concrete. Now a commission to paint a mural on Bundilla's water tower brings him home. It doesn't matter how long he's been away, the animosity of his cattleman father hasn't waned. As soon as the water tower is painted, he will be gone.
But between steadfast Clancy, who'd once been his muse, a free-spirited kelpie who becomes his shadow and a corrosive family secret, his best laid plans disintegrate. When life again backs him into a corner, will he have no choice but to leave or will he and Clancy have the second chance they'd each thought would forever remain out of reach?
Read an excerpt and read Alissa's answers to The 5 Big Questions
Welcome to Bundilla, my new small town on the western side of the beautiful Snowy Mountains.

Inspired by a long ago visit to a United Kingdom book town, and a more recent trip to a Victorian book town, I hope you enjoy spending time with my close-knit bush community and the locals who call it home.
Alissa
BUY Snowy Mountains Daughter
Welcome to Bundilla. A new close-knit community where romance can blossom.
A compelling story of homecoming and family secrets by bestselling Australian author Alissa Callen.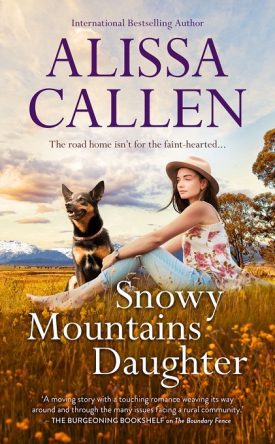 Excerpt from Snowy Mountains Daughter by Alissa Callen
Nothing rattled Heath MacBride. As a child he'd refused to look away when his father's glower found him. As a teenager he'd ridden skittish horses down steep mountain trails. As an adult he spent his days defying gravity, painting murals on multiple-storey buildings.
But as much as he tried to fight it, he was only human. He had an Achilles heel. Whenever he was around the girl, now woman, walking towards him, the ground seemed to shift beneath his feet. Clancy Parker never failed to slip beneath his skin and make him want things that were impossible.
He braced himself as he waited under the cover of the small porch roof. From long practice he knew he'd appear relaxed. His arms hung loosely by his sides and his smile would be an easy grin, even if his heart kicked like brumby hooves against his ribs.
At least Clancy was almost unrecognisable in her oversized jacket and wide-brimmed hat. He was already so far out of his depth, he didn't need to see the symmetry of her pretty features or her feminine curves. She'd always been his muse and the years away hadn't tempered the intensity of his response to her.
The kelpie beside Clancy fixed him with a steady stare. He didn't recognise the dog and the realisation added tension to the fatigue that gripped his temples. There was so much of her world he didn't know about.
Clancy stopped just underneath the roof. The rain pounding on the overhead awning was the only sound between them. The kelpie sat, water dripping from its coat. Clancy remained still and then she swept off her hat, giving him full view of her face.
His mouth dried and the drum of the rain faded. He'd subconsciously incorporated parts of the woman before him into almost every mural he'd painted. For years he hadn't realised what he'd done, then one day he'd stared into the eyes of an image he'd painted on a Polish apartment. It had been Clancy's large, expressive grey eyes staring back. As for the women he'd briefly dated when loneliness proved too much, he wasn't game to examine the suspicion that they too resembled her.
He gave what he hoped passed as a casual smile and bent towards her. Even with the distinctive smell of oilskin and rain-soaked earth around them, he caught the delicate scent of daphne. She still smelled of flowers. He kissed her cheek. Her skin felt cold beneath his lips and he wasn't sure but he thought she trembled. The shoulder-length hair falling loose over her shoulders was wet along with her boots. She had to be freezing.
He took the time while he straightened to erase all need from his face. There wasn't a day over the past ten years when he hadn't missed her. 'Good to see you, Clance. Sorry for the short notice and for dragging you out in this.'
'A little rain never hurt anyone. Long flight?'
He nodded. Against her winter-white skin, her mouth was a soft and sensual pink. He broke eye contact to look at the dog still gazing at him, its stare unwavering. 'New kelpie?'
'His name's Bundy. He's a special guest.'
Heath bent to pat the dog. His mother had mentioned a roaming kelpie who called the town home.
Bundy's tail wagged, flicking drops of water over them both.
A brief smile curved Clancy's lips. Its warmth reached a place inside him that hadn't felt alive since he'd thrown his duffle bag into the belly of a Sydney-bound bus at eighteen and jammed on headphones to silence his father's parting words. As the kelpie cocked his head to again examine him, Heath knew the dog sensed his battle to appear at ease.
He gave the kelpie's neck a last rub. Exhaustion pressed upon his shoulders like a physical weight. He'd barely slept for twenty-eight hours.
Clancy gestured towards the coach house. 'The fire's lit and there's food in the fridge. You're welcome to stay however long you need.'
'Thanks.' He passed a hand around the back of his stiff neck.
Even though no one, not even his mother, knew the exact details of his last conversation with his father, it wasn't a secret that they were estranged.
His attention lingered on the fine lines of strain around Clancy's mouth. The past three years without her parents had been tough. He slid his hands into his pockets to stop himself from reaching out to tuck the tousled hair brushing her cheek behind her ear. Any support he offered her now would be too little too late, no matter how much he'd wanted to be there for her. 'I saw Rowan a few weeks ago. He's well.'
'Rowan never said anything about seeing you.'
He weathered her scrutiny. Hiding his emotions when around her had become second nature. 'It was just a quick London catch-up.'
Rowan wouldn't have mentioned their meeting as Clancy had been the main topic of conversation. Her brother was worried about her being on her own and that her grief might be holding her back. Rowan had also talked about how the Bundilla tourism committee had been looking at projects to boost the small town's profile. It had been after their meeting that he'd made some calls and offered to paint the water tower.
She nodded before she slipped on her hat and pulled the brim low over her eyes. 'Let me know if there's anything you need.'
'Thanks. I will.'
The reality was he had no intention of being a burden, let alone creating opportunities to see her. Friendship was all that there could be between them and that had to be enough. He'd come home to help the local bush community, keep an eye on her for Rowan and find out what his mother was so reluctant to tell him, that was all.
Clancy gave him a nod and in three strides the rain and wind had closed around her and Bundy. He stared after them until all he could see was the sheets of rain falling from the heavy sky. Then he turned towards the coach house.
Alissa Callen
USA Today and International Bestselling Author
Rural and Small Town Fiction
Dusty roads. Secrets. Romance.
Read more about Alissa and her books and discover where to follow her on social media
The 5 Big Questions
How long did it take you to write the book?
Snowy Mountains Daughter ended up taking longer to write – between the drought and other life curve balls I needed some extra time to get to The End.
What was the most difficult or complex aspect of writing your book?
As this is the first book in my new series the world of small town of Bundilla hadn't yet been created. While it was fun to bring my little book town to life it also was a challenge to make sure it was both unique and fresh and also that the characters from Woodlea, my previous small town, didn't suddenly turn up for a visit.
What gave you the most pleasure when writing your book?
I just love words so finding the right ones to describe the beauty of the Snowy Mountains made me smile (or tear my hair out) 😊
Are you nervous when a new release comes out?
Always and especially for this book as the characters, as well as the town, are unfamiliar to readers.
What's the best thing a reader could do if they enjoyed your book?
To please leave a review and also to keep an eye out this time next year for my next Bundilla book. This story will be about Rowan, Clancy's cattleman brother who moonlights as a stonemason.
Thanks so much for having me xx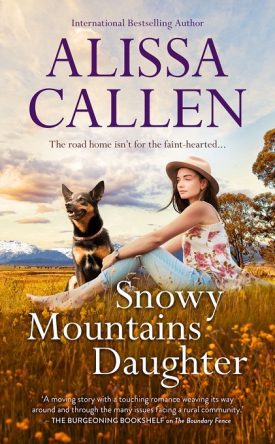 Subscribe below by email to receive our occasional blog posts – and never miss a new book release!
Stay up-to-date on the latest Australian fiction releases and news