NEW RELEASE Snowy Mountains Cattleman by Alissa Callen
Published:
February 2, 2022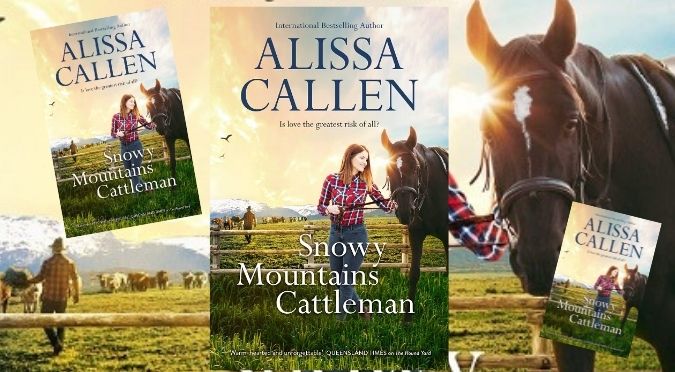 A woman's journey of self-discovery meets Bundilla's small-town charm and an intriguing post-WWII mystery in this captivating romance…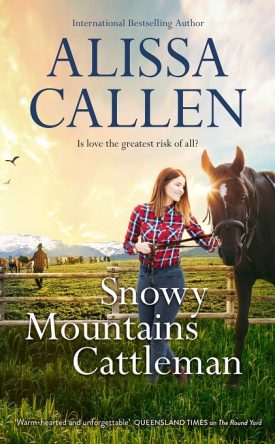 The greatest risk of all is love …
Interior stylist Grace Davenport has come to the mountains for solitude and a place to heal after her parents' death. Returning to their beloved town of Bundilla, she plans to restore a local bluestone mansion in honour of their memory. She'll just be there for the summer, until she figures out her next step.
Rowan Parker never used to think twice about taking risks until his love for a woman blinded him to all common sense. Now, between his cattle farm in the high country and his work as a stonemason, there's no room in his life for further mistakes. But when he meets the beautiful but reserved new owner of the historic mansion he's been hired to rebuild, he realises his best laid plans have run amuck.
Together, Grace and Rowan work to bring the mansion back to life. But when they uncover a hidden trove of post-WWII secrets about the house's former inhabitants, their quest to find answers draws them ever closer. And just when the stone rubble around them begins to resemble a home, a landslide threatens all that Rowan and Grace have rebuilt. With their futures as unstable as the mountainside, each must fight for what they really want, even if it means losing everything…
OUT NOW
We have an excerpt for you plus Alissa answers The 3 Big Questions about writing the book
Buy Snowy Mountains Cattleman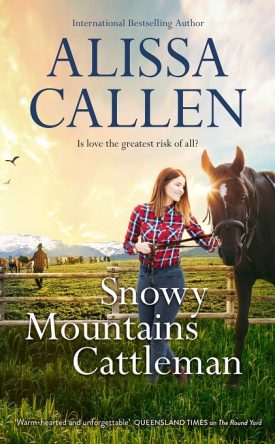 Excerpt from Snowy Mountains Cattleman
by Alissa Callen
She'd been wrong. Grace gave in to her uncertainty and shifted on her feet while she waited for the man before her to respond to the news that she was Crookwell Park's owner.
As a child she'd learned to read people so she'd never be caught off guard. Bullies had come in many forms. But instead of the arrogance and ego that she usually found went hand in hand with good looks, this man standing still and silent had been open and unaffected. His dismay at the derelict state of the homestead also appeared genuine.
She searched for something more to say. If she hadn't seen shock temper the good humour in his gaze, she'd have thought he hadn't yet answered simply because he hadn't heard her properly.
Bundy sidled against the man's legs and as he bent to pat the kelpie, he finally spoke. 'Your private property?'
A half thought formed and then fled. His delayed reaction to her being the owner wasn't significant. People often thought she was younger than she really was. While she might share her father's hair colour, she hadn't inherited his height.
'Yes.' She moved forwards and offered him her hand. 'Grace Davenport.'
He slowly straightened. She'd made a career out of sourcing and appreciating gorgeous things. Up close, this man with his high cheekbones and the cleft in his stubbled chin was the embodiment of masculine beauty. His eyes appeared a blue grey, but when he wasn't wearing a blue shirt she imagined they'd be a soft pewter hue. As his calloused palm slid against hers she reminded herself now wasn't the time to think about how the shade was her favourite.
Just as if he were a prospective client, she squeezed his hand with the right amount of pressure. Not too much to signal she would be difficult to work with but just enough to say she also wouldn't be a pushover. Over the years she'd experienced every possible response, from bone-crushing grips to others that resembled limp lettuce, but never had someone matched their strength to hers with such care.
Whoever this man was, he returned her exact pressure before simply letting her hand rest in his. She knew she should slip her fingers free, but the warmth of his touch anchored her. Just like when she'd first glimpsed the Snowy Mountains earlier that day, for a brief moment her grief lifted. Then an indefinable emotion darkened his eyes and she realised how close her hard-won composure was to unravelling.
She pulled her hand free and took a step back. This man with his quick smile and unexpected depths was someone she had to stay away from. Just like how the house beside her would be rebuilt stone by stone, she needed to put her life back together piece by piece. Until she did so she was in no position to deal with anything, or anyone, who surprised her.
Head high, she waited for him to introduce himself. Despite the relaxed way he stood, there was an intensity about him that triggered further warning bells. She knew all about having to conceal who you really were and she already had a sense that there was more to this man than what he allowed people to see.
A half thought again formed and this time it didn't slip away. There had to be more behind his protectiveness towards Crookwell Park other than him simply being a local. He'd come out of his way to make sure she wasn't causing trouble. She glanced at his large hands resting casually by his sides … calloused hands that had felt rough against her skin.
Her gaze flew to his. 'You're Rowan Parker, the stonemason.'
'Guilty as charged.'
The smile that accompanied his words didn't quite reach his eyes.
Conscious of Bundy looking back and forth between them, she fought to hide her apprehension. This couldn't be the man she'd be having almost daily contact with. Even this short amount of time with him had left her feeling rattled.
Alissa Callen
USA Today and International Bestselling Author
Rural and Small Town Fiction
Dusty roads. Secrets. Romance.
Read more about Alissa and her books
Alissa answers The 3 Big Questions
What gave you the most pleasure when writing Snowy Mountains Cattleman?
I just love the Snowy Mountains so even if it wasn't possible to visit at the time of writing this book I could at least look at photos and pretend I was there and not in lockdown.
What were the difficulties you faced when writing the story?
With this book it wasn't so much internal story difficulties but external life ones that ate up my writing time. The end result was that I had to write this story in half the time that I normally would have taken.
When you waved Snowy Mountains Cattleman goodbye, on its way to readers and totally out of your hands, what did you do first?
Sleep 😊
Buy Snowy Mountains Cattleman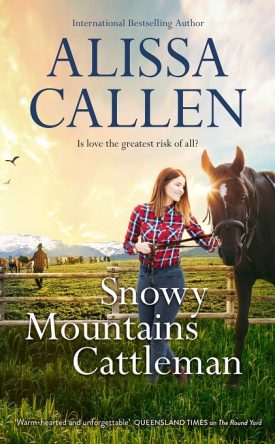 We hope you're enjoying our Book News 
We'd also love you to follow us on Facebook & Instagram
Don't forget to check our COMING SOON page for 2022 releases up for pre-order now
You can also subscribe below by email to receive our occasional Book News blog post – 
and never miss a new book release

!
Stay up-to-date on the latest Australian fiction releases and news