NEW RELEASE Shelter from the Storm by Penelope Janu
Published:
January 4, 2023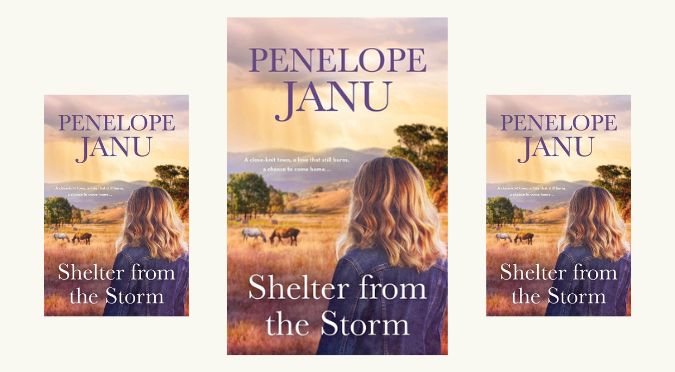 When Patience Cartwright is stranded in her home town, the last thing she expects is a second chance at love…
OUT NOW
Paperback, eBook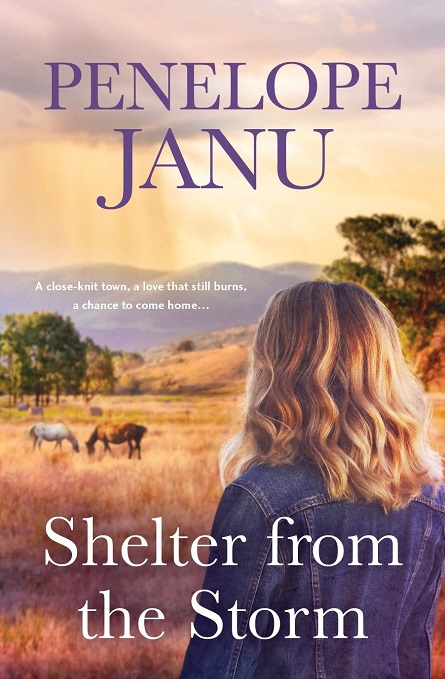 Fiercely independent naval officer, Patience Cartwright has never had a place to call home, but she knows where she doesn't belong. After an unhappy childhood and a badly broken heart, she'll never return to the country.
But to save her career, Patience is forced to accept a secondment – to an environmental team working near the town where she grew up. There she encounters once more the infuriatingly attractive biologist Hugo Halstead – the very man she's sworn never to forgive.
Given their history, Hugo, as self-assured and honest as Patience is secretive and self-contained, has vowed never to trust her again, but that doesn't stop him feeling just as helplessly drawn to her complicated mix of courage and fragility as he ever was.
As Patience recuperates from a life-threatening illness in the small country town of Horseshoe Hill, she realises the beauty of the landscape and close-knit community promise something very different to the future she's mapped out.
But could the secrets she keeps and the shadows of her past, send her adrift all over again?
Read an excerpt!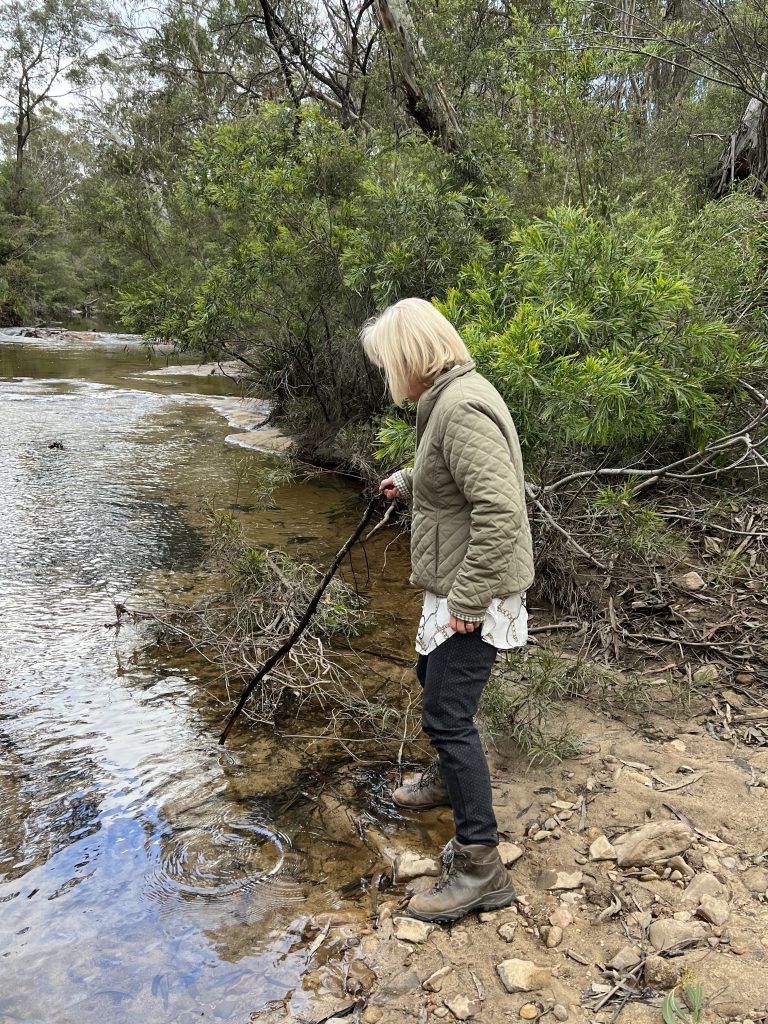 Buy Shelter from the Storm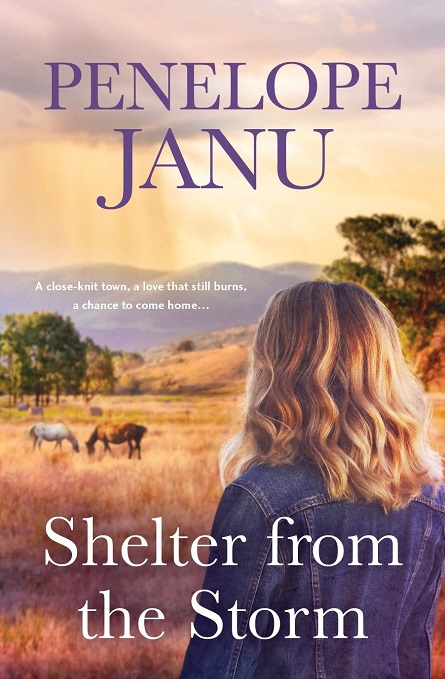 Excerpt from Shelter from the Storm
by Penelope Janu
Chapter 20
There are no baths in student accommodation, or on ships, or in the shared facilities I'm accustomed to. There was no bath in the house I grew up in. Did Mum wash me in a plastic baby bath? She must have.
'This bath …' I say quietly as I sit on the edge of the enamelled cast-iron tub in Greta's bathroom, 'I'll never forget.' I test the water before turning off the taps and, lifting my good leg over the side, lower myself into the water. I prop my other foot on the rim. When bubbles gather round my breasts and dance on my stomach, I swish with a sponge and make shapes.
Southern Ocean waves. Snow-capped mountain peaks. Dandelion seedpods in summer.
He loves me.
He loves me not.
Were things ever so simple with Hugo?
I've seen him twice in the past ten days. Even then, we were so far away that lifting a hand was enough. The granny flat is tacked onto the back of the house. It's self-contained—a bedroom with two single beds, a kitchenette, a tiny bathroom with a cubicle shower, and a living room with a view of the Horseshoe range. As Greta promised, I convalesce in privacy.
For the first few days, when I wasn't in bed I spent my time in an armchair. And in the following days, legs propped up and half-asleep, I lay on the day bed on the verandah outside Greta's kitchen window. In the evenings, I'd eat whatever Greta put on my tray, before showering and collapsing into bed.
Yesterday, feeling better than I had for weeks, I carried my breakfast tray to the kitchen. But Greta, frowning fiercely, linked her arm through mine and marched me slowly but firmly back to the verandah. Derek was sitting on the steps, a mug of tea in his hand and pastry crumbs on his chin. Soxy sat on the day bed as if waiting. As I lay back against the cushions and stroked his soft black ears, Greta nodded approvingly.
'You must rest, liebchen, for today you have your bath.'
Derek smiled. 'You going to put Patience in that bathing room of yours?'
Greta huffed. 'It is the perfect place.'
'So how come you never go in there yourself?'
'Every week, I clean it.' Greta pursed her lips. 'It is spick and span.'
'It might smell like a perfumery, but you never get into that tub.' He winked. 'It would've been better to keep it for my bull.'
When he still worked as a carpenter, and before he'd met Greta, Derek intercepted an oversized bathtub destined for the scrap merchant and kept it at his parent's house. Years later, Greta spotted the bath, now used as a water trough, in a paddock. She asked Derek to build yet another extension to their house—a bathing room to remind her of Bad Ischl, her birthplace and a spa town.
'I'd love to have a bath,' I said to Greta. 'But only if you have enough water in the tanks.'
She delicately put a second pastry on Derek's plate. 'Now you can see my sense,' she said haughtily. 'The bathing room is useful.'
Having a bath doesn't equate to a swim, but it's the closest I'm likely to get to a body of water for at least the next few weeks. I look through my fingers, fringed with tiny bubbles. The bathing room is the size of a large bedroom, and the walls are painted a soft shade of pink. White timber shelves are stacked with fluffy white towels, embroidered face washers, sponges, bubble baths and salts.
Many of the unopened bottles have gift tags. Attached to a bright pink bottle is a handmade tag, the size of a large envelope, with upright rounded letters in smudged and faded pencil. Dear Mummy. This is for your birthday from me for your bath. I got it at a shop. I got money from Daddy for feeding Bertha. Love from Hugo
Another is penned in ink, the writing sloped neatly to the right. Dear Mum. I found these salts at a spa town near Salzburg. Happy Mother's Day. Love, Hugo
Sunlight streams through the window—too high for anybody on the verandah to see through, but low enough that when lying in the bath, I can make out the tops of the gums and an ocean of sky.
Now it's almost winter, it's cool in the mornings, but the old-style radiator and heated towel rails take away the chill. Inside the tub, the enamel is smooth like silk. I make another shape in the bubbles. A boat's wake. I close my eyes and inhale the scent. Mountain Mist. Bergamot and pine. Holding my breath, I tip back my head.
Besides my leg, I'm submerged.
Weightless.
Waterfall.
Warmth.
How long until I'm back at the river? The nurse from Dr Gupta's surgery will make house calls for another week at least. She takes my blood and monitors the post-viral symptoms, but my foot and leg have healed and I sleep twelve hours a night. I'm also eating more than Derek and Soxy combined, and when Greta's not looking I walk energetic laps of the verandah.
Surfacing, I push back my hair and wipe bubbles from my face. I stretch out my hands and fingers, let the water hold me up.
'Patience?' A tap on the door. 'You are well?'
'Yes, Greta. I'm fine.'
'I will go to the kitchen. You will ring the bell if you need help, yes?'
A brass bell with a handle, like an old-fashioned school bell, sits at the foot of the tub near the taps. Greta made me promise to use it in an emergency.
'I also have my phone,' I call out.
'Phooey your phone. A bell is waterproof. It has no need of a battery or reception.'
'Yes, but—'
'This morning, Andreas comes to work with his father, and Hugo arrives later. I tell you this because of my promise. There is no need for concern. You will rest. You will have peace in the granny flat.'
Penelope Janu
Australian Prize and Award Winning Author
Adventure and romance … fresh, fun fiction
Read more about Penelope Janu and her books
Buy Shelter from the Storm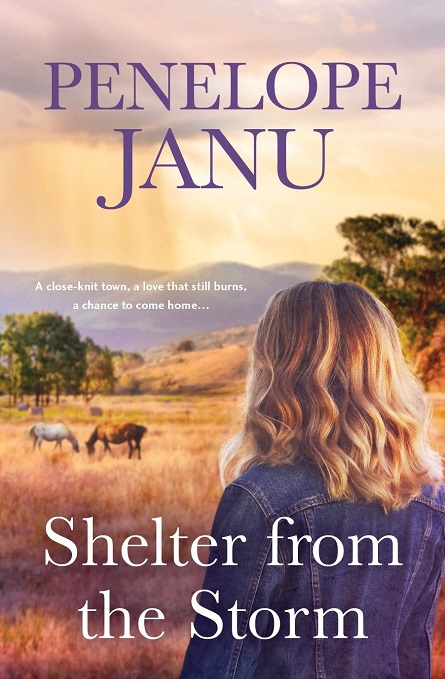 We hope you're enjoying our Book News 
We'd love you to follow us on Facebook & Instagram
And never miss a new book release!
Stay up-to-date on the latest Australian fiction releases and news