NEW RELEASE – Settle the Score by Nicki Edwards
Published:
October 31, 2020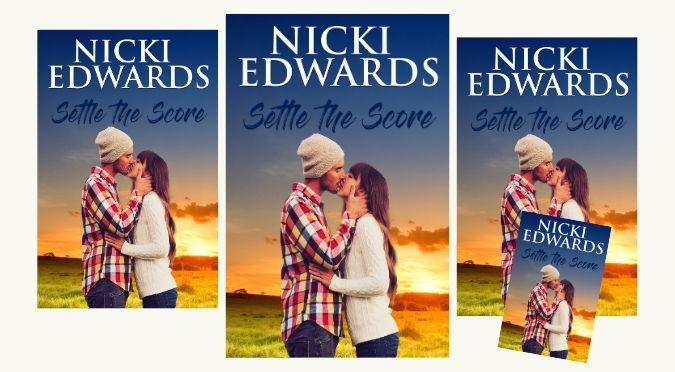 Should you keep score when it comes to love?
OUT NOW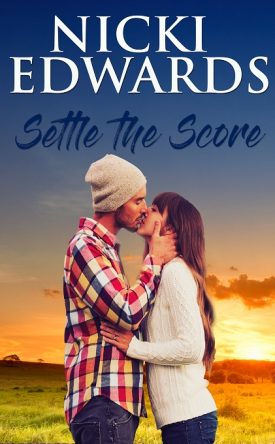 As an adopted only child, Annabel Norton, has always wanted children of her own. Having recently retired from playing semi-professional football for the AFLW, now would be the perfect time—except she's still reeling from the failure of her last relationship.
Special Operations Group police officer, Ben Naylor, loves the idea of a family, but with two marriages under his belt, he figures commitment isn't for a man like him. Especially as he needs time to process all he's lived through in his job. That's why it makes no sense that he falls head over heels for Annabel the very first time he sees her. He does the right thing and keeps his distance…and then she moves in next door.
As their feelings become impossible to deny, Annabel starts to think that they might be made for each other. That is until she learns about an unexpected secret in Ben's past. For a chance at happiness, can she open her heart and accept that a future with Ben could involve more than children of her own?
Read an excerpt
Buy Settle the Score
Should you keep score when it comes to love?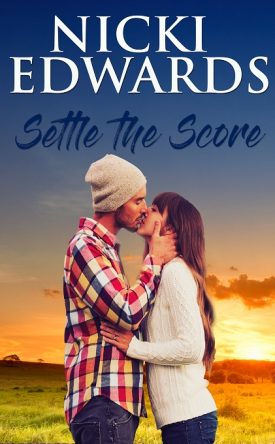 Excerpt from Settle the Score
by Nicki Edwards
When Annabel blew a kiss to Jed and hugged Georgie, Ben realised she was about to leave. He didn't want her to go without talking to her, so he made a decision, and headed towards her. He needed to do something before he regretted it.
'Annabel?'
She spun around and for a split second he struggled to remember what he'd wanted to say to her. Her assessment of him was so swift and unexpected he would have missed it if it wasn't his job to watch people's reactions closely. He bit back a smile. If he wasn't mistaken, her eyes had flashed with a hint of admiration. He relaxed a little. Up close, in heels, she was almost the same height as he was, and he was nearly six foot two.
He looked directly into her eyes. 'I'm not sure what the proper etiquette is when it comes to baby baptisms but isn't this the time when the godparents dance?'
If his question caught her off-guard, he didn't see it. She barely blinked.
'I think the waltz is reserved for weddings,' she replied with a flicker of a smile that revealed a dimple in her left cheek.
He pretended to pout. 'Really? No godfather-of-the-child dance?'
She shook her head.
He lifted his arms then let them drop to his sides. 'Darn. I only agreed to do this gig if I got to dance with the cute godmother at the end of the day.'
When she chuckled and both dimples made an appearance, a flash of warmth spread through him. Either she appreciated the compliment, or she was humouring him and counting down the seconds before she could escape. Either way, he wasn't giving up yet.
'Sorry, Ben, I don't dance.'
'What a shame. I was looking forward to dancing with you.'
Confusion creased her brow. 'Why?'
'It's what godparents do,' he said. 'It's in the rule book.'
Her eyes flashed again, doing something to him he couldn't put his finger on. Then she laughed. It was a sweet laugh and he wanted to hear it again.
'There is no rule book.'
'Georgina didn't give you a rule book?' he asked with mock seriousness.
She shook her head and the curls bounced. 'Nope.'
Ben lifted a hand and pretended to wipe sweat from his brow. 'Just as well you didn't do or say something wrong. Could've been a disaster.'
She tilted her head to one side. 'It's a bit hard to say or do anything wrong when all we had to do was stand there and smile and get prayed over.'
He scratched his jaw. 'Yeah, I need to talk to Jed about that. I'm not happy.'
Her eyebrows rose. 'About what? Being prayed over?'
'No, the fact we didn't get a chance to speak, say a few words, do something significant. I was hoping at least I'd get to tip the water on Daisy's head.'
Her eyes crinkled with withheld laughter. 'I'm pretty sure that's the priest's job.'
'Vicar,' he corrected, loving the easy banter with her, and loving the way her emotions flickered across her face. She was easier to read than a book.
'What?'
'Vicar. It was an Anglican service, not Catholic.'
'Does it matter?'
'I'd say yes, it probably matters to the vicar. And his wife.'
'O-k-ay. Right. Well, I'm glad I didn't have to say or do anything.'
'Not into public speaking?'
'Not into drawing attention to myself, no.'
'Then perhaps I shouldn't tell you that you failed miserably.'
Her eyes widened further, and she stared up at him, unblinking, as if wondering whether she'd heard him correctly.
He jumped in. What did he have to lose? If he didn't tell this woman how attractive he found her and she walked away from him without knowing, he'd kick himself for days.
'You were mesmerising, Annabel. Sheesh.' He let out a long, low whistle. 'Trust me, every man in this church, single or otherwise, in the sight of God as their witness, was not paying any attention to Daisy Delaney. And they definitely weren't focusing on the vicar either.'
Her face matched her hair and for a moment he thought he'd pushed it too far.
'They were not looking at me.'
'I beg to differ. I watched them.'
She playfully punched him in the arm. 'You should have been concentrating.'
'I'm a man who can multitask.'
She folded her arms across her chest. 'Do you have a comeback for everything?'
'Usually.'
This time her response was an exaggerated eye roll. 'Are you flirting with me?'
'I'm trying. Is it working? I'm a bit rusty.'
She laughed again. 'Too early to tell. I barely know you. This might be how you are with all the girls you meet.'
'Well, Miss Norton, technically you do know me. You know my name, and after today, we're practically related.'
'Yeah? How do you figure that?'
'Godparents. It's like a binding legal contract thingie.'
'Really?' She chuckled again. 'A thingie? I did not know that. Was that in the rulebook too?'
Nicki Edwards
Author of Heartwarming Australian Romance
Country town life. Love and medical drama.
Read more about Nicki and her books and discover where to follow her on social media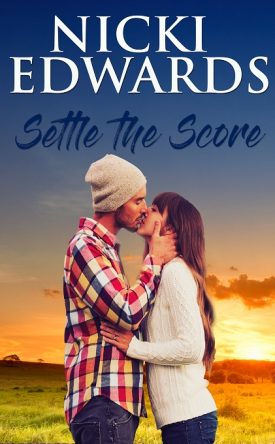 Settle the Score is book 2 in Nicki's Off the Field series
Subscribe below by email to receive our occasional blog posts – and never miss a new book release
Stay up-to-date on the latest Australian fiction releases and news