New Release – Scarlett and the Model Man by Cathryn Hein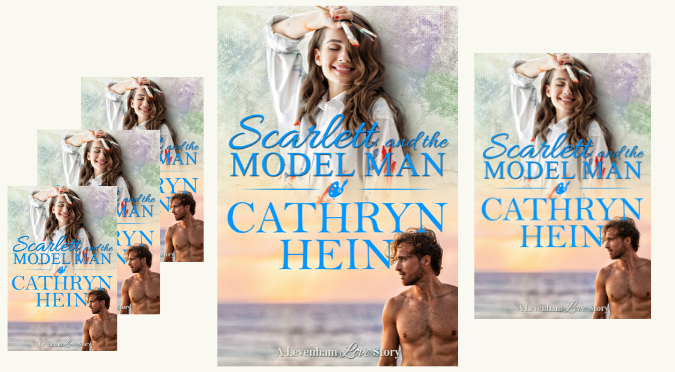 He might be the perfect model, but is he the right man for Scarlett?
Scarlett and the Model Man
by Cathryn Hein
The next instalment from bestselling Australian author Cathryn Hein's Levenham Love Story series
Available in paperback and eBook, each story can be read as a standalone
Read the story blurb, read an excerpt, then read Cathryn's answers to The 5 Big Questions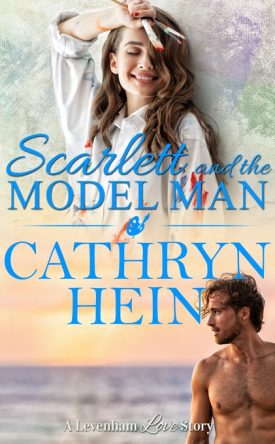 He might be the perfect model, but is he the right man for Scarlett?
When up-and-coming artist Scarlett Ash discovers the perfect model in small-town Levenham, she can't believe her luck. Her creativity abandoned her months ago and with her move to London to take up a prestigious residency fast approaching, she's desperate for a muse to bring it back.
Surfing dairy farmer Sam Greenwood is delivering milk when a gorgeous girl accosts him. Charmed by her invitation to model for a painting, Sam wants to say no. While Scarlett might be stunning, she's arty-farty weird, and he's flat out with his growing dairy business. Somehow, though, he can't resist.
As Scarlett struggles to find her way with her new work, Sam becomes determined to help. Scarlett is smart, talented and sympathetic to the unremitting toil of dairy farming, and they're both healing from failed relationships. Soon burgeoning friendship blossoms into so much more.
Knowing that London beckons and her time in Levenham is short, Scarlett resists the lure of love. She has no plans to return to Levenham, and big-hearted Sam deserves more than a brief fling followed by a quick goodbye. Except as their affair deepens, how can she leave the man who's not only given her back her passion but her heart?
Excerpt from Scarlett and the Model Man by Cathryn Hein
Sam's mouth was sweet with the Greek custard slice Kai had insisted he try. Sam could never resist the treats the chef pushed on him when he dropped off the restaurant's order. The bloke could really cook, and Sam loved tasting where his milk and cream ended up. It made his heart swell.
He stepped into the sunshine, glanced at the sky and grimaced. The sun was well past its zenith. A breakdown on his small bottling plant that morning had made him late with his deliveries. Again. The second-hand unit was costing him too much downtime, but he was reluctant to invest in a new one. It'd be a major expense, requiring finance, some remodelling if he bought a larger capacity plant, and while Sam's Dairy was growing, he'd seen too many small businesses go broke from over-capitalising too early.
A thought for later, when he'd finished his rounds.
He strode for his ute, pausing at its rear to properly secure the fridge unit doors. As he fastened the main latch, prickles crept over his back and neck. The sort he sometimes experienced on the farm late at night, and which usually turned out to be a fox or some other animal eyeing him through the darkness. He turned. A woman was watching him. A very attractive, vaguely familiar woman.
She smiled in a way that brought the blue sky down around his ears.
Anchored in place like a total dork, Sam smiled back.
The woman approached, green eyes held wide, smile still in place. A bit weird considering he didn't know her. At least, Sam didn't think he did. Surely, he'd recognise someone like her.
Despite the heat, she was wearing black cargo pants and boots, but it was the green ribbed cotton singlet that caught his attention, the way it suctioned to her skin and amplified the shapes of her waist and breasts, and showed off the straightness of her shoulders. Her hair was long and dark and wavy. And oh, that face. Delicate and pale, like a doll's, yet she wasn't young. Around his age, he guessed. Late twenties, early thirties. Unless …
A tingle of nervousness infected him. He glanced towards the street, then at the kitchen door before focusing on her again. Like many country towns, Levenham had its share of ice—crystal meth—addicts. They could be unpredictable, violent. He checked her hands in case she was hiding a knife. Nothing.
She stopped a few feet from him, gaze raking his body, and let out a long sigh. 'You're perfect.'
Sam blinked. Okay. He wasn't expecting that.
'Er … thanks.' He scratched his head, watching her closely. With that wide-eyed wonder, she looked more than a bit nutty. Beautiful, mind, but with more than a touch of crazy going on.
She stepped sideways and assessed him with her head tilted and those plump doll lips pursed, then she circled to his other side and repeated the inspection. Her hands flickered here and there, as if she was measuring him or wanted to touch.
'Can I … um, help you?' he said.
'Oh, yes. You can help.' A grown woman's voice, thank God. A bit breathless, but definitely not a prematurely aged teen.
'Okay. Good.' He scratched his head again. 'How?'
Her gaze met his. 'By being you.'
Not helpful.
'Right.'
She stepped even closer. Sam gave the kitchen another glance. He was pretty sure he could take her on if she decided to attack, but it'd be easier to leg it inside. Only cowards hurt women.
He wondered what she was high on. Maybe not ice. Maybe heroin, or those opioid painkillers that had been in the news lately. Unlikely though. She looked too healthy for a junkie and her arms were clean of track marks. Not that he knew what they looked like but he could guess they wouldn't be like her arms, which were pale and smooth and unscarred. Maybe cannabis was her go. A garden-variety pothead.
Why someone so gorgeous would want to waste herself on drugs was beyond him. Life offered better highs, if you treated it right.
She breathed out another long sigh. 'You are so, so perfect.'
'Look,' he said, trying to keep his tone friendly, 'I'm flattered you think so, and normally I'd be more than happy to stick around to hear that a few more times, but I have deliveries to make.' He spread his hands and shrugged. 'Sorry.'
The apology seemed to snap her out of whatever doped-up trance she was in. Her gaze cleared and she straightened. The smile tweaking her cupid's bow mouth now seemed more amused than crazy.
'Of course. Sorry. Don't mind me, I was having a moment.' She thrust out her hand. 'I'm Scarlett Ash.'
Sam shook it automaticaly. "Sam Greenwood.'
'Sorry again for the weirdness. I couldn't help myself. I've been looking for you everywhere and then, suddenly, there you are.' She grinned and held her clenched hands beneath her jaw, a little of the crazy returning. 'I can't wait.'
'Wait for what?'
'You.'
Buy Scarlett and the Model Man
He might be the perfect model, but is he the right man for Scarlett?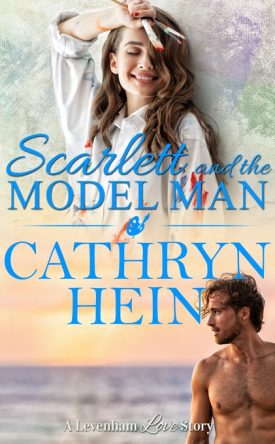 (See our POSTSCRIPT below for other places to safely and easily buy the paperback online.
The digital version is available from all your preferred eRetailers.)
Cathryn Hein
Bestselling Rural Romance and Romantic Adventure Author
Taking your heart on an adventure…
The 5 Big Questions
How long did it take you to write the book?
About four months to get the first draft done. A couple of years ago it would have been done much faster, but I was hit with a major health problem in 2018 and it affected my writing and creativity enormously. On a positive note, that loss of creativity provided excellent inspiration for Scarlett's character!
What was the most difficult or complex aspect of writing your book?
Working out how Sam could inspire Scarlett and ease her out of her creative slump. I had my own experience to draw on but with her London residency fast approaching Scarlett doesn't have time to muck about. She needs her mojo back now. Not an easy thing to achieve, as I learned myself.
What gave you the most pleasure when writing your book?
A whole bunch of things. Scarlett and Sam's meet-cute was so much fun. I adore that scene. I also loved writing about Sam's passion for dairying, an industry that has been hammered in recent times, yet in which he still holds faith because he knows his milk is unique. Writing Audrey Wallace aka Granny B is always a pleasure. She's so very naughty and makes me laugh. And it is always a joy to return to Levenham. It holds a special place in my heart.
Are you nervous when a new release comes out?
Yes, but it's more nervous excitement. I can't wait for readers to meet the characters and (hopefully!) fall in love with them.
What's the best thing a reader could do if they enjoyed your book?
Tell everyone! Word of mouth is incredibly important for a book's success. The more people who know about it the better.
Read more about Cathryn and her books and discover where to find her on social media
Subscribe by email to receive our occasional blog posts – and never miss a new book release!
POSTSCRIPT
Standing together while keeping our distance
reading throughout the COVID-19 crisis
Many of our wonderful bookshops and online bookstores are changing the way they work simply to keep us reading.
We thank them all for the tremendous support to Australian authors and we will support them right back.
Don't forget! Purchasing a book on pre-order also means you are helping to keep the wheels of small and independent businesses turning.
BOOKTOPIA
have *currently waived all postage costs in Australia – go buy! Then find them on Facebook and give them a Like.
DYMOCKS
stores have online ordering and individual stores throughout Australia are offering various means of buying and delivering books. Check with your local store. Find your local Dymocks store and then give them a Like on Facebook to keep up to date.
Find a Dymocks Store
https://www.dymocks.com.au/stores
BOOK DEPOSITORY
Free postage even if the books are coming from overseas – but don't be disappointed if your favourite author's books are not available. It's one of those things – not every author's book is available on Book Depository.
https://www.bookdepository.com/publishers/Australian
INDEPENDENT BOOKSHOPS
There are many in all states and territories. Some are offering free postage for a certain length of time or free postage with orders over a certain amount. Check with your local independent bookshop. Contact them directly by phone or email or through their websites. Find them on Facebook and give them a Like to keep up to date.
BIGW
Order and buy online including pre-orders
(*Standard delivery $3.90 – conditions apply)
TARGET
Order and buy online
(*Free click & collect available, free home delivery on orders over a certain amount. Free delivery available for Club Catch members)
https://www.target.com.au/c/entertainment/books/adult-fiction/W406087
* Please note that individual businesses may change their online purchasing conditions at any time. Always check with the individual business.
Stay up-to-date on the latest Australian fiction releases and news