New Release – Red Dirt Country by Fleur McDonald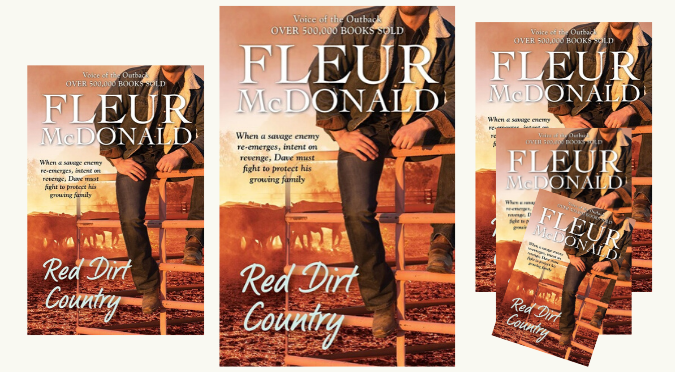 When a savage enemy re-emerges, intent on revenge, Dave must fight to protect his growing family
Red Dirt Country
by Fleur McDonald
Detective Dave Burrows returns in another suspenseful rural crime novel from bestselling author Fleur McDonald.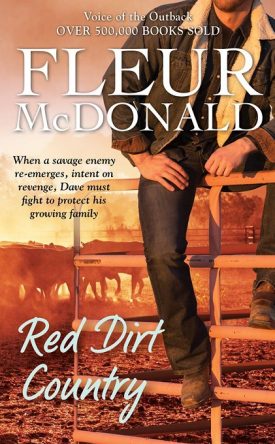 Returning to Perth after a near-fatal undercover case in outback Queensland, Dave Burrows, now a Detective Senior Constable in the stock squad, receives an ultimatum from his deeply unhappy wife, Melinda.
Before Dave and Mel's problems can be resolved, Dave is sent to the far north of Australia on a stock theft investigation. He finds two cattle stations deep in a complex underbelly of racial divide, family secrets, long-repeated lies, kidnapping and murder.
Facing one of the biggest challenges of his policing life and the heartbreaking prospect of losing his family, Dave can't imagine things getting worse. But there's a hidden danger, intent on revenge, coming right for him.
Read an excerpt, then read Fleur's answers to The 5 Big Questions about writing the book
Buy Red Dirt Country
Detective Dave Burrows returns in another suspenseful rural crime novel from bestselling author Fleur McDonald.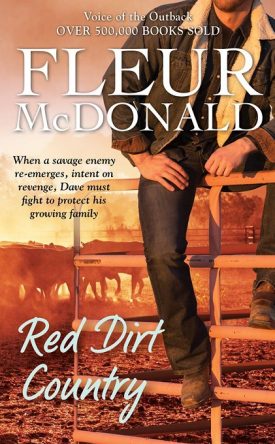 Buy from the publisher Allen & Unwin
Or head to your favourite online eRetailer
(See our POSTSCRIPT below for other places to safely and easily buy the paperback online.
The digital version is available from all your preferred eRetailers.)
Excerpt from Red Dirt Country
by Fleur McDonald
Chapter 1
Deep ragged breaths tore from Dave as his heart hammered against his chest wall. Heat pulsed through him and sweat trickled down his brow, onto his cheek. Impatiently, he tried to flick the beads away. He wanted to cry out. To fill his lungs . . . They were burning with the effort of dragging air into them.
Heavy footsteps pounded behind him on the pavement.
Were they closer? He had to resist turning around to check, so he put his head down and concentrated on running.
Running away. One foot in front of the other.
His muscles ached with the exertion, and fear swirled around his body.
'No,' he muttered as he felt a hand on his shoulder.
Dave twisted his body one way, then the other, feeling freedom again, before he stumbled.Head down, he faltered again, regained his footing and kept his pace consistent. Fast enough to just be out of reach.
Away, away, away.
Crack! The sound of a shotgun.
Dave's instinct was to yell out. He opened his mouth, but something else, something more deep-seated— terror, maybe— made him close it before he could utter a sound.
They'd hear him if he cried out and then they would know where he was.
Three more steps, then he lurched as if he'd been pushed forwards.
Heat seared through him; he wasn't sure where it was coming from. Only heat, not pain.
His chest was burning too; he couldn't catch his breath and his whole body was on fire. He had to stop. No choice.
Don't stop, don't stop, don't stop, he thought, reaching up to touch his shoulder. Now he could smell blood. He knew without looking that his hand would be red.
The river, he had to get to the river . . .
But he was too late. His slowing had meant Bulldust was on top of him, pulling him to the ground, shaking him by the shoulders.
'You're dead!' Bulldust's breath was acrid in his face.
'Get off me,' roared Dave, trying to throw his arm back, but his arm was too heavy. As much as he tried, he couldn't raise it to fend off Bulldust. Instead he twisted and tried to roll away, kicking out as he moved.
'Thought you were cleverer than me, didn't you?'
'Get off . . .' He tried again to fling Bulldust from his body.
'Dave!'
'No,' he grunted as he felt Bulldust shake him even harder.
'Dave, wake up. You're having another dream!'
Not Bulldust. Melinda.
His eyes flicked open and he saw the pale glow of the bedside light and Melinda above him, frowning. Her hands were on his arm.
'What?'
'You were having another nightmare,' she said.
Dave licked his lips as he tried to get his bearings. His heart felt like it was pounding in his temples, and when he reached up to touch his forehead, his fingers came away damp with sweat.
He automatically touched his shoulder.
No blood. No open wound. Only the ever-present ache from where the bullet had entered his flesh a few months before.
'Sorry,' he muttered, sitting up and reaching for the glass of water on the bedside table. 'Didn't mean to wake you.'
Melinda was upright now, her arms crossed over her pregnant stomach. 'It's the third time this week. I think you're going to have to do something about the nightmares, Dave. You can't go on like this. I can't keep waking up every night. God knows it's going to be bad enough when the baby comes.'
Dave threw back the covers and swung his legs out of bed, his feet checking the floor to make sure it was solid, not like the shifting ground of his dream. He stood up and rubbed at his face. 'Sorry,' he said again. 'Go back to sleep.'
'Fat chance of that now,' she huffed, starting to pull the covers up and roll over. 'Between the baby kicking and you moaning, there's not a lot of rest to be had.'
Dave switched off the bedside lamp and ran his hand over Melinda's hair. 'Try to go back to sleep,' he said, before shutting the door quietly.
He walked out into the kitchen and stood by the sink. The nightmare had seemed so real— he had smelled Bulldust's sweat and breath. Heard his heavy breathing as he chased him. Felt his hand on his shoulder. Listened as Bulldust threatened him. So real.
Swallowing hard, he poured himself a glass of water and drank it, staring at his reflection in the window. Bulldust had changed his life. Changed the way he looked at the job; made Dave want to get back out onto the streets, to chase down those bastards who thought they were above the law.
The ache of his shoulder reminded him of the vow he'd made as he'd walked out of the Brisbane hospital: he would track down Bulldust and his brother Scotty, and he would make sure they went to jail.
Dave knew he wouldn't go back to sleep now. The gnawing pain had seen to that, but so had his thoughts.
Glancing at the clock, he saw it was 3.09 a.m.
That was the time he'd been waking up at, most nights, since he returned to Perth from Queensland. Not always to a bad dream. Not always to Bulldust chasing him. Sometimes he just woke up. He would go from being in a deep sleep to staring at the ceiling, wondering what had woken him.
He usually had the unsettling feeling that Bulldust was watching him.
Of course, it wasn't the case.
Or was it?
How could they really be sure that the brothers hadn't tracked down Dave and his family to where they lived and were just biding their time?
Dave grabbed two painkillers from the packet on the bench and refilled his glass. Swallowing them, he hoped that the pills would stop the pain and make him sleepy enough to stop thinking. He walked through the house until he reached the lounge. Here, he pulled back the curtain and stood in front of the window, almost daring Bulldust to come and find him.
Looking into the darkness, he tried to see if there was any movement in the bushes that hid his house from the road. There was no moon tonight, so it was hard to tell.
Perhaps the bushes were shifting in the gentle breeze. Maybe he should go out and look. Just to be sure.
A dog barked in the distance and Dave froze. Spencer, his previous partner at Barrabine, the one who had suggested Dave go undercover, had said he was suffering from the effects of being shot.
'Mate, it's a traumatic thing to have to go through,' he'd said when they'd talked on the phone yesterday.
'I should be tougher than that,' Dave had answered. 'I'm a copper.'
'Don't see how that makes you exempt. Plenty of other fellas out there who have been through the same, more or less, and feel the way you do. No shame in it. How many times have I told you that?'
Dave had harrumphed, still feeling that he shouldn't be reacting this way. The doctors were hoping he would be able to get back to work in another week, but he wasn't sure he could wait that long. He needed to keep himself busy. Get his mind occupied again.
Of course, it hadn't helped that Mel's father had visited yesterday and made some pointed remarks about him being off work.
'Planning on going back to work any time soon? I shouldn't have thought a gunshot would stop you for too long. Seemed like you love your work more than your family.'
The remarks had made Dave want to punch Mark again; he'd done it once before and had never felt the need to apologise. Oh, he'd thought about saying sorry since he'd returned home after being undercover in Nundrew, but every time he came close, Mark made a snide remark and Dave only wanted to hit him all over again.
Even though being around the house all day was hard, he had to admit that part of him loved it. He got to play with Bec and be involved with her daily life. Things he'd missed out on for a while. Yesterday, he'd taken her to playgroup while Melinda had had a pre-natal appointment.
He'd wanted to go to that too, but Melinda had said it would be too hard with Bec there.
Sometimes Melinda made him feel like a hired babysitter rather than Bec's father. And when she was having her afternoon sleeps, the house was so quiet. Silent enough to hear the clock tick. This was when he most craved the noise and adrenalin-filled rush of detective work. The phone calls and call-outs. Being on a high-pressure job.
Spencer had reminded Dave that it wasn't like that all the time, only when they were nearing the end of a case.
Most times, the detectives would be labouring over photographs, witness statements and answering phone calls from victims who wanted answers. That was easy to forget when he longed for the stimulation of a case.
I know, I know, he thought to himself as he continued to stare out the window. But I miss it. He shut his eyes and leaned his head against the cold pane. And maybe it would help my head.
Fleur McDonald
Bestselling, Multi-Genre Author
Capturing imagination through stories
Read more about Fleur and her books and discover where to find her on social media
Fleur McDonald answers The 5 Big Questions
How long did it take you to write the book?
I write two books per year, so I really only get about six months to write any book. I usually take about four months to get out about 60 to 70,000 words, then write the rest in a mad panic!
What was the most difficult or complex aspect of writing your book?
Red Dirt Country has a strong Aboriginal theme running through it and I needed to be absolutely sure that I was correct in what I was writing, so the novel required a bit of research.
What gave you the most pleasure when writing your book?
I love putting words together and seeing the outcome. Rarely do I know what I'm going to write until I sit down and start typing and then when I go back and read it, sometimes I hate what I've put down and other times I think: 'who the hell wrote that sentence? It's pretty good!' That's when I get a buzz.
Are you nervous when a new release comes out?
Yes, always. Especially with Red Dirt Country since times are so uncertain at the moment.
What's the best thing a reader could do if they enjoyed your book?
Recommend Red Dirt Country to their friends and leave a review over at Goodreads!
Subscribe by email to receive our occasional blog posts – and never miss a new book release!
POSTSCRIPT
Standing together while keeping our distance
reading throughout the COVID-19 crisis
Many of our wonderful bookshops and online bookstores are changing the way they work simply to keep us reading.
We thank them all for the tremendous support to Australian authors and we will support them right back.
Don't forget! Purchasing a book on pre-order also means you are helping to keep the wheels of small and independent businesses turning.
BOOKTOPIA
have *currently waived all postage costs in Australia – go buy! Then find them on Facebook and give them a Like.
DYMOCKS
stores have online ordering and *individual stores throughout Australia are offering various means of buying and delivering books. Check with your local store. Find your local Dymocks store and then give them a Like on Facebook to keep up to date.
Find a Dymocks Store
https://www.dymocks.com.au/stores
BOOK DEPOSITORY
*Free postage even if the books are coming from overseas – but don't be disappointed if your favourite author's books are not available. It's one of those things – not every author's book is available on Book Depository.
https://www.bookdepository.com/publishers/Australian
INDEPENDENT BOOKSHOPS
There are many in all states and territories. Some are offering *free postage for a certain length of time or free postage with orders over a certain amount. Check with your local independent bookshop. Contact them directly by phone or email or through their websites. Find them on Facebook and give them a Like to keep up to date.
BIGW
Order and *buy online including pre-orders
(*Standard delivery $3.90 – conditions apply)
TARGET
Order and *buy online
(*Free click & collect available, free home delivery on orders over a certain amount. Free delivery available for Club Catch members)
https://www.target.com.au/c/entertainment/books/adult-fiction/W406087
* Please note individual businesses may change their online purchasing conditions at any time. Always check with the individual business.
Stay up-to-date on the latest Australian fiction releases and news