NEW RELEASE – Meet Me in Bendigo by Eva Scott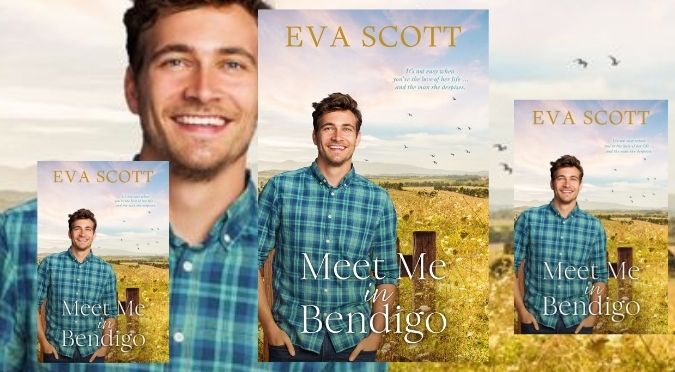 Small-town Australia meets You've Got Mail in this rural romantic comedy about online dating, second chances, and following your heart.
OUT NOW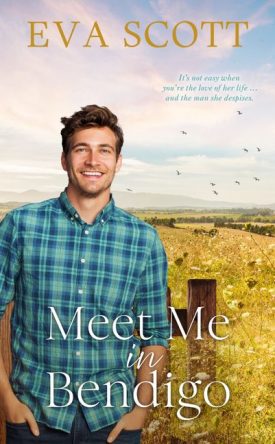 Small-town sweetheart Annalisa Cappelli has returned to Wongilly to take over her family's hardware store while she heals from a tragic loss. The business was hit hard by the pandemic, and now a Carpenter's Warehouse hardware superstore is opening in the district. There's no way Annalisa is going to let two hundred years of history go down the drain, but she's going to need to fight to keep her family's legacy alive.
The one simple thing in her life is her no names, no complications, easy-breezy online relationship with GardenerGuy94. For now, their online flirtation is the only kind of romance Annalisa needs. Until she meets Ed Carpenter. Sexy as hell, he'd be the perfect man … if he wasn't trying to destroy her business.
Ed Carpenter is in Wongilly to offer the owner of a small hardware store a payout to pave the way for his family's next superstore. What he doesn't expect is for the owner to be the woman he's been talking to online. Annalisa is beautiful and passionate, and he's sure she's the one for him. But how can he reveal the truth without losing her?
Read a few words from the author, read an excerpt
and then read Eva's answers to The 3 Big Questions about writing the book
A few words from Eva Scott
I wrote this book during 2020, while navigating the challenges of the global pandemic and lockdown. It provided me with a life raft of creativity during a period of uncertainty. When the world seemed to be going mad I found a haven of peace and joy in my little town of Wongilly.
The reason I chose to set Meet Me in Bendigo in the Victorian goldfields lends itself entirely to nostalgia.
My large, extended family occupy this part of the world, my ancestors having arrived in the nineteenth century as economic refugees from the collapse of the Cornish tin mines. I have many fond memories of family reunions, mostly held in Ballarat, and thought it would be fun to revisit with my readers.
One byproduct of my research into the Victorian goldfields was the discover of a 'secret' branch of my family. To be fair, they knew about us but we did not know about them. The discovery unleashed a wonder of family photos and tales. Finally, some aspects of my family made sense (the bit where everyone talks too much and tells stories compulsively).
Meet Me in Bendigo is a story about family legacy and the joys and burdens brings. It's also about falling in love with entirely the wrong person. Loosely based on the 90s movie, You've Got Mail, the story stays true to its romcom DNA. It's fun, lighthearted and provides pure escapism. I hope it brings you as much delight as it has brought me.
BUY Meet Me in Bendigo
It's not easy when you're the love of her life…and the man she despises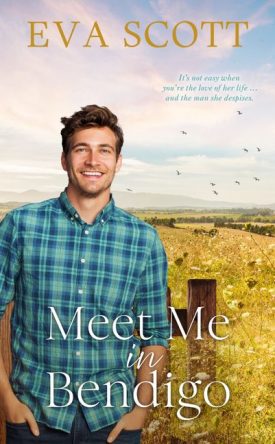 Available in eBook and paperback
Excerpt from Meet Me in Bendigo by Eva Scott
Annalisa Cappelli stood with her hips pressed against the kitchen bench, absent-mindedly eating her toast and letting the crumbs fall into the sink—something she did every morning. Her eyes watched the sky, still dark except for a sliver of shimmering moon.
The low, dense morning mist covered the paddock and a stillness held the land in its grip, as if the whole world had paused to take a deep breath before the day began. In a min ute or two the sun would rise above the horizon and flood the fields behind the little house with golden light.
She loved this moment. Here, in the magical space between night and day, she could believe that everything would work out fine, that she wasn't as in over her head as she knew herself to be. The borrowed hope lasted exactly one precious second, and she wouldn't miss it for the world.
August was nearly over and the promise of spring was highlighted when the sun rose a little earlier every day. The liquid amber tree in the garden would soon begin to grow its bright green leaves in contrast to the rich, jewelled autumn colours she loved so much. Before she knew it, the spring wildflowers would be covering the fields she used to play in as a child.
Annalisa checked her watch. Nearly seven. Just enough time to watch the sunrise, finish breakfast and tidy up the store before everyone arrived.
The sun flashed its rays as it crested the horizon, filling the fields with soft, buttery light. The day had officially begun. Dusting crumbs off her fingers, she tightened the hand- knitted scarf around her neck. The weather was not quite chilly enough for a jumper, especially once the wood stove in the store was up and blazing. In Victoria you never really knew what weather you were going to get from one hour to the next. You had to be ready for all four seasons in one day, maybe even within one hour. She'd always marvelled at the variety of gear for all weather conditions Ben could carry in his motorcycle panniers.
Her craft project spilled across the kitchen table, taking up every conceivable space including the chairs. Scraps of material, bits of plywood and globs of craft glue told the story of a late night creating what she hoped would be magic.
Annalisa decided against cleaning it up. No one would see the mess and she'd be at it again later after she'd finished selling hardware for the day.
She turned off the lights in her little house and stepped through the connecting door into her other world, the family's hardware store.
The store lay in darkness, watercolour-like sunlight struggling in through the windows while a leaden cold filled the air. Not her favourite time of the day. Here, in the moment before the shop opened, the ghosts of her family wandered the aisles filled with chisels and hammers, screwdrivers and dusty spirit levels, all waiting for their forever home. No doubt disappointed in the dwindling sales and the lack of business acumen of this establishment's current proprietor.
For over a hundred years Cappellis had kept this store going in one form or another. They'd faced all sorts of hard- ships, from rebellion on the goldfields to war and recession. What advice would they give her? What would they make of the coronavirus and online shopping? Surely they'd have some useful wisdom to impart?
Before she turned on the lights, she closed her eyes and her fingertips automatically found the gold locket that never left her neck. As part of her daily ritual she listened for a whisper of the past. Thoughts of Ben, whose photo nestled in her locket like a talisman against loneliness, took over.
Her thoughts turned to her father. To how he'd hum as he moved about the store getting ready for the day, checking the till for change, dusting the shelves and setting things   to rights before opening for business. How he'd challenge her to catch dust motes as they danced in the morning sun before she left for school. He'd had a comforting presence.   A jovial man with a hearty laugh and enormous heart, Alberto Cappelli had left very big shoes she struggled to fill.
Summoning his strength, Annalisa flicked the switch.
Fluorescent lights shuddered into life, dispelling the ghosts of loved ones and the ancestors she'd never met. They'd be back the same time tomorrow, just as useless as today.
First thing, get the wood stove operating before the old guys arrived.
Clearing the ash from yesterday's fire had to be the saddest, most depressing job she could think of on a frosty morning.  Knowing that there would be a cheerful fire crackling away in ten minutes made the job doable.
She crouched down in front of the stove and scraped out the grate, making the inevitable mess she did every time. The stale smell of old ashes made her work quickly. Maybe one day she'd get the hang of clearing the grate out without getting any of it on the floor. Or maybe never.
She'd finished stuffing kindling in the stove and had just got it lit when someone rapped on the front door.
'Okay, okay, keep your hat on,' she called as she secured the stove door. The heat began to seep out into the room. Before long the whole place would be toasty.
Behind the frosted glass door loomed a shadowy figure. Only one person ever turned up this early.
Annalisa swung the door open and ushered the old man in. 'Good morning, Joe. Fresh this morning.'
'You're late.' Joe Kelly shuffled inside, clutching his thermos to his chest like a hot water bottle.
'I am not.' Annalisa rose to the bait as part of their daily custom. 'You're early. Again.'
Joe shrugged and divested himself of his hat before put ting his thermos down so he could take off his coat. Annalisa held out her hands for his things. He passed them over, inspecting her, his keen faded blue eyes missing nothing.
'You got crumbs.' He indicated her scarf with a flick of an arthritic finger.
~
Eva Scott
Australian Author
Exploring relationships, culture, our roles in changing society, love and loss
Read more about Eva and her books and discover where to follow her on social media
Eva answers The 3 Big Questions
What gave you the most pleasure when writing the book?
I got a real kick out of the scenes where Ed and Annalisa interact face-to-face, not realizing yet that they already know each other online. They're clearly attracted to each other and both try to fight it. Impossible of course. I don't need to tell you that.
Were there any difficult aspects you faced when writing the book?
Yes! Home schooling. I discovered that writing a book during lockdown (the first big one in 2020) and home schooling my ten year old son are not compatible activities. Drove both of us nuts. In the end, I packed away my novel and focused on making the lockdown as jolly as possible. Except for the bit with math. I'm still as useless at math as ever I was.
When you wave your story goodbye and it's on its way to the printers and out of your hands – how do you feel?
This is a very complicated time emotionally for me. I am often quite flat. I miss my characters and while you'd think I'd be rejoicing, I'm at a loss at what to do with myself. I'm usually exhausted mentally so the first thing to do  is to nourish my brain with candy floss on Netflix and endless coffees with friends. Eventually, I come around to a sense of relief and freedom, and that's when I know its time to start writing the next book.
BUY Meet Me in Bendigo
It's not easy when you're the love of her life…and the man she despises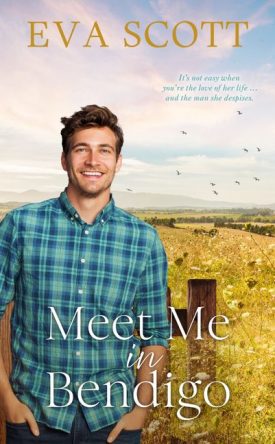 Available in eBook and paperback
We hope you're enjoying our Book News 
Subscribe below by email to receive our occasional Book News blog post – and never miss a new book release!
We'd also love you to follow us on Facebook & Instagram
Stay up-to-date on the latest Australian fiction releases and news