NEW RELEASE – Keeping Up Appearances by Tricia Stringer
Published:
October 5, 2022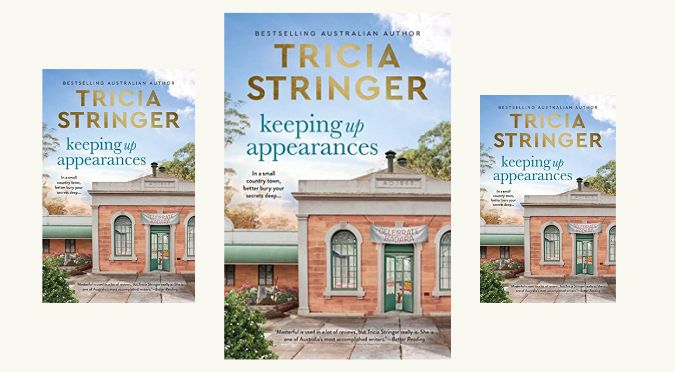 As tensions simmer in a small country town, three women are going to need more than CWA sausage rolls
and can-do community spirit to put things right.
OUT NOW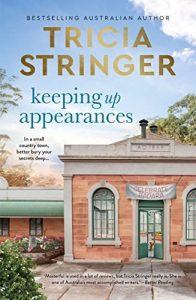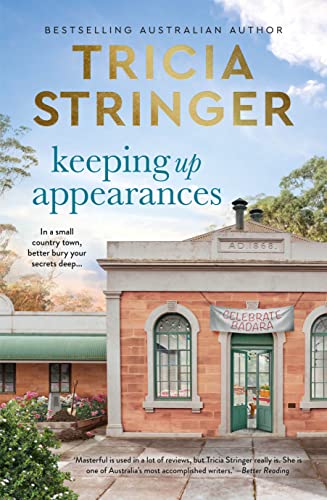 'From a bestselling Australian author comes a delightful novel full of practical wisdom and dry humour that examines female friendship, buried secrets and why honesty is (usually) the best policy.'
Privacy is hard to maintain in Badara, the kind of small Australian country town where everyone knows everyone else's business. So discovers single mum Paige when she and her three children arrive from the city seeking refuge. Paige's only respite from child care and loneliness is the Tuesday gym club, where she had feared the judgement of the town matriarchs, but she is met only with generosity and a plethora of baked goods. Besides, both the brusque Marion and her polished sister-in-law Briony are too busy dealing with their own dramas to examine hers.
Well-to-do farmer's wife and proud mother Briony is in full denial of her family's troubles. Even with her eldest daughter's marriage in ruins and her son Blake's recent bombshell. Suddenly Briony and husband Vince have a full house again – and the piles of laundry aren't the only dirty linen that's about to be aired.
For Marion, the unearthing of a time capsule – its contents to be read at the Celebrate Badara weekend – is a disaster. She was only a teenager when she wrote down those poisonous words, but that doesn't mean she won't lose friends and family if they hear what she really thinks of them – especially as the letter reveals their darkest secrets to the world.
When the truth comes out for Badara, keeping up appearances may no longer be an option for anyone…
A few words from the author
Have you ever looked back on your younger years and thought, wow that was a silly thing to do, or I'm glad no-one ever found out about that. I was pondering this one day, thinking about a letter my girlfriend and I wrote when we were young teens. It wasn't very flattering for the intended recipient. Thankfully my girlfriend's mother got wind of it and chatted to us about it. Now as a mother I see how clever she was. She didn't say don't send it but she pricked our consciences with her level words and thank goodness she did.
My writer's brain wondered what would happen to someone in their sixties if there was a way to expose something they'd done as a teenager. Something from long ago that they'd forgotten about but if revealed, had the power to hurt and devastate others. And from that came Keeping Up Appearances.
I hope you'll enjoy getting to know the women of the Badara fitness group who gather each week in the local hall and do their best to support each other and their community. They enjoy lunch together afterwards, which includes some home baked sausage rolls. On the surface everything seems fine but simmering below they've each got something to hide.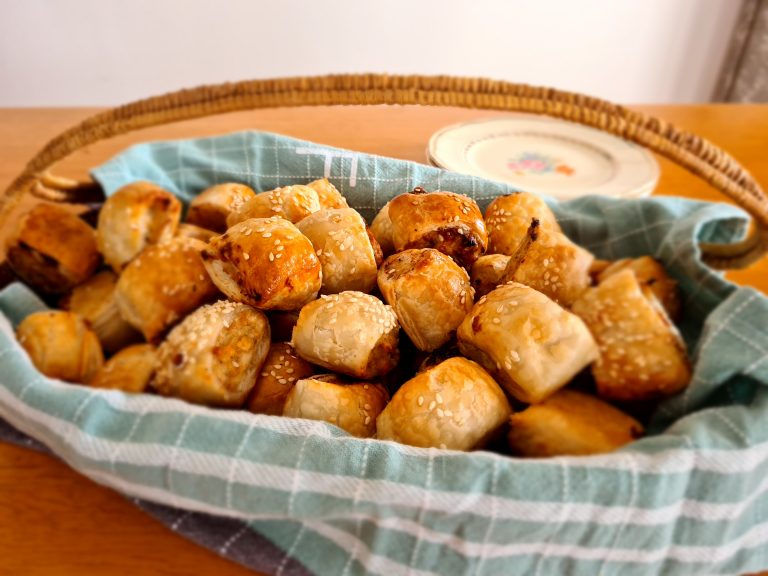 Keeping Up Appearances delves into the strengths and weaknesses of female friendships, it explores the measures we take to keep our loved ones safe, and uncovers the depths we will go to keep our secrets buried.
I hope you'll enjoy the read.
Very best wishes,
Tricia
Buy Keeping Up Appearances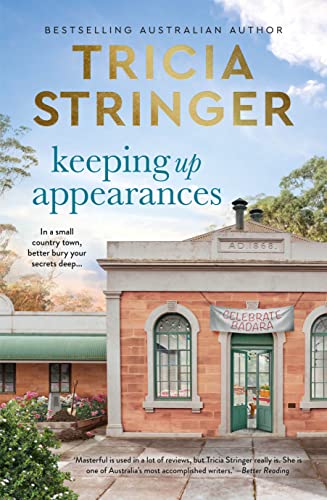 Excerpt from Keeping Up Appearances
by Tricia Stringer
After Paige and Claire had left the hall, the remaining three women sat at the servery in the kitchen and enjoyed their shared lunch. The tea had just been poured when Jean remembered her photocopies.
"I had the devil of a job," she said as she ferreted around in her gym bag. "First our scanner wasn't working then the printer was out of ink. I had to make a special trip to Wirini Bay yesterday but here they are." She handed the pages to Briony and Marion. "The clipping was bigger than A4 so I had to do it over two pages. The photos have copied quite well."
Marion slipped on her reading glasses and scanned the article about the Back to Badara celebrations held on a November weekend in 1970. "That's my mother-in-law, Mary, holding up the ribbon for the mayor to cut," she said.
"Doesn't she look glamorous?" Briony said. "With that hat and those pearls she could be the queen."
Marion snorted. "She thought she was."
"Mary was a fabulous sewer and milliner," Jean said. "She could make a silk purse from a sow's ear. She would have made that outfit."
"I remember Mum made my dress," Briony said. "It was a big deal at the time."
"She was a grand sewer as well," Jean said. "We all made so many of our own clothes back then."
Talk of clothing jogged Marion's memory. "Oh! My best friend, Gail, and I wore jeans most of that weekend. Neither her parents nor mine were happy about that." The uneasy feeling stirred in her stomach again.
"All I'm any good at is mending ripped jeans and shirts," Briony said. "I wish Mum had passed on her sewing skills to me."
"She died before she had the chance." Jean reached across and patted Briony's hand.
Both women looked momentarily lost. Briony's mum, Jill, had died not long after Vince and Briony were married. There were so many family connections in the district Marion had forgotten Jill and Jean had been sisters-in-law.
"I've spoken to a few people about the fundraiser," Marion said. "There's a lot of interest. Perhaps we could re-create some of these moments for it."
"There was a time capsule," Jean said. "That's the photo of the mayor with our fathers."
Now that she was wearing her glasses Marion could see her dad clearly in the photo beside the mayor, who was holding a shovel in his hands. She peered closer. In the background was her mum, and partly obscured was a girl with cropped hair wearing pants. Marion shook her head at her teenage image. The pants were her new denim jeans and she'd had her hair cut short. Her mother had hated it. Marion had been so sure of herself back then, so cocky so… A gasp escaped her lips as the unease turned to a surge of dread. "The time capsule!" she blurted.
"We could dig it up and bury another one," Jean said. "People always love that kind of thing."
"No!"
Both Briony and Jean were startled.
"Not for a fundraiser anyway," Marion said quickly.
"It'd be the perfect thing." Briony frowned at her.
"People could pay to put something in the next one." Jean clapped her hands. "Another way to raise money."
"No." Marion shook her head quickly. "It's not quite right for an event like this. We need something grand to get people putting their hands in their pockets. Time capsules have been done to death." She knew she was blathering but she had to put a stop to the time capsule reveal. Like a bolt from the blue, seeing her teenage self in the photo had brought it all back. She didn't like to admit it but she and Gail had been a pair of bitches back then. Fifty years into the future had seemed beyond them. Even a few years, Marion thought sadly.
They'd had no idea in 1970 that three years later Gail would succumb to leukaemia. Marion wondered how different life would be now if her best friend was still alive. How would Gail have responded to the predicament they'd created? There was no use wondering. Marion had to go it alone, but one thing was for sure: revealing what they'd put into the capsule would cause so much hurt to the small community she now thought so fondly of. She couldn't let it happen.
She glanced up from the pages she gripped tightly in her hand. Both women were frowning at her. Marion hoped her face didn't give away her fear.
"Let's think of as many ideas as we can and pool them all next week when we discuss it with the others after fitness. I'm sure there'll be lots of far more interesting and money-making suggestions." She took a gulp of tea. So many futures depended on that time capsule staying buried.
Tricia Stringer
Award Winning Bestselling Australian Author
The voice of Australian storytelling. From the city to the country…
Read more about Tricia Stringer
Tricia answers The 3 Big Questions
What gave you the most pleasure when writing Keeping Up Appearances?
I had no idea what a complex character Marion would become and I enjoyed getting to know her. That along with her sausage rolls. Cooking them was Marion's release and resulted in food she could share with others. It was enjoyable to spend time with her. My daughter and I like making sausage rolls so we've had a few baking sessions since and there will be sausage rolls at my first two launch events.
What were the difficulties you faced when writing the story?
There are some very complex issues in the story and I wanted to make sure they were realistically portrayed. Some topics aren't easy to discuss. My research often led me to people one step removed from the situation I was exploring. I hope I've done justice to their trust in me and the subject.
When you waved Keeping Up Appearances goodbye, on its way to readers and out of your hands, what did you do first? 
It's always with mixed feelings that I press that final send button. Relief that it's finished, fear that I've missed something because that final edit is my responsibility, excitement for the journey ahead when the finished book in its beautiful cover reaches readers hands.  I usually slump back in my chair and ponder all this. It's at least a year's work so quiet reflection first and a small pat on the back. Then I leap about the house, let my family know it's done and drink a toast to acknowledge the journey.
Buy Keeping Up Appearances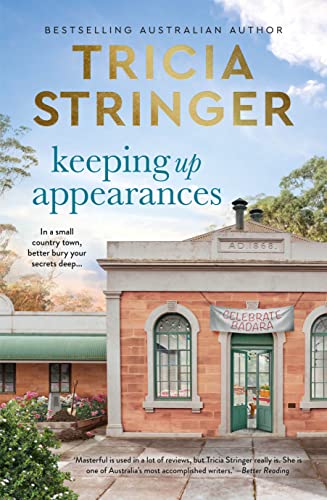 We hope you're enjoying our Book News 
We'd love you to follow us on Facebook & Instagram
You can also subscribe below by email to receive our occasional Book News blog post – and never miss a new book release!
Stay up-to-date on the latest Australian fiction releases and news