New Release & Giveaway – The Road to Ironbark by Kaye Dobbie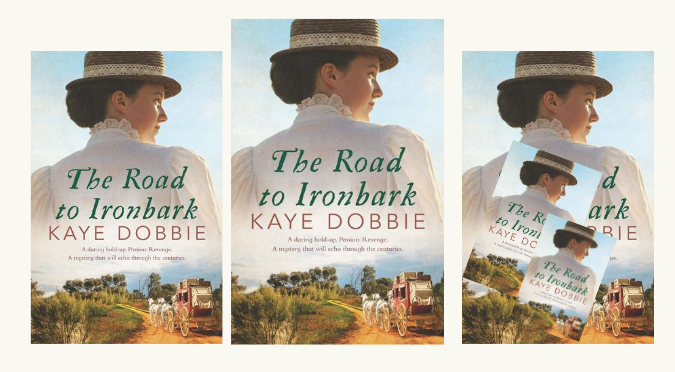 A daring hold-up. Passion. Revenge. A mystery that will echo through the centuries. A compelling romantic adventure.
Out now
THE ROAD TO IRONBARK
by Kaye Dobbie
Read a few words from the author and read an excerpt.
Kaye also answers The 5 Big Questions
– and there's a paperback giveaway!
*GIVEAWAY HAS NOW ENDED
Huge congratulations to the winner, Amanda Knox!
And thank you all for enjoying this post and for your wonderful support.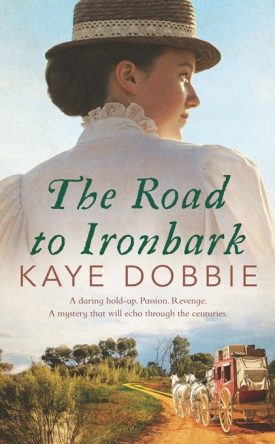 1874, The Victorian Goldfields
In the goldfields town of Ironbark, Aurora Scott faces ruin as the railways supplant the Cobb & Co coach line, the lifeline of her hotel. Aurora is no stranger to adversity, the formidable publican has pulled herself from a murky past to build a respectable life in Ironbark. But when bushrangers storm the hotel, taking hostages as leverage for the Starburst Mine's payroll, Aurora has more trouble on her hands than she can handle.
This is no random act, but a complex scheme of revenge. The gang turn on each other. Shots ring out. And when the dust settles, the money has vanished, and so has Aurora Scott…
After 150 years, the mystery of the missing payroll has passed into folklore. And when journalist Melody Lawson helps her brother prepare for the town's annual Gold Hunt Weekend, she is just as drawn into the past as the tourists.
But with a surprise inheritance her own family history becomes a puzzle, bound up with the fabled payroll – and as Melody follows the clues, danger mounts…
A few words from Kaye
The Road to Ironbark is told through three characters. In 1874 Aurora's hotel is the scene of a hold up by bushrangers, and in 2017 Melody comes home to Ironbark to bury her mother and finds herself caught up in solving the mystery of Aurora's disappearance and her mother's death. And finally Rain, Melody's mother, the keeper of secrets.
Although the town of Ironbark is my own creation, I modelled it on Dunolly, a small town in central Victoria. For a time I lived there and my parents owned a bakery in the main street, so it was familiar to me. Recently I returned on a research trip and the bakery was still there.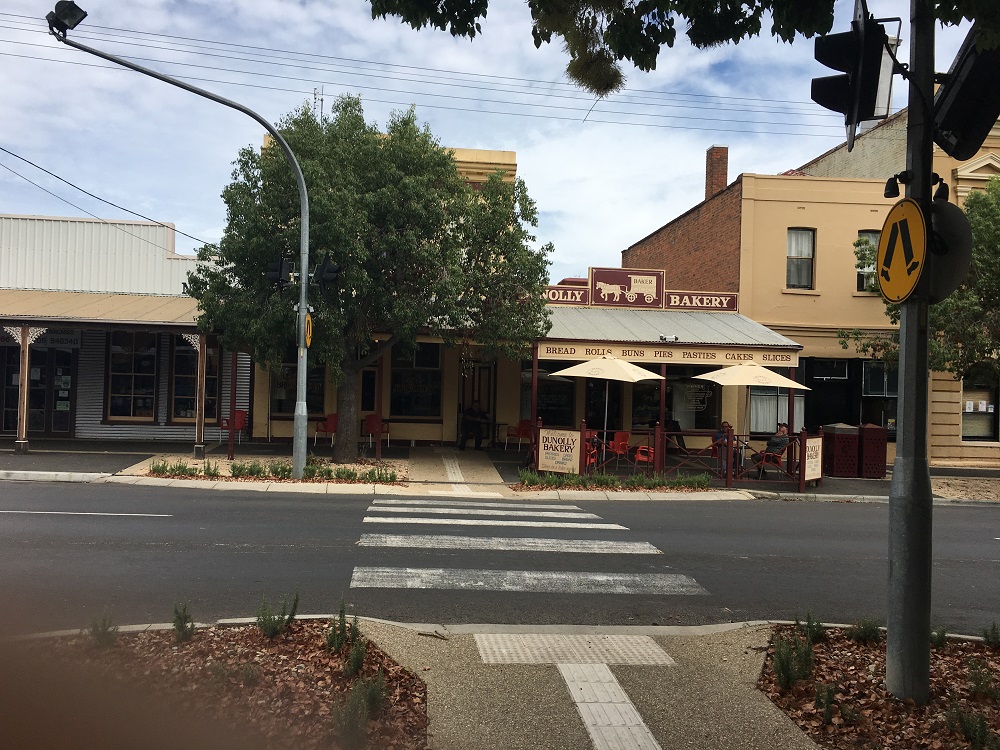 I'm so glad to see this book finally out in the world. Hope everyone enjoys the read.
Kaye
Buy The Road to Ironbark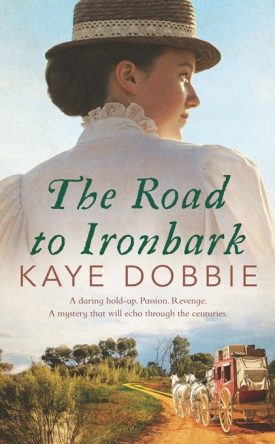 Buy from the publisher HarperCollins
Excerpt from The Road to Ironbark
by Kaye Dobbie
IRONBARK Last Friday in November 1874
The little office began to shake to the pounding of the horses' hooves and the heavy rumble of the coach. Like magic, Barney dis­appeared to attend to his duties, and Aurora stood up and tugged down her tight-fitting jacket and smoothed her bustled skirt. Both were of a midnight blue with cream trim. She knew the outfit suited her well. Her figure was still slim despite the passing years, but there were fine lines about her eyes and mouth. In this hot, dry and unforgiving climate, women as well as men tended to age quickly, and she was vain enough to resent it. She was also prag­matic enough to be able to accept it.
What did it matter, anyway? So what if a love-struck young miner had written a poem to her long ago, describing her as more beautiful than a flock of corellas? No one could stay the same for­ever, and Aurora had found that it was better to look forward rather than back.
She stood watching from the narrow landing outside her door as the coach thundered along the main street and then slowed as it passed her. She could smell the dust and the horses' sweat, both amplified by the heat. Once upon a time, it would have been piled high with deliveries for settlements and farms along the way to Bendigo. Now those days were fast disappearing.
The coach came to a halt just down from her office, and the clouds of dust slowly settled. Barney was waiting, and even from here she could hear him grumbling as he struggled to set down the step, before opening the door to assist the passengers. Robbie, the fifteen-year-old stable boy, had moved to the horses' heads, calming them and ready to deal with their needs.
The driver sprang down and she saw him pass a comment to Robbie that made the boy smile. Then, catching sight of her, he made his way over with an ambling, confident stride. Once he reached the bottom of the stairs, he tipped his wide-brimmed hat to her and Aurora nodded back, unable to help a smile of her own.
She knew most of the drivers, and although some of them might be rough sorts of characters, they were always respectful. Mr Fredericks was usually rostered on for Fridays, so she hadn't been expecting to see Jackson Fletcher today. She would never admit it to anyone aside from herself, but Jackson was by far her favourite driver.
She realised with a pang that she was going to miss him.
He had taken off his hat and gave it a hearty slap against his thigh, sending up a cloud of dust. Then he climbed the steep wooden steps to where she stood outside her office, stopping one stair below her so that their eyes were almost level.
'Mrs Scott,' he drawled in the accent that had gained him the nickname 'Yankee Jack'. 'We're right on time, I reckon.'
'Mr Fletcher, you're always right on time.'
Amusement sparkled in those vivid blue eyes. 'Well, when it comes to Ironbark, I have a reason not to dawdle.'
There was a flirtation going on between them. Nothing overt or vulgar, but it was there nonetheless. She told herself it was a game, a bright light in her day, and where was the harm?
'I presume you're referring to Hester's cooking, Mr Fletcher,' she responded now.
The corners of his mouth twitched. 'Now what else could I be referring to, Mrs Scott?'
His gaze slid over her face as if to see what she thought of that, or perhaps it was that other thing she didn't like to think about. The sense that he remembered her from the time in her past she preferred to forget. Before. The idea made her uncomfortable. It was something she had never mentioned and knew she never would, yet the truth was it was entirely possible that their pasts had intersected back then.
'I didn't realise today was your scheduled day,' she said quickly to break the silence.
'Fredericks had other plans, and 'sides, I wanted to make the trip, Mrs Scott. For a number of reasons,' he added, and now he was as serious as she was.
She took a breath. 'Are you telling me that this is the last time Cobb & Co will stop in Ironbark?' And, when he hesitated, 'It's all right, Mr Fletcher, we've been expecting it.'
'No one has said as much, but there's a letter here for you from the company.'
He held out a sealed envelope with her name on it, and an official-looking stamp on the back.
Aurora felt dizzy. Here was something that was going to change her life forever. She considered not taking it … as if that would make a difference! 'Thank you,' she murmured as he placed it in her hand. She slipped it into the pocket of her skirt without opening it. She would do that later, when she was alone and could let down her guard.
He was still looking at her. 'Mrs Scott—' he began, and then his lashes came down over those remarkable eyes, as if he was suddenly shy.
Kaye Dobbie
Multi-Published, RuBY Award Finalist Author
Captivating historical and contemporary family sagas
Read more about Kaye and her books and discover where to find her on social  media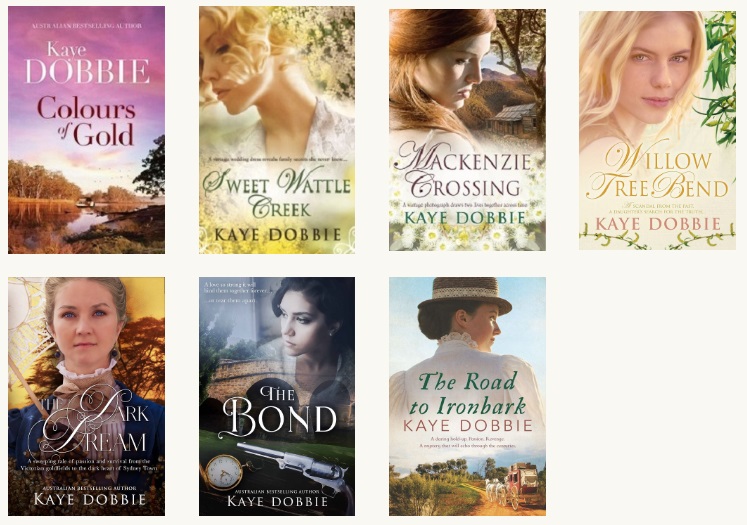 The 5 Big Questions
How long did it take you to write the book?
Over three years. Longer than I would have liked. My mother was ill and it was just tough to do any writing at all. I had a few false starts and then help from editors and friends and my agent. For a time there I didn't think I would ever finish it and wondered why I was even trying.
Anyway I did finish it and I have a real sense of pride in that.
What was the most difficult or complex aspect of writing your book?
I always find the dual timeline a challenge. I'm a slow writer and tying all the threads together really tests me.
What gave you the most pleasure when writing your book?
I love the historical aspects of the story. I think I'm always going to prefer the past to the modern. I particularly like the goldrush period of Australia, and have written a few books set in that time. Maybe because I live in an old goldrush town and the evidence of those days is all around me.
Are you nervous when a new release comes out?
Release day is always exciting no matter how many books you've written. I want people to buy it but I want them to love it as much as I do.
What's the best thing a reader could do if they enjoyed your book?
Well you could tell your friends! Or write me a review on whichever site you bought it from. All of that helps to writers to keep writing.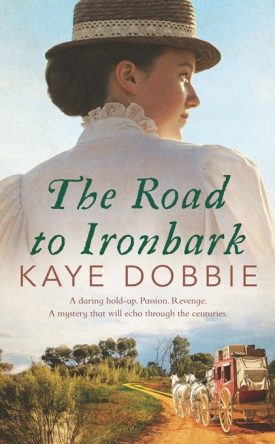 GIVEAWAY
*GIVEAWAY HAS NOW ENDED
Huge congratulations to the winner, Amanda Knox!
And thank you all for enjoying this post and for your wonderful support.
Simply leave a comment for Kaye and you're in the draw to win a paperback copy of
THE ROAD TO IRONBARK
Good luck!
*Giveaway open to Australian postal addressees only.
*Giveaway ends midnight AEST Sunday 9th August 2020. Winner notified by email.
Subscribe by email to receive our occasional blog posts – 

and never miss a new book release!
Stay up-to-date on the latest Australian fiction releases and news