New Release & Giveaway – The McCalister Legacy by Nicole Hurley-Moore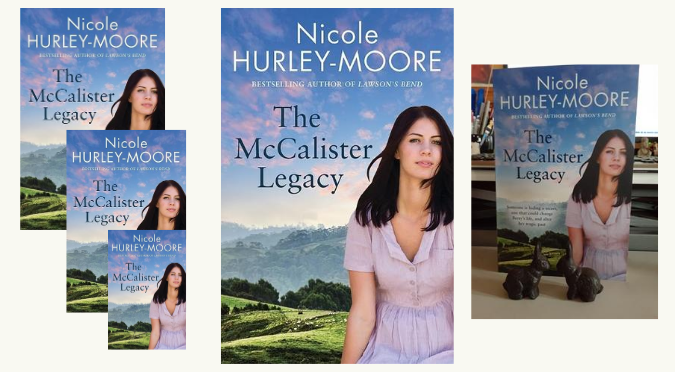 Someone is hiding a secret – one that could change Berry's life, and alter her tragic past.
OUT NOW
THE McCALISTER LEGACY
by Nicole Hurley-Moore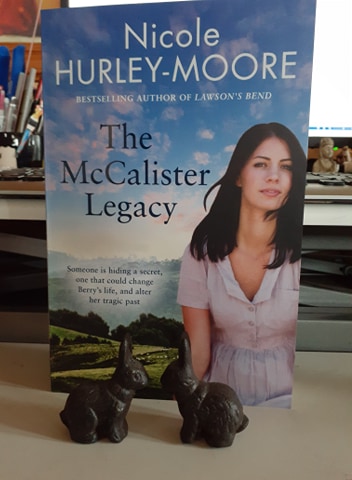 Read a few words from the author and read an excerpt.
Nicole also answers The 5 Big Questions
and there's a giveaway!
(a paperback copy of The McCalister Legacy and a pair of lucky rabbit ornaments)
*GIVEAWAY HAS NOW ENDED
The winner is Maree Gray!
Thank you so much to everyone who left a comment and enjoyed this blog post.
Your support means so much to all group member authors here at Australian Fiction Authors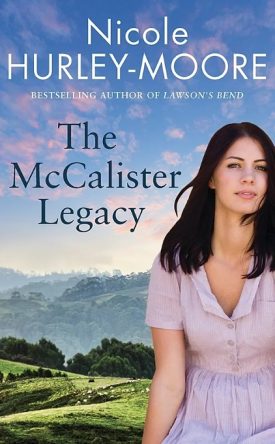 As a child, Berry McCalister's family was torn apart by shocking violence. Eleven years on, she returns to the small town of Harlington, determined to confront the past and, finally, to cut all ties and sell the family farm.
Complicating her desire to get out of Harlington, Berry is drawn to her childhood crush, Nate Tarant. He never knew she existed back then, but things change, and this time Nate seems to be very much aware of her presence.
Berry begins to question the long-believed story of what happened to her family. Will she ever find out the truth? And can one old rumour shed light on the real events of that night?
A few words from Nicole
Hi everyone,
It's lovely to be back as it's been a while. The McCalister Legacy is a rural suspense and will be my sixth book with Allen & Unwin. I'm afraid life kind of got in the way while I was writing this one and it took longer than usual but we finally got there in the end and I guess that's all that counts.
The story centres around Berenice McCalister (Berry for short). As a child, her family was torn apart by a shocking act of violence and because of it, Berry and her brother and sister have been raised by their uncle in Melbourne. Eleven years on, she returns to the small town of Harlington determined to confront the past and cut all ties with it.
She's there to sell the family farm, the one thing that still links her to the terrible events that shattered her childhood.
Complicating her desire to get out of Harlington as quickly as possible, is the fact that she's drawn to her childhood crush, Nate Tarant. The longer Berry stays in Harlington, she more she begins to question the long-believed story of what happened to her family. But finding the truth could be far more dangerous that she ever thought possible.
I hope that you'll give The McCalister Legacy a whirl and I'd love to know what you think.
Nicole x
Buy The McCalister Legacy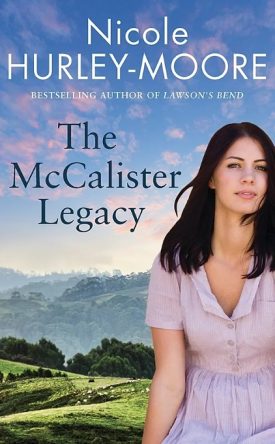 Excerpt from The McCalister Legacy
by Nicole Hurley-Moore
Stone Gully Farm – 2007
Later that evening just before sunset, Berry was out riding in the back yard riding her new bike. The bike was a shiny ruby red, with reflectors on the pedals, a light and a straw basket with red daisies sitting at the front.
The late February air was still warm but the light would fade soon as the sun had just dropped behind the hill in the distance.  She'd been allowed to stay up later than usual because it was her birthday. It was a Saturday and she worked on her father until he'd laughed and agreed. That tactic usually didn't pan out that way but it had tonight.
Berry rode another circuit around the clothesline, all the while wishing she could take off down the track behind the back of the house. It was a great track, it went through Stone Gully and into the bush, and if you followed it right to the end it would lead you to the outskirts of town. She'd only ridden the whole thing once with her father. It had taken almost an hour but it had been worth it. She was good at bike riding and had been doing it ever since Dad had taken the training wheels off when she was six.
Her grandmother opened the back door and stood out on the verandah, wiping her hands on her apron. It made Berry smile; no one else she knew wore an apron like that, but Grandma had a selection of bright cotton ones which were firmly tied around her waist in a giddy, colourful rotation. Some were check, others striped, but tonight she was wearing her favourite, which was covered in blue and purple flowers, with dark purple binding all around the edges. The only time that Grandma was ever seen not wearing one was when she went into town.
'Hey Berry Cherry, five more minutes, okay?' Her grandmother called as she smoothed out her blond hair. It was the same colour as Mum's but with some silvery streaks near her temples. Sometimes Berry wished that she had that blonde hair instead of dark brown. Her mum said that she and her brother and sister had the same hair as Dad. Most of the time Berry didn't care but when the sun made her mum's hair a golden she couldn't help wishing that it could have been different.
'Yes, Grandma,' she said as she continued her circuit. 'Thanks again for the bike, I love it,' she called over her shoulder.
'And I love you. I'll come and get you in few more minutes,' her grandma said before disappearing back through the door.
Berry rode and rode, and began to hum. Around and around she went and the light began to fade. Just as she was one her final lap, she thought she caught the sound of an angry voice so she slowed down. Stopping the bike, she tilted her head and listened in surprise. She had never heard voices raised in anger in her home before, and for a moment she thought that maybe she'd imagined it, as everything appeared to be quiet, except for the last mournful warble of a nearby magpie. But just as she was about to start peddling again, the noise erupted from inside the farmhouse. It sounded like an argument although she couldn't make out the words, she thought she recognised her father's deep voice.
Berry jumped as the back door flew open and her mother ran towards her holding little Tom in her arms. Suddenly Berry felt afraid; she didn't understand what was happening but she knew something was terribly wrong. There was an expression in her mum's eyes that Berry had never seen before – fear.
'Get back on your bike, sweetheart,' her mother said quickly as she placed little Tom in the basket between the handlebars. 'That's it, good girl.'
Berry did what she said and her mother started pushing the bike and running alongside it. She was steering them to the old back gate which opened up to the rest of the farm.
'Mum, what's the matter?'
'Everything is going to be alright darling. I need you to ride into town, as fast as you can. Get to the Ford's place and tell Jodie's mum to ring the police. Can you do that for me, Berry?'
She was about to answer when suddenly from somewhere in the house came a loud bang, like Grandad's old truck backfiring.
Berry looked over her shoulder and saw her grandmother appear at the back door. Her face was pale and there was a panicked look in her grey eyes.  'Oh God, Cath,' she called out. 'He's coming! Hurry!'
Another bang went off, as Mummy opened the gate and pushed Berry's bike through. 'Whatever happens sweetheart, just keep riding. Don't stop until you get to Jodie's.'
Berry looked at her Mother and saw that there were tears beginning to fall down her cheeks.
'Mum, where's Dad – I'm scared.'
'You'll be fine,' she said as she squeezed her hand. 'You're my big, brave girl and I love you. Promise me that you'll keep riding as fast as you can and don't look back.'
Berry nodded as she couldn't manage to croak out an answer. She swallowed hard as her eyes began to well.
'Look after your brother and sister. They'll need you.'
'I promise, Mum.'
Her mother gave her a final smile but Berry noticed that her eyes were bright with tears. Tom was sitting silently, his face white with fear as he picked up on his mother's emotion. 'I love you all more than anything.  Now go, as quick as you can!' She said before giving Berry's bike a final push down the track.
She did what her mother said and didn't look back until she reach the bend in the track. She glanced towards the house and saw her mother running in the opposite direction – through the back paddocks towards the dam. The thin saplings that lined the track obscured her view as she rode, but she thought she saw a figure chasing after her mother. She wasn't sure, though, and she had to keep looking ahead to avoid the potholes in the dusty road and make sure Tom was safe in the basket. Her heart beat fast as she kept trying to catch a glimpse of her mum through the trees. She'd never been so scared; she wanted to turn the bike around and go back but she'd promised to go to the Fords no matter what.  A lump was forming in her throat and another in the pit of her stomach as the little red bike flew down the track. Berry pedalled as fast as she could and prayed that Tommy wouldn't start to fuss – but he didn't, not even once as if he sensed that something was terribly wrong. Ahead by an ancient ghost gum the path veered away from Stone Gully, and as she reached it, another loud bang echoed over the darkening landscape. Berry didn't know what the sound meant but it made her cry harder. Despite the tears blurring her eyes, she did what Mum asked and kept going all the way into town.
Nicole Hurley-Moore
Historical, Fantasy and Contemporary Romance Author
I'm a hopeless romantic who is enchanted by romance no matter the time period or realm
Nicole Hurley-Moore Romance Author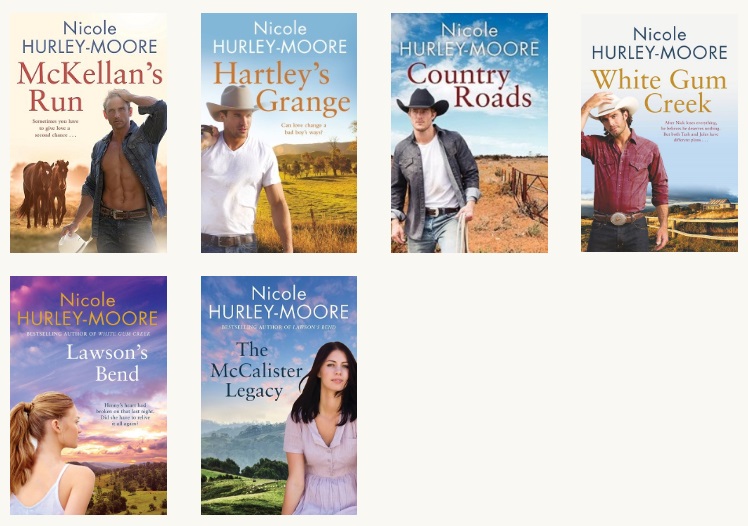 The 5 Big Questions
How long did it take you to write the book?
A long, long time. Personally, last year was tumultuous and because of that The McCalister Legacy took almost a year and a half to write rather than the normal 5 – 6 months.
What was the most difficult or complex aspect of writing your book?
The most difficult part was sitting down, focusing on the book and trying to finish it. I love the story but I did find it a bit of a challenge to write.
What gave you the most pleasure when writing your book?
I always love playing around with different time lines. This story has three different time points – the main contemporary story about Berry returning to Harlington, 2007 when Berry was a child and 1906 where a local child is lost in the bush.
I have to admit, I have a soft spot for the 1906 storyline about little Neddy and his wayward rabbit.
Are you nervous when a new release comes out?
I'm always have an equal mix of being incredibly excited and incredibly nervous!
What's the best thing a reader could do if they enjoyed your book?
It would be really lovely if they recommended the book to a friend or left a review.
GIVEAWAY
*GIVEAWAY HAS NOW ENDED
The winner is Maree Gray!
Thank you so much to everyone who left a comment and enjoyed this blog post.
Your support means so much to all group member authors here at Australian Fiction Authors.
Simply leave a comment for Nicole and you're in the draw to win a paperback copy of
THE McCALISTER LEGACY
plus two gorgeous lucky rabbit ornaments.
Good luck!
*Giveaway open to Australian postal addressees only.
*Giveaway ends midnight AEST Saturday 8th August 2020. Winner notified by email.
Subscribe by email to receive our occasional blog posts – 

and never miss a new book release!
Stay up-to-date on the latest Australian fiction releases and news