New Release & Giveaway – The Final Siren by Nicki Edwards
Published:
September 13, 2020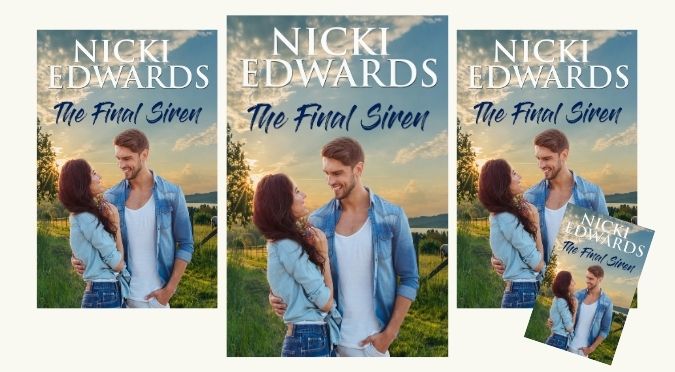 A sweet, small-town romance about secrets and a chance to leave the past behind.
THE FINAL SIREN
by Nicki Edwards
OUT NOW
Read an excerpt, read Nicki's answers to The 5 Big Questions and there's also a GIVEAWAY!
*Giveaway has now ended. Congratulations to Norma!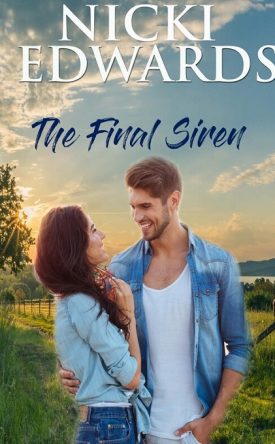 For a chance at happiness, will they follow their hearts?
Jed Delaney left the small town of Glengarrick after he was drafted into the AFL, taking a secret with him, and breaking Georgia Purcell's heart in the process. He's a household name and considered to be one of the best ruckmen the game has ever seen, but a devastating career-ending injury has him returning home wondering what to do next.
Georgia tried to leave Glengarrick too, but after her father's death and her mother's illness, ten years later she's still stuck, wondering what her future holds. She never expected Jed Delaney to walk back into her life like nothing has changed. Not when she's the reason for his retirement from the game he loves.
Will the lure of a new career pathway within the AFL be too much for Jed to walk away from, or can he leave it all behind for a chance of happiness with Georgia?
Excerpt from The Final Siren by Nicki Edwards
The DJ announced he was taking requests for karaoke. Zara pushed back her chair and stood. 'I'm going to put my name on the list. Charlie, you up for it?'
Charlie guffawed. 'Do you remember how bad I am?'
Georgie and Jed joined in his laughter.
'Jed?' Zara asked. 'What about you?'
Jed rested his hand on Georgie's leg again, eyes full of question. This time the touch felt like an electric shock zapping her. 'Only if Georgie joins me.' He turned to face her. 'What do you say?'
Zara didn't wait to hear Georgie's answer. She dashed off.
'Go on,' Charlie said, sitting back in his chair with a grin. 'I still remember that song you two sang for Glengarrick's Got Talent. You guys were awesome.'
Georgie groaned, even though that night had been one of the highlights of her entire life so far. In costume as Disney's Aladdin and Jasmine, she and Jed had sung "A Whole New World" to thunderous applause and cheers from the entire town.
Thank goodness no-one had filmed it. Jed would have been so embarrassed if a video of him had surfaced with him dressed in nothing except a pair of white harem pants and a purple vest. His fans—and the commentators of the footy shows—would have had had a field day.
'We weren't that good. Neither of us got a tap on the shoulder and cast in the next big musical,' she said.
'I was good,' Jed said earnestly, 'but you­'— he gently touched her cheek and turned her face towards him, his thumb trailing down her jaw to her chin— 'you were remarkable.'
He dropped his hand and they stared at each other. For a moment she forgot they were in the pub surrounded by people.
The intimate pause was broken by the DJ's voice. 'We have a treat for you tonight. First up is AFL superstar, Jed Delaney, and our very own Georgina Purcell, singing a duet.'
The crowd roared and Georgie froze. Could she do this? She glanced at Jed, but he didn't look at all perturbed. If anything, he looked amped.
Before she had a chance to run to the bathroom, Jed stood and grabbed her by the hand, gesturing towards the stage. 'Come on, George, it'll be fun. Like old times. Put a smile on and pretend you love the attention.'
She shot him a look that hopefully conveyed exactly how much "fun" she expected this to be, but all he did was laugh. Feigning reluctance, she allowed herself to be towed behind him towards the stage. Jed beamed like he was having the time of his life and it was hard not to get caught up in his enthusiasm. It was so infectious and his presence and faith in her was the boost she needed. When he leapt onto the stage and reached down to help her up, she took his outstretched hand and smiled up at him. She could do this. Besides, with everyone watching them, she'd look like a fool for turning Jed Delaney down.
'Thanks, Georgie,' he whispered in her ear as he handed her one of the microphones.
He was so close, his warm breath tickled her neck and caused tingles of delight to race up and down her spine.
The music started and she laughed despite how nervous she felt. She'd figured Zara would ask the DJ to play the song from Aladdin, but instead, she'd picked an 80's classic: Human League's synthpop song, "Don't you want me". She glanced at Jed and he was laughing too.
'We got this,' he mouthed before leaning in close and pursing his lips in a mock-seductive kiss.
Jed clutched the microphone on the stand with both hands and started singing about meeting her in a cocktail bar. When he got to the next line about picking her out, shaking her up and turning her round, he let go of the microphone and scooped her up in his arms before dropping her down again and spinning her under his arm. He mucked up the next line, but the crowd didn't care. They went wild. Even Georgie couldn't stop giggling.
By the time she'd sung her verse and they made it to the second chorus, the entire pub was singing along with them, begging the question: "don't you want me, baby?".
Jed played the part perfectly, pretending to beg Georgie to give him another chance. In return, she teased and taunted him, coming close, then backing away, singing that she didn't need him. The crowd ate it up.
By the time they got to the final chorus, all Georgie's nerves were gone. She didn't even care that dozens of phones were pointed towards them, clearly videoing their performance. Even spotting Nick, the reporter from Channel Seven, didn't throw her off.
The song ended and they stood face to face, millimetres apart, breathing heavily from the exertion of their act. For a split second, Georgie felt like she was Lady Gaga, and Jed was Bradley Cooper and they'd just performed Shallow at the Oscars.
She looked up into Jed's eyes and couldn't stop herself. Reaching up, she brushed his cheek with the back of her hand. Their eyes stayed locked together as everyone cheered and clamoured for them to sing another song, but Georgie barely noticed. All she saw was the man before her.
The man she'd fallen deeper in love with.
Her eyes travelled down to his lips, and her breath hitched. He leaned closer and for a moment she thought he was about to kiss her in front of everyone. A whistle from the audience snapped them both out of it and she took a step back and mentally shook her head. If she kissed Jed Delaney now, it would be all the morning talk show hosts would talk about.
Jed leaned into the microphone on the stand. 'Sorry, folks, that's all from us tonight. Guess you'll have to call us one hit wonders.'
Buy The Final Siren
A sweet, small-town romance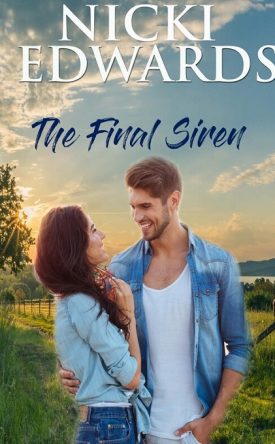 Buy a signed paperback direct from Nicki  
Nicki Edwards
Author of Heartwarming Australian Romance
Country town life. Love and medical drama.
Read more about Nicki and her books and discover where to follow her on social media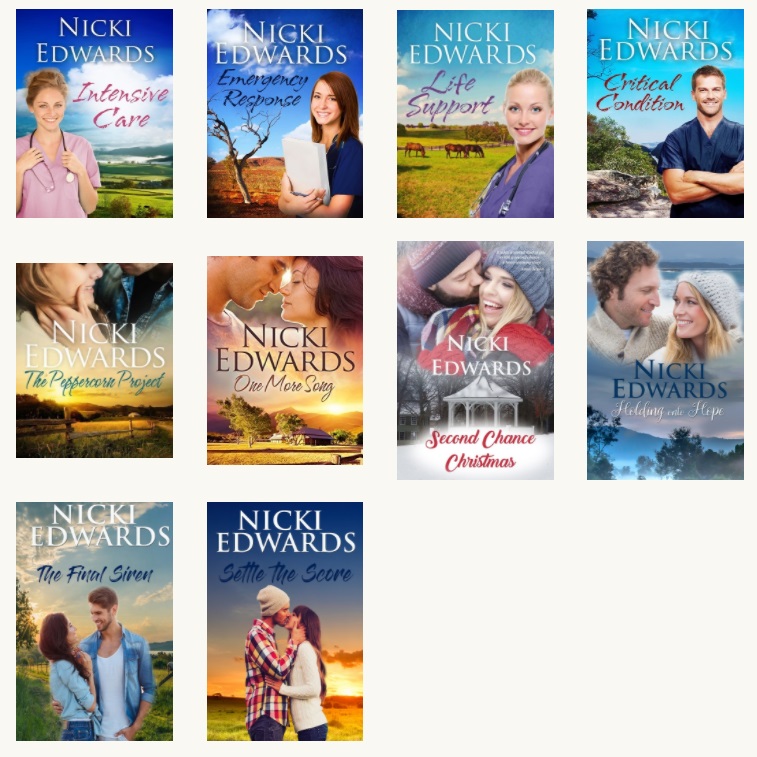 COMING SOON FROM NICKI
Should you keep score when it comes to love?
out in eBook and paperback 31 October 2020 and up for pre-order now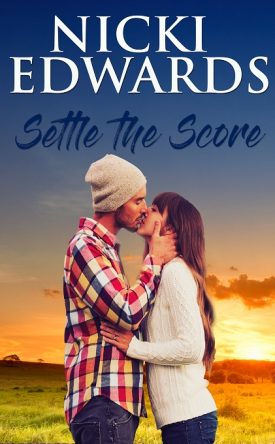 Pre-order from Nicki here or from your favourite online book store
Nicki Answers The 5 Big Questions
How long did it take you to write the book?
About 4 months (part time)
What was the most difficult or complex aspect of writing your book?
Making sure the football scenes were accurate – luckily I have a footy mad hubby who was able to steer me in the right direction. I also had some insider knowledge from a former Cats ruckman!
What gave you the most pleasure when writing your book?
I always love starting a new book, but the best feeling is after sending it off proof reading. By then, it's almost too late to make sweeping changes.
Are you nervous when a new release comes out?
Terrified. The "what if it's awful?" question cycles continuously.
What's the best thing a reader could do if they enjoyed your book?
Write a review or share it on social media – word of mouth really is the best form of "advertising"
GIVEAWAY
Leave a comment for Nicki and you're in the draw to win a signed paperback copy of
THE FINAL SIREN
*Giveaway has now ended. Congratulations to Norma!
*Giveaway open to Australian postal addressees only.
*Giveaway ends midnight AEST Wednesday 16th September 2020. Winner notified by email.
Subscribe by email to receive our occasional blog posts – and never miss a new book release!
Stay up-to-date on the latest Australian fiction releases and news