New Release & Giveaway – The Bush Telegraph by Fiona McArthur
Published:
September 1, 2020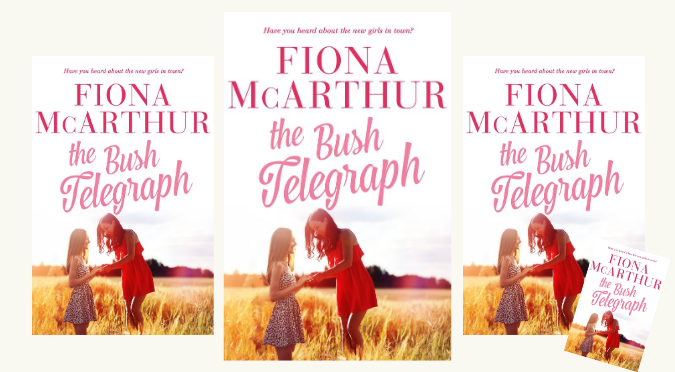 "From Australia's renowned midwife and bestselling author of The Desert Midwife, The Bush Telegraph is a romantic drama about love, friendship, community and the joys and challenges of life in the outback."
Out now in paperback and eBook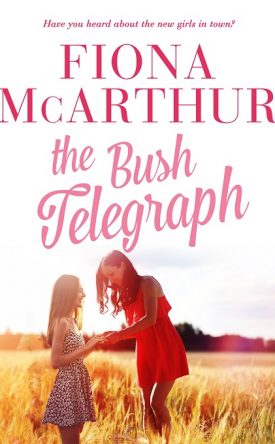 We've got an excerpt for you and Fiona answers The 5 Big Questions.
There's also a paperback giveaway!
*GIVEAWAY has now ended.
Small towns and gossip go together like trees and birds.
It's been more than ten years since Maddy Locke left Spinifex, the small outback town where she gave birth to her daughter, Bridget. Now she's back to prove she's got what it takes to run the medical centre and face the memories of that challenging time in her life. But everything's changed – the old pub is gone, her new colleagues aren't pleased to see her, and it's drier and hotter than ever.
Station owner, Connor Fairhall, thought he'd left the drama behind in Sydney, but moving back to Spinifex with his rebellious son, Jayden, hasn't been the fresh start he'd envisioned. His brother, Kyle, is drinking too much and the only bright spot on the horizon is meeting Nurse Maddy, who's breathing new life into the weary town up the road, little by little.
Can Maddy ignore the rumours about Connor and risk her heart again? Or will the bush telegraph spread along the wire fences and stand in the way of trust?
A few words from Fiona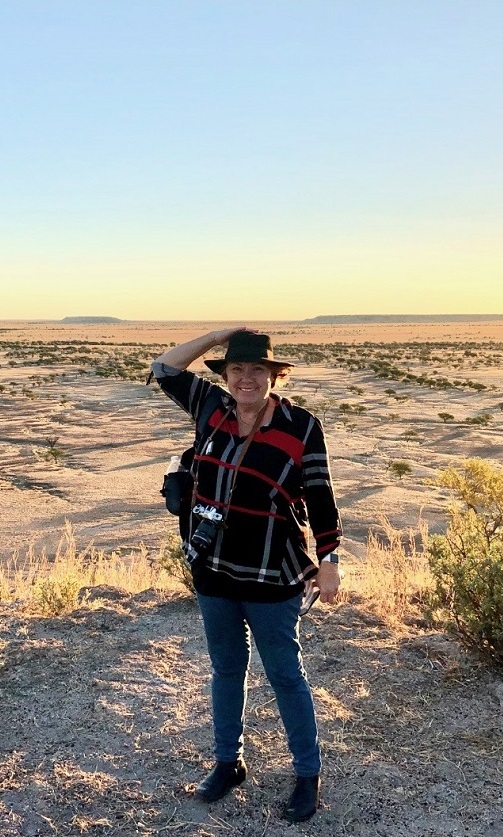 Welcome to the Bush Telegraph. It's with great pleasure I send this book baby out into the world because I loved the setting and the people so much it was hard to let them go.
If you haven't been out to Longreach, across to Winton, further to Boulia and down the back way to Windorah then there's some amazing Australia you still need to see.  If you possibly can, then I sincerely hope you manage to do so. If you have or can't, enjoy the visions though my eyes and meet some amazing people in the book and I wish you an experience you will never forget.
Love Fi.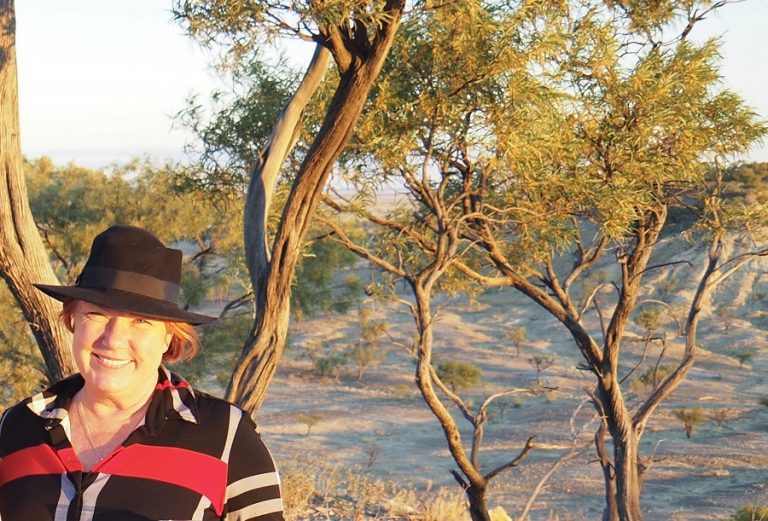 Buy The Bush Telegraph
A romantic drama about love, friendship, community and the joys and challenges of life in the outback.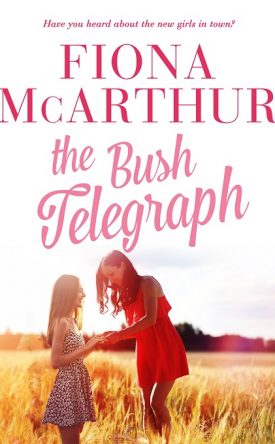 Buy from the publisher Penguin
Excerpt from The Bush Telegraph by Fiona McArthur
Chapter Two
'Welcome to Middleton. Population one?' Bridget's mother slowed the car as she read the sign out loud. 'Gotta love outback Queens-land.'
Her mum smiled, but at eleven years old, Bridget felt more horrified than amused. As she stared at the poo-brown emptiness, she couldn't believe she'd been born out here somewhere.
Soon they drove past the roadhouse/pub, the only remotely house-like building in the sad excuse for a town. The wide gravel drive held two dark cars out front like two black teeth in a yawn of boredom.
'There'll be more people at Spinifex, Bee. And it's only for twelve months. Don't worry.'
Bridget looked at the tin roof radiating heat and couldn't help imagining an egg sizzling sunny-side up. It was so hot!
Her mother said, 'A hundred and fifty years ago, this was a changing station for Cobb & Co horses between Winton and Boulia.'
Bridget sat straighter at the mention of horses. One of the possible upsides of her mother's nursing contract in western Queensland was the chance that she could have a horse – her mum had said she'd think about it. She couldn't have her best friend, Millie, or any of the friends she had on the island, but maybe a horse . . .
Bridget pressed her face to the window again and stared at the single-building village. 'That has to be the smallest town ever.'
Her mum laughed again as she sped up out of the 'built-up- area' speed zone. It wasn't funny, but at least one of them was in a good mood. Bridget couldn't even begin to compare the last town they'd passed through after driving for hours, Winton, with Lord Howe Island.
She wanted her old world with people she knew. Not this empty world. She'd seen Darling Harbour, the zoo, lots of places really, when she'd spent holidays on the mainland while her mum had been nursing there. Bridget was still in shock that they'd left the island where she'd grown up.
She couldn't believe she wouldn't be going back to the Island Central School, where you didn't have to wear shoes if you didn't want to. Out here, she'd bet her feet would burn right off if she went barefoot. And they'd be here for twelve months! Year Six had been the year she'd been looking forward to. She puffed out a worried sigh. Finally, she'd be a senior girl, but now she'd be in a new school, with people she didn't know. What if they'd all learned stuff she hadn't?
This place out here in the centre of Queensland would be horrid. These huge distances you had to sit in the car for. Long, straight roads that went over the horizon and then over the next and the next. Her gaze tried to stop the shimmery mountains wiggling like mirages in front of her. This just felt all wrong.
'Look at the baby emus!'
Her mum's words shifted Bridget's dark thoughts and her eyes widened. Wow. 'The mother emu's so tall.' The flightless bird's long neck turned to look at them with suspicion as the car slowed again and her spotty followers quickened their pace.
Bridget laughed out loud at the three speckled emu chicks as they trotted beside their mother parallel to the road.
'The landscape's changed a lot since yesterday, hasn't it, Bee?' Mum offered the obvious statement.
Bridget's brief excitement died. Der.
They'd flown into Brisbane, a city like Sydney, where they picked up her mum's almost-new car and their sent-ahead belongings. That had been exciting.
Last night they'd stayed in a long, skinny cabin at a place called Longreach. She knew why they called it that – it had taken ages to get there. But they'd had pizza delivered to their little house at the end of a row of tiny overnight houses, and that had been fun.
But that was last night. Now they were approaching their destination from an angle Mum said even she hadn't seen. Bridget hoped they were on the right road. Granny usually gave the direc- tions if they drove anywhere.
A pang of too-recent loss tightened her throat. How odd it felt, to have just Mum and her on the road, and it would be even stranger to be in a house on their own.
Their home on the island with Granny had always been full of friends. Bee loved impromptu parties, and when Mum flew out to work for the week Bridget had always had Granny and company.
Bridget remembered the funeral, the day they'd poured Granny's ashes and special tree oil into the hole under the fig. What had they called it? A Living Legacy Planting Day. Something about converting ashes into living molecules that would help the tree grow, like the circle of life. Weird. But it was what Granny wanted.
There was something comforting about how Granny could be a part of the magnificent tree she'd always loved outside her beach house on the island. Bridget could see in her mind the little plaque staked in next to it with Alma Toms written on it.
Granny was still on Lord Howe.
Bridget wasn't.
Bridget sucked air through her teeth and turned to face her mother, trying to get the message across. 'It's different from the island.'
There'd be no dashing off to follow a lizard into the bush. No sitting on a high rock watching the waves. She spread her hands. 'It's so empty. So far between places. We can't tramp around the place, like we'd normally do on the island.' Tramp. She sighed – that was what Granny used to say.
The words made her remember everything she'd be missing all over again. There would be no Granny. No beach. No ocean. This was the never-never, like in the books she'd read at school. With the heat and dry, where Mum said people died in the desert.
'There are other things to do.' Her mum waved at the window. 'Though exploring out here in the hot sun isn't safe. Promise me you'll remember that. And if you ever decide to take off without telling me'—she gave her a stern look—'you have to also remember that without water or shade, your life will be in danger.'
'I've got it, I promise, Mum.' Like she hadn't said that before. 'Don't go anywhere without telling you. Shade. Water. But what will we do when you're not working?' Bridget's worry made her voice crack.
The silence stretched. Even her mum couldn't think of anything at the moment. 'We'll have an adventure,' she finally said.
Fiona McArthur
Multi-Published International Bestselling Author
Good Medicine…rural/remote Australia…heartwarming romantic drama
Read more about Fiona and her books and discover where to follow her on social media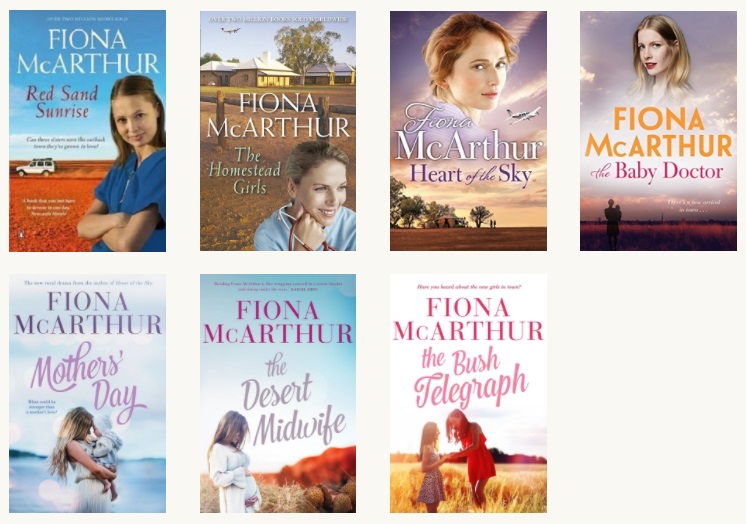 Fiona answers The 5 Big Questions
How long did it take you to write the book?
This book flowed, I loved the people so much the characters carried it, so it took less than six months to write. You get books like that. Unexpected signposts along the way that illuminated pauses. Every time I slowed, I seemed to find a newspaper article, or photo, or conversation that carried the theme like a fast-flowing river and the people in the story did the rest.
What was the most difficult or complex aspect of writing your book?
'Re-checking medical facts, distances, time it took to get places are the usual slowers. I had help from actual remote health workers, and from a friend who is a local GP Obstetrician who does outreach locums, and that's apart from the core midwifery that I love so much. But I like to check.
What gave you the most pleasure when writing your book?
Describing the landscape was fun. I kept looking at the photos and remembering how much I loved that spot and thinking which scenes would show it off. And also Bridget's point of view. I loved being an eleven-year old. Hence the excerpt from her POV.
Are you nervous when a new release comes out?
Not nervous. There isn't time, really, at book launch. It's such a busy time, and now, with blogs and facetimes and library zooms, my nerves are more focussed on that because I want peole to find the book and enjoy it. The book is written to the best of my ability. It's printed, on-line and out there. I'm nervous about the book when I first-hand it to the editor and now it's up to the reader to enjoy it. I'm hopeful that my book will give the reading experience I want to give to the reader. I want them to put it down with a smile and a sigh at the end and feel like they have lived a time in Spinifex.
What's the best thing a reader could do if they enjoyed your book?
Tell their friends. Please. Share the enjoyment and if they have a circle of friends on Facebook share it there. Reviews on-line are great, too, but they take time for people to do.  But if someone asks me what makes me pick up a new author, it's always because of a recommendation, usually from a friend.
GIVEAWAY
Leave a comment for Fiona and you're in the draw to win a paperback copy of
THE BUSH TELEGRAPH
Good luck!
*GIVEAWAY has now ended.
*Giveaway open to Australian postal addressees only.
*Giveaway ends midnight AEST Saturday 5th September 2020. Winner notified by email.
Subscribe by email to receive our occasional blog posts – 

and never miss a new book release!
Stay up-to-date on the latest Australian fiction releases and news