New Release & Giveaway – Lonely in Longreach by Eva Scott
Published:
September 2, 2020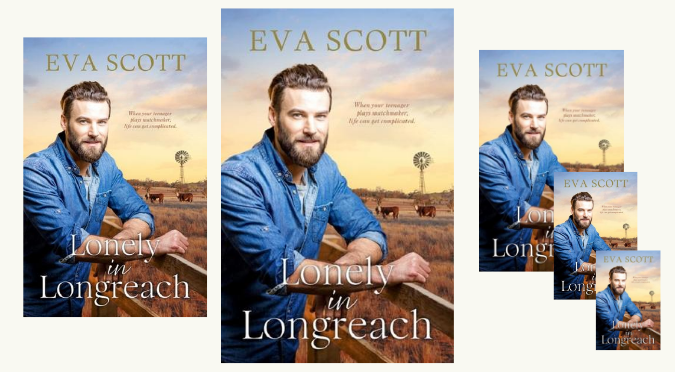 In the red heart of Queensland, two teenagers playing matchmaker are about to turn more than one life upside-down.
Out now in paperback and eBook
Read a few words from Eva, plus we've got an excerpt for you and Eva also answers The 5 Big Questions.
There's also a paperback giveaway!
*GIVEAWAY has now ended. Congratulations to the winner Rosselyn Anderson!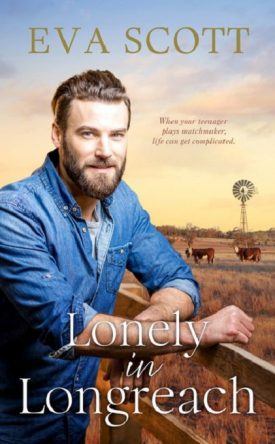 Widower Sam Costello has no time for love. When he's not working on his farm, he's trying to figure out how to connect with his teenage son Levi.
But Levi is about to finish high school, and he has big plans to move to Sydney for University with his best friend Maddie. If only he didn't feel so guilty about abandoning his dad. Maddie has her own reasons for wanting to go to Sydney and she's not going to let Levi's dad ruin her future happiness. Mr Costello needs a girlfriend and, with her talent for matchmaking, Maddie is the girl to make it happen. By the time Mr C figures out what she's done, surely he'll be too in love to be angry.
Journalist Sarah Lewis has a good job, a nice boyfriend and a safe life in Sydney. Though sometimes she wonders if life has more to offer than nice and safe. When she starts working on an article about finding love in the outback she finds herself asking whether journalists should become this invested in their research. But there's just something about Lonely in Longreach. Could it be that the man behind the dating profile is the key to the passion she has been looking for?
Sleepless in Seattle meets rural Australia in this fresh romantic comedy about optimism, online dating and love at first sight.
A few words from Eva
The current times have become so complicated and fraught with anxiety on so many different fronts that I began to take refuge in 90s Romcoms where everyone was good looking and despite the improbable story lines, they all had happy ever afters. You know the ones I'm talking about: Sleepless in Seattle, When Harry Met Sally, Notting Hill. I wanted to escape to a time with less technology (and less opinions). I figured I wasn't alone in my desire to take a break from it all and I wrote Lonely in Longreach to offer a little respite from the worries of the world.
I hope you enjoy it.
Eva
Buy Lonely in Longreach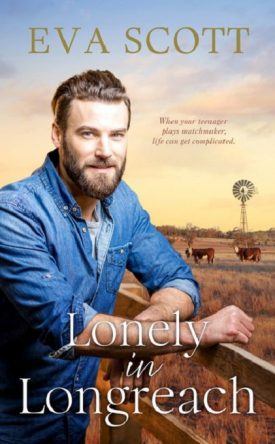 Buy from the publisher HarperCollins 
Excerpt from Lonely in Longreach by Eva Scott
The dry grass crackled like cellophane underfoot as Sam Costello and his son Levi made their way across what passed for the lawn of the Longreach Remembrance Garden. The lively yellow daisies Sam carried seemed to wilt during the short walk from the car. Michelle had loved daisies. She always said their sunny vibe made her feel as if everything would work out okay, even when it became clear it wouldn't. The trees near the entrance to the cemetery huddled together as if for comfort, drooping in the relentless sun, their leaves limp and lifeless in the still air. The sky arced overhead in a vault of deepest blue without a cloud in sight giving Sam the impression he lived in one of those snow globes, one where someone had swapped out the snow for dust.Brown, rocky patches made up most of the grounds, testimony to the lack of rain. Drought made water a precious commodity, not to be wasted on keeping the cemetery green. It wasn't as if the people buried there noticed one way or another.They picked their way across the barren soil, skirting remembrance plaques and gravestones of the people who had braved this hard, wild country before them. Had their lives been as challenging as his? Had they buried wives, watched their stock die and tried to raise grumpy teenage boys alone? Had they been as clueless as him?
Sam took off his akubra hat and wiped away the bead of sweat heading south on his forehead with the back of his hand. His shirt stuck to his back and he no longer noticed the flies pestering him, automatically waving them away with one hand. The relentless heat made him weary, adding weight to every one of his thirty-eight years.
Levi, at fifteen, seemed impervious to the weather. He wore a t-shirt, frayed at the seams, and a baseball cap that had seen better days. Sam had wanted him to change into something more suitable for the visit to his mother's grave. The fight had proved more than it's worth and Sam had given in, grateful Levi had agreed to come at all.
Levi kicked at what was left of the grass as he slouched across towards the headstone, his hands shoved deep in his pockets and his eyes down. His reluctance oozed out of the pores of his skin, creating the miasma of defiance he'd carried with him all morning.
Sam knew his days having Levi by his side were numbered. Hanging out with your old man got downright embarrassing at about this age, if he remembered right. That's how Sam had felt about his father. No reason to think it would be any different with his son.
Sam sighed and turned down the row where Michelle was buried.
The last seven years had taken their toll, not only on Sam but on the tombstones around them. Weeds pushed their way up through graves once well-tended, loved ones having moved on or simply stopped coming. The relentless sun, wind and rain had worn away the inscriptions on the older stones, the ones dating back to the nineteenth century when people had first come to Longreach to farm.
Michelle's grave at least looked like someone cared. A modest slab of marble with the inscription outlined in gold, the best he could afford at the time. He made sure to keep it neat, bringing fresh flowers as often as he could. Even so, he came less and less. Time had a way of warping the best of intentions.
He didn't know if Levi came at all—he was afraid to ask. He bent down and removed the dead flowers, the remains of his last offerings. He stepped back, holding the dead in one hand and the living in the other. They stood side by side in silence, father and son, both staring at Michelle's head-stone, as if anything had changed since their last visit. A breeze moved across the lawn setting the leaves of a eucalypt tree rustling like a whisper on the wind.
Michelle Marie Costello.
Beloved wife and mother. Sorely missed and never forgotten.
Survived by her husband Sam and son Levi.
1981–2012
Survived was a strong word.
No matter how many times Sam read the inscription it still had the power to deliver a jolt to his heart. An unnecessary reminder that she was gone. He managed to get through some days without thinking of her at all until the evening when it would be just him and Levi. Then he noticed her absence, as he watched their son, head bent over his home-work at the kitchen table. In the way Levi had of flicking his fringe back off his face with a toss of his head, a mirror image of Michelle. Or in those moments when he realised Levi had outgrown his current crop of clothes—things his mother would have noticed long before a trip to the shops became a necessity.
Sam passed the fresh flowers he carried to Levi, who took them without a word. What he would give to know what went on in that boy's head. Levi stepped forward, all gangly arms and legs like a newborn colt, and placed the flowers on his mother's grave without ceremony.
He took off his hat and swept his long, sandy-coloured fringe back with one hand. Sam couldn't be sure if the gesture was one of respect or a simple response to the heat. The boy needed a haircut. Why hadn't he noticed that before now? He made a mental note to take him to the barber in town.
The afternoon filled with the seasonal song of cicadas giving it everything they had like tiny rock gods performing a final encore.
'You know, Dad … I don't think I remember Mum like I used to.' Levi spoke matter-of-factly, his eyes on his mother's gravestone, while daggers plunged into Sam's heart at every word.
Sam swallowed hard, pushing down the lump in his throat so he could speak.
'How do you mean?' He already knew the answer. He had the same problem, although he preferred not to look at it head on.
Beside him Levi shrugged. 'Dunno. When I think of her it's kind of blurry, like I can't see her face properly or something.'
Sam nodded slowly, weighing up his response. There'd been a time when he thought Michelle's face was indelible, carved into his memory so he'd never forget even the tiniest detail. Seven years on, he relied on the photo beside his bed to keep her in focus.
He sighed. 'Time does that to memories.'
He sounded lame and cliched. What else could he say? He wanted to beg Levi to try harder, to not let his mother fade away, to keep her vibrant and alive forever. Sam knew he asked the impossible, especially as Levi had only been eight when she passed.
'Yeah, that's what Maddie says too.' Levi kicked at a stone and sent it scuttling off, scaring a small lizard sunning itself two headstones down the row.
Sam smiled. Maddie had become the font of all knowledge lately. The kids had been best friends since kindergarten, growing even closer when Michelle died as Levi sought comfort and stability. He wondered if Levi's interest in the dirt-bike riding tom-boy would shift as adolescence took hold.
'In this case, she's right,' he said.
Eva Scott
Australian Author
Exploring relationships, culture, our roles in changing society, love and loss
Read more about Eva and her books and discover where to follow her on social media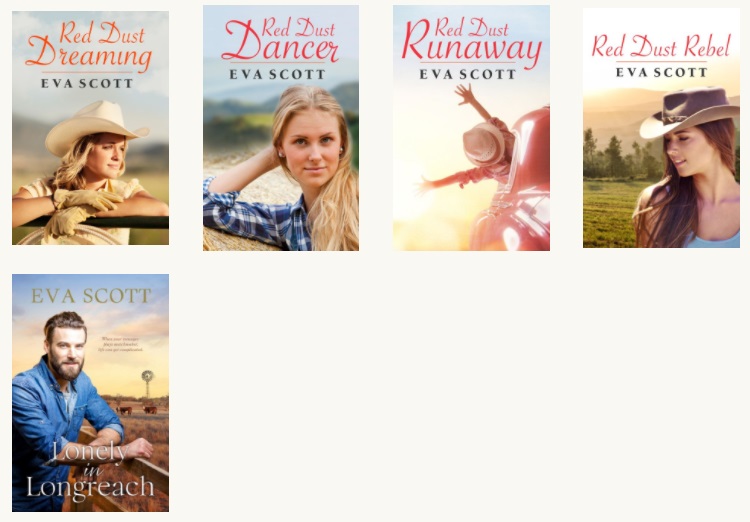 Eva answers The 5 Big Questions
How long did it take you to write the book?
About 6 months including time for research. I had a very clear vision for the story and I was inspired by Nora Ephron's fabulous movies. Funny thing, I had to invent a dating show for farmers as Farmer Wants A Wife had been off air for years with no revival in sight. I called my show Farmer Goes A'Courting. Bit naff, but it was the best I could come up with. Then the real show makes a reappearance this year. Talk about fabulous timing.
What was the most difficult of complex aspect of writing your book?
Getting the timelines straight! I worked with my editor for ages on this. Every time I thought we'd gotten it right, she'd find something else. Thank goodness for Johanna or I'd have been all over the shop. The other tricky bit was trying to capture the spirit of Longreach. There's something about that part of the world that is hard to put into words. The land has a feeling to it. You'll know what I mean if you've been out west.
What gave you the most pleasure when writing your book?
I loved taking a 90s no-technology romance and converting it to the twenty-first century. I was inspired by a cousin of mine who lives in the country and who was lamenting how hard it is to find romance. They all use the internet. One good thing about the Net is that it closes the distance between people, an important point when you live so far away from each other.
Are you nervous when a new release comes out?
I think I'm more excited than anything. By the time a book comes out I've moved on to my next project and I'm invested in that, so I've got a nice distraction from over thinking the new release. I'm always thrilled to hear if someone has enjoyed my book. I write to provide a solace from everyday life and when someone tells me I've brightened their day, I'm more than satisfied.
What's the best thing a reader could do if they enjoyed your book?
They might like to leave a nice review or tell a friend. They can also feel free to email me and let me know their thoughts. I love to talk to passionate readers about their experiences.
GIVEAWAY
Leave a comment for Eva and you're in the draw to win a paperback copy of
LONELY IN LONGREACH
Good luck!
*GIVEAWAY has now ended. Congratulations to the winner Rosselyn Anderson!
*Giveaway open to Australian postal addressees only.
*Giveaway ends midnight AEST Saturday 5th September 2020. Winner notified by email.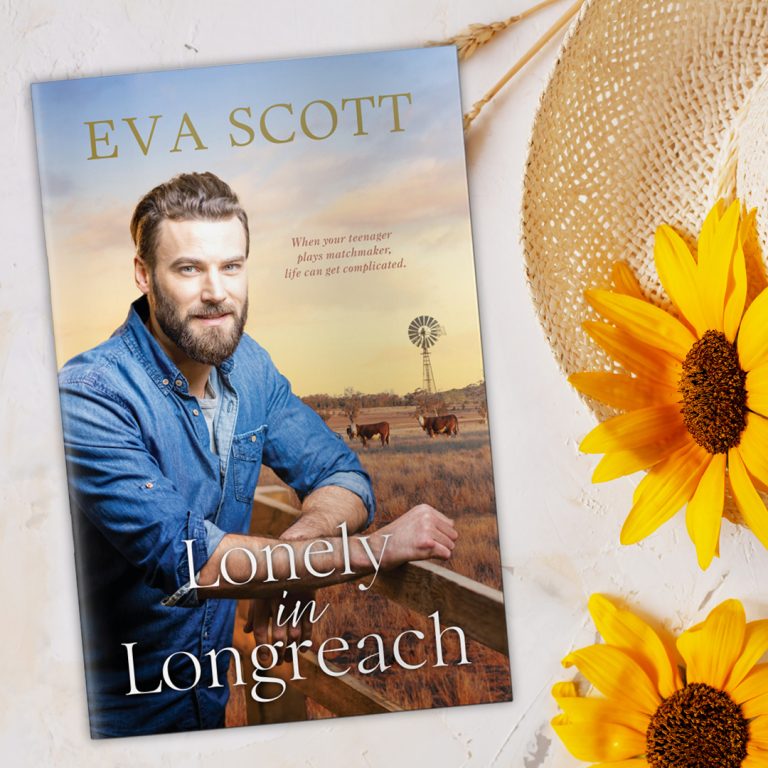 Subscribe by email to receive our occasional blog posts – 

and never miss a new book release!
Stay up-to-date on the latest Australian fiction releases and news