NEW RELEASE – Flying the Nest by Rachael Johns
Published:
October 28, 2020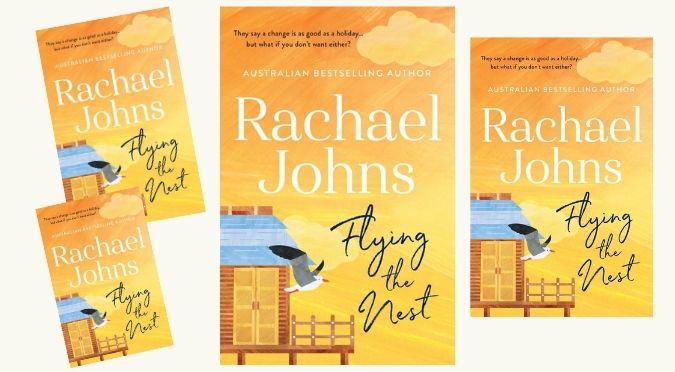 They say a change is as good as a holiday…but what if you don't want either?
OUT NOW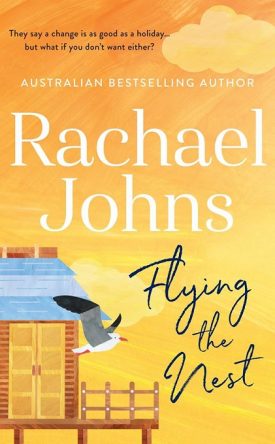 'With her typical humour, empathy and wisdom, Rachael Johns has once again created characters you can't help but fall in love with and wish the best for. Flying the Nest might just be her best novel yet!' – Tess Woods
Is her family's happiness more important than her own?
The first time Ashling Wood realises her marriage is on the rocks is when her husband, Adrian, suggests they try nest parenting. Heartbroken, Ash suddenly finds herself living a double life – one week with her children, the next cohabiting with her happily single sister-in-law. Her friends think the modern custody solution is an exciting opportunity for her to spread her wings, but all Ash wants is her family back together.
An offer to renovate a seaside cottage seems like the perfect distraction for Ash while waiting for Adrian to come to his senses. She's determined to fix her marriage as well as the cottage, but life gets even more complicated when she meets local fisherman Dan Emerson.
Soon, each home-stay becomes more dysfunctional, while for the other week Ash enjoys the peaceful life of the beachside community. The more time Ash spends in Ragged Point, the more she questions what she really wants. Is a sea-change the fresh start she needs to move on?
When tragedy calls Ash back to the city, she's torn between the needs of her family and her future. Can her family life fit in with a permanent move to the beach or could Ash's new-found independence attract Adrian back to the nest?
Read a few words from Rachael, read an excerpt and read Rachael's answers to The 5 Big Questions
Hi everyone,
I'm so excited to share my new book FLYING THE NEST with you and hope you enjoy the extract below. I write in two genres of fiction – rural romance and women's fiction/life-lit – but the best thing about this book is that lovers of both genres will enjoy it. It has all the dramas of contemporary life and a heroine-centric journey like my women's fiction novels, BUT its party set in a small rural community and there's definitely a strong romance thread as well, so I think that will really satisfy fans of rural romance as well!
The extract below is the morning after Ashling (my main character) wakes up in the town she's staying in temporarily and it's also the first time we meet her gorgeous love interest.
Happy reading,
Rach! x
Buy Flying the Nest
Is her family's happiness more important than her own?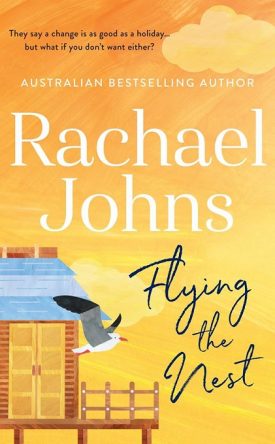 Excerpt from Flying the Nest
by Rachael Johns
Flinging back the covers, which were drenched in sweat from my night terrors, I headed for the shower, trying not to think about what kind of fungi may be lingering in the tiles beneath my feet. I'd worked hard yesterday, washing the curtains in the bedroom, changing the sheets and starting on detoxing the kitchen, but I'd barely made a dent in the grime there and hadn't made it even close to the bathroom. Sure, my family teased me about enjoying cleaning too much, but this did not make for a relaxing break!
As soon as I was dressed, I'd leave this horrible shack and Ragged Point behind for good.
The hot water pounded into my aching bones and I felt marginally human again by the time I got out. Due to the sunlight now pouring in through all the windows, the place no longer felt as foreboding, and I decided on a walk to stretch my legs before the two-hour journey. I was supposed to be getting into an exercise routine to help me shift my middle-aged spread anyway.
I headed out to back porch and onto the beach shoeless, despite my husband's voice in my head about the dangers that might be lurking beneath the sand. As I'd predicted yesterday, the sand felt blissful between my toes and the fresh air filled my lungs in a way the air in Perth never did. Not in the mood for polite conversation, I walked a kilometre or so in the opposite direction to town, yelping each time the water hit my heels.
There were only a few other souls on the beach—holidaymakers having mostly returned to normal life by now—and, as I admired this beautiful ocean, I thought I could get used to such serenity. Pity I couldn't get used to the shack. When my stomach started to rumble and my parched throat could wait no longer for my morning coffee, I turned back and was almost at the shack when I saw a man in a little boat rowing towards the shore from the direction of the island.
Did he live out there?
The man saw me looking and lifted his hand to wave.
Not wanting to be rude, I waved back and although I meant to continue on my way, my feet didn't cooperate. I stood still, watching as he reached the shore, jumped out of the boat and dragged it onto dry sand. He wore a dark-grey polo T-shirt, which wasn't doing a very good job of hiding his impressive upper body. I guessed if anyone rowed on a daily basis, they'd quickly develop muscles.
Maybe I should forget the gym and take up rowing.
'Hi there,' he called, as he straightened and started towards me. Dammit, I hadn't meant to give off an inviting vibe—hopefully he wasn't a chatty sort. 'You're not a local.'
I wasn't sure if this was a question or a statement. 'No. I'm just visiting.'
'Welcome.' He nodded and offered me his hand. 'I'm Dan.'
'Ashling,' I said. His grip was strong, his skin warm and slightly wet, but not in a disgusting way. He was so tall I had to tilt my neck to look up into his tanned face, which boasted three-day stubble. Judging by the shaggy, sun-kissed hair that flopped on either side of his face, he didn't worry too much about his appearance.
Don't get me wrong, he wasn't ugly; I was simply used to the men in my life being clean-shaven with short-back-and-side cuts.
'Where are you staying?' he asked.
Usually I'd advise women not to tell strange men the exact location of their whereabouts, but as I was leaving, I didn't see a problem. 'I was staying there,' I said, gesturing behind us towards Xiang's shack.
'Was?'
'One night was more than enough.'
Dan snorted. 'I don't blame you—that place is probably a demolition order waiting to happen—but it's a pity.'
Did he mean the state of the shack was a pity or the fact I was leaving? His expression was hard to decipher.
I shook my head. The answer didn't matter. 'Do you live out on that island?'
'No. I was just feeding the cat.'
That made no sense whatsoever, but I didn't get the chance to ask any further questions, because Dan glanced down at his wrist. 'Shit, is that the time? Better be going or the boss will have my head. See ya.'
And then he turned and jogged up the beach, sand flicking up from his bare feet.
'Bye.' I waved him off and headed back to the shack.
'No!' I shrieked as I stepped into the kitchen to find my furry adversary sitting on the counter, lapping up milk from its overturned carton. What the hell? Did possums even like milk?
'Shoo, Shoo,' I screamed as I flapped my arms at the beast, all the while wondering how it managed to find its way back in and get the milk out of the fridge? What kind of gifted animal was I dealing with?
The possum had one final lap of stolen, spilt milk, glared at me and then made its way up into the roof in exactly the same way as it had done the day before. Fury burned inside me as I saw a fresh hole in the cardboard that I'd used to cover the previous one. I sighed. Not only had I obviously done a crap job of covering it, I also appeared to have been so tired I must have left the milk out after my final cup of tea last night.
If this wasn't a sign that going home was the right decision, I didn't know what was.
Rachael Johns
Award Winning International Bestselling Author
Feel Good Fiction
Read more about Rachael and her books and discover where to follow her on social media
Rachael answers The 5 Big Questions
How long did it take you to write the book?
It was four and a half months from start to finish of first draft but I also copyedited SOMETHING TO TALK ABOUT in that time and had a couple of weeks off to tour for JUST ONE WISH. I find most of my books need about three to four months drafting time.
What was the most difficult or complex aspect of writing your book?
My main character ends up in a nest parenting relationship with her ex-husband and the book is structured around her weeks with and without the kids. I found it was easier to fill in her weeks away than her weeks at home as when she was away she was meeting new people, becoming part of a new community, developing a bit of a romance and renovating a house, whereas during the home weeks the focus was only on her parenting and her broken marriage.
What gave you the most pleasure when writing your book?
Finishing it! Nah, just kidding (well, only slightly). As much as I DETEST editing, I think in hindsight this part of the book is the most satisfying. You've got the bare bones of the story down and now you just have to make sure it's working the best it can be. The good part about this stage is that I've got my editor and publisher weighing in with their ideas as well, so I'm not so alone as when I'm writing a first draft.
Are you nervous when a new release comes out?
Yes and no. I hope people will enjoy it but at the same time, I understand that not every book is for everyone. I've done everything I can to make the book the best it can be but it's no longer mine now, I've turned it over to readers to enjoy and experience as they wish.
What's the best thing a reader could do if they enjoyed your book?
Well, receiving an email or a message always gives me a wonderful mood boost, but probably the best thing a reader could do above that is to tell a friend about the book or share a post about it on their Facebook or Instagram. Nothing sells books more than word of mouth!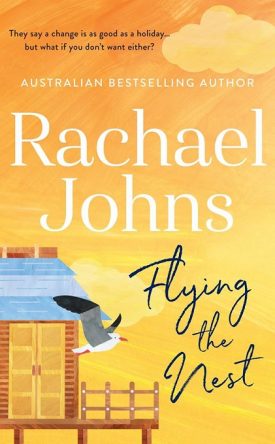 Subscribe by email to receive our occasional blog posts – and never miss a new book release
Stay up-to-date on the latest Australian fiction releases and news