NEW RELEASE Dead Horse Gap by Lee Christine
Published:
February 1, 2022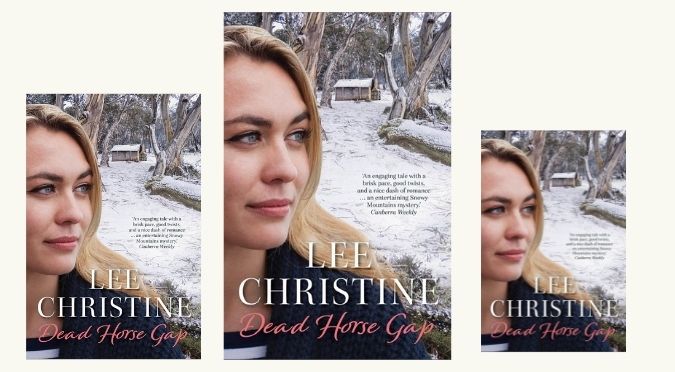 A thrilling tale of snow-bound crime and suspense from the bestselling author of Charlotte Pass
and Crackenback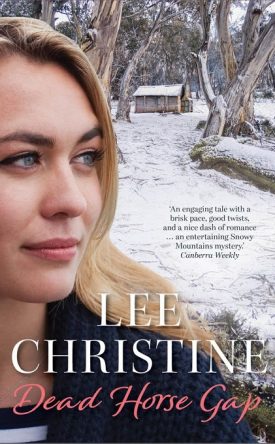 When a light plane crashes at night in the midst of the New South Wales Snowy Mountains, Sydney Homicide's Detective Sergeant Pierce Ryder and Detective Constable Mitchell Flowers are sent to investigate what immediately looks like foul play.
As Ryder and Flowers investigate the crash they uncover a generations-old feud between two local families. Could the bitterness that has been carried through the years have anything to do with the death of the pilot?
Meanwhile, Detective Constable Nerida Sterling is already deep undercover in the Snowies, her assignment to infiltrate a drug ring operating in the mountains and to ultimately hunt down a murderer. As her cover becomes more and more tenuous, what lengths will Sterling go to in order to get the information that she needs?
OUT NOW
We've got an excerpt for you plus Lee answers The 3 Big Questions about writing the book
Buy Dead Horse Gap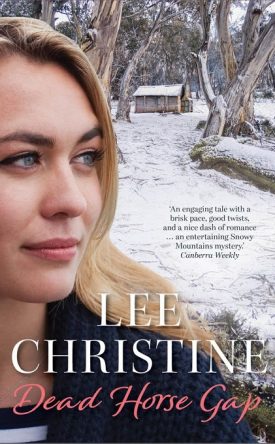 Excerpt from Dead Horse Gap
by Lee Christine
Twenty minutes later he dropped Ryder at the bottom of the Golden Wattle driveway, then headed back to the main road. It had stopped snowing, and a pale afternoon sun cast a golden light on the Crackenback Range.
A short while later, Flowers pulled off the road at Dead Horse Gap, the highest point on the Alpine Way. A black four-wheel-drive with numberplates that read CAB was parked close to the start of the track.
Figuring they were Cate's initials, Flowers pulled on his beanie, grabbed his snowshoes and locked the car door. He set the snowshoes on the ground, then slid his right boot into the shoe. 'All the way in,' he muttered, recalling the surfie dude from the rental shop's instructions. Once he had the first shoe on, he leaned over and did up the bindings. The wide, plastic frame of the shoes distributed his weight equally over the snow, when he took his first few steps.
A wooden sign confirmed this was the beginning of the Cascade Hut Trail. A second signpost underneath said: Buchanan Hut 500 metres. Cascade Hut 10 kilometres. Breathing a sigh of relief that Cate wasn't working at Cascade Hut, Flowers set off, tentatively at first, then moving faster once he gained confidence.
The trail was wider than he'd imagined, and he began to enjoy the walk. The view across the valley was amazing, the alpine air invigorating. He picked up his pace a little, finding his rhythm. Maybe he could get into this.
Further on, he came to a fork in the track. Cascade Trail continued following the ridge line, while a narrower trail branched off to the left, another wooden sign pointing the way to Buchanan Hut. The smaller trail was less exposed, bordered on both sides by ancient snowgums. Flowers shuffled along in his snowshoes wondering what the homicide boys would say if they could see him now.
The first sign that he was nearing Buchanan Hut was the smell of smoke tainting the pristine air. He rounded a bend, and the hut came into view. The size of a single garage, it was a wooden structure with an iron roof. Smoke billowed from a stone chimney. Cross-country skis and poles, and several empty chaff bags, lay on the ground nearby.
Before he had a chance to knock, the door opened, and Cate Buchanan stood before him, her blunt-cut fringe short enough to show off her eyebrows. 'Aunt Wendy called and said the mint mocha detective might show up.' Her gaze dropped to his snowshoes then tracked back up to his face. 'You're keen,' she said, arching one bold eyebrow.
'I don't know if you could call me keen,' he said, smiling as she lowered the eyebrow. He gave her the once over in return. 'We're based in Thredbo. It's five minutes away, and I wanted to see the hut.'
She stared at him, long enough for him to notice the family resemblance. Wendy would have looked a lot like Cate when she was younger.
'Do you mind if I ask you a few questions?' he said, reminding himself why he was here. He was enjoying flirting with Cate Buchanan, and why the hell not? He'd been suppressing his feelings for Sterling for too long.
'I don't, provided you do something for me.'
'You're brokering a deal?' Flowers asked, not sure if she was serious.
The corners of her eyes crinkled. 'Now you're here, I may as well put you to good use.'
'Doing what?'
'Carrying a bag of wood down here. There are still two in the car, and there's only an hour of daylight left.'
Bloody hell. She strikes a hard bargain. He hadn't counted on this, but if it got her talking… 'All right. I need to catch my breath though. This is harder than it looks.'
'It's a lot harder than hiking.'
'I just figured that out.'
She rolled her eyes. 'You'd better come in then but leave those snowshoes outside.'
Flowers undid the bindings then stepped into the warm interior. A hurricane lamp cast a bright glow from where it stood on a cupboard near the sink, while two sets of double bunks lined the walls. A fire burned in a bush-rock fireplace down the far end of the room, and the bookcase beside it was stacked with wood. Two camp chairs were arranged in front of the fire while a large tree stump served as a coffee table.
'When was this built?' Flowers asked, looking at the wooden floorboards.
'It was built by my ancestors in the 1920s. It's been damaged by fire a couple of times, but we've rebuilt it using the original materials where possible.'
'It's amazing.'
'Thank you. Our family have looked after it for a long time.'
'What kind of timber is it?' Flowers asked, gazing up at the beams.
'Alpine Ash. The original bark roof was replaced with iron at some point.'
'It makes you wonder about the people who've passed through, doesn't it? And why it was built on this particular spot,' he said.
'I can tell you why. My ancestors owned one of the original snow leases up here. The road wasn't here then, just tracks made by First Nations people.'
Flowers frowned. 'What are snow leases?'
Cate picked up a fireiron and prodded a log sending sparks into the fireplace. 'Leases the government granted so graziers could bring their herds up to the high country in summer, where the temperatures were cooler. This hut was built as a shelter for the stockmen.'
'They would have needed it,' said Flowers, moving to warm his hands in front of the fire.
'The horsemen were a tough breed. Some came from as far away as Hay. The stock route was a kilometre wide. But then the Nationals Parks and Wildlife banned cattle grazing in the park because it was destroying the alpine environment. The snow leases were phased out over time, not that it made any difference to our family. We'd already lost ours.'
'Lost it? How?'
Cate smiled, the firelight reflecting in her eyes. 'That's where the Lorrimers come in.'
Flowers' heart rate spiked.
'Wendy said you were asking questions about the old feud,' she said. 'That's why you're here, isn't it?'
'Yes.'
Before Flowers could frame his next question, Cate reached up and took her parka from a wooden peg on the wall. 'It's a long story. Come on, I'll tell you while we're bringing down the wood.' She stepped outside, and he quickly followed.
Lee Christine
Bestselling Australian Author
A potent cocktail of danger, high stakes suspense, and crime
Read more about Lee Christine and her books
Lee answers The 3 Big Questions
What gave you the most pleasure when writing Dead Horse Gap?
Writing the scenes set in the alpine hut was really enjoyable. There are over a hundred huts scattered across the alps. Some are very remote, so I was unable to visit them all, but I was lucky enough to spend time in the region looking at a few of them. I found the hut scenes were easy to write, and I also had a lot of fun furnishing the fictional Buchanan Hut in my head. You can find the alpine huts at https://khuts.org/
What were the difficulties you faced when writing the story?
In Dead Horse Gap Detective Nerida Sterling is undercover in the mountains. Readers of Crackenback, the second book in the series, will remember her joining the Homicide Squad at the beginning of the story, so I was already comfortable with writing her police character. In Dead Horse Gap, she's playing the role of a carefree, cheerful waitress living in the snowfields for the season and working at the hotel. Switching between Sterling the detective and Sterling the waitress, was tricky.
When you waved Dead Horse Gap goodbye, on its way to readers and totally out of your hands, what did you do first?
I know this sounds really boring, but I hit the hay and had a nice long sleep. 😊
Buy Dead Horse Gap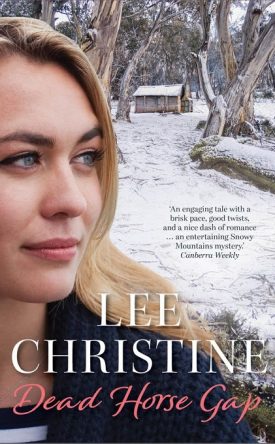 We hope you're enjoying our Book News 
We'd also love you to follow us on Facebook & Instagram
Don't forget to check our COMING SOON page for 2022 releases up for pre-order now
You can also subscribe below by email to receive our occasional Book News blog post – 
and never miss a new book release

!
Stay up-to-date on the latest Australian fiction releases and news