NEW RELEASE – Daughter of the Home Front by Jennie Jones
Published:
October 5, 2022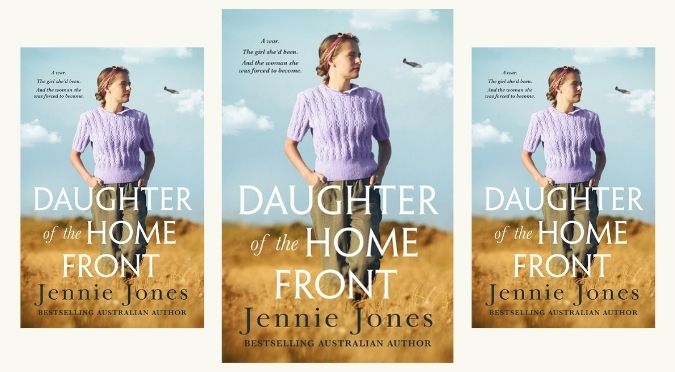 A war.
The girl she'd been.
And the woman she was forced to become.
'A dazzling, heartbreaking story of friendship and redemption from bestselling author Jennie Jones.'
OUT NOW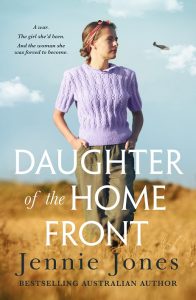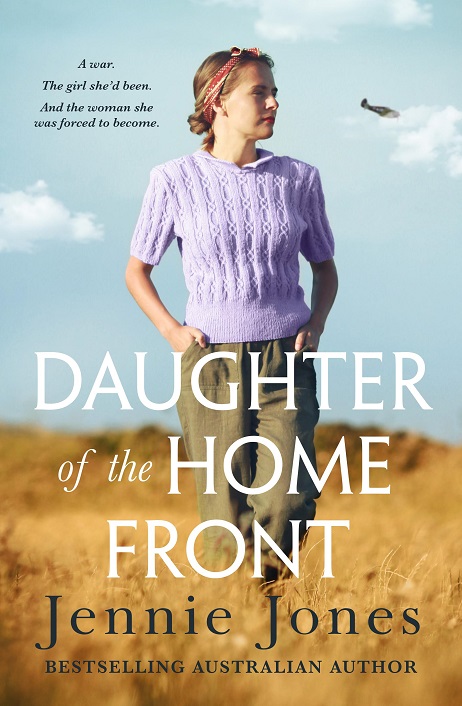 Townsville, 1942. Young women aged sixteen and over are obliged by law to join the war effort, and Emma Hatton's world is at last about to change. Longing to escape the humdrum poverty of oceanside Blueholm Bay and the demands of her domineering mother, Emma reaches the bustling wartime mayhem of Townsville where the city streets are filled with glamorous GIs and red lipstick is the colour of the day. Befriending charismatic Cassie O'Byrne, Emma believes her adult life has finally begun.
Private Frank Kendrick's kisses make her heart beat faster and with all the talk of his family in California, surely a proposal is imminent. But after a hasty seduction, Frank disappears and Emma finds herself in trouble.
Her family's solution is the Holy Refuge of Saint Philomena in Brisbane, a prison-like 'home' where unmarried, pregnant young women are sent to repent and wait out their term before their babies are forcibly adopted. Longing to keep her child, Emma befriends other girls struggling in this cruel environment while her dearest friend of all seeks a way to help.
The courageous choices Emma must make will lead her to true adulthood, forever friendships … and a home and family she could never have anticipated.
A few words from the author
In many ways, the second world war is a backdrop to the real storyline in Daughter of the Home Front. The story focusses on women who didn't get to wear a uniform but who gave their service in many other ways on the Home Front. They fought tirelessly while their men were away. They had children to rear and farms or businesses to run. They had to keep the family together and they also had to be mindful of the 'rules' of society. If they digressed they were stigmatised.
In the excerpt below, Emma is at the home for unwed girls and young women. She was led in through the rear gates and hasn't even been told the name of the refuge. But she's about to make the best friendships of her life.
Coming out my front door one morning a couple of weeks ago I found two boxes on my verandah – my author copies had arrived.  It was a reflective moment. Part excitement, part thankfulness that I had managed to get Emma Hatton's story out in the world.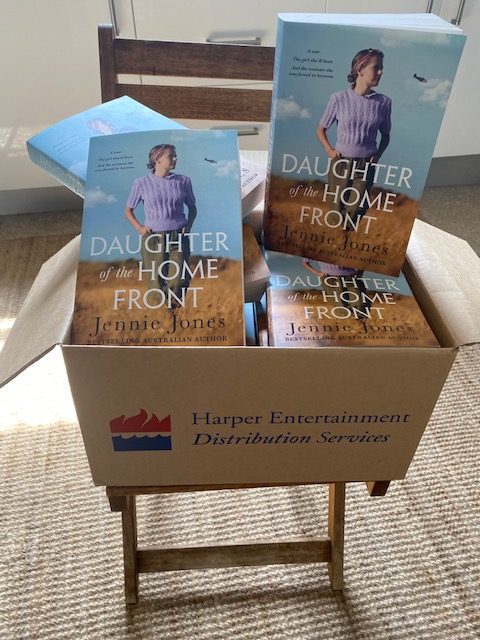 This book took my heart. I hope the story takes yours.
Jennie 
Buy Daughter of the Home Front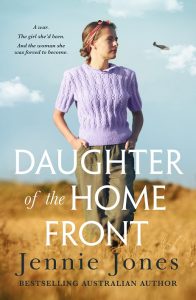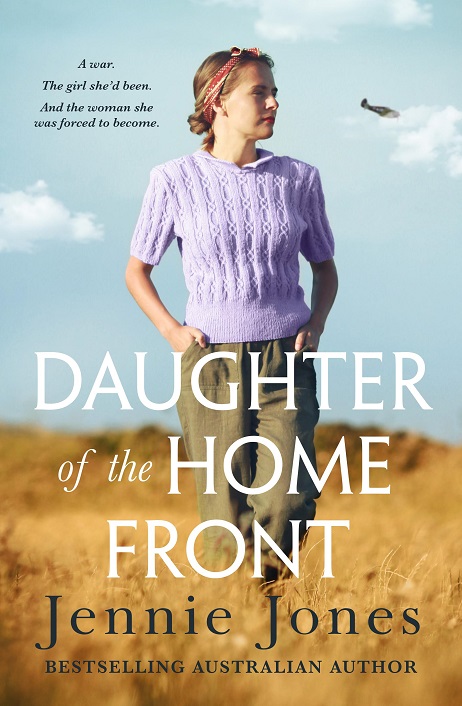 Excerpt from Daughter of the Home Front
by Jennie Jones
Brisbane—October 1944
Up until the night in the air-raid shed, Emma had looked her problems in the eye, facing them with an untroubled spirit. But that had been youthful valour born of inexperience, because at the Holy something of Saint someone, she faced more difficulty than she'd ever believed it was possible to face.
'I hope you're ashamed,' Sister Hyacinth said. 'Putting so much dishonour onto your parents' shoulders. It's a disgrace. You are a disgrace.'
Emma concentrated on the light spreading around her feet from the sunshine pouring through the lead-paned windows of Sister Hyacinth's office.
'Whatever happens here, it serves you right,' Aunty Doris had said when she dropped Emma off. 'You're a stupid girl, like your mother said. You've upset your father and I just hope those boys of his never learn of your filthy ways. Under my roof!' she added, her usually accommodating expression pinched as tight as the skin on a drum. Her aunt hadn't spoken to her during the journey by train from Townsville to Brisbane. Not a single word until Doris led her through the back gates of the home, which was the only way in for a girl like Emma.
Emma hadn't answered, she'd simply turned and walked over the threshold of her prison.
The home was like living in a big house belonging to an affluent family, except the rooms were filled with pregnant unmarried girls and the corridors with nuns with folded hands and lofty piety, constantly on the lookout for disobedience. There were about ten or twelve girls at any one time and they never got outside the stone walls until they went into labour.
She wasn't even allowed to keep her own name. She was now known as Elaine Harper. Nobody had said if she was supposed to keep this new name for the rest of her life but surely not. Surely not…
'You are a despicable creature, Harper,' Sister Hyacinth said. 'The others are ready to have their babies adopted out yet you remain recalcitrant. If you are not careful, you will place us in a position where we have to take more desperate measures.'
Emma kept her eyes on the floor in case the sister saw rebellion in them. She could only imagine what those measures might be, and not every girl in the home was willing to give up their babies, they simply had no choice.
It was a half-hour horse and cart ride to the Brisbane Women's Hospital. Some girls said it was half an hour of agony if you went into labour before expected, and half an hour of torture learning how to live as a broken human being coming back, because you'd had your baby taken off you. Rebecca Wilson had sobbed so hard after she got back from the hospital—every night for five days and she was practically useless for work in the daytime too—that everyone got used to the sound and managed to fall asleep listening to it. One night, there was silence. They took Rebecca away on a stretcher, sheets and blanket and all, and nobody saw her again. She'd gone to God, Sister Hyacinth told them the next morning. Because of the steely glare in her eyes, Emma would never be sure if the sister thought Rebecca going to heaven had been a good thing for God or a bad one.
'Wipe that look from your face, you shameful wretch,' Sister Hyacinth said now. 'And I see a stain on the skirt of your dress. Wash it immediately. You will wear your petticoat and a fresh apron until it is dry. It will be an excellent reminder for the others that if we soil our lives, we live with the consequences.'
Like the other girls, Emma wore a uniform: a grey linen dress and a starched white apron, which had to be removed if summoned to the office. Her own clothes were stored beneath her bed in the dormitory in the small bag she'd brought. There would be no need of them until the day she left.
'Go about your business, girl. Consider your position while you work. You must pray for God's forgiveness and for the forgiveness of every married woman who is unable to have a child of her own.'
Emma let herself out of the office as the sister turned her attention to letters on her desk. She held onto the doorknob until her breath settled in her chest.
They'd got into her about having her baby adopted out practically before she'd unpacked her bag. They were going to take it off her as soon as they found decent, Catholic adoptive parents. It might be given away immediately after she gave birth or it might take a few days, in which case she'd have to wean it. She knew they meant feeding the baby. She had never been allowed to watch her mother feeding the boys, although she'd snuck a look on occasion. A few months after each had been born the boys had been weaned onto milk in a bottle, and Mum no longer had to hide in the bedroom ten times a day and Dad got to sleep in his own bed again and not on the sofa.
If Emma did get to wean her baby, it wouldn't be here, in the home. She'd have to stay in the hospital. One of the girls told her the unmarried mothers who still had their babies were put behind screens so the decent married mothers didn't have to look at them.
There wasn't any hope of keeping her baby but Emma kept refusing, not wanting to give up or give in. Not so soon nor so easily. It was her baby and she loved it and wanted to be its carer. It shouldn't be theirs. It wasn't theirs.
***
'Why aren't you wearing your dress?' Lorraine Freeman said, crossing Emma's path an hour later.
'I just scrubbed that!' Emma said in exasperation as she looked up from her position on the wooden floor.
'Sorry,' Lorraine said, stepping back. 'But what's going on? Where's your dress?'
'I soiled it. This is my penance.'
Lorraine's eyes flew wide open and she picked up the hem of her dress. 'Is mine dirty?' she asked, turning in a frantic circle.
'No. You're fine.'
She puffed out her cheeks. 'What a relief. It's the handout today and I want to be one of them who gets to the wall—but I wouldn't do it in my petticoat.' The girls fed the homeless on the weekends. The poor lined up outside the rear wall and the girls handed them food through two long slits. Not that the homeless had much better fare than the girls. Mostly watery broth made from the scraps from the girls' meals. Potatoes with the odd slice of sausage or a runner bean. How any of the girls didn't eat all their sausages was a puzzle. They only got them occasionally. Unless it was because they had upset tummies. Upset hearts.
'You're not doing the handout, are you?' Lorraine asked.
'Dressed like this? I'll be mopping or scrubbing floors all day I expect.'
Lorraine smothered a laugh. She was a bubbly sort of girl but in a nervous way. She slowed when turning a corner in the hallways or before entering a room, as though readying herself for something that might shock her. Lorraine wouldn't tell anyone her real name. It would get her into trouble with the sisters. None of the girls would tell.
'I'm on kitchen duty next,' Lorraine said.
'Well, you'd best get going if you want to do the handout.'
Lorraine went on her way and Emma checked the corridor to see if it was safe to rest for a moment longer, then left the scrubbing brush in a pile of soap suds on the floor and put both hands on her stomach. She'd been here six weeks, had shared dormitories and meals and chores with all the other girls with hardly a second to herself unless she was on the loo, and she'd never felt more alone in her life.
Wipe those tears from your eyes and get real. It's the only way you'll get through.
Her friend's words resounded in her head but in this place it was hard to imagine how a girl could possibly do it.
Jennie Jones
Bestselling Australian Author
Rich, engaging fiction
Read more about Jennie Jones
Buy Daughter of the Home Front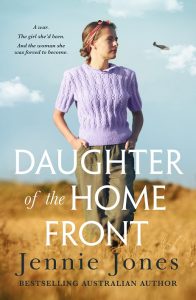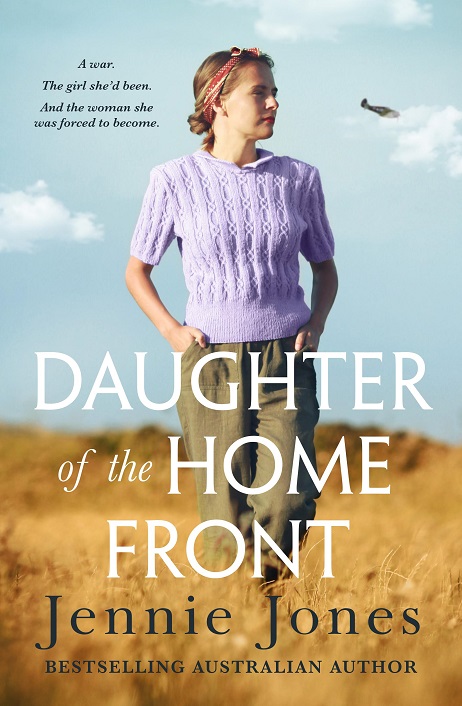 We hope you're enjoying our Book News 
We'd love you to follow us on Facebook & Instagram
You can also subscribe below by email to receive our occasional Book News blog post – and never miss a new book release!
Stay up-to-date on the latest Australian fiction releases and news