NEW RELEASE Clouds on the Horizon by Penelope Janu
Published:
January 5, 2022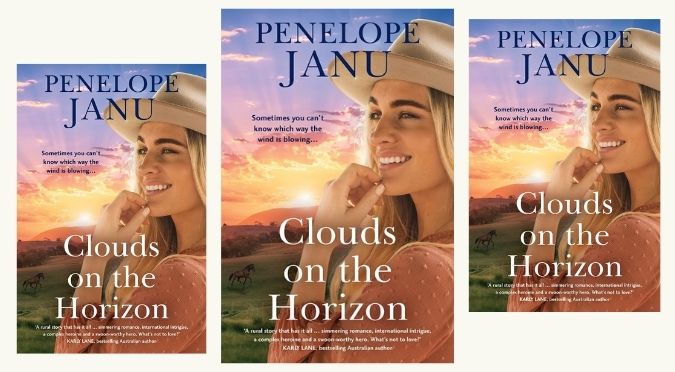 Will a misunderstanding and past trauma stand in the way of profound attraction?
Immovable determination meets irresistible charm in this delightful rural romance from an award-winning and much-loved author – for readers of Rachael Johns, Karly Lane and Fleur McDonald.
OUT NOW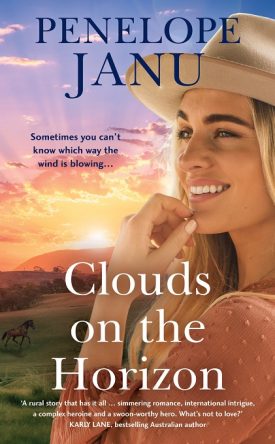 When Phoebe Cartwright finds Sinn Tørrissen, a naval officer and meteorologist, frozen half to death in the middle of a thunderstorm, she believes she's saved his life.
Sinn, unfailingly competent and infuriatingly arrogant, disagrees. In Phoebe's small country town to track down the members of an illegal horse-racing syndicate, the last thing he needs is to become entangled with Phoebe.
A much-loved member of her community, the prickly and independent Phoebe is used to solving other people's problems, not being told what to do. So when she learns her younger sister could be implicated in their father's dishonest accounting for the syndicate, she insists on working with Sinn to uncover the truth.
Sinn is both confused and entranced by the passionate Phoebe and in spite of her resistance, Phoebe finds herself drawn to him. But Phoebe is determined to protect her sister above all, and the secrets she cannot tell Sinn threaten to sweep his investigation – and their romance – way off course. Sometimes even a meteorologist can't judge which way the wind is blowing.
With clouds building on the horizon, can Phoebe and Sinn weather the gale and find in each other a shelter from the storm?
We've got an except for you and Penelope also answers The 3 Big Questions about writing the book, but first, a few words from the author
Some books are easier to write than others, and as my sister was very unwell when I wrote Clouds on the Horizon, I had many more reasons to take a break than to keep on writing. But whenever I wasn't writing, my sister encouraged me to do so. And after a while, Phoebe and Sinn, and the secondary characters in small town Warrandale, became a joyous 'escape to the country' for me. My hope is that Clouds on the Horizon gives readers joy as well.
Penelope
Buy Clouds on the Horizon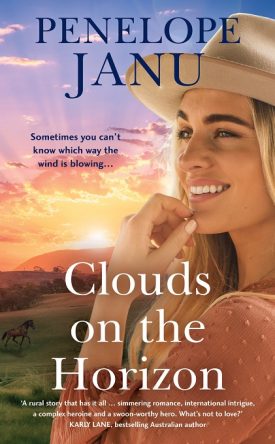 Excerpt from Clouds on the Horizon
by Penelope Janu
Sinn turns on the radio, a world news channel, and we listen in silence. It starts to drizzle again, and the wipers start up. There are very few cars on the highway. He glances at me briefly and then he turns away.
'Tell me about your father.'
'You know enough already.'
'You dislike him yet you care for him.'
'Because if I didn't—' I look out of my window. 'Can we talk about something else? Something non-personal?'
He turns off the radio. 'Like what?'
'Oh …' The wipers continue to swish. The wheels roll. 'Drizzle.' I point to the windscreen. 'How do you say that in Norwegian?'
'Duskregn.'
'It's a type of rain, isn't it?'
When he glances at me, I gaze seriously back. He turns back to the road and, just for a moment, I see the lift in his lip.
'Both drizzle and rain are precipitation. Drizzle drops are smaller than raindrops.'
'How small?'
'Less than point five of a millimetre in diameter. That's why drizzle falls slowly.'
'It has less weight.'
'Making it subject to the wind.'
'Which clouds does it come from?'
'Tonight?' He lifts a finger from the steering wheel as he looks at the clouds. 'Low stratiform and stratocumulus.'
'I have another question.'
His lip lifts again. 'Yes, Phoebe?'
'We've had so much rain lately. Some people say it means the drought has definitely ended, but others say it hasn't. What do you think?'
'You can look at it in different ways.'
'That's what I'm trying to understand.'
When he turns on the four-wheel drive's high beams, the drizzle is like a cloud in front of the car. There are trees at the side of the road: the trunks are silver and the leaves are glossy black.
'In meteorological terms,' he says, 'drought is a severe negative deviation from mean precipitation.'
'Things are different from what they've been in the past?'
'Meteorologists can look at deficiencies in rain over a period of months, years, decades. The drought can be over or not, depending on the period.'
'What else?'
He looks my way again. 'This is interesting to you?'
I hold my hands in front of the vents to capture the warmth. 'My clients, a lot of their parents, they live off the land.'
'Are you warm enough, Phoebe?'
I fold my hands in my lap. 'Yes, thank you.'
He turns up the temperature. 'Soil moisture can decrease through evapotranspiration. Do you know this word?'
I laugh. 'No.'
'Moisture is lost through evaporation, and also the transpiration of plants—where plants take moisture from the ground.'
'Plants can't grow if it's too dry. That happens a lot in our summer.'
'This might be known as an agricultural drought—if there isn't enough feed for livestock, and winter crops can't be planted, or maintained, because of insufficient rain.'
As he turns off the road to Denman, I smooth down my dress. 'Anything else?'
He glances at me. 'Hydrological droughts occur when water resources are threatened. Streams run dry. Dams don't fill. After prolonged dryness, the soil will soak up the rain and lessen the run off.'
As we approach the pub on Denman's main street, a Federation-style hotel with a wide verandah on the first floor, he indicates and turns into the carpark. It's too late to ask him to put the radio back on. The silence is—
'Any more questions?'
I rack my brain. 'Don't you miss the ocean? When will you go back to the navy?'
He reverses into a space and switches off the engine, only turning to me as he unclips his belt.
'These are personal questions.'
When I lean forward to pick up my bag, I move so quickly that my seatbelt locks. 'You're right. Forget I said anything. It doesn't matter.'
'Phoebe. Don't—'
'Forget it!'
I unclip my belt, snatch my bag from the floor and open the door while Sinn, face set, watches me silently. It's drizzling again. When I open the back door for my coat, I hesitate. Sinn's sweater is sprawled on the top. It has the same label as the one he left at my house. Laget i Norge.
Where is the old pink sweater I lay on his chest in the storm?
When I tug at the sleeve of my coat, pulling it towards me, Sinn's sweater slips off my coat and onto the seat. As I meticulously fasten my buttons, Sinn stands over me with an open umbrella. He balances the umbrella between his shoulder and neck, securing a cuff on his shirt as I adjust my collar.
He straightens and our eyes meet. 'What about your sweater?' I ask.
'I won't need it.'
I open my mouth to argue before looking away and searching through my bag for lip gloss. I unscrew the top and pull out the stick, swiping the end quickly across my lips.
'I'm ready,' I say.
His lips are slightly open. His gaze is on my mouth. He lifts his hand slowly before, centimetres from my cheek, he stills.
I wait.
I ache.
He cups my face. His thumb glides to my chin. 'May I?' he asks.
'Yes.'
He brushes his thumb along my bottom lip and back again. When he hesitates in the middle and presses, a flood of warmth seeps through my veins. My heart thumps hard and my knees go weak.
He lets me go, his eyes still pinned to my mouth. He runs his thumb across his lip, smearing it with lip gloss.
I swallow. 'What …'
His eyes are bright. 'We're late,' he says. 'It gives us a reason.'
I open my mouth and shut it. 'Have you pretended before?' I finally say.
'Never.' He picks up a lock of hair at my shoulder, rubs it between two fingers. 'Have you?'
'If I'd had more experience …' I lift my hand like he did, run my thumb across his lip. 'I'd have worn red lipstick.'
'I wouldn't change anything.' He touches my mouth again, this time with his index finger. 'Your mouth is beautiful.'
Penelope Janu
Australian Prize and Award Winning Author
Adventure and romance … fresh, fun fiction
Read more about Penelope and her books
Penelope answers The 3 Big Questions
What gave you the most pleasure when writing Clouds on the Horizon?
Without a doubt, getting to know the characters, and rather more stressfully, working out how they could resolve their (not insignificant!) differences by the end of the book. There are a few animals I became very attached to as well—a border collie named Wickham, Phoebe's thoroughbred horse Camelot, and an orphaned lamb called Lottie.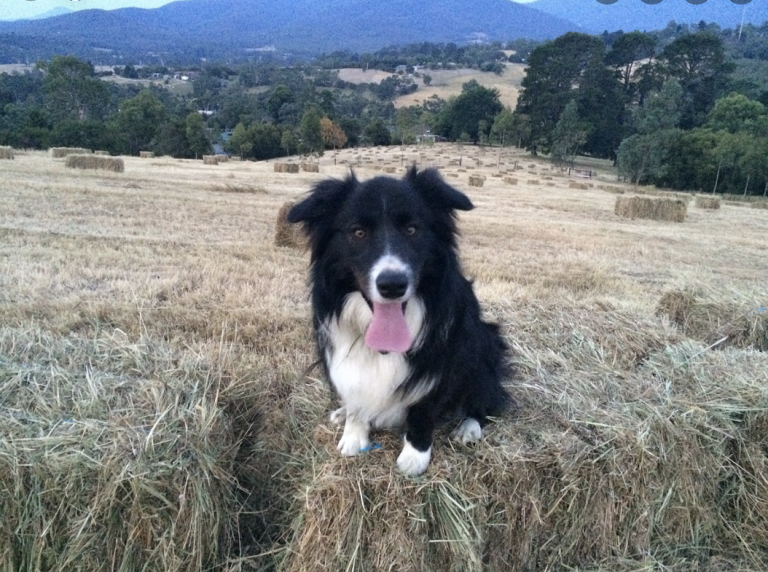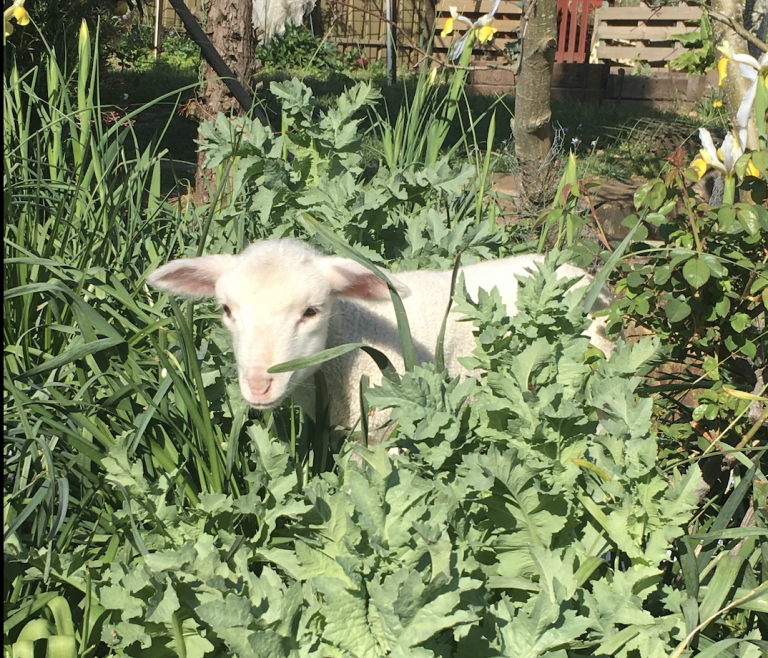 What were the difficulties you faced when writing the story?
This story has a strong mystery element, and I was extremely relieved that I managed to resolve it satisfactorily it by the end of the book! My editor said in her notes that she loved the intrigue, and it was only then that I truly appreciated what a major part of the story it had become.
When you waved Clouds on the Horizon goodbye, on its way to the printers at last and totally out of your hands, what did you do first?
I immediately organised a family get together, because sending the final edited version to my publisher coincided with the conclusion of months of lockdown. It was a very special celebration for all of us.
Buy Clouds on the Horizon
'A rural story that has it all … simmering romance, international intrigue, a complex heroine and a swoon-worthy hero. What's not to love?' Karly Lane, bestselling Australian author
'Encapsulates everything I love about the romance genre and so much more. A go-to author for rural romance for the head as well as the heart,' Joanna Nell, Bestselling Australian Author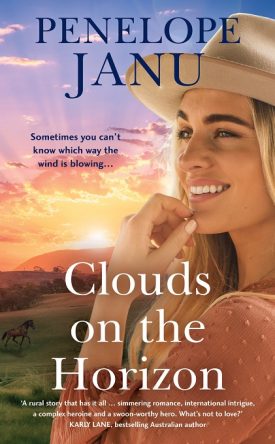 We hope you're enjoying our Book News 
Don't forget to check our COMING SOON page for 2022 releases up for pre-order now
We'd also love you to follow us on Facebook & Instagram
You can also subscribe below by email to receive our occasional Book News blog post – and never miss a new book release!
Stay up-to-date on the latest Australian fiction releases and news