NEW RELEASE – Broad River Station by Fleur Mcdonald
Published:
November 1, 2022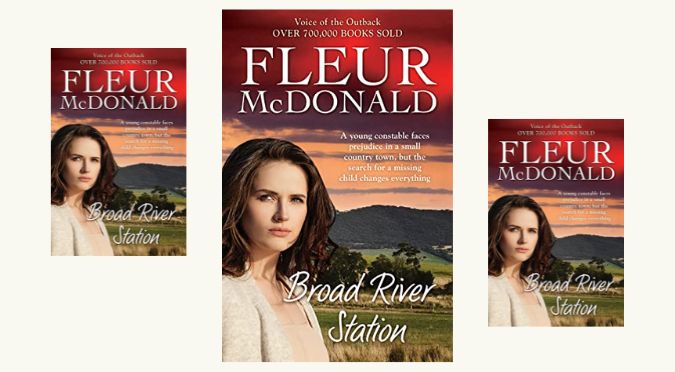 A young constable faces prejudice in a small country town, but the search for a missing child changes everything.
'A breathtaking novel of rural suspense from the bestselling Voice of the Outback.'
OUT NOW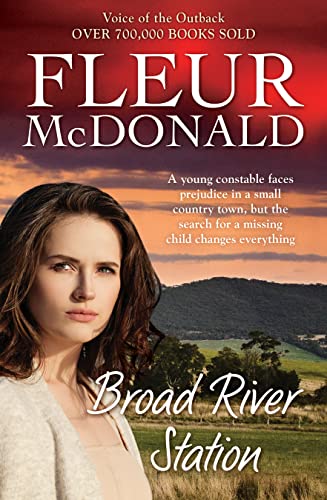 Mia, a newly graduated constable, on her first post is assigned to Broad River, a small country town. And as certain as she is about her ability to do the job, on day one she's already in conflict with colleagues who believe that women shouldn't be coppers.
It takes the shine off coming home, where her grandmother, Clara, is in the early stages of dementia. Clara is in a nursing home, living between her present and the mist-covered past of her life as dementia slowly steals her memories. Mia is accustomed to their conversations often not quite making sense but when Clara hints of veiled family secrets, Mia isn't sure what she should believe.
In the midst of all this, a local child goes missing and Mia is confined to barracks. When Detective Dave Burrows realises she has skills that could be put to use, Mia's career takes a new turn, and she must decide down which road to walk.
We have an excerpt for you!
Buy Broad River Station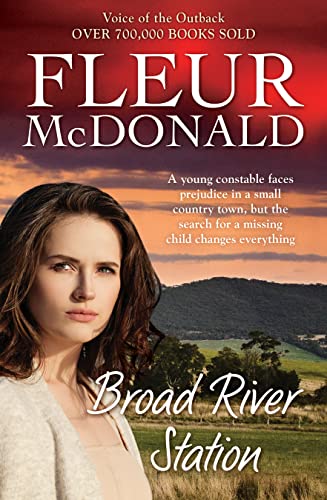 Excerpt from Broad River Station
by Fleur McDonald
CHAPTER 1
'Who are you?'
The woman placed her hand on the glass and stared.
There was no answer, just the sound of everyday things.
The tick of the clock, the low hum of the TV from the room next door, the muffled conversations of people in the hallway.
'Who are you?' This time she whispered the words, because she knew she was supposed to know the answer.
Her reflection stared back at her. But it wasn't her. Not the way she remembered herself. Who was this elderly lady with hair so white you wouldn't notice snow on her head? Deep lines crisscrossed the image, and the woman's eyes were watery and dull.
The hand touching the mirror seemed to belong to someone else. The skin was paper thin; sun spotted. The gold rings on the left hand were loose.
Confused, the woman shook her head to clear her thoughts.
The door opened silently and a young woman in uniform came in holding a dinner tray.
'Evening, Clara,' she said, placing the tray on the side table. 'How are you tonight?'
She turned at the sound of the voice.
Clara. Yes, that's who she was. Clara, Clara. She silently chanted her name a few times so it would stay in her memory. Clara . . . Worth. Clara Worth. She smiled gratefully at the woman who'd helped her solve the puzzle. Then she looked at the name badge on the woman's breast. Casey. What a ridiculous name! It made her sound like she was going on holidays.
Another woman entered the room. This one was holding a file. 'Now, Mrs Worth, I've got your medication, which you must take with food.' She put a little white plastic cup on the table next to the food and stood there looking at her.
Clara bristled at her bossiness. This one's name was Helen. A hard name to go with her hard face.
She regarded both women.
'Come on, Clara,' Casey said gently. 'Come and have your tea. Chef's cooked up one of your favourites: silverside with mashed potatoes, cabbage and white sauce.'
The woman smiled in an encouraging way, so Clara moved towards the chair to sit down, ignoring the woman with the file, who had now put her hands on her hips.
The chair was a sandstone-coloured rocking chair with a crocheted rug covering the seat. She couldn't eat there! What on earth would her mother say if she didn't sit at the kitchen table with her brothers and sisters?
'Where is Brian?' she asked, looking around. 'We can't start dinner without him.'
Brian was her troublesome younger brother, who was probably out in the street playing in the dust or watering the horses that pulled the sulkies for the farmers coming to town to collect their supplies.
Perhaps her mother was serving in the store this evening.
That's why she wasn't here.
'Brian?' the one called Helen asked briskly. 'No Brian here. I need to see you take your medication, Clara, and I have many other patients to attend to tonight, so let's get on.' She took a small plastic container of orange juice from the tray and peeled back the alfoil lid, before offering it to Clara. 'Hold out your hand,' she told her.
Obediently, Clara stretched out her hand and watched the white pills tumble into her palm.
Helen shook the drink slightly. 'Open wide,' she said.
Clara frowned but did as she was told. Insolent woman, she thought. I'm not a child.
'Hello, Nana!'
The bright voice came from the door just as Clara swallowed the pills with the orange juice. She coughed then looked around, covering her mouth with her hand.
The familiar voice was accompanied by a recognisable face.
She reached to the back of her memory. 'Mia. Hello, dear.'
Helen wrote something on her file. 'Your grandmother has just had her medication, Mia, so if you could supervise dinner then we'll leave you to it.'
'Sure thing.' Mia bent down, kissing Clara on the cheek.
Her granddaughter smelled like sunshine and clean air.
A breath of fresh air. Not like this place which stank of disinfectant and pee.
I shouldn't be here, Clara thought. She grabbed Mia's hand, grasping it tightly, while her granddaughter sat opposite her.
Casey took the plastic lid from the plate. 'Enjoy,' she said and closed the door quietly behind her.
Mia leaned towards Clara and whispered, 'They've gone.' She took out a small bottle of whiskey from her shoulder bag and held it out. 'Here you go, Nana. Just what the doctor ordered.'
Clara brightened. 'You're such a good girl, Nicole.' The name jarred her memory. She took a sip and then corrected herself. 'Sorry, Mia. I know you're not your mother.' She put the bottle on the table. 'It's so confusing. One minute I'm here and the next I'm not.' Tears welled in her eyes. 'I'm frightened, Mia. I can't stop it.' Fingers she didn't recognise, but she knew were hers, picked at the hem of her light blue baggy t-shirt. When did she start wearing these types of clothes? Her figure had been beautiful in pants and shirts, Theo Marshall had told her. Now the grey tracksuit pants she was wearing hid her weakening body.
She looked at herself in disgust.
'The doctor said this would happen,' Mia said quietly. 'I'm sorry I can't fix it.'
Clara nodded. 'I know you can't, dear.' She took a breath and reminded herself who she was then took another swig of whiskey. She was Clara Worth, daughter of Gwen Simpson, the woman who had single-handedly saved the family business and raised four children. Gwen had been strong, determined and tenacious and Clara was made of her cloth. There was no place to feel sorry for herself here.
She knew Mia was doing something today. She racked her brains to remember what it was. 'Did you . . .'
Seeing her uncertainty, Mia picked up the conversation. 'I've unpacked and got the new house how I want it, so I'm ready to start work in a couple of days.'
'Do you like your place?' This was a safe subject.
'It's pretty old. The toilet is off the laundry and the bathroom has a cement floor that's been painted green! But I'm happy. There's a bedroom at the front and another small one that I'm going to make into an office.'
Something tapped at Clara's mind. She closed her eyes.
Green. There was something green . . .
Fleur McDonald
Bestselling, Multi-Genre Author
Capturing imagination through stories 
Read more about Fleur McDonald and her books
Buy Broad River Station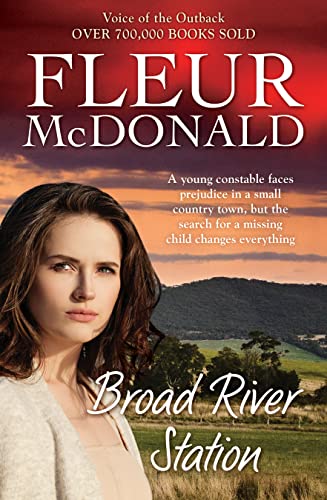 We hope you're enjoying our Book News 
We'd love you to follow us on Facebook & Instagram
You can also subscribe below by email to receive our occasional Book News blog post – and never miss a new book release!
Stay up-to-date on the latest Australian fiction releases and news