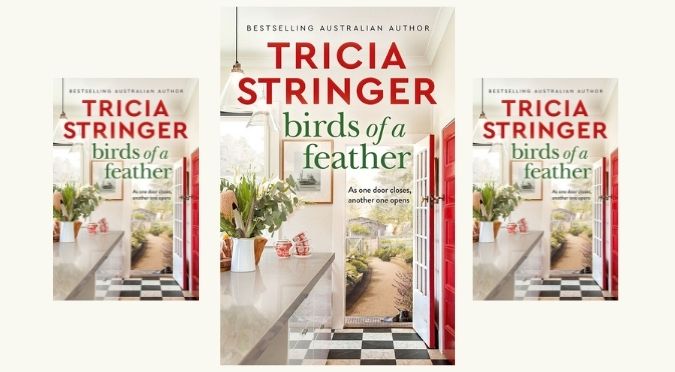 When three women are thrown together by unusual circumstances, ruffled feelings are just the beginning.
A wise, sharply observed celebration of the life-changing power of female friendships.
OUT NOW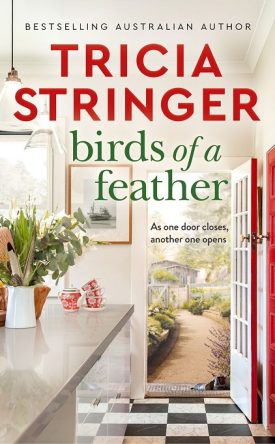 Eve has been a partner in a Wallaby Bay fishing fleet as long as she can remember. Now they want her to sell – but what would her life be without work? She lives alone, her role on the town committee has been spiked by malicious gossip and she is incapacitated after surgery. For the first time in her life she feels weak, vulnerable – old.
When her troubled god-daughter Julia arrives at Wallaby Bay, she seems to offer Eve a reprieve from her own concerns. But there is no such thing as plain sailing. Eve has another house guest, the abrasive Lucy, who is helping her recuperate and does not look kindly on Julia's desire for Eve's attention.
But Lucy, too, has demons to battle and as each woman struggles to overcome their loss of place in the world, they start to realise that there may be more that holds them together, than keeps them apart.
But will these birds of feather truly be able to reinvent what family means? Or will the secrets and hurts of the past shatter their precarious hold on their new lives … and each other?
Read an excerpt and read Tricia's answers to The 3 Big Questions
but first…
A few words from the author
I live in South Australia. The first part of my life was spent on Eyre Peninsula and then we moved to Yorke Peninsula. These two peninsulas are separated by Spencer Gulf, home of delectable king prawns. Setting a story in my hometown was fraught with difficulty. I didn't want anyone to think I'd written about them but I couldn't resist the opportunity to involve our prawn fishing industry in this book.  Almost forty trawlers head out into the gulf in the week of the dark moon, six times a year to fish for prawns.  I feel as if I've lived alongside this industry for a lot of my life and it's always fascinated me. And I love to eat prawns.
I spent a lot of time asking questions of a couple of local prawn fishers about the industry, the life and the work. I didn't go to sea but I was allowed to have a good look over one of the trawlers by the rather bemused skipper. It was a wonderful help when writing the onboard scenes.
Tricia
Buy Birds of a Feather
A wise, sharply observed celebration of the life-changing power of female friendships.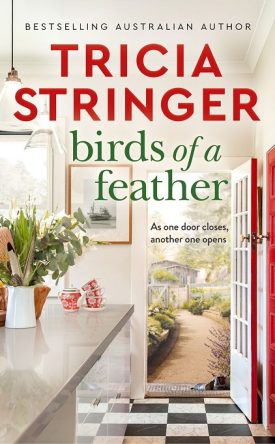 Excerpt from Birds of a Feather by Tricia Stringer
Every Thursday morning Eve drove her Holden Torana coupe into Wallaby Bay. She parked it in the shade of the massive pines on the edge of the supermarket carpark and walked the length of the street to do her jobs. Because she did it at the same time each week, she knew who she would and wouldn't meet. She always called at the post office first, to check her mailbox and pay bills, and the supermarket last, so that her dairy and meat items would remain cool in the esky for the ten-minute journey home. Not that the temperature was a worry today. The first week of June had been cold, a sudden prelude to the winter that was to come.
In between the post office and the supermarket, Eve stopped at the newsagency to buy the local paper. Terry, who only worked behind the counter on Thursdays and was a Holden buff, asked her if she wanted to sell her car, as always.
She popped in at the hairdresser to say hello – her tight curls were trimmed every six weeks on a Tuesday so it was purely a social call. Moira was halfway through an intricate updo for a young woman Eve didn't know. Eve asked, but there was no special occasion, the woman said, and then Moira had given her a quick rundown on the previous evening's local business meet­ing. Apparently there was a stalemate on what kind of plants should be put in the new garden boxes the council had installed along the street. Half the meeting wanted shrubs that would only need water and the odd prune, the rest wanted colour­ful annuals to brighten up the street. A decision hadn't been reached.
She stepped quickly past the op shop, keeping her gaze strictly ahead. There'd been a time when she'd loved to search through, looking for the treasures that could be found among someone else's cast-offs, but not now. She just had time to visit the fruit and veg shop before she met Gert. She loved the way Franco settled her apples and pears gently into her basket as if they were eggs being placed in a nest. Her last stop on the main street would be the cafe to get a takeaway coffee.
Once a year she visited her husband's grave on his birth­day but that wasn't today. Today she was meeting Gert at their mutual friend Pam Paterson's graveside. It was the anniversary of Pam's death and Gert and Eve always met at the grave on this date, and again on Pam's birthday, to fill their friend in on local goings-on.
Eve was running behind schedule when she whipped into the Cinnamon Bark Cafe at the end of the main street. She had a quick chat to Dale and Brent who ran the cafe, more planter box discussions – they were on the side of colourful annuals. They made her coffee to take away and as she turned to go two women entered. They both paused, looked from Eve to each other.
Eve drew herself up, annoyed at the sudden race of her heart. "Audrey, Norma," she said with a nod as she strode towards the door.
Audrey stepped into Eve's path. Her finely plucked and pen­cilled eyebrows shot up to meet her lacquered fringe. "What are you doing here?"
"Buying a coffee. I believe anyone can."
"Well! There's no need for that tone," Norma muttered.
Audrey put a hand on Norma's arm and turned her sharp gaze back to Eve. "Haven't seen you about in a long time."
"I'm still here."
"Not coming back to help at the museum again?"
"Not likely."
"We won't hold you up then."
Eve stood her ground. She wasn't about to be dismissed by Audrey Owens. "What's happening with the prawn industry display?"
"No agreement has been reached about that."
"I wonder why?"
Audrey's look turned hawk-like. "Withdrawing your donation has slowed things, but others will come on board."
"No-one else in the industry will make a donation unless a proper plan is developed."
"Unless you allow them to, you mean."
"Each business is their own master, Audrey."
Norma sniffed her displeasure but Audrey's lips turned up in a cat-that-got-the-cream smile.
"That's so true," she said. "I suppose you've heard about Chris­sie's engagement."
"No." Eve swallowed the why-would-she-care retort that sprung to her lips. She felt sorry for whoever was going to get Audrey as a mother-in-law. Rumour had it that her other two sons-in-law danced to her tune. But of course Eve wasn't one to listen to gossip.
"Nicholas Colston." Audrey was beaming now and Eve could understand why. The Colstons were based in Port Lincoln. Ralph Colston was another pioneer of the local prawn industry. Three generations of the family helped manage their extensive fishing business. Audrey's youngest daughter was marrying into fishing royalty.
"Please give them my congratulations."
"Oh, the queen is giving her blessing, is she?" Sarcasm dripped from Audrey's tongue, her smile gone. "You've had your say for too long, Eve Monk. Your influence is on the way out."
Eve's cheeks warmed and her heart picked up speed again. She was aware that the tinkle-clink of cutlery on crockery and the mumbled conversations around them had stopped.
"Is everything all right here?" Dale had left the counter to stand beside them.
The cafe was almost silent and Eve felt the collective gaze of those seated around her press close, an invisible wall of condem­nation. A horrible feeling of deja vu swept over her.
Tricia Stringer
Award Winning Bestselling Australian Author
The voice of Australian storytelling. From the city to the country…
Read more about Tricia and her books and discover where to follow her on social media
The 3 Big Questions
What gave you the most pleasure when writing the book?
I've wanted to write a story that involves the Spencer Gulf Prawn Industry for a long time. Eve came along and she was the perfect character to manage a prawn fishing business. I loved weaving a fictional story around my region. I hope I won't get run out of town when the locals read it.
Were there any difficult aspects you faced when writing the book?
I was writing this story as the pandemic began and I found it difficult to write something set in the current day that didn't mention Covid-19. It would be unrealistic to say there's no impact on our current lives but I didn't want to write a book about the disease. Finding the balance was the tricky part. I hope readers will feel I've made the right choice.
When you wave your story goodbye and it's on its way to the printers and out of your hands – how do you feel?
Happy! By the time my story is at that stage I've read it so many times I almost feel I don't want to see it ever again. Then a few months later the publisher sends me my copies. I open the box, hold them in my hands and voila! I'm in love with the story all over again.
Buy Birds of a Feather
A wise, sharply observed celebration of the life-changing power of female friendships.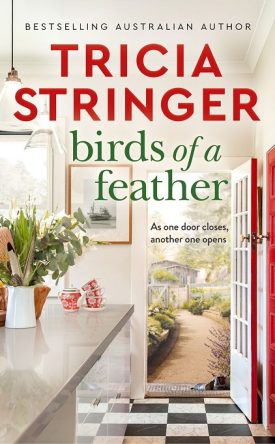 We hope you're enjoying our Book News 
Subscribe below by email to receive our occasional Book News blog post – and never miss a new book release!
We'd also love you to follow us on Facebook & Instagram