NEW RELEASE – Beneath a Christmas Sky
Published:
October 5, 2022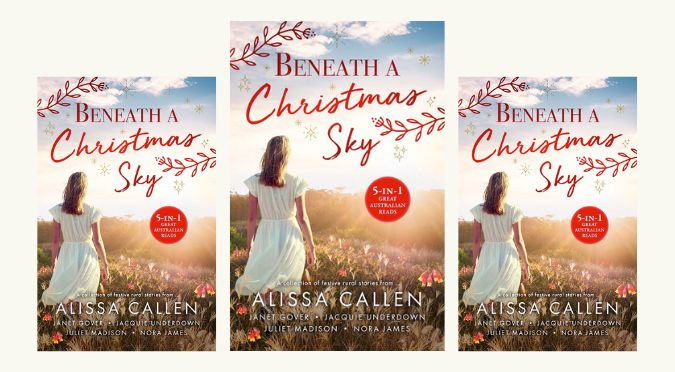 A collection of festive rural stories from five well-loved Australian authors
OUT NOW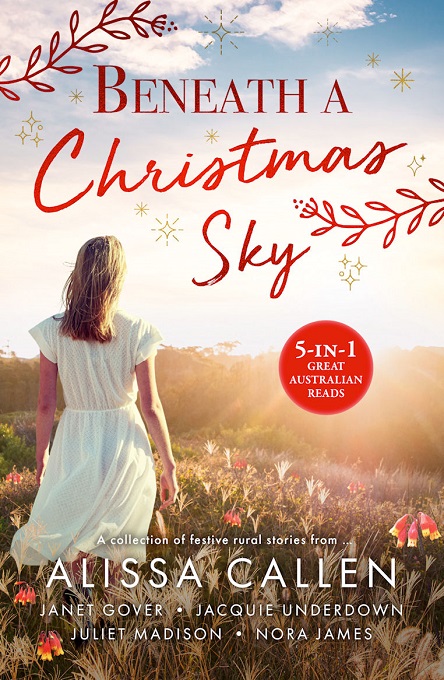 This is a special paperback-only bindup and it's in the shops now
Read all the story blurbs…
This paperback bindup includes the following stories
Under Christmas Stars by Alissa Callen
Small-town teacher Freya George is determined to make up for last year's disastrous Christmas. This year she will stop at nothing to ensure that she and the Woodlea community have the best holiday season ever. But from the moment Freya meets cattleman Drew Macgregor, her plans unravel faster than red Christmas ribbon…
Christmas at Coorah Creek by Janet Gover
English nurse Katie Brooks is here to stay after travelling halfway around the world to outback Queensland. But she hadn't anticipated being rescued on day one by Scott Collins: Coorah Creek's prodigal son … who is determined to leave town as soon as possible. Can a small-town Christmas change their minds?
The Christmas Wish by Jacquie Underdown
Returning home, schoolteacher Brielle hopes a quiet Christmas will quash the ever-present feeling that she no longer belongs anywhere. For single dad Luke, romance is off the agenda – no matter how appealing his one-time antagonist Brielle has become. It's not only his heart that's at risk – it's that of his young daughter too. But after a Christmas wish is cast, the spirit of Christmas conspires to create some holiday magic.
Above the Mistletoe by Juliet Madison
Determined to Escape all things Christmas in far-off Australia, Angelette hadn't counted on being forced to stay at the local Christmas-themed pub, where the owner is intent on enforcing holiday cheer. But embracing Christmas will mean opening up about the one reason Angelette vowed never to celebrate Christmas again. And that will take a miracle.
His Christmas Feast by Nora James
Jilted French chef Christophe has sworn off women. Until his sexy neighbour Emily turns up at the lavish Christmas party he throws at his country home. The trouble is, Emily, the queen of mixed signals, is hiding something. Will he ever understand her? Or will the fence they're building between their two properties keep them apart for good?
Buy Beneath a Christmas Sky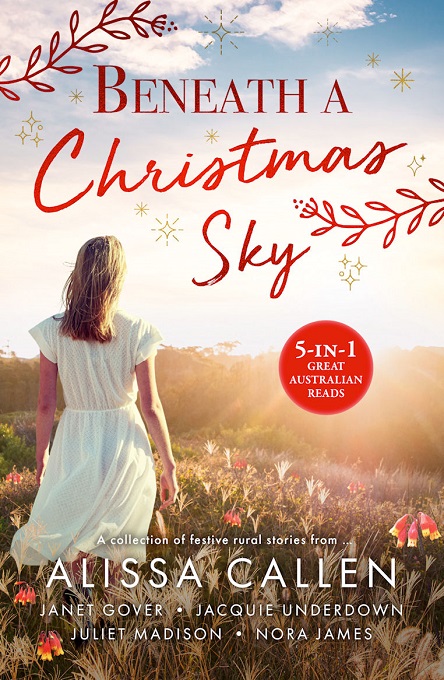 *each story in this paperback-only bindup is available individually as an eBook
Read more about Alissa Callen and her books
Read more about Janet Gover and her books
Read more about Jacquie Underdown and her books over on her website
Read more about Juliet Madison and her books over on her website
Read more about Nora James and her books over on her website
Happy Christmas reading!
We hope you're enjoying our Book News 
We'd love you to follow us on Facebook & Instagram
You can also subscribe below by email to receive our occasional Book News blog post – and never miss a new book release!
Stay up-to-date on the latest Australian fiction releases and news