NEW RELEASE – Back to the Country by Mandy Magro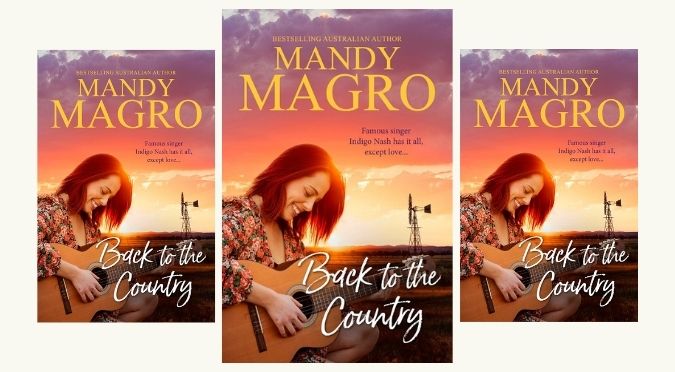 'Set in the heart of the Australian countryside comes a compelling romance with a touch of mystery from bestselling author Mandy Magro.'
OUT NOW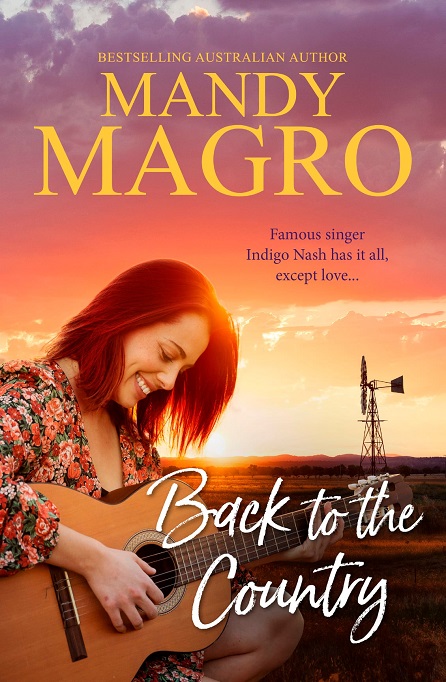 Country singer Indigo Nash has it all, except love…
At the height of her musical career, Indigo should be nothing but happy. But Indi is disillusioned with show business, finding herself depressed and lonely. When she reaches breaking point, a simple life back in the country begins to beckon her. But the demons left lingering in the shadows from a childhood trauma follow her, and reoccurring nightmares of that fateful night plague her… Can she unearth the truth of her family's deep dark secrets?
For two years Harley Knight has travelled the world with Indi as her bodyguard. She's a stubborn woman who drives him nuts, but also, in her vulnerable moments, shows him a side of herself he secretly loves and always has since they were teenagers. When she hits rock bottom, he convinces her to return with him back to their hometown of Kuranda and stay at his property, where Harley hopes the peaceful landscape will give her the time and space she needs to heal.
With these precious few weeks, can he show her what she's missing by constantly running away, or is time to let her go?
We have an excerpt for you!
Buy Back to the Country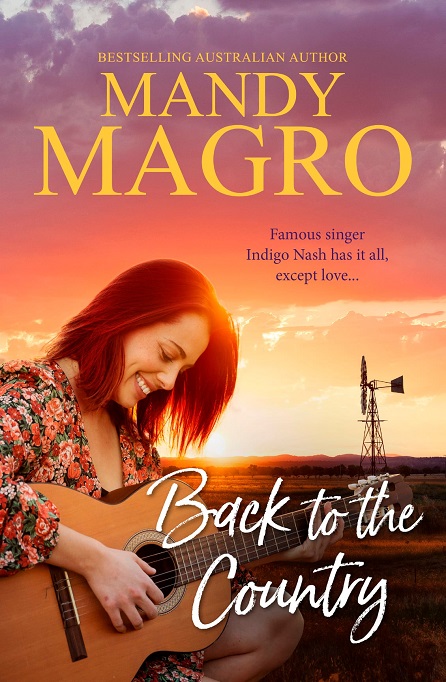 Excerpt from Back to the Country
by Mandy Magro
PROLOGUE
Overwhelming exhaustion wrapped around Indigo Nash like a heavy cloak. What she'd give to be able to close her eyes and sleep for days, but just like every other day, she couldn't afford to be weary. No rest for the wicked, her actually wicked father would say, if they were on speaking terms. All work and no play is bad for the soul, her late mother would have said if Indigo's prayers were answered, and she got to hear her sweet voice once more.
Feeling way older than her twenty-seven years, she popped the last two NoDoz capsules from the blister pack and tossed the tablets into her mouth with a swig of coconut water. Her vivid green eyes glued to the glamorous woman in mirror, she stared at her reflection as if really seeing herself for the very first time since being discovered by the Capitol Records talent scout at a Nashville honky-tonk five years ago. Although she was the spitting image of her mother, it was as if she were eyeing a stranger. Just as the effervescent young woman she'd once been had disappeared, the freckles that normally dusted her cheeks were nowhere to be seen. But thankfully, neither were the dark circles that had become a permanent part of her gruelling reality.
Two hours before every one of her sellout shows was spent grooming herself into a picture of flawlessness – her fans and record label expected her to shine bright and she painstakingly strived to meet their expectations. And she liked to do this herself; the thought of other people plucking and preening her was very uninviting. Touching was for people she was close to, and they were few and far between. At first, it had been exciting to get all dolled up to maintain the Country Music's Sweetheart title she'd attained very early on in America, but now, it was downright exhausting.
With her make-up finally done, and her usually wild auburn locks styled to within an inch of their life, she placed her blusher down and stared in the mirror with a sigh. Her throat tightened – where had the wild-haired tomboy of her youth gone, the one who lived to ride a horse like she stole it, who ended each day covered in dirt with leaves and god only knew what tangled up in her knotty hair? Somewhere between her mother's untimely death, her older brother's disappearance, and this long, steep road to fame, she'd gone and lost herself. Completely. Something she always swore she'd never do.
She blinked past the unexpected surge of emotion – tears would ruin her mascara and she didn't have the time to fix it. She'd been so desperate to prove herself, to make a mark in this cutthroat world so she never had to return to the life, and man, she loathed. She could still hear her father's drunken voice loud and clear, on the morning she'd finally had enough of his cruelty: 'You are your father's daughter, Indigo Nash. You're never going to amount to nothing.'
Well, she'd gone and showed him, hadn't she? Not that he cared. But a Grammy would fix that.
Mandy Magro
Bestselling Australian Author
Using experiences and adventures from outback and country Australia in my stories
Read more about Mandy and her books and discover where to follow her on social media
Buy Back to the Country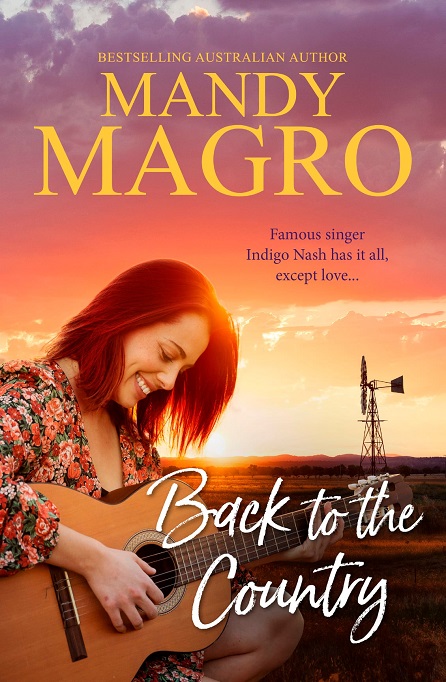 We hope you're enjoying our Book News 
We'd love you to follow us on Facebook & Instagram
You can also subscribe below by email to receive our occasional Book News blog post – and never miss a new book release!
Stay up-to-date on the latest Australian fiction releases and news