New Release – Always on My Mind by Trish Morey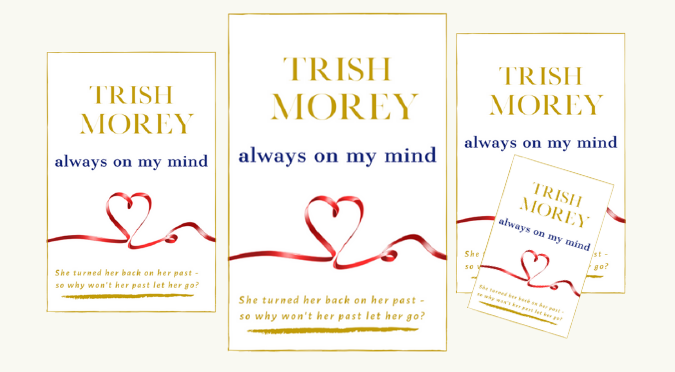 From the golden wheat fields of Yorke Peninsula, to the financial hub of New York City…
Always on My Mind
by Trish Morey
Out now
Read a few words from the author, plus, we've got an excerpt for you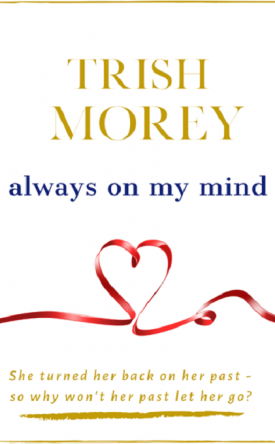 Ten years ago, Pip Martin traded the tragedy and secrets of her past on South Australia's Yorke Peninsula, for a financial career half a world away in New York City. But now Pip's Alzheimers-ridden gran is dying and it's time for one last goodbye.
… and home again
Except the past Pip was so happy to flee is still there, including Luke Trenorden, the man she loved before betrayal and old secrets tore them apart. Pip Martin is the last person Luke Trenorden wants to see. If only her haunting vulnerability didn't remind him of what they'd lost.
And that's when it gets really tough.
Together Luke and Pip solve the mystery of her past, and between them the spark still smoulders brightly. But Pip's about to return to NYC and the life she says she wants, and Luke's about to lose her all over again. But after all they've shared, can either of them ever be really happy apart?
A few words from Trish
Some books you are compelled to write. Always on my Mind was one of those books, begun when my father was ailing in a nursing home, and a book that contained references to my family's history on South Australia's Yorke Peninsula, all inspired by a kitchen dresser I'd inherited decades before.
That dresser had been duly delivered half a country away to where we were then living in Canberra, and I opened one of the glass doors, took one whiff of the air inside, and was hurtled back to a farm-house kitchen that no longer existed. It was a long time in the brewing, but I knew I had to write that story, of a girl who goes home to find only a few sticks of furniture, and is thrust back into her past. It's a real book of the heart to me, and I hope it touches yours.
Please be aware: Always on my Mind is an edited and updated re-release of Stone Castles.
Buy Always on My Mind
From the golden wheat fields of Yorke Peninsula, to the financial hub of New York City…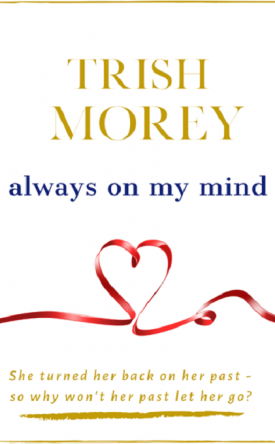 Find other retailer buy links here 
Paperback copies will be available soon!
Contact Trish if you're looking for a paperback copy.
Excerpt from Always on My Mind by Trish Morey
Pip
Adelaide Airport had grown up while Pip was away. There was a shiny new terminal with air bridges now, and disembarking the plane had the same generic feel it had worldwide, so she could almost have been anywhere – if not for the unmistakeable line of hills to the east, with the three towers marking the highest point in the Mount Lofty Ranges.
That, and the twisting of her gut that told her she was nearly home.
Home.
After almost a decade and a half living and working in Sydney and then New York, she wasn't even sure what that meant any more.
Her recently turned on phone burped up the messages that had come in since last checking her phone during her connection in Auckland, and Pip held her breath as she scanned them. She smiled at the 'Missing you' message from her friend, Carmen, and frowned at the three from Chad but didn't bother with those now. She was relieved to see there was nothing from her gran's nursing home. No news was good news, although it didn't stop her calling as soon as she was inside the terminal.
'How is she?' she asked, to be told there was no change. She checked the wristwatch she'd already adjusted to Adelaide time and did a mental calculation – one hour at most for the formalities of immigration and customs and to collect the keys to her rental car, and another two for the drive to the town of Kadina – and told them she'd be there by lunch.
Too easy.
Her business class ticket meant a short queue at immigration, so she beat her luggage to baggage collection, the carousel still stationery. It wouldn't be long once it did kick into action, she knew, courtesy of the priority tag her suitcase was wearing. But still she felt impatient to keep moving, her stomach wringing itself tighter and tighter the longer the wait continued. Feeling conflicted.  Needing desperately to see her gran, but knowing that visiting her home town for the first time in almost a decade was going to shake things up, things she'd sooner leave right where they were.
Like questions from the past she didn't know the answer to.
Like other stuff.
Like . . . Luke.
God, she didn't want to think about any of that, least of all Luke. That was history. So ancient, it shouldn't even figure. And then a siren sounded and a light flashed and the carousel kicked slowly into motion. A few bags in, her suitcase appeared through the rubber strips. She almost sighed as she hauled it from the carousel. She'd still be out of here within the hour. Thank god she had nothing to declare. Another ten minutes or so and finally she'd be free.
It was when she turned that she noticed the sniffer dog, trotting its way between legs and luggage. It was a beagle and cute as a button and for the first time in hours she managed a smile. Until it took one sniff in her direction and plonked itself down in front of her, and cute as a button turned into the incoming passenger's worst nightmare.
Luke
The last thing Luke needed in the middle of harvest was to have to head into town. But the fuel filter had clogged in the harvester he'd been nursing and the whole thing had finally sputtered and died, and there was no putting off a visit to the local John Deere dealership any longer. Besides, it wasn't like he had nothing else to do while he was in town. The running repair he'd made to the back sheep paddock fence wouldn't last forever, so he might as well get those extra droppers he was short of, not to mention pick up the mail and grab a few groceries into the deal. A pre-Christmas ham in the fridge made meal preparation easy, sure, but even he was getting sick of ham sandwiches.
By the time he'd talked himself into the inevitability of it, he was almost happy to forget the inconvenience of leaving the harvest unfinished and load up Turbo alongside him. For a couple of hours they'd leave the troubles of the farm behind. Just the thought of chicken and chips for lunch for a change improved his mood. And god knows, he could do with a bit of company.
The dog whimpered and laid its head on his paws where he was sitting on the seat beside him, and Luke almost wondered if he'd spoken out loud. Then again, his dog had always been uncanny in picking up on his moods. 'Sorry Turbo,' he said, curling the fingers of one hand around his ears. 'Nothing personal, but a bloke needs a bit of human company every now and then.'
Turbo snorted his disagreement and sulked into a restless doze as the ute headed down the back roads towards the highway to Kadina.
Luke smiled. The dog was right. Turbo had seen him with human company – of the female variety at any rate – and hated every mismatched minute of it. And most of the time he had no need for two-legged companionship anyway. Turbo was a better companion than just about any friend he'd had. Honest, hardworking and loyal to a fault. If only the dog could learn to rustle up a steak sandwich or a feed of chicken and chips for them every now and then, he'd be just about perfect.
Luke changed his plan of attack as he drove by the local agricultural supplies dealership. The Ag store car park was in gridlock, a combination of harvest needs and pre-Christmas shopping. Forget waiting in line, he'd come back after lunch when there might be more chance to catch a minute with his mate Craig, the manager. He needed to check the details for Sunday's christening – it wouldn't do to turn up late, not given he'd agreed to be Chloe's godfather.
The supermarket welcomed him with air-conditioned comfort, canned music and the occasional nod from other customers, none of which he minded as he made his way around the aisles filling his basket. Until Sheila Ferguson bailed him up in the frozen food section, her trolley blocking the only part of the aisle her ample body didn't. And damn it all, she was between the Potato Gems and him.
'Did you hear the news?' she crowed, bright eyed and delighted, holding her ground after exchanging the usual pleasantries. Luke raked fingers through his hair, scratching for a clue. Sheila headed the local native animal rescue network and was famous for her work adopting orphaned wildlife. There was hardly a week went by where Sheila and the latest orphaned babies weren't featured in the local newspaper. Maybe she'd finally been awarded an Order of Australia for her efforts and he was the only one who hadn't congratulated her for it?
His seeking fingers gave up, drawing a blank. 'Sorry Sheila. I've been busy with the harvest. What did I miss?'
The woman's eyes widened, as if she'd just hit the mother lode. 'You really haven't heard? Then it's lucky I found you. Priscilla Martin is coming home.'
He blinked. A really slow blink. To give his gut a chance to deal with the shock and move on before any hint of surprise might show in his eyes. Before any hint could be transmitted that he might actually be interested in the news. Because he wasn't – interested, that is – he just had to get used to the concept.
And he was glad he'd taken his time, because when he opened them he found Sheila Ferguson examining him much like he imagined she'd examine one of her marsupial roadkill victims. Closely. Intently. Studying them for any signs of life before she plucked whatever newborns were hanging around the pouch waiting to be rescued.
He grimaced. Lucky for him he wasn't brandishing a pouch. The woman did good work, it was true, but he wouldn't fancy Sheila's gnarled hands rummaging around his nether regions.
Trish Morey
Award Winning, Multi-Published International Bestselling Author
Passionate, emotional, page turning stories
Read more about Trish and her books and discover where to find her on social media
Subscribe by email to receive our occasional blog posts – 

and never miss a new book release!
Stay up-to-date on the latest Australian fiction releases and news