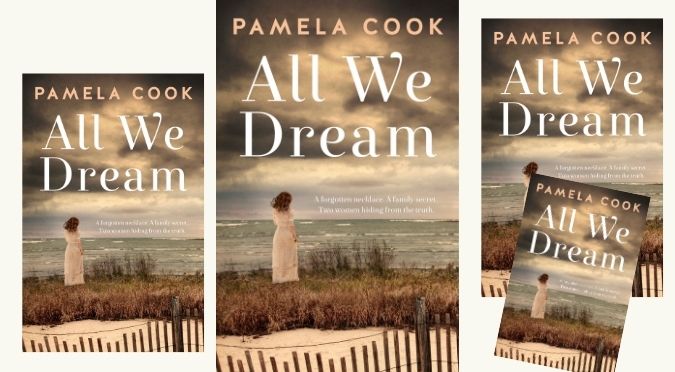 A multi-generational story of family, hope and following your heart
OUT NOW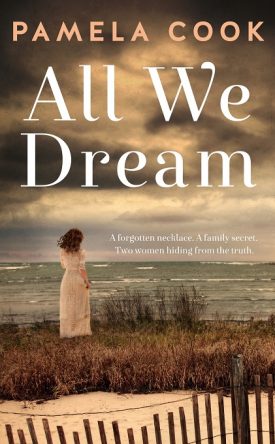 A forgotten necklace. A family secret. Two women hiding from the truth…
When successful Sydney lawyer Miranda McIntyre searches for something old to go with her wedding dress, she remembers an antique necklace from her childhood. Her mother's denial of its existence only deepens Miranda's curiosity but the discovery of a faded wedding photo and an old newspaper clipping reveal long-buried family secrets.
Who is the woman in the photo? And why are these keepsakes hidden in her mother's closet?
Miranda's quest for the truth takes her on a road trip south to the idyllic seaside village of Pelican Point where she stumbles upon a secluded cliff-top cottage and the reclusive Esther Wilson. As Miranda begins to unravel the mystery, a tale of daring rescue, forbidden love and shocking betrayal unfolds. Meeting enigmatic horse trainer Vincent Kennedy forces Miranda to question the life she has worked so hard to create, throwing into turmoil everything she thought she knew about the past and about herself.
Read an excerpt and also read Pamela's answers to The 5 Big Questions
A few words from Pamela Cook
I'm super excited about the release of All We Dream, a second edition of Essie's Way.
It's been such a pleasure giving this book a makeover and adding new scenes. It was my second published book and written to a very tight deadline. I've always loved the two main characters, Miranda and Esther and hanging out with them again has been a true pleasure.
This version has a stronger dream element and new scenes which wrap the storyline up more completely. I'm hoping those who loved the original will revisit this updated edition and that new readers will enjoy diving into the family mystery Miranda uncovers while looking for something old to go with her wedding dress.
It's a story about family, belonging and being true to yourself, about secrets, new adventures and fulfilling your dreams.
Pamela
BUY All We Dream
A multi-generational story of family, hope and following your heart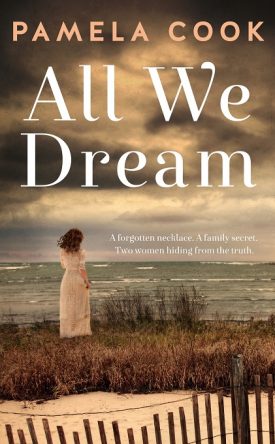 Previously published as Essie's Way in 2013 this new release titled All We Dream features revised and added scenes and is available in eBook and paperback
Personally signed copies can also be ordered direct from Pamela Cook – she'd love to hear from you!
Excerpt from All We Dream by Pamela Cook
Miranda rearranged the beads and earrings back in place as best she could and closed the drawer. Where else could it be? She slumped onto the bed. Her mother wasn't into clutter. Everything had its place, from the three perfume bottles on the top shelf of the dresser underneath the mirror to the three family photos arranged in perfect symmetry on the shelf below. One was of her and Simon when they were around four and six, the next was one of those family shots her mother had received a discount voucher for at a local studio when they were in their teens, and the third was her parents on their wedding day. She shifted forward and picked up the photo. So much joy radiating from their faces. Soon it would be her turn, she and James smiling for the camera. Would the two of them look this happy?
Her long, loud sigh broke the silence. She replaced the photo and turned back to the task at hand, opening each of the other drawers in the dressing table one by one and rummaging through the contents. Scarves, socks, underwear – but nothing else. The only place left was the built-in wardrobe. At one end were her father's shirts and pants, perfectly pressed and arranged in colour blocks, and at the other her mother's clothes, similarly organised, with shoes lined up on a rack below. She lifted her gaze to the shelf above, leaning back to see what was stored up there: a few boxes, hats and bags. Something small could easily be tucked away. She grabbed the chair from beside the bed – upholstered to match the floral quilt – and stepped up, moving things aside to get a closer view of the back of the cupboard. Nothing. It was hard to see right into the corner where the shelf extended behind the wall, so she stretched her hand out, inching her fingers to the furthest point they could reach. They landed on a soft, slightly furry object a couple of centimetres high. It could definitely be the box, but she couldn't get a grip on it.
Damn it! She needed something higher to stand on.
She jumped down and raced to the pantry, found the folding set of steps stored behind the door and hurried back to the bedroom. A rush of adrenaline buzzed through her veins. Maybe it was the thrill of doing something illicit, but her instincts told her it was more than that: whatever was inside that box had upset her mother to a shocking degree, and she was determined to find out why.
Wriggling her fingers back to the same spot she managed to place her whole hand over the object and drag it out. For a few seconds she balanced on the top step and travelled back in time. It was the same case, about the size of a large wallet, covered in soft black velvet. She climbed down and sat on the bed. Hardly daring to breathe, she flipped open the lid, and there it was: a perfectly shaped pearl-encrusted horseshoe set between two rectangular amethysts on a double strand of creamy pearls. A tear-drop diamond dangled from its centre. She ran the tips of her fingers across the pearls. They were smooth and cool to touch. Very care‐ fully she lifted the piece from its box and held it up towards the window. A rainbow of refracted light glimmered against the wall – it was definitely the real deal. She walked to the dresser, undid the gold clasp and fastened it around her neck. On instinct, she turned towards the door, held her breath and waited. But there was no one there. She turned back to her reflection. The horseshoe rested right against her sternum. It was light to wear and would be perfect against the milky lace of her wedding dress. She'd never seen a more beautiful piece of jewellery in her life – well, only when she was a kid doing the same wicked, deceitful thing, feeling the same sick swirling in her stomach. A flush of red stained her cheeks at the memory. This was further than she got last time.
She picked up the box and looked underneath. On the inside of the lid, printed in gold lettering on the satin lining, were the words Taylors Jewellers. Jamming a fingernail down the side of the interior she prised up the soft padding of the case. Concealed inside was a folded piece of newspaper. She pulled it out and something fell against her leg onto the floor. Heart in her throat, she bent down and picked up a small photograph. A studio portrait of a woman in a lace wedding dress, in sepia and tinted by hand. The pattern on the lace was almost exactly the same as on her own gown. How was that possible? There was only the shadow of a smile on the woman's lips as she looked into the camera lens. Strands of long hair fell softly around her face, the rest tied loosely to one side in a braid. There was a kindness in her eyes that Miranda warmed to immediately.
'Who are you?'
Did this woman own the necklace? She narrowed her gaze to the space above the neckline of the dress. There was something there, but it was impossible to tell if it was this particular piece. Placing the case and photo onto the bed, she unfolded the piece of paper. It was faded and brown with age, but the headline and print were still legible.
Courageous Young Woman Rescues Storm Survivor on Horseback
Local beauty Esther Wilson is the talk of the town after rescuing the lone survivor of a boat sunk in a wild storm off the coast near Pelican Point.
Nineteen-year-old Miss Wilson saw the flare of the sinking boat as she gazed out the window of her bedroom at approximately 10 pm Tuesday evening. Realising someone was in dire trouble, she ran to the stable and roused the station hand who assisted her in saddling her horse. The pair made their way through the howling wind and lashing rain down the slopes of the farm to the beach.
With no moonlight to guide her, Miss Wilson pushed her horse forward into the raging waters and swam with it out to where the boat was completely submerged.
Pamela Cook
Writing page-turning women's fiction set in escape-worthy places
Read more about Pamela Cook and her books and discover where to follow her on social media
The 5 Big Questions
Pamela, how long did it take you to write the book?
That's a great question for this particular book as it's a second edition of a previously published book. The original version was written in about 6 months in 2013. I spent about 8 months revising it and getting the new version ready for publication in 2020.
What was the most difficult or complex aspect of writing your book?
The historical research into the period of Esther's life covered in her diary entries was a challenge as it was something new for me, but I thoroughly enjoyed the process. Esther is the same age as my mother so I was able to chat to her about life during the 1940's and 50's. Luckily, she has a great memory and could tell me a lot about life in Sydney during the war and immediately after.
What gave you the most pleasure when writing your book?
Writing Esther's character was a joy. She's the oldest character I've created and because I channelled my great aunt it felt like spending time with family. I changed very little in her storyline for the revision and it was very satisfying to return to her story and be happy with the way it was told, and with her voice. Expanding on some of the plotlines I'd left a little up in the air was also enjoyable and I'm very happy with the final result.
Are you nervous when a new release comes out?
I'm always nervous when I have a new release. It's so hard to be objective about your own writing and when reviews start going up, my stomach starts churning. This time around I'm hoping to find some new readers who will be drawn to the women's fiction style storyline and enjoy the historical element of the plot.
What's the best thing a reader could do if they enjoyed your book?
Pop up a review on Goodreads or wherever they buy the book, share it on social media and tell their family and friends. Word of mouth and reviews are absolute gold for authors so we really appreciate readers taking the time to share their thoughts on a book they love.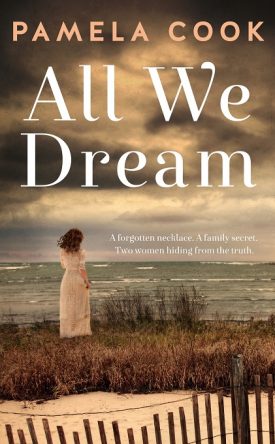 Available in eBook or paperback from all your favourite online platforms.  Signed paperbacks available direct from Pamela Cook.
Subscribe below by email to receive our occasional blog posts – and never miss a new book release