NEW RELEASE – All About Ella by Meredith Appleyard
Published:
September 1, 2021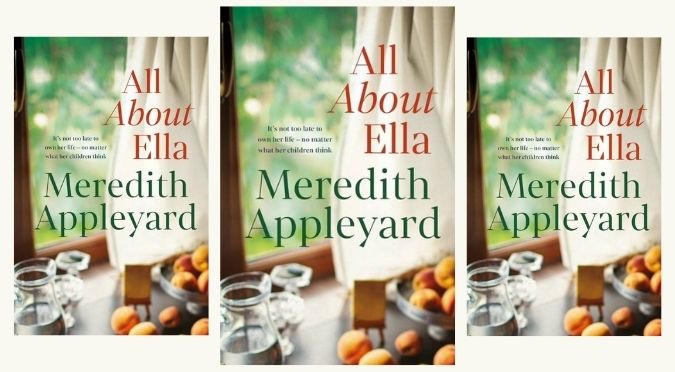 At 70, and widowed, Ella is about to find out that blood is not always thicker than water.
ALL ABOUT ELLA
Out Now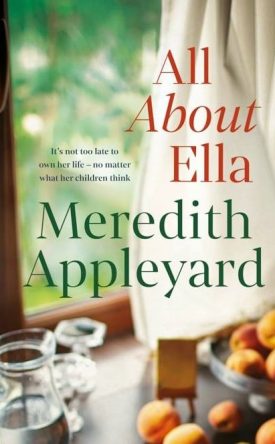 Mum, you're behaving in a most irrational way, and you need to come home immediately. If you don't, there will be consequences.'
'I'm not going anywhere,' I said.
At 70, Ella's world is upended, leaving her at odds with her three adult children, whose attention is fixed more firmly on her money than her ongoing welfare. After an argument with her son Anthony, she flees his Adelaide home for Cutlers Bay, a seaside town on the Yorke Peninsula. There she befriends Angie, a 40-year-old drifter, and becomes an irritant to local cop Zach. He's keen to shift Ella off his turf, because Anthony phones daily, demanding his mother be sent home. And besides, Zach just doesn't trust Angie.
Ella warms to Cutlers Bay, and it warms to her. In a defiant act of self-determination, she buys an entirely unsuitable house on the outskirts of town, and Angie agrees to help make it habitable. Zach is drawn to the house on the clifftop, and finds himself revising his earlier opinions of Ella, and Angie.
A keenly observed story about aging and its inherent vulnerability, about community and chosen family, about how family stressors shape us all, about trust and loyalty, and about standing up for yourself.
Read an excerpt then read Meredith's answers to The 3 Big Questions
Buy All About Ella
A wise and warm-hearted story about aging, family and community for readers of Tricia Stringer and Liz Byrski.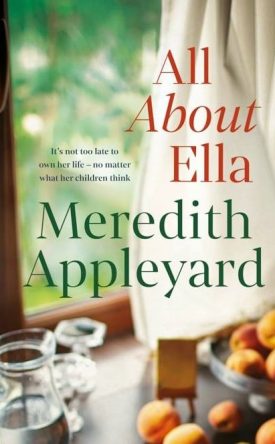 Excerpt from All About Ella by Meredith Appleyard
Chapter 1
Ella
Deep within the house, a door slammed. The air shifted. Still as a statue, I strained to listen. Nothing but the low hum of the ducted air-conditioning.
Then the rapid-fire tap, tap, tap of Kirsten's kitten heels on the terracotta tiles. Someone was in for it. Eyes tightly shut, I clutched a handful of bedspread, and braced myself for the shriek that would follow.
It came right on cue. 'Anthony! This time your mother has gone too far.'
Ah, it was me this time. Had I forgotten to bring in the washing? Unpack the dishwasher? Wipe up my toast crumbs? How long did I have before the inevitable summons to my son's study? His reprimand followed by my contrition. Then there'd be the usual platitudes from him, after that his shoulders would soften, his mouth become less pinched, because his duty had been done.
Lying there on the bed, quiet as a mouse, I imagined sinking into the mattress and disappearing altogether.
A muffled knock on the bedroom door. Too soon for the summons. 'Come in,' I said, and pushed myself upright. I swivelled around and sat on the edge of the bed.
The door cracked open and Stefan's pimply face appeared. 'I'm sorry Ella … Mum was just there … I had my headphones on … I didn't even hear her open the bedroom door … And then she wanted to know what I was watching …'
'Never mind,' I said, and waved off my grandson's apology with a flick of a wrist. 'But tell me, what were you watching, and how am I implicated? So that I can be prepared for the inquisition, when it comes. Which we both know it will.'
Amusement flitted across his face before his gaze shifted to his feet. 'Euthanasia … Assisted dying … Stuff like that,' he said. 'After we had that talk about how Grandpa Sam died, about all the pain he was in from the cancer, and the fact that he wasn't ever going to get better, I was kind of curious. I could tell you were too. I thought if I did some research … For both of us …'
'I see. That was very thoughtful of you, Stefan.'
'A pity Mum didn't see it like that.'
'I'm sorry. Perhaps she thinks you're too young-'
He snorted. 'Don't be sorry. And I'm not too young. Our conversations are cool. But for some reason Mum's on a rampage. She's even been picking on Sophie.'
'Poor Sophie. Something must be up.'
'Yep, that's exactly what I thought. Sophie came home late and now she can only use her phone between six and eight in the evening. For a month. And she has to physically give the phone to Mum.' Stefan paused, and his expression became one of horror. 'What if Mum confiscates my laptop? I'll die.'
'I'll talk to her, if you want me too.'
'I dunno,' he said, his face twisting with indecision. In the past my interventions hadn't always gone the way we'd hoped. 'You know Ella, you should get your own computer – a laptop or a tablet. They're not that expensive. I could show you how to use it. Or the library does courses for old people. There's stuff about everything on the internet.'
'Is there?' I said. Old people indeed. I'd be the first person to acknowledge that I needed something to fill the void left by the death of my husband; however, a personal computer probably wasn't it.
In preparation for the inexorable summons, I shoved my feet into the well-worn shoes beside the bed. I stood up and swiped at the creases in my cotton capris, and then tugged at the hem of my blouse. Had it shrunk? Somewhere in the house another door closed, followed by the telltale tap, tap, tap.
'I'm out of here,' Stefan said, wide-eyed, his voice cracking. He gave me a vaguely apologetic grimace and vanished, the door shutting quietly behind him.
I couldn't blame him for taking off. He was fourteen, and avoiding showdowns with his volatile mother would be high on his list of priorities. For a second I was tempted to follow. But I was seventy, not fourteen, and be blowed if I'd let my only daughter-in-law get the better of me.
I ran a comb through my hair. Who was that old woman in the mirror, scowling back at me? Whoever she was she was in need of a hairdresser. And look at all those wrinkles. There hadn't been nearly as many a year ago.
I smoothed on my favourite lipstick, rolling my lips together with a smacking sound. Better to face the enemy with warpaint on. Nevertheless, butterflies flitted about in my stomach. I perched on the side of the bed to wait. And wait. The waiting was always the worst.
Seventeen minutes later, another knock on the bedroom door. Three minutes more and I would have gone searching for Kirsten.
When Anthony's head popped around the door I let myself relax – a fraction. The only thing separating father from son was thirty-three years and a decent hairdresser. And clearer skin.
'Mum?' he said, tentatively. 'We need to talk.'
'Of course. Come in … Or would you prefer I came to your study?'
He glanced over his shoulder. Then his gaze returned to me, or rather a point somewhere behind me.
'Anthony,' I said, and leaned sideways in an attempt to intercept his line of vision.
'Let's go out,' he said, surprising me. 'I'll shout you a coffee.'
'All right.' I stood up, and found myself pulling at the hem of my blouse again while I waited for him to precede me out of the room. He didn't move. He kept looking at that point behind me. I turned to see what had caught his attention. There was nothing there except the drapes, and behind them a sliding glass door that opened onto the patio. There was a dining and barbecue area, a jungle of plants and a swimming pool.
The penny dropped. 'What if I meet you in the carport?' I said.
'Two minutes.' He held up the equivalent fingers, and then he was gone. Things must be serious if he didn't want to risk a face-to-face confrontation between his wife and his mother.
Willing myself not to speculate, I parted the drapes, opened the door and stepped out onto the patio.
Meredith Appleyard
Bestselling Author of The Country Practice and the warmly received Home at Last
Using her experience and fascination of providing health care to rural communities in her stories
Meredith answers The 3 Big Questions
What gave you the most pleasure when writing the book?
There's a house in All About Ella. A lovely old Queenslander. I've always wanted a house like that, and I had such fun imaging what it'd look like. Sitting on the veranda to wile away a summer afternoon … A gentle sea breeze … Bougainvillea climbing its way up the balustrade.
Were there any difficult aspects you faced when writing the book?
I wrote this book through the first of the COVID lockdowns, and the associated disquiet. Day-to-day life didn't change much for me but it was hard to apply myself when my mind was elsewhere.
When you wave your story goodbye and it's on its way to the printers and out of your hands – how do you feel?
Oh, a mix of emotions. Relief mainly, because that's it! And I'm already in the thick of the next story, and that's where my head needs to be.
Read more about Meredith Appleyard and her books and discover where to find her on social media
Buy All About Ella
A wise and warm-hearted story about aging, family and community for readers of Tricia Stringer and Liz Byrski.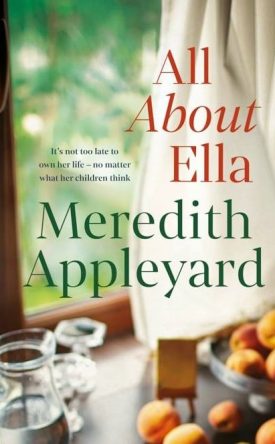 We hope you're enjoying our Book News 
Subscribe below by email to receive our occasional Book News blog post – and never miss a new book release!
We'd also love you to follow us on Facebook & Instagram
Stay up-to-date on the latest Australian fiction releases and news