NEW RELEASE – A Town Like Clarence by Stella Quinn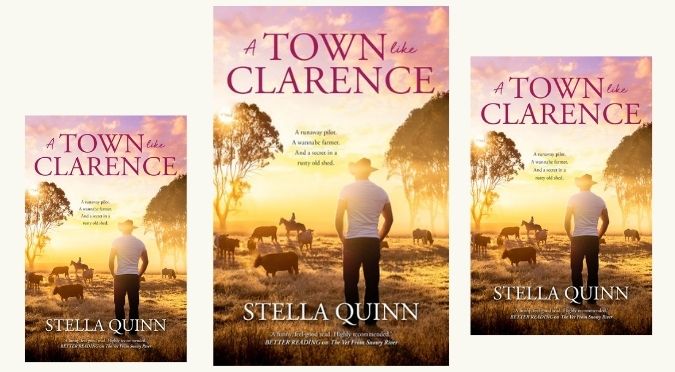 A runaway pilot,
A wannabe farmer,
And a secret in a rusty old shed.
When Kirsty Fox goes on the run to escape a crash-and-burn at work, she finds a family she didn't know she needed…
'A witty and warm rural romance perfect for readers of Rachael Johns and Alissa Callen.'
OUT NOW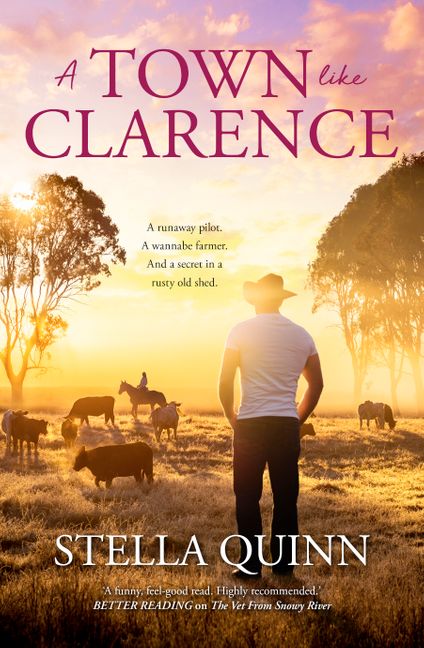 They say change is as good as a holiday. Joey Miles is hoping so after leaving the city behind, his stockbroking career in flames, to embrace a brand-new challenge: farming. But while returning to his hometown somehow feels right, he's got a long way to go to get back on his feet financially and the last thing he needs is the townsfolk meddling in his love life (or lack thereof).
To the townsfolk of Clarence, Joey has always been the ultimate tragic romantic hero – and it's time this hero had a happy ever after…
But Kirsty Fox is only in Clarence to dig up information about a World War II figure from her family's past – she has no intention of sticking around and finding out if Joey is as adorable as he seems. Kirsty doesn't stick around. Ever.
But when the locals of Clarence spy the chemistry between these two, a secret item gets added to the agenda of the next town committee meeting: matchmaking. This warm-hearted community will pull every trick in the book to show Joey and Kirsty everything they've unwittingly been searching for is right under their noses… What could possibly go wrong?
We have an excerpt for you plus Stella answers The 3 Big Questions, but first – a few words from Stella Quinn
Some (okay, many) years ago I spent a week on a macadamia farm in Northern New South Wales. I have never forgotten how lovely that place was. We swam in rockpools, we whipper-snipped what seemed like an endless supply of overgrown grass, and the towns dotted in among the rolling hills were a treat to visit. I wanted to write about a rural locale that was different to the Snowy Mountains, where The Vet from Snowy River was set, and so Clarence was born. The secret in the shed that brings our main characters together was the basis of a short story I wrote years ago.
I grew up in New Guinea, where war relics were sunk in the harbour and on the beaches, where planes lay rotting in plantations, and where finding bombs and green glass bottles and abandoned rifles were–not quite commonplace–but not at all rare. Writing a WW2 secret into a story was a chance for me to revisit the era with a bit of research and an opportunity to talk to the PNG old timers I still know. From these two unrelated beginnings–the macadamia farm visit and the childhood growing up in a PNG town with a war history – A Town Like Clarence came to be.
I hope you enjoy it.
Stella
Buy A Town Like Clarence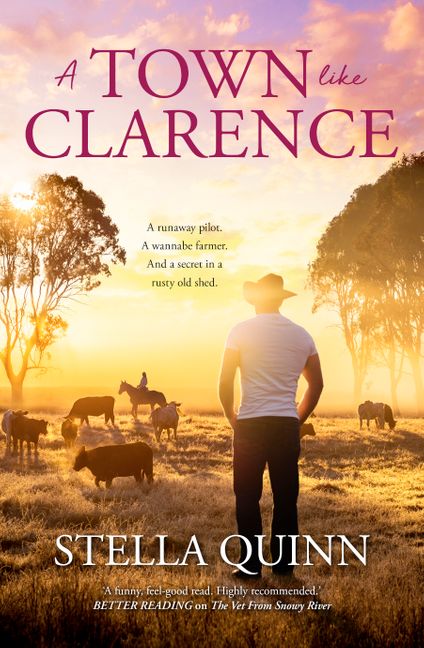 Excerpt from A Town Like Clarence
by Stella Quinn
Prologue
Kirsty sat in the back seat of her mum's ancient hatchback, drawing a getaway route on a rumpled paper map with a glitter pen.
She was good at drawing getaway routes, even when she had a banged-up arm. Besides, concentrating on the neat glittery line was keeping her mind off the hot vinyl seat. And the broken aircon. And the fact she'd been stuck waiting for ages in the car.
She was good at other things, too, like fobbing off cranky landlords with hard luck stories, and she was especially good at buying yesterday's loaf of bread for like twenty cents or whatever.
She could make her brown eyes go all sad and droopy and hungry-lost-dog-looking. The man at the bakery at the last town—William Creek? Or was it in Oodnadatta?—had been a sucker for sad, droopy eyes. He'd snuck a sticky bun into a white paper bag and handed it down to her along with the day-old bread.
She had to be good at all these things—and more—because of the family curse.
Kirsty snuck a peek through the car window to check her mum was still in the hotel-motel office and (phew) out of earshot. 'Bad s–h–i–t happens to Foxes,' she whispered.
The words were chiselled into the headstone of every dead Fox since the dawn of time, according to her mother. And yet, Kirsty still wasn't allowed to say the s–h–i–t word, or spell it out loud. It didn't even count that everyone at school (when she went to school) said worse. Eleven-year-olds aren't allowed to swear, not until they're eighteen, her mum would say.
Kirsty traced her pen along the squiggly line of Callie Creek Road but it came to a dead end. 'Fudgebucket.' That wouldn't do … what if that mean-eyed woman from behind the hotel-motel counter came after them in her ute? It wouldn't be the first time they'd had to empty their suitcases by the side of the road and hand back teaspoons and fluffy towels and some of the money from Mum's lucky tin.
She leaned down to check. Yep. The old biscuit tin was still there, safe as anything. She reached for it but winced when the plaster cast on her arm went clunk under the car seat. Stupid thing.
Stupid her.
Stupid arm, which she better stop thinking about because that was in the past, and she and Mum didn't do that.
Her attention now back on the map, she saw a yellow line that looked promising; maybe it was a highway that would take them someplace new. When bad s–h–i–t happened to Foxes, they upped stumps and took off. Finding themselves some new luck, her mum called it. Mum was always happiest in a new town, because it meant she had new pokie machines to try.
Kirsty nearly jabbed her glitter pen through the map when her mum ripped open the driver's door and leapt in.
'Let's go,' her mum said, panting.
'Are they after us?' Kirsty said, having another stickybeak through the dusty car window.
'Not this time, sugarplum. She let me write her a cheque from the bank, but no point hanging around tempting fate, right?'
Totally right. Fate, lady luck, whatever her mum called it, loved chasing down the Foxes. 'But there's no money in the bank, is there, Mum? You said I'd get sneakers when we had money in the bank.' She could say that with just Mum there, because Mum would never get mad and grip her until she had purple fingerprints spotting her arms.
Crunching the gears with a hand that was trembling a bit, and revving the engine, her mum dropped her sunglasses down her nose and twisted towards the back seat. 'The hotel-motel lady doesn't know that, does she?' she said with a wink, before pulling the little car out onto the cracked road.
Kirsty grinned. 'What about Colin?'
Colin was the love of Mum's life. At least, he had been for about three weeks, and he was okay. Before that, Stew had been the love of Mum's life, for ages and ages, and he had not-at-all been okay.
Her eyes wanted to look at her arm, but she couldn't let them. No going back … that was the rule.
Before him it had been the one with the gold tooth who played the harmonica all the freaking time. Donny? Danny?
'Turns out, Colin won't be joining us, sugarplum. It's you and me again. Want to climb through to the front?'
'What about Colin's jacket?'
Her mum grabbed the plaid fleece that was sitting on the front seat and chucked it out her car window. 'I don't see a jacket.'
All right then. Kirsty undid her seatbelt with her good hand and squidged her way through the vinyl seats until she was plonked next to her mum. 'I reckon the town we should try is Marla, Mum. It's two hundred and nine kilometres away, and I saw a notice stuck to the door of the laundromat saying a cattle station out there needed a cook. You know, just in case the pokies are ganging up against you again.'
'Well, aren't you the clever one,' said her mum. 'A new town, a new job, and no-one hunting us down for unpaid rent … you know, you might have broken the curse, Kirsty Fox.'
Maybe. Kirsty grinned. She was kinda used to it now—breaking the curse every time they took off for somewhere new. When the bad s–h–i–t happened, she and Mum always got to go off on another adventure somewhere and forget all about it.
Running away from bad s–h–i–t was kinda fun.
Stella Quinn
Award-winning, bestselling Australian Author
Writing contemporary romance novels that are warm-hearted and filled with characters you want to be best friends with.
Read more about Stella and her books
Stella answers The 3 Big Questions
1. What gave you the most pleasure when writing A Town Like Clarence?
Amy, the niece. She is 8, and is adoring spending time with her Uncle Joey, who has recently returned to the farm to live. She is also a bossy, opinionated show off, and is the apple of everyone's eye, particularly Gus the Groodle, who she adores. Amy represents the life Joey doesn't think he's ready for or deserves, but she makes unconditional love look so uncomplicated and natural. I loved writing her dialogue scenes, and often chuckled away as I was typing outrageous things for her to say.
What were the difficulties you faced when writing the story?
Oh I waffled on and on and on! The first draft was 146000 words which meant 46000 had to be cut. The problem, I think, was that I began with a plot idea (the secret in the shed) and my heroine Kirsty came second. It wasn't until very late in the writing process, after the publisher said to me that she thought we needed to start in Kirsty's point of view (originally we began in Joey's point of view) that I wrote the prologue, and the prologue was what cemented Kirsty's personality in my head. My editing process went a lot more smoothly after that car-ride scene with her mother.
When you waved A Town Like Clarence goodbye, on its way to readers and out of your hands, what did you do first?
Laundry.
I'm not joking.
My deadline whooshed past (to misquote Douglas Adams) and I was (eek) 9 days late handing it in, and in those 9 days the pantry began to resemble Mars after Matt Damon's potatoes froze and exploded, we all got down to our last pair of knickers, and the dog had been on a weetbix and eggs diet for days. The truth is there is no quick way to edit a 100,000 word manuscript, and the process can be exhausting when you get behind, and you can think about nothing else but Getting It Done.
We hope you're enjoying our Book News 
We'd love you to follow us on Facebook & Instagram
You can also subscribe below by email to receive our occasional Book News blog post – and never miss a new book release!
Buy A Town Like Clarence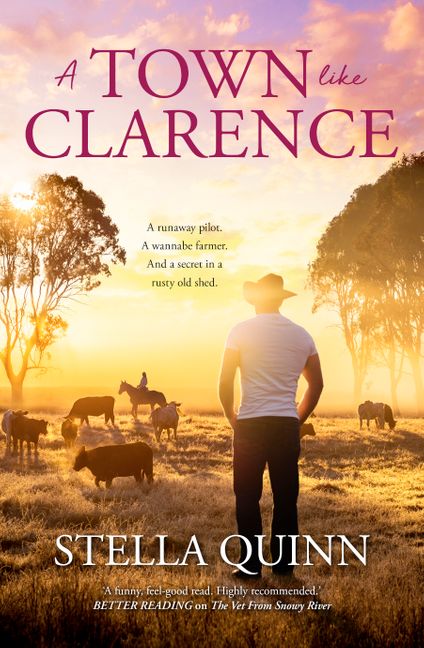 Stay up-to-date on the latest Australian fiction releases and news