NEW RELEASE! A Home Like Ours by Fiona Lowe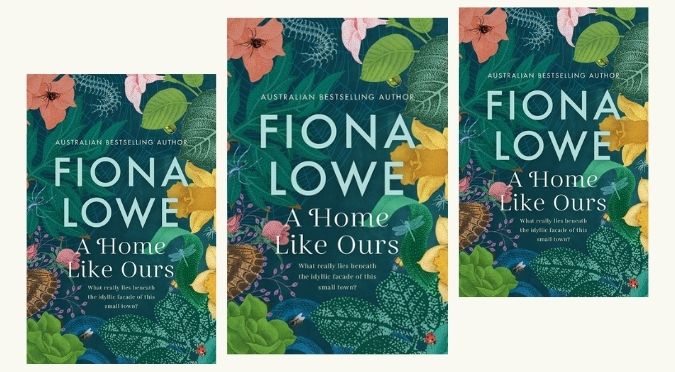 A timely novel exploring prejudice and privilege, from bestselling Australian author Fiona Lowe.
OUT NOW
A picturesque small town, a cosy community garden, a facade of tolerance and acceptance – but when three women with wildly different loyalties come together, what secrets and lies will be revealed?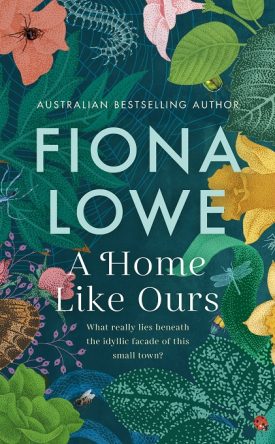 Tara Hooper is at breaking point. With two young children, a business in a town struggling under an unexpected crime wave, and her husband more interested in his cricket team than their marriage, life is a juggling act. Then, when new neighbours arrive and they are exactly the sort of people the town doesn't want or need, things get worse.
Life has taught Helen Demetriou two things: being homeless is terrifying and survival means keeping your cards close to your chest. Having clawed back some stability through her involvement in the community garden, she dares to relax. But as she uncovers some shady goings-on in the council, that stability turns to quicksand.
For teenage mother Jade Innes, life can be lonely among the judgement of the town and the frequent absences of her boyfriend. A chance encounter draws her into the endangered community garden where she makes friends for the first time. Glimpsing a different way of life is enticing but its demands are terrifying. Does she even deserve to try?
Can these women with such differing loyalties unite to save the garden and ultimately stop the town from tearing itself apart?
Read a few words from the author, read an excerpt
and Fiona also answers The 5 Big Questions about writing the book
A Few Words from Fiona Lowe
I'm so excited to bring you A HOME LIKE OURS, set up on the Victorian-NSW border on the glorious Murray River. Set in fictious Boolanga, things are not all how they seem at first glance and the community garden becomes a tinder-box of prejudice, racism and intrigue. The theme of the book is displacement, which comes in many guises.
Jade, is a young single mother, reluctantly new to town and struggling to find her place. Helen, is an older women who sought refuge from homelessness in what she thought was peaceful and idyllic spot, and Tara, who with her husband Jon, are respected business owners, are struggling with a changing town's demographics, a crime spree and a crumbling marriage. In normal circumstances, these women would be unlikely to meet, let alone find themselves uniting to trying to save a garden and a town. But will it be enough?
Buy A Home Like Ours
What really lies beneath the idyllic facade of this small town?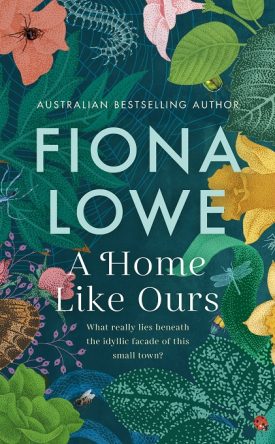 Excerpt from A Home Like Ours by Fiona Lowe
Chapter One
Tara Hooper stood in her bedroom, blinking at the unfamiliar but glamorous woman in the mirror. She swayed a little, admiring the way the crystals on the dress caught the light and threw it back to her in a rainbow of dancing colours. Was it really her?
It wasn't just the dress—she'd also treated herself to a professional hair and make-up session. She usually wore her hair down or tied back in a quick and easy ponytail, but Ebony had swept Tara's long blonde tresses into an up-do, accentuating her long neck. Then she'd blushed her cheeks and smoked her eyes in a way that enlarged and darkened them to an arresting come-hither blue. An altogether sexy blue, which had been the brief. Tara intended to knock Jon's socks off.
She slid some ibuprofen, lipstick and tissues into her evening bag and was looking for her phone when she caught the time on the bedside clock: 6:30 pm. How had it got so late and where on earth was Jon? The babysitter had arrived half an hour earlier to settle the kids and give her and Jon time to dress. They were supposed to be leaving for the Boolanga Chamber of Commerce business awards in five minutes. Hoopers Hardware, Timber and Steel was up for an award and after all Jon's hard work—their hard work—they deserved a win. They needed a win, in more ways than one.
Tara found her phone and called Jon.
'Don't stress,' he answered, pre-empting her. 'I'm just turning into the drive now.'
'You still have to shower and dress! Why have you cut it so fine?'
'Denny North finally turned up just as I was leaving. Apparently we're not the only business in town being graffitied.'
Tara stifled a sigh. 'Please hurry.'
Why had the new police sergeant chosen tonight to talk to Jon when he'd had all week? Tonight was supposed to be a night off from the problems at the store. Hopefully a night of celebration and a chance to reboot and haul them out of the rut she believed they'd tumbled into without really noticing. People talked about the seven-year slump but she and Jon had weathered that. It was the ten-year mark that was proving tricky.
Unlike other couples, they hadn't faltered when they'd become parents; instead they'd embraced the change. From the outside, it appeared that she and Jon had fairly traditional weekday roles—he worked full-time at the store and, apart from one day a week, she'd been at home with the under-fives. In the evenings and on the weekends, Jon was—had been—a hands-on dad. They'd prided themselves on their mixed skill set; how they each played to their strengths and together juggled the many balls demanded by family life. Privately, they'd congratulated themselves on how they appeared to be doing a better job of marriage, work and family than many of their friends.
But lately, Tara wasn't sure they were doing better. This year, things felt different between them—everything was slightly off. She was missing the chaotic early years when Jon would walk in after work and, with a kid hanging off each leg, grab her around the waist, kiss her and ask, 'How's Team Hooper?'
Initially she'd assumed it was because Clementine had joined Flynn at school. Change always came with adjustment, but all the roles within Team Hooper that she'd happily occupied for years now seemed like chores. It felt like she was the housekeeper, laundress, chef, taxi driver,
childcare worker, sports coach, art and craft teacher, and the personal assistant to Mr Hooper instead of a beloved wife. The tight-knit team of four they'd been so proud of felt as if it had fractured into three very separate parts.
Jon was different too. After work and on the weekends, his concentration was always elsewhere—far away from home. Whenever she asked him what he was thinking about, he'd say, 'Just work'. Was it though? Their sex life, which had always been healthy, was deep in the doldrums. Jon had stopped touching her and she couldn't shake the feeling that maybe he wasn't distracted by work, but by something—someone—else.
Tara desperately wanted things to return to normal and tonight was the first step in making that happen. The few times they'd attempted sex recently, Jon had been so preoccupied with work he hadn't come. Once, he'd been so tired he'd gone soft. But winning an award would get his blood pumping to all the right places. And so would this dress. It was so tight she'd forgone underwear, so when Jon peeled it off her she'd be naked and—
Her pelvic floor instinctively twitched, her cheeks flushed pink and her pupils spread like ink across the blue. God, she was as ready to ignite as the tinder-dry paddocks surrounding the town. All it would take was the spark of one deep kiss, one trace of his hand down her spine and she'd go up in a ball of flames.
'Daddy!' Clementine's excited shriek floated up the stairs.
Tara rushed onto the landing, not wanting Jon waylaid by demands to read a story.
'Mummy's a princess.' Wonder and delight rounded Clementine's eyes. 'Isn't she, Daddy?'
'Does that make me her frog?' Jon said, bounding up the stairs towards Tara. 'I'll hit the shower and be ready in six. Promise.'
He disappeared into the bedroom, barely glancing at the silver and gold frock. Or the way it hugged her newly toned body like a second skin, emphasising curves in all the right places.
Disappointment formed a lump in Tara's throat. She swallowed, pushing it down. The only reason he hadn't commented on her and the dress was because they were running late. When they were finally alone in the car, he'd acknowledge that all her hard work with the personal trainer had paid off and tell her she looked a million dollars.
It had taken months, but Tara had finally banished the baby fat deposited by two pregnancies and hitting thirty-five. She was back to the size ten she'd been when she'd met Jon. Back when life stretched out in front of her, full of endless and exciting possibilities. Back when Jon looked at her with hungry eyes that devoured her and a secret smile that said you complete me.
By the end of tonight, that look would be back. Tara was sure of it.
To continue reading the excerpt, go to https://www.harpercollins.com.au/9781489298676/a-home-like-ours/
(Note: if necessary refresh the page and the link to read the excerpt will appear beneath the book cover)
Fiona Lowe
Multi-Published, International Award-Winning Australian Bestselling Author
Small country towns featuring real people facing tough choices and how family ties impact on their decisions
Read more about Fiona and her books and discover where to follow her on social media
Fiona Lowe answers The 5 Big Questions about writing the book
How long did it take you to write the book?
From idea to final proofing it's sixteen months.
What was the most difficult or complex aspect of writing your book?
The plot! I usually write character driven novels so this complicated plot was a huge challenge.
What gave you the most pleasure when writing your book?
Interviewing Australians from all around the world, learning about their cultures and sampling their wonderful food.
Are you nervous when a new release comes out?
Absolutely! I spend months living and breathing the novel, sweating it out, doing my best work but there is no guarantee that readers will love it.
What's the best thing a reader cloud do if they enjoy your book?
Recommend it to a friend! Word-of-mouth is the best advertisement an author can have. If a person we respect and trust recommends a book, we're far more likely to seek it out. It is gold-star advertising!
Fiona Lowe x
Buy A Home Like Ours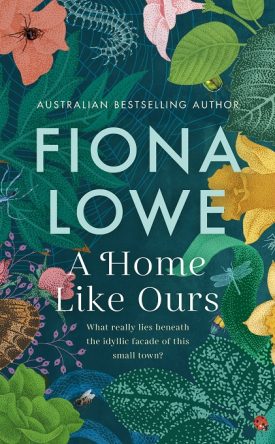 Subscribe 

below by email to receive our occasional Book News – 

and never miss a new book release!
Stay up-to-date on the latest Australian fiction releases and news