Matters of the Heart – New Release from Fiona Palmer
Published:
August 27, 2019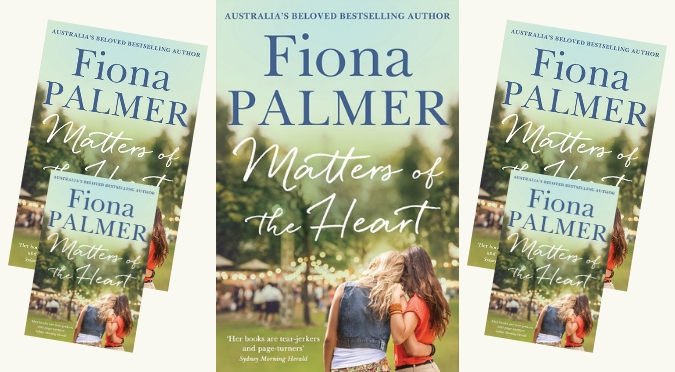 Australia's bestselling storyteller Fiona Palmer reimagines Jane Austen's beloved classic tale of manners and marriage, transporting an enduring love story in this very twenty-first century novel about family, female empowerment and matters of the heart.
Out now in paperback and eBook!
We've got a short excerpt for you, plus, Fiona answers The 5 Big Questions

A classic love story about manners, men and modern romance retold by bestselling Australian author, Fiona Palmer
Western Australia, 2019: The Bennets are a farming family struggling to make ends meet. Lizzy, passionate about working the land, is determined to save the farm. Spirited and independent, she has little patience for her mother's focus on finding a suitable man for each of her five daughters.
When the dashing Charles Bingley, looking to expand his farm holdings, buys the neighbouring property of Netherfield Park, Mrs Bennet and the entire district of Coodardy are atwitter with gossip and speculation. Will he attend the local dance and is he single? These questions are soon answered when he and Lizzy's sister Jane form an instant connection on the night. But it is Charlie's best friend, farming magnate Will Darcy, who leaves a lasting impression when he slights Lizzy, setting her against him.
Can Lizzy and Will put judgements and pride aside to each see the other for who they really are? Or in an age where appearance and social media rule, will prejudice prevail?
Excerpt from Matters of the Heart by Fiona Palmer
'Oh, did you hear the news,' said Margaret eagerly as she re-joined them at the table, with her bowl of yoghurt and fruit. She didn't wait for anyone to answer, too caught up in her own excitement. 'Janice at the P-and-C meeting last night told me that Netherfield Park had finally sold.'
John shifted in his seat and Lizzy jerked upright, suddenly all ears. Lizzy wasn't one for gossip, but when it included the large property – worth millions – that bordered their land, she was interested. Not only that, but some of Netherfield used to belong to the Bennets, back before she was born, so she felt a vested interest in the place.
'Who would have bought that? No one around here can afford that kind of money.' It was prime farming land that had been built up by the Jones family for three generations. But last year their only son had died on the farm, leaving the family devastated. The two daughters didn't want the farm, and the parents simply couldn't bear to stay, so they'd decided to sell and follow their daughters to the city.
'Who has that kind of money? A Corporate? The Chinese? I heard they bought a big farm up north,' said Lizzy, again, hoping her mum had the answers.
Margaret fluffed up like one of her chooks as she relayed the information. 'The Bingleys have brought it. I was told that their son, Charles, is to take over the farm.'
'Charles Bingley is a hunk,' said Kitty. 'All the girls at school follow him.'
Everyone's eyes shot to hers.
'Follow him where?' asked Margaret.
Kitty rolled her eyes. 'On Twitter. His sister is a fashion guru, with her own blog. Charlie posted a photo just the other day of him at the front of the gates to Netherfield. Such a hottie, those blue eyes,' said Kitty as she brought up the photo on her phone. 'See?'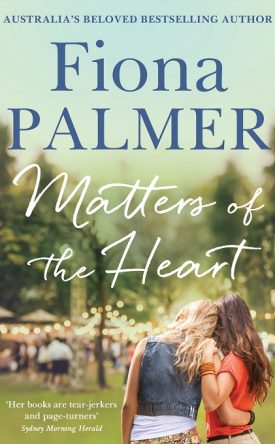 Buy Matters of the Heart
Fiona Palmer
Bestselling Australian Author
Stories set in Australia that paint a vivid picture of life from the inspiring landscapes to the salt-of-the earth characters
Read more about Fiona, her books, and discover where to find her on social media
Fiona answers The 5 Big Questions
How long did it take you to write the book?
The first draft takes about three to four months, usually I fit it in between getting off the tractor after seeding to my Nov 1 deadline just before I get back on the header for harvest. And during those months I am still working at the farm a few days a week as well as doing publicity for the latest book release.
What was the most difficult or complex aspect of writing your book?
I think it was the pressure to not disappoint the Pride and Prejudice fans. I wanted to keep the essence of Jane's work but weave it in my own Australian way.
What gave you the most pleasure when writing your book?
I think it was writing the scenes between Mr Darcy and Lizzy. I love their fiery chemistry. It's what made me fall in love with Pride and Prejudice in the first place.
Are you nervous when a new release comes out?
Oh yes! Waiting for those first reviews to see if anyone likes it is so stressful. As an author I don't want to disappoint any of my readers so there is lots of doubt and fear.
What's the best thing a reader could do if they enjoyed your book?
Easy, to tell someone or to review it on any platform, Facebook, Instagram, Booktopia, Amazon, iBooks, Audible etc etc It helps so much as we only have a few weeks to try and get out books seen before they disappear.
Subscribe by email to receive our occasional blog posts 
and never miss a new book release!
Stay up-to-date on the latest Australian fiction releases and news