Massive June GIVEAWAY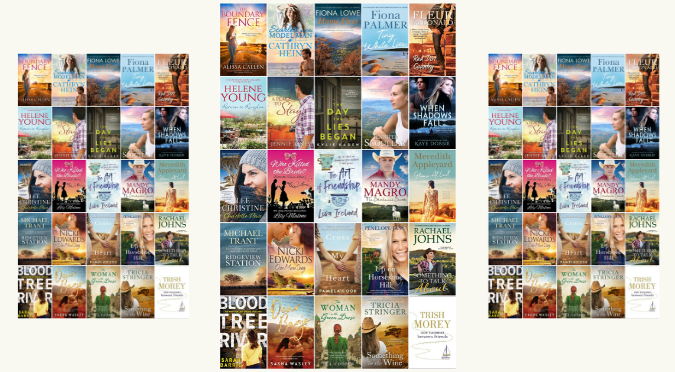 We're half way through 2020 and what a year it's been.
It's time to spread some love to our readers.
It's time for a book
G I V E A W A Y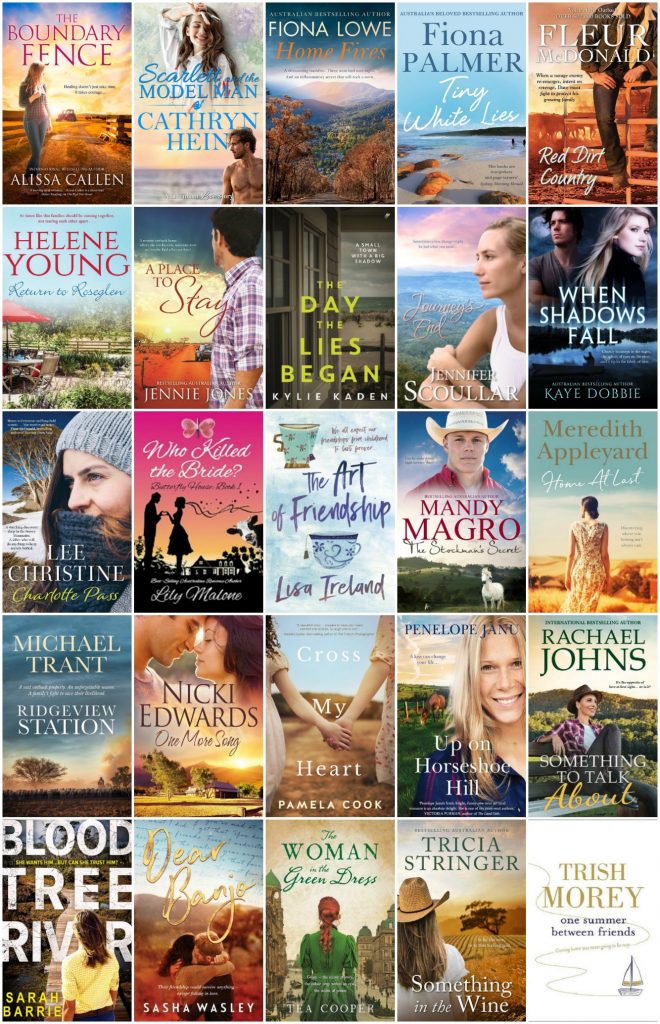 25 books (all paperbacks).
25 winners will receive one book each from this selection (signed by the author).
All you have to do is leave a comment here on this blog post. You can just say 'Hi, great to be here' and you'll still be in the draw.
The winners will be randomly drawn. There can be no change to the book drawn to each winner.
Giveaway is open to Australian postal addressees only.
Winners will be contacted by the author.
Giveaway closes midnight AEST Monday 8 June 2020
Good Luck!
Please note: Giveaway has now ended.
Winners will be drawn and contacted shortly.
Here are the books
Alissa Callen
A warm-hearted and touching story about recovering after trauma, love and community.
Healing doesn't just take time, it takes courage…
The scars country vet Ella Quinlivan hides are not solely on the outside. Men are off-limits. She fills her world with her friends, work and the colourful community of small town Woodlea. She also becomes custodian of a sandstone cottage of an elderly friend whose teenage daughter went missing two decades ago.
Cathryn Hein
He might be the perfect model, but is he the right man for Scarlett?
When up-and-coming artist Scarlett Ash discovers the perfect model in small-town Levenham, she can't believe her luck. Her creativity abandoned her months ago and with her move to London to take up a prestigious residency fast approaching, she's desperate for a muse to bring it back.
Fiona Lowe
When a lethal bushfire tore through Myrtle, nestled in Victoria's breathtaking Otway Ranges, the town's buildings – and the lives of its residents – were left as smouldering ash.
For three women in particular, the fire fractured their lives and their relationships.
Fiona Palmer
Two families escape the rat race to holiday at a remote coastal retreat, but what lies are they telling themselves and each other?
Ashley has recently lost her husband. Daughter Emily is being bullied online. Best friend Nikki is holding a huge secret. And why is husband, Chris, receiving so many text messages lately?
(This is Fiona's upcoming new release, not available to the public until 28 July but the winner might get lucky before that date!)
Fleur McDonald
Detective Dave Burrows returns in another suspenseful rural crime novel from Fleur McDonald.
Returning to Perth after a near-fatal undercover case in outback Queensland, Dave Burrows, now a Detective Senior Constable in the stock squad, receives an ultimatum from his deeply unhappy wife, Melinda.
Helene Young
A story about family fractures and feuds in later life – and about loved ones being there for each other when it matters the most.
On her remote North Queensland cattle station, Ivy Dunmore is facing the end of her days. Increasingly frail, all she holds dear is threatened not just by crippling drought, but by jealousy and greed – and that's from within her own family.
(Please note: the winner will receive an audio book of Return to Roseglen)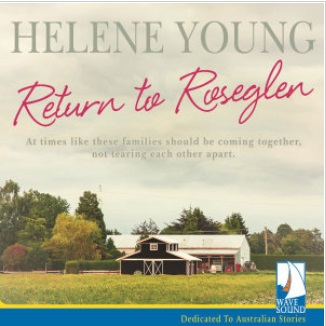 Jennie Jones
A remote outback home where she can become someone new – and maybe find a forever love?
Rachel Meade is a woman with a past she wants to escape from. Finding herself in Mt Maria, a small outback town in Western Australia, she thinks she's found a place to stay.
Kylie Kaden
"It seemed simple at first – folding one lie over the next. She had become expert at feathering over the cracks to ensure her life appeared the same. But inside, it didn't feel fixed."
It happened the day of the Moon Festival. It could have been left behind, they all could have moved on with their lives. But secrets have a habit of rising to the surface, especially in small towns.
Jennifer Scoullar
Sometimes a tree change can be just what you need.
When Sydney botanist Kim Sullivan and her husband inherit Journey's End, a rundown farm high on the Great Eastern Escarpment, they dream of one day restoring it to its natural state.
Kaye Dobbie
Ghostly footsteps in the night, the splash of oars on the river,
and a rip in the fabric of time…
In 1998 Kate O'Hara rents an old cottage on the banks of a river in Tasmania. She wants peace and quiet, to come to terms with her husband's death and the end of her unhappy marriage.
But her cottage is haunted by the ghost of Devlin, a boatman from convict Days.
(Please note: When Shadows Fall was first published in 1998 under the pen name Lilly Sommers)
Lee Christine
A shocking discovery deep in the Snowy Mountains. A killer who will do anything to keep secrets buried.
When ski patroller Vanessa Bell discovers human bones high on Mount Stillwell at Charlotte Pass ski resort, Detective Sergeant Pierce Ryder of the Sydney Homicide Squad is called in to lead the investigative team.
Lily Malone
Cally Winter is a woman on the verge of wonderful things.
With her best friend Sienna, Cally is set to launch a new tourism venture in the country town of Cowaramup. All that remains is one final weekend trial for Murder Mystery at Butterfly House with a very special guest.
Lisa Ireland
We all expect our friendships from childhood to last forever…
Libby and Kit have been best friends ever since the day 11-year-old Kit bounded up to Libby's bedroom window. They've seen each other through first kisses, bad break-ups and everything in-between. It's almost 20 years since Libby moved to Sydney, but they've remained close, despite the distance and the different paths their lives have taken.
Mandy Magro
Can he make things right between them?
In the small town of Little Heart, Juliette Kerr and Joel Hunter are drawn together by their shared experience being targeted by school bullies. But when the bullying takes a drastic turn, Juliette can see no other way to protect Joel from the aftermath than to break his heart and make him leave her behind.
Meredith Appleyard
Flying solo can be harder than it looks … A warm-hearted rural romance about finding your way home.
Flying solo for the first time had been the greatest high of Anna Kelly's life. So when the chance of a dream job as a pilot with the Royal Flying Doctor Service comes up she takes it, even though she has to leave her home in Adelaide and move to remote Broken Hill – a place she had hoped she would never see again.
Michael Trant
A vast outback property. An unforgettable season. A family's fight to save their livelihood.
Many of Peter and Kelsie Dalton's friends thought they were crazy when they bought Ridgeview Station. But five years on, their hard work, help from Kelsie's parents, and record rainfall have them in high spirits as the summer muster approaches.
Nicki Edwards
Can a city boy and a country girl find a way to be together?
Harrison Baxter and Edwina Campbell lead completely different lives.
Much has changed for Harry since he escaped his home town of Yallambah ten years ago, headed for the bright lights of the big city. Now he's the star of Melbourne's hottest musical, and feels more at home centre stage than anywhere else. Why bother going back to Yallambah to visit his parents when his father couldn't care less about his success?
Pamela Cook
When a promise kept means a life is broken…
A haunting story of guilt, redemption and friendship.
Tessa De Santis's child-free marriage in inner-city Sydney is ordered and comfortable, and she likes it that way.
When tragedy strikes and her childhood friend Skye Whittaker dies, Tess is bound to honour a promise to become foster-mother to Skye's ten-year-old daughter, Grace, throwing her life upside down.
Penelope Janu
A kiss can change your life …
Jemima Kincaid loves her home, her horses and her job as a farrier. Life has not been kind to her, but Jemima is happy in the close-knit rural community of Horseshoe Hill, which rallied around in her hour of need. Even so, she is fiercely independent and will never rely on anyone again.
Particularly a man like Finn Blackwood.
Rachael Johns
It's the opposite of love at first sight…or is it?
Dairy farmer Tabitha Cooper-Jones has a heart of gold, yet she's the eternal bridesmaid. Everyone's best mate. Despite facing some serious challenges over the years, she's built a successful ice-cream business and cafe, she's adored by her family and is an integral part of her hometown – there's just one thing missing from her life.
Sarah Barrie
A stand-alone twisty rural suspense set against the dark backdrop of Tasmanian mountains.
Indiana O'Meara is no stranger to the forces of evil. Her own past is full of violence. Now a policewoman, Indy is always fighting to redeem herself and defeat the dark. So when girls begin to go missing at a remote cattle station in Tasmania, she is quick to agree to go undercover to investigate chief suspect Logan Atherton, the owner of Calico Mountain Lodge, even though last time she went undercover it came to a bloody end.
Sasha Wasley
They were best friends who were never meant to fall in love – but for one of them, it was already way too late.
Willow 'Banjo' Paterson and Tom Forrest were raised on neighbouring cattle stations in the heart of the Kimberley. As young adults, sharing the same life dreams, something came between them that Willow cannot forget. Now ten years have passed since she's even spoken to Tom.
Tea Cooper
1853 Mogo Creek, NSW
Della Atterton, bereft at the loss of her parents, is holed up in the place she loves best: the beautiful Hawkesbury in New South Wales. Happiest following the trade her father taught her, taxidermy, Della has no wish to return to Sydney. But the unexpected arrival of Captain Stefan von Richter on a quest to retrieve what could be Australia's first opal, precipitates Della's return to Sydney and her Curio Shop of Wonders, where she discovers her enigmatic aunt, Cordelia, is selling more than curiosities to collectors.
Tricia Stringer
A warm-hearted rural romance set among the scenic vineyards of the Margaret River
Reserved high school teacher Keely Mitchell is more than ready for her holiday on the west coast of Australia, so when a medical emergency turns over all her plans and an intervention by a kind stranger finds her recovering in a Margaret River vineyard, she is at first downcast.
Keely had wanted to put recent traumatic events out of her mind, and recuperating alone in a stranger's house won't help that. But slowly the lovely food, spectacular wine and beautiful landscape of the area begin to work their spell.
Trish Morey
A moving story about broken friendships and the rocky road of forgiveness.
Coming home was never going to be easy …
With a failed marriage behind her, and her career dreams in tatters, Sarah returns home to Lord Howe Island to run the family store. Paradise to most, Lord Howe is the last place Sarah wants to be, trapped on an island with her two ex-best friends, Floss and Jules.
Our Giveaway
Please note: Giveaway has now ended.
Winners will be drawn and contacted shortly.
25 books (all paperbacks).
25 winners will receive one book each from this selection (signed by the author).
All you have to do is leave a comment here on this blog post. You can just say 'Hi, great to be here' and you'll still be in the draw.
The winners will be randomly drawn. There can be no change to the book drawn to each winner.
Giveaway is open to Australian postal addressees only.
Winners will be contacted by the author.
Giveaway closes midnight AEST Monday 8 June 2020
Good Luck!
Subscribe by email to receive our occasional blog posts – 

and never miss a new book release!
Stay up-to-date on the latest Australian fiction releases and news