Lost Without You – new release from Rachael Johns
Published:
October 21, 2018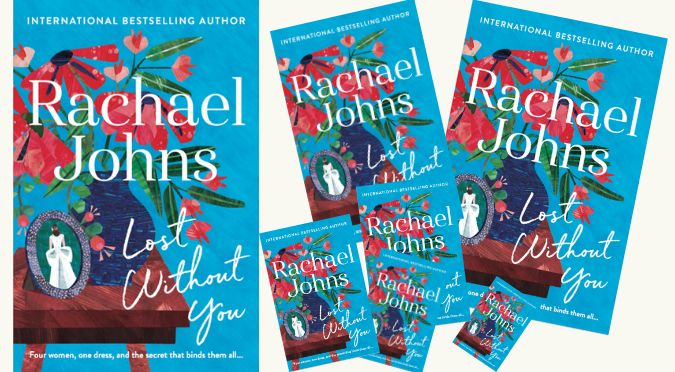 A fresh and poignant novel of family, journeys, past decisions … and dresses … from the ABIA award–winning, bestselling author Rachael Johns
Read a few words from the author and an excerpt from the book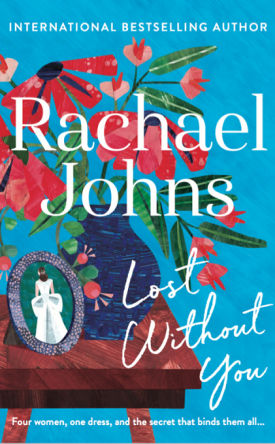 Four women, one dress, and the secret that binds them all…
On a special night that is supposed to be a celebration of new beginnings, Paige MacRitchie's joy quickly falls away when her mother collapses during the speeches at her book launch. In the aftermath, and terrified of losing her, Paige decides she wants to make the ultimate tribute to her parents' perfect marriage: she will wear her mother's wedding dress for her own big day.
There's just one problem – her mum, Rebecca, no longer has the dress.
As Paige tries to track down the elusive gown, she discovers that Rebecca has a long–hidden secret that, if revealed, could blow her whole family apart. Her new friend Josie is at a crossroads too. She met her husband Nik when she was singing in an eighties–themed bar, but now she's lonely, yearning for a family and wondering if Nik understands her at all.
And then there's nurse Clara. When she married Rob Jones, an up–and–coming rock star, she thought she was in it forever. But now Clara needs to make a new life for herself and Rob can't seem to understand that it's over.
When the fates of these four women intertwine in an unexpected and powerful way, none of their lives will ever be the same again.
A few words from Rachael
The first seed of LOST WITHOUT YOU came when I was listening to a podcast and the presenter spoke about selling her wedding dress to one of the listeners. One of the other presenters joked that maybe they could keep passing it on to their listeners and it could be a travelling wedding dress, like the pants in the famous book/movie THE SISTERHOOD OF THE TRAVELLING PANTS. Immediately my writers' brain leapt on that idea and I thought have exploring the lives of four different women who had worn the same wedding dress.
But as always happens, when I actually started to brainstorm the women and their stories, the book morphed into something quite different. It became about a young woman who decided she wanted to wear her mum's wedding dress – the only problem was her mum had given the dress away to charity. She sets off on a journey to find her mother's gown but she also uncovers a massive family secret that threatens to tear her happy existence apart.
I had a lot of fun writing the scenes where Paige is on the hunt for the dress and here's one of them below. Happy reading!
Rachael
Excerpt from Lost Without You by Rachael Johns
Bringing two summer dresses with her, Karis trailed Paige who followed after Miriam to the far back of the store where a mannequin wearing a meringue-style wedding dress stood on a blue box. Not the dress Paige was looking for but the rack on one side of the plastic woman gave her hope. It was crammed so tightly with bridal gowns that you couldn't tell one from another.
'Here, hold this. 'She thrust her bag at Karis and immediately began flicking through.
Nope. Nope. Nope. There were gowns of every style and colour, dresses from the sixties right through to the present day, but Paige's heart sank as she neared the end of the selection.
Her shoulders slumped and she turned to Karis and Miriam. 'It's not here.'
Her friend frowned. 'Are you sure? You went through them pretty damn quickly.'
'I think I'd recognise my mother's dress,' Paige snapped, fighting tears. It had been a silly fantasy to think that the dress would still be here two years on, but she hadn't known that eighties wedding dresses were in such high demand.
And she'd wanted it so much.
Without a word, Karis stepped forward. As she went through the wedding gowns much more slowly, another woman joined them.
'Miriam,' said the lady with bright rainbow-streaked hair. 'I'm taking a smoko. Can you man the shop for ten?'
'Wait a second, Ramona,' Miriam said, then looked to Paige. 'Have you got a photo of your dress?'
'Yes.'
'Show us. Ramona has been working here so long she's practically part of the furniture and she has a memory like an elephant. If she was here when your mother's dress was purchased, she might remember something about the person who bought it.'
Paige was rapidly losing hope but as she dug the photo she'd taken from her parent's wedding album out of her bag, Miriam gave Ramona the rundown on the situation.
'Here it is.' Paige practically shoved the photo at Ramona, then held her breath and tried to read the other woman's mind as she stared at it a few long moments.
Finally, Ramona clicked her fingers. 'I do remember that dress. It was a stunner. I don't love eighties fashion usually, but there was something special about this one. It reminded me of Princess Di's classic gown. I put it up in the window and in less than an hour, it had sold.'
Paige felt her heart rev. 'Do you know who bought it?'
'I remember it was a man. Pretty young. Tall, dark, handsome, in that clichéd movie-star kind of way.'
'A man?' Paige and Karis asked in unison.
Ramona nodded as if this wasn't unusual at all. 'I'm guessing he wanted it for fancy dress. That's what most of our wedding dresses are used for. Guys in drag, theatre productions, hen's night costumes. That kind of thing. Most brides want a new dress, something they can call their own, or they go to a specialist second-hand bridal store where the gowns have been professionally cleaned and made to look new again. Maybe you should try one of them—you might find something similar to your mother's.'
But Paige didn't hear anything past the 'Guys in drag'. She shuddered to think of some broad-shouldered sweaty man parading around in her mum's dress for fun. Who cared if he was good-looking! He'd probably stretched, even ripped it, or spilt beer down the front. She fought the urge to burst into tears.
'I don't suppose you remember anything else about this man?' Karis asked, wrapping her arm around Paige. 'Do you have sales records? His name perhaps?'
Ramona shook her head and glanced at her watch. 'Sorry. We might have bank transactions that could give you a clue, but even if we could find something like that from over two years ago, due to privacy, I couldn't give out any such information. Good luck anyway. I'll be back in ten,' she told Miriam before walking away.
Miriam smiled sympathetically. 'I'm really sorry, love. But I hope you find a dress you love just as much and that your mother gets well again soon.'
'Thank you,' Paige managed, still fighting tears. She felt so stupid. Sol had warned her how hard it might be to find the dress, but she'd never failed at anything in her life before.
Read more about Rachael, her books,
where to find her on your social media platforms,
and where to buy Lost Without You
Rachael Johns – Award Winning International Bestselling Author
Romance and Women's Fiction
Stay up-to-date on the latest Australian fiction releases and news