Latest 12 Releases – Here They Are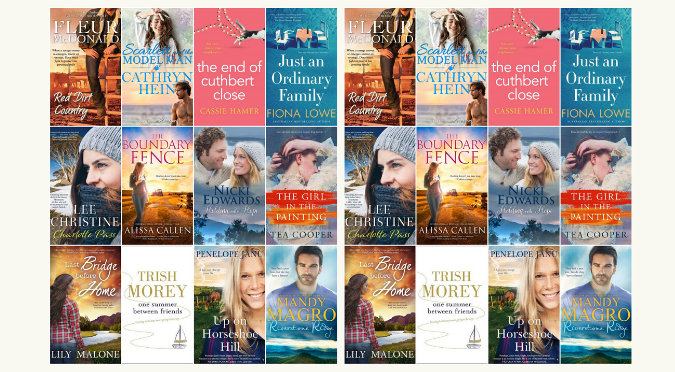 We're a group of Australian authors banded together to promote and showcase our work
In the last few months we've shown you 12 new releases
Here They Are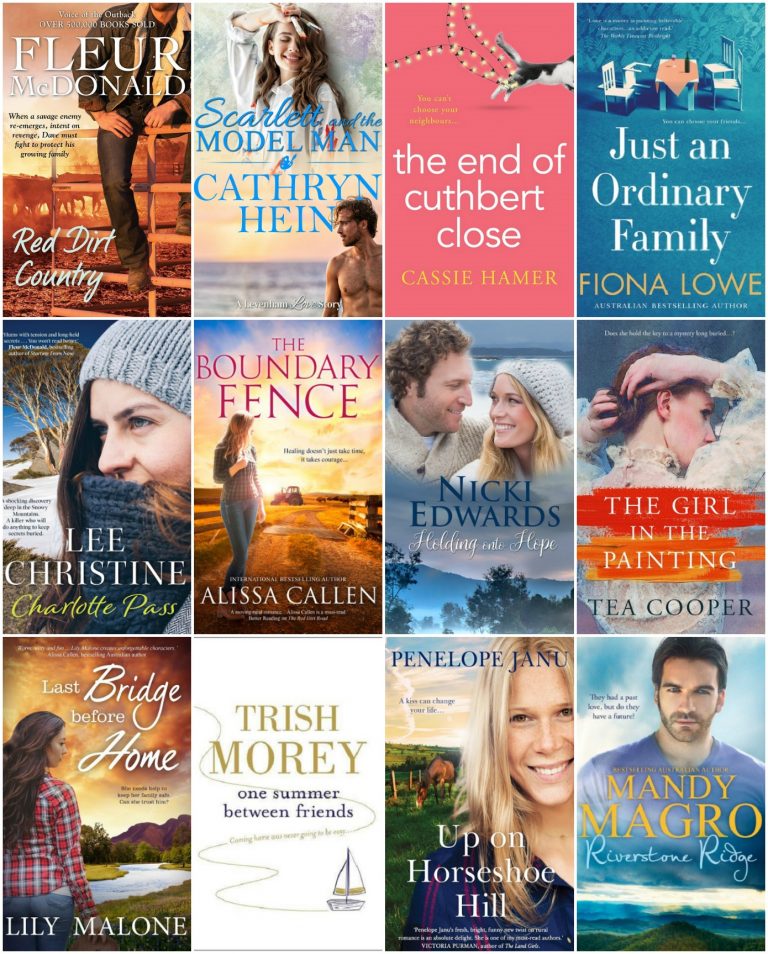 How many have you read?
Detective Dave Burrows returns in another suspenseful rural crime novel from bestselling author Fleur McDonald.
Returning to Perth after a near-fatal undercover case in outback Queensland, Dave Burrows, now a Detective Senior Constable in the stock squad, receives an ultimatum from his deeply unhappy wife, Melinda.
Before Dave and Mel's problems can be resolved, Dave is sent to the far north of Australia on a stock theft investigation. He finds two cattle stations deep in a complex underbelly of racial divide, family secrets, long-repeated lies, kidnapping and murder.
Facing one of the biggest challenges of his policing life and the heartbreaking prospect of losing his family, Dave can't imagine things getting worse. But there's a hidden danger, intent on revenge, coming right for him.

He might be the perfect model, but is he the right man for Scarlett?
When up-and-coming artist Scarlett Ash discovers the perfect model in small-town Levenham, she can't believe her luck. Her creativity abandoned her months ago and with her move to London to take up a prestigious residency fast approaching, she's desperate for a muse to bring it back.
Surfing dairy farmer Sam Greenwood is delivering milk when a gorgeous girl accosts him. Charmed by her invitation to model for a painting, Sam wants to say no. While Scarlett might be stunning, she's arty-farty weird, and he's flat out with his growing dairy business. Somehow, though, he can't resist.
As Scarlett struggles to find her way with her new work, Sam becomes determined to help. Scarlett is smart, talented and sympathetic to the unremitting toil of dairy farming, and they're both healing from failed relationships. Soon burgeoning friendship blossoms into so much more.
Knowing that London beckons and her time in Levenham is short, Scarlett resists the lure of love. She has no plans to return to Levenham, and big-hearted Sam deserves more than a brief fling followed by a quick goodbye. Except as their affair deepens, how can she leave the man who's not only given her back her passion but her heart?

(PS – Paperback is available online but you can also purchase a signed paperback direct from Cathryn here)
A hilarious tale of warring neighbours in Australian suburbia, with a mystery at its heart.
You can choose your friends, but you can't choose your neighbours. (Trad. proverb, origin: Australian suburbia)
Food stylist Cara, corporate lawyer Alex and stay-at-home mum Beth couldn't be more different. If it wasn't for the fact they live next door to each other in Cuthbert Close, they'd never have met and bonded over Bundt cake. The Close is an oasis of calm and kindness. The kind of street where kids play cricket together and neighbours pitch in each year for an end of summer party.
But no one's told Charlie Devine, glamorous wife of online lifestyle guru, The Primal Guy. When she roars straight into the party with her huge removal truck and her teenage daughter with no care or regard for decades-old tradition, the guacamole really hits the fan.
Cara thinks the family just needs time to get used to the village-like atmosphere. Beth wants to give them home cooked meals to help them settle in. Alex, says it's an act of war. But which one of them is right? Dead guinea pigs, cruelly discarded quiches, missing jewellery, commercial sabotage and errant husbands are just the beginning of a train of disturbing and rapidly escalating events that lead to a shocking climax.
When the truth comes out, will it be the end of Cuthbert Close?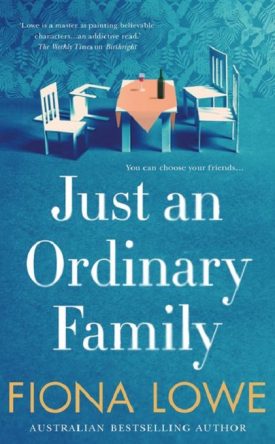 Liane Moriarty meets Jodi Picoult in this tensely negotiated story of family ties, betrayal and sacrifice.
Every family has its secrets…
Alice Hunter is smarting from the raw deal life has thrown her way: suddenly single, jobless and forced to move home to her parents' tiny seaside town. And now she faces an uncomfortable truth. She wants her twin sister Libby's enviable life.
Libby's closest friend Jess Dekic has been around the Hunter family for so long she might as well be blood. She's always considered herself a sister closer to Libby than Alice ever could be…
Libby Hunter has all of life's boxes ticked: prominent small-town doctor, gorgeous husband and two young daughters. But when she is betrayed by those she loves most, it reveals how tenuous her world is…
For Karen Hunter, her children are a double-edged sword of pain and pride. She's always tried to guide her girls through life's pitfalls, but how do you protect your children when they're adults?
As the family implodes, the fallout for these four women will be inescapable…

A shocking discovery deep in the Snowy Mountains. A killer who will do anything to keep secrets buried.
When ski patroller, Vanessa Bell, discovers human bones high on Mount Stilwell at Charlotte Pass ski resort, Detective Sergeant Pierce Ryder of Sydney Homicide Squad is called to lead the investigative team.
Arriving in the isolated, snowed-in village with Winterfest celebrations underway, Ryder soon determines that the bones are those of Celia Delaney, a young woman who disappeared from the ski resort in 1964, during the biggest winter storm in Australian alpine history.
When a second murder takes place, Ryder suspects that the deaths are related, and the person responsible is still in the village. Amid the escalating tension, Ryder is desperate to make an arrest before the stakes rise even higher.
Set within the stunning Snowy Mountains, this intriguing mystery uncovers deadly, long-buried secrets in the valleys and mountains of this iconic area.

A warm-hearted and touching story about recovering after trauma, love and community. A new Woodlea rural romance by bestselling Australian author Alissa Callen.
Healing doesn't just take time, it takes courage…
The scars country vet Ella Quinlivan hides are not solely on the outside. Men are off-limits. She fills her world with her friends, work and the colourful community of small town Woodlea. She also becomes custodian of a sandstone cottage of an elderly friend whose teenage daughter went missing two decades ago.
With a broken marriage behind him, Saul Armstrong is determined to recapture his dreams by bringing American bison to the Australian bush. He intends to stick to his side of the high wire fence that divides his farm from his distracting new neighbour, Ella.
When Saul calls out Ella for a bison emergency she isn't just thrown out of her comfort zone by dealing with an unfamiliar animal. Slow-smiling and guarded Saul stirs emotions she'd long ago discarded.
When the summer heat parches the landscape and dust obscures the sun, hidden secrets come to light. Not only will Ella and Saul be tested, the connection forged between them will be threatened. Will love be enough to guarantee their freedom or will fear continue to dictate the direction their lives will take?

Can vet Mitch Davis give up everything for Hope Rossi – and a chance for love?
Stuck in a stressful job and trapped in a toxic relationship, paediatric oncology nurse Hope Rossi needs to run. When her cousin Courtney begs for her help, Hope is on the next bus to Macarthur Point – the quaint seaside fishing village that was home to her happiest childhood memories.
Veterinarian Mitchell Davis loves his life in Macarthur Point and loves caring for all creatures great and small at the animal hospital he proudly owns. After a troubled upbringing, he's finally found peace, people who love him unconditionally, and a place to call home.
When Hope comes back to town after fifteen years away, Mitch has no idea whether she'll still have feelings for him. Fearful of being hurt, Mitch has never admitted how he feels about Hope to anyone – not even her.
How can he hold onto Hope and convince her that staying in Macarthur Point doesn't mean giving up her freedom? Or should he take a risk and give up the life he's made for himself for a chance of love, even if that means leaving the one place he feels safe.

(PS – You can also buy a paperback direct from Nicki here)
For readers of The True Story of Maddie Bright, The Woman in the Green Dress and The Birdman's Wife comes this atmospheric and richly detailed Australian historical mystery from a bestselling Australian author.
Maitland 1913 
Miss Elizabeth Quinn is something of an institution in Maitland Town. For longer than anyone could remember she and her brother, businessman Michael, have lived in the impressive two-storey stone house next to the church. When she is discovered cowering in the corner of the exhibition gallery at the Technical College the entire town knows something strange has come to pass.
Was it the prehistoric remains or perhaps the taxidermy exhibition that had reduced the whale-boned encased pillar of society to a quivering mess? Or is there something odd about a striking painting on loan from the National Gallery?
Mathematical savant Jane Piper is determined to find out. Deposited on the doorstep of the local orphanage as a baby, she owes her life and education to the Quinns' philanthropic ventures and Elizabeth has no one else to turn to.
As the past and the present converge, Elizabeth's grip on reality loosens. Can Jane, with her logical brain and penchant for puzzles, unravel Elizabeth's story before it is too late?
Ranging from the gritty reality of the Australian goldfields to the grand institutions of Sydney, the bucolic English countryside to the charm of Maitland Town, this compelling historical mystery in the company of an eccentric and original heroine is rich with atmosphere and detail.

With her trademark fresh and funny tone, Lily Malone returns with a captivating new romance set in the heart of the Australian outback.
For Jaydah Tully, the country town of Chalk Hill has never felt like home. Home is a place to feel loved. Home is a place to feel safe. Jaydah's home life is dark in ways the close-knit community could never imagine.
Jaydah knows that the man she loves has never understood her need for secrets. Brix is a Honeychurch, she's a Tully – her family are Chalk Hill's black sheep. It's better for everyone if Brix stays away.
But Brix is a one-woman man, and when he returns to his home town to help his brother, the first person he sees is Jaydah. Independent. Private. Proud. When things are good between them they are really really good but all too soon they're back in the old patterns, caught in the same argument: Her father. Her family. Her life that doesn't include him.
Underneath her tough exterior, Jaydah is drowning. She has one chance to change everything. Is she brave enough to take the risk and let Brix in? Or will her father keep them apart forever?

Australian author Trish Morey returns with a compelling and moving story about broken friendships and the rocky road of forgiveness.
Coming home was never going to be easy …
With a failed marriage behind her, and her career dreams in tatters, Sarah returns home to Lord Howe Island to run the family store. Paradise to most, Lord Howe is the last place Sarah wants to be, trapped on an island with her two ex-best friends, Floss and Jules.
Floss has the life she always wanted: married to her high school sweetheart, Andy, with five gorgeous children. But something is missing from her marriage. And now she has a secret that threatens to tear her happy family apart, and the only person she can talk to is the woman who pushed her away.
For Jules, forgetting the past is impossible. Her four-year-old daughter is an everyday reminder of the friendships she has lost. But when a discovery turns her life upside down, she knows this is an opportunity to set things right.
This summer, can these women overcome the pain of the past and find their way back to the friendship they once had?

A kiss can change your life …
Jemima Kincaid loves her home, her horses and her job as a farrier. Life has not been kind to her, but Jemima is happy in the close-knit rural community of Horseshoe Hill, which rallied around in her hour of need. Even so, she is fiercely independent and will never rely on anyone again.
Particularly a man like Finn Blackwood.
An infuriatingly attractive geneticist and wild animal vet, Finn threatens not only the serenity of Jemima's present, but that of the future she has so carefully mapped out. But as their paths continue to cross, she finds her attraction to Finn impossible to counter, even as the trauma of her past threatens to undo her. Finn is fascinated by Jemima's solitary nature and unique vulnerabilities but Jemima knows all about loss and how to avoid it. Don't let anyone get close in the first place…
As the past begins to cast long shadows, Jemima and Finn discover that a kiss can bring worlds together-or tear them apart. Will they finally face their fears and find love on Horseshoe Hill?

An authentic and heartfelt story about uncovering who you truly are and where you belong from bestselling Australian author Mandy Magro
After making a mistake that felt like the end of the world to her teenage self, Nina Jones fled the small town of Huntingvale. Now sixteen years later her beloved adoptive mother, Bea, has passed away, forcing Nina to return and decide whether to sell her family home, Riverstone Ridge. But even though Bea can't be there to help her through it all, she's left Nina five letters, one sent a week, to finally share the secrets she'd been unable to reveal in life.
For Logan Steele, Nina's return is the catalyst he's needed to finally move beyond his tragic past and start living again. But only if she stays. When mysterious and increasingly worrisome accidents start happening around the homestead, both Logan's cop instincts and his protective feelings toward Nina spur him to investigate. Will he be able to piece together the puzzle of the past in time?
And with dark family secrets emerging from Bea's last words rippling into the present day, how will Nina find the courage to be truthful to the one man who has always held her heart?

We hope you've enjoyed this stunning collection of Australian new releases – definitely something for everyone!
Subscribe by email to receive our occasional blog posts – and never miss a new book release!
POSTSCRIPT
Standing together while keeping our distance
reading throughout the COVID-19 crisis
Many of our wonderful bookshops and online bookstores are changing the way they work simply to keep us reading.
We thank them all for the tremendous support to Australian authors and we will support them right back.
Don't forget! Purchasing a book on pre-order also means you are helping to keep the wheels of small and independent businesses turning.
BOOKTOPIA
have *currently waived all postage costs in Australia – go buy! Then find them on Facebook and give them a Like.
DYMOCKS
stores have online ordering and *individual stores throughout Australia are offering various means of buying and delivering books. Check with your local store. Find your local Dymocks store and then give them a Like on Facebook to keep up to date.
Find a Dymocks Store
https://www.dymocks.com.au/stores
BOOK DEPOSITORY
*Free postage even if the books are coming from overseas – but don't be disappointed if your favourite author's books are not available. It's one of those things – not every author's book is available on Book Depository.
https://www.bookdepository.com/publishers/Australian
INDEPENDENT BOOKSHOPS
There are many in all states and territories. Some are offering *free postage for a certain length of time or free postage with orders over a certain amount. Check with your local independent bookshop. Contact them directly by phone or email or through their websites. Find them on Facebook and give them a Like to keep up to date.
BIGW
Order and *buy online including pre-orders
(*Standard delivery $3.90 – conditions apply)
TARGET
Order and *buy online
(*Free click & collect available, free home delivery on orders over a certain amount. Free delivery available for Club Catch members)
https://www.target.com.au/c/entertainment/books/adult-fiction/W406087
* Please note individual businesses may change their online purchasing conditions at any time. Always check with the individual business.
Stay up-to-date on the latest Australian fiction releases and news