Last Bridge Before Home – New Release from Lily Malone
Published:
December 16, 2019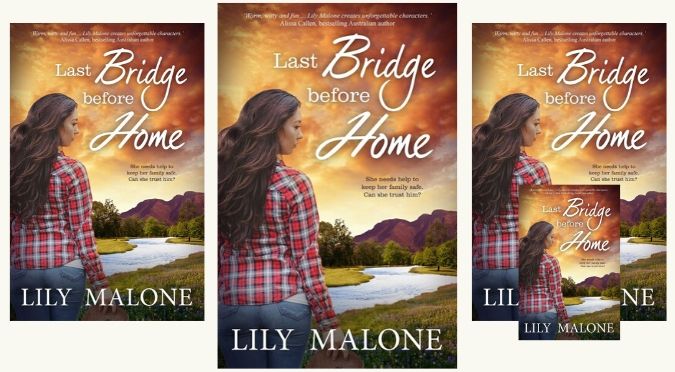 With her trademark fresh and funny tone, Lily Malone returns with a captivating new romance set in the heart of the Australian outback.
Read an excerpt and read Lily's answers to The 5 Big Questions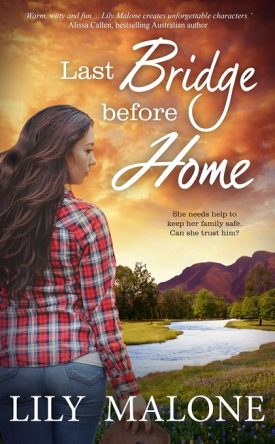 For Jaydah Tully, the country town of Chalk Hill has never felt like home. Home is a place to feel loved. Home is a place to feel safe. Jaydah's home life is dark in ways the close-knit community could never imagine.
Jaydah knows that the man she loves has never understood her need for secrets. Brix is a Honeychurch, she's a Tully – her family are Chalk Hill's black sheep. It's better for everyone if Brix stays away.
But Brix is a one-woman man, and when he returns to his home town to help his brother, the first person he sees is Jaydah. Independent. Private. Proud. When things are good between them they are really really good but all too soon they're back in the old patterns, caught in the same argument: Her father. Her family. Her life that doesn't include him.
Underneath her tough exterior, Jaydah is drowning. She has one chance to change everything. Is she brave enough to take the risk and let Brix in? Or will her father keep them apart forever?
Excerpt from Last Bridge Before Home by Lily Malone
Jaydah Tully stepped off the kerb outside the Chalk Hill butcher shop with a kilo of sausages tucked under her arm and the sudden thought that she should check both ways before she crossed the road no matter who stood smiling at her from the other side.
The odds of being hit by a truck on the Muirs Highway weren't high, but she'd never been the type to get complacent. Unlike the indomitable Irene Loveday who was waltzing past the Post Office with her white terrier, gabbing away to anyone who'd listen, and now crossing King Jarrah Close completely oblivious to the approaching school bus.
Of course, the bus would wait. Everyone in this town waited for Irene.
But not every truck in town would wait for Jaydah, so she stopped, assessed the traffic and called at the man on the other side of the highway, 'Will you look at what the cat dragged in?'
Then she stepped.
'Hey, JT,' Brix greeted her easily.
Braxton 'Brix' Honeychurch did everything easy, always had: made friends, played sports, made wine. Kissed.
It wasn't a wide highway and Brix had come a way down the length of his Toyota, briefly rubbing the ears of the black and white kelpie in the tray in the back. So it wasn't a long walk, it didn't take much time and it didn't matter anyway. She only needed seconds to zero in on Brix.
'You've got a new car,' she said. You've been in the sun more, you're browner. Did you go on holiday somewhere to get that tan? I like that shade of blue on you. You're gorgeous as ever.
He slapped the rail of the ute's tray. 'The old one was falling apart.'
Jaydah adjusted the weight of the sausages under her arm. The pack in its paper felt heavy and soft at the same time. Like the thick padding Jaz put on the kali sticks every morning when Jaydah and her father sparred.
Just once when she saw Brix it would be nice if her next thought wasn't of her father. That monster.
Brix opened his arms to take her in, all of him as lean and long and handsome as ever. All of him true and brave and good and wonderful, and a lump caught in her throat as she kissed him.
She supposed there were people who met lifelong friends who were also lovers with an awkward peck on the cheek, and a clumsy wrap of the arms and a pat on the back.
She and Brix had never been like that.
His arms were solid, his hug like sunshine, his lips warm and sure. Easy.
God, she loved him. She hadn't seen him in at least two years, and she loved him.
'That'll give this town something to talk about,' Brix said when he finished his kiss hello, and his kiss how are you, and his kiss got much planned for the next day or so that isn't making love with me?
He hadn't let go of any part of her except her lips, and the way he was staring she reckoned he'd have those back any second too, but already the fear niggled and she took a step back. She might love seeing him, but the monster wouldn't like it if he heard Brix was back in town.
'Braxton Honeychurch! It is you!' A woman's voice called from the white-topped rail at the base of the ramp near the Post Office.
Brix smiled, making a flush of creases radiate from the corner of his mouth. He muttered, 'I thought I missed her.'
She whispered, 'Like you should be so lucky.'
'You've got a new car! I didn't recognise it,' Irene said, approaching with the ferocity of a category five cyclone, arms whirling. 'It's always good to see you. How long has it been?'
'It's been a while.'
'Too long! I would have forgotten what you look like if you didn't look so much like Jake. You'd never miss you two for brothers! And your dad, oh, you look like him when he was your age.'
Brix leaned low to embrace Irene, and Jaydah prepared for a long story about the old-time bush dances and how good Brix's dad, Stan, was when it came to the waltz, and how Val had stolen Stan away from them all because she was a city girl who knew how to Foxtrot.
Irene's frantic arrival gave Jaydah a chance to cool off all the parts that had been heating since she'd spotted Brix from across the road. She glanced back toward the butcher and saw her new friend, Taylor—hair a shade more copper than the brash red of Irene's—tying her dog to a post outside the Secondhand Shop.
Taylor was staying at Ella Davenport's place, she'd said. Ella was Jake Honeychurch's current squeeze.
She could push Brix to the back of her mind all she liked, but living in Chalk Hill made it impossible to forget him. She drove past Honeychurch Hardware & Timber most days, and she served Jake and his dad beer at the Chalk Hill & Districts Bowling Club on most Saturday nights. At least she did until Stan and Val Honeychurch went travelling around Australia, and Jake met Ella. Jake didn't come to the club so much anymore.
In this town, everyone knew everyone (or thought they did). As long as she lived in Chalk Hill there were reminders of Brix everywhere.
And it wasn't like she could leave Chalk Hill.
Buy Last Bridge Before Home
A captivating new romance set in the heart of the Australian outback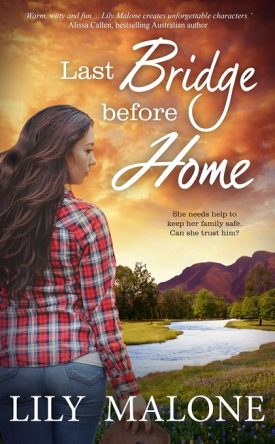 Lily Malone
Australian Fiction Author
Contemporary. Country. Australian.
Lily Malone answers The 5 Big Questions
1. How long did it take you to write the book?
Like most of my books, it takes about 6 months writing 3-4 days a week, including my own revisions and then feedback from the gorgeous people who read for me. For LAST BRIDGE BEFORE HOME these were Kylie Kaden and Juanita Kees.
2. What was the most difficult or complex aspect of writing your book?
Jaydah's background was really tricky. The hardest thing was making sure her circumstances were authentic and believable. Readers have to believe that a strong woman like Jaydah (let's not forget in The Cafe By The Bridge, Book 2 of Chalk Hill series there is a scene where Jaydah is about to take a pool cue to two thugs in the Chalk Hill District Club who won't leave the bar at closing time). It had to be believable that a 28 year old strong woman would stay at in a miserable home situation. She has her reasons for doing this. She is protecting more than her mother. But I had to build this element of the story and that took a lot of talking with a friend in Community Services in WA, and Disability Services (NDIS) too. I can't say too much more without spoilers!
3. What gave you the most pleasure when writing your book?
Given how dark Jaydah's secrets are, it was like a breath of fresh air when she and Brix manage to find some moments of happiness during all the action. I love the scenes where Brix teaches Jaydah's mum how to drive. Those made me smile.
4. Are you nervous when a new release comes out?
I get excited, not really nervous.
5. What's the best thing a reader could do if they enjoyed your book?
Buy it for a friend. Tell their friends. Post it on Facebook and say they loved it. Write a review. All those things. And of course, shoot me an email at [email protected] and let me know you liked Brix and Jaydah. It will make my day.
Read more about Lily and her books and discover where to find her on social media.
Subscribe by email to receive our occasional blog posts 
– and never miss a new book release!
Stay up-to-date on the latest Australian fiction releases and news