HOUSEBOUND! with Rachael Johns, Trish Morey, Fiona Palmer, Meredith Appleyard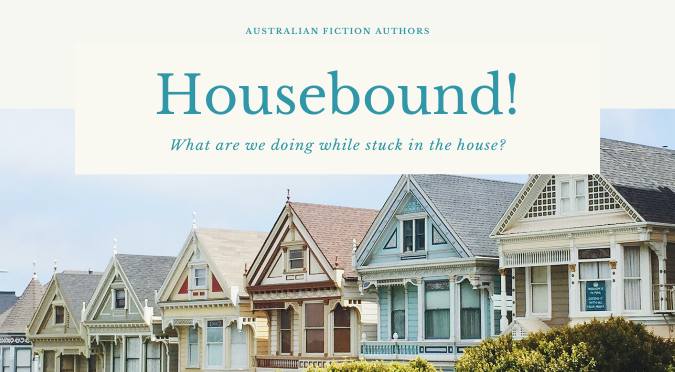 We hope you're all doing well.
How are we doing?
We've got the scoop on what our group of authors are up to while they're housebound or following lockdown regulations
And here are four more scoops
Plus, we ask them What's the Biggest Thing You're Missing?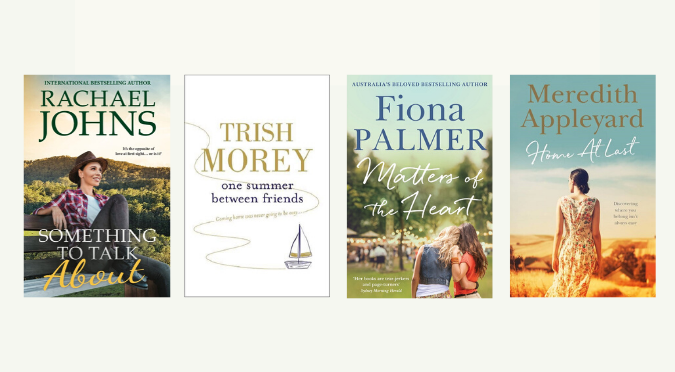 Rachael Johns
Award Winning International Bestselling Author
Romance and Women's Fiction
Like most authors, I've been in training for self-isolation for years and I'm much happier when I'm marooned in my office with my comfy trackpants and sloppy t-shirts, lost in the fantasy world of my books. But, being home by choice is a lot different to being home because it's what we need to do for the good of the nation. Don't get me wrong, I'm all for the restrictions, but it doesn't mean they're easy. Especially when my peaceful sanctuary of working from home alone has been invaded by three teenage boys (well, one is 11.5 but close enough).
To be honest, it was a little bit of a novelty at first (they quite liked the online remote learning) and I enjoyed not having to make lunch or wash school uniforms, but then school holidays hit, and we've all started to go a little stir-crazy.
I had grand ideas about finishing a puzzle I started yonks ago and forcing my kids to help, but even bribing them with lollies didn't work, so we abandoned the puzzle and turned to other pursuits. I online panic bought a few things which have been essential to the survival of our mental health.
1)  Table Tennis Table – this has been on my want-to-buy list for years, but I've never been able to justify such a big expense. Three physical boys at home indefinitely and I decided that was reason enough for me. This has provided endless hours of fun and is a good way to loosen up after the (also seemingly) endless hours on screens.
2) Boardgames – we already have a fairly big collection of these, but I bought a couple of new ones and we've been giving our old faves a workout too. The ones we like best include RISK, CLEUDO, and our newest fave is MICROPOLIS (where you have to build an ant world).
3) Knitting supplies – although I tried to get the kids to have a go as well, these have mostly been for me. Knitting is something I've always wanted to do and have attempted a few times but always abandoned pretty quickly, because I just didn't seem to have the time. Anyway, being stuck at home and watching movies with the kids has given me time. I've now made four beanies, am halfway through the ridiculously long Dr Who scarf (for my hubby) and am also attempting my first jumper.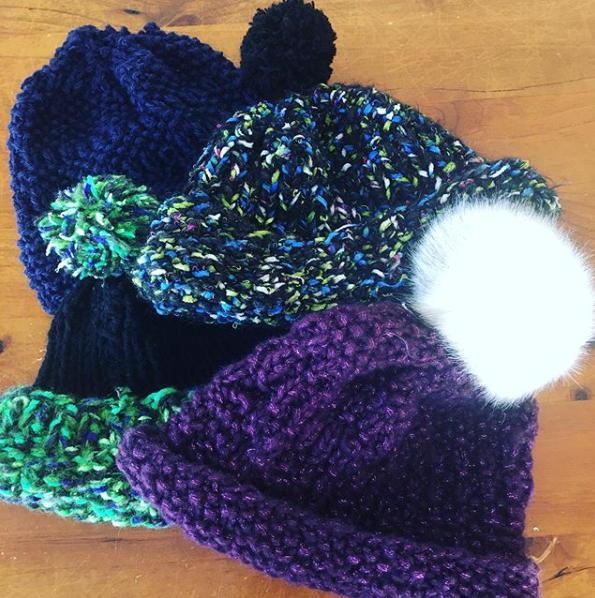 4) Baking supplies – I love baking but it's also something I don't do as much as I'd like due to not having enough hours in my days (and also the fact I eat too much), but this Easter I made hot cross buns for the first time ever – fruit free (yuk, raisons!) and choc-chip ones. Another thing I've been meaning to do for years.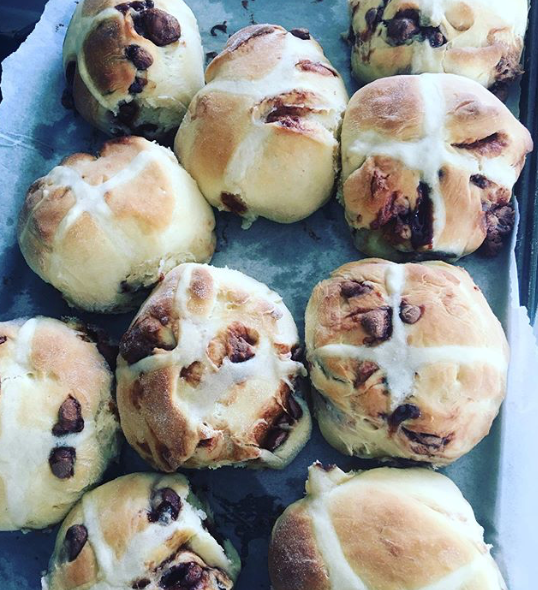 So, while I may not be getting as much writing done as I'd hoped with everyone at home, I'm enjoying the slower pace of life and finally doing some things I always meant to do.
What's the biggest thing you're missing?
Me time! As much as I love my family, I also really like being alone and this is definitely what I miss the most.
Read more about Rachael and her books and discover where to find her on social media
Something to Talk About
(Rachael's brand new release!)
It's the opposite of love at first sight…or is it? A moving story of overcoming obstacles and learning to love.
Trish Morey
Award Winning, Multi-Published International Bestselling Author
Passionate, emotional, page turning stories
Writers have a natural advantage over other mere mortals at a time like this, while we're all in (various degrees of) forced lockdown because of this pandemic. Writers are used to working from home and in isolation. We're used to getting around in lounge gear and ugg boots. And we're used to our hair going feral while we're in the writing cave around deadline time (although admittedly mine's gone a tad more feral than usual and I suspect a set of hedge clippers is going to be what's needed when finally I manage to get near a hairdresser again).
Of course, we're probably not used to having partners/children/family home at the same time – and isn't that tricky, when all our slovenly habits (okay, okay, my slovenly habits) are becoming a threatened species as I try to pretend I have a good work ethic…
So, in the effort to prove (read: pretend)  I have a good work ethic, I have just last week completed and sent off to my agent, book number 39! A book called Sandwiched, in which a 55yo recent retiree finds her two bedroom home invaded by not only her recently married and separated 80yo mother, but her 30yo pregnant daughter. I had a lot of fun with that story.
And now I've turned my attention to author-publishing my first two single title books for which I have rights back. Always on my Mind (formerly published as Stone Castles) and Cherry Season. It's a whole new ball game, this author publishing gig, and it's kind of nice to have this break in the traffic to hunker down (like we're all doing) and focus on this new learning curve.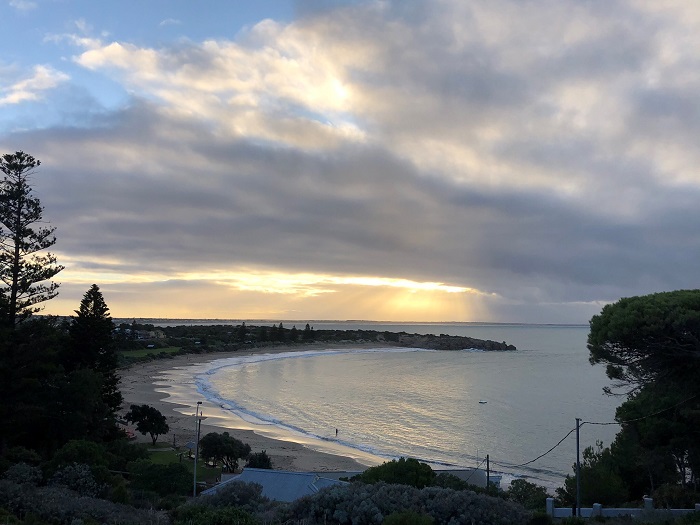 And in between stints at the computer with my recently exploded hair, I am lucky enough that I do get out for regular walks at a nearby beach. We are blessed that we live in a small seaside town in South Australia that boasts long, quiet beaches where social distancing is never a problem. And there is something so uplifting and reassuring about the combination of granite, sand, sea and sky.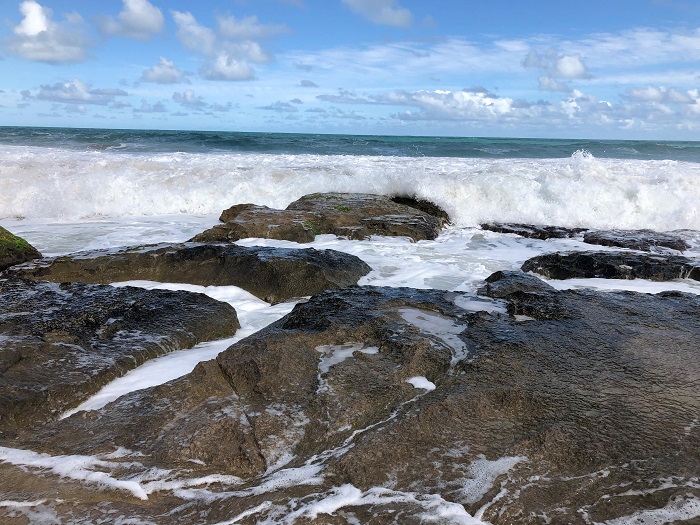 It's always been here. It will always be here. It's good to know that some things will never change, no matter how upturned life feels right now.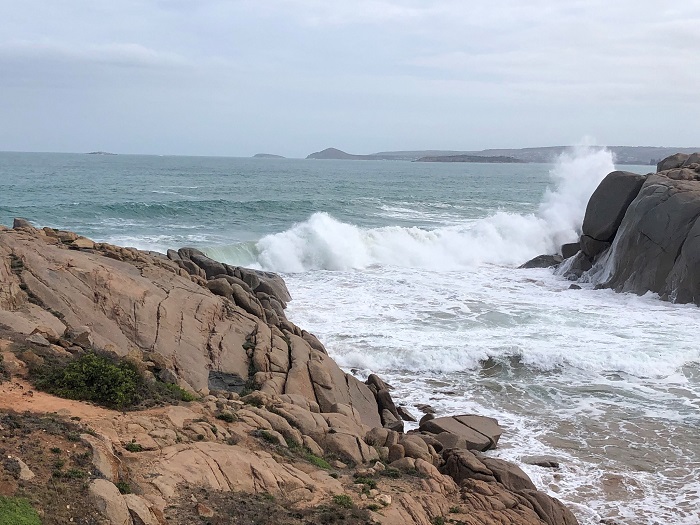 What's the biggest thing you're missing?
Without doubt, regular family dinners with our girls and their partners. Zoom is amazing – we are blessed to have technology at such a time, but nothing beats sitting around a table and sharing a meal, love, laughter and hugs with family. Soon, grasshopper.
Hang in there, people. And stay safe.
Read more about Trish and her books and discover where to find her on social media
One Summer Between Friends
A compelling and moving story about broken friendships and the rocky road of forgiveness.
Fiona Palmer
Bestselling Australian Author
Stories set in Australia that paint a vivid picture of life from the inspiring landscapes to the salt-of-the earth characters
I'm very lucky to already be isolated and not stuck inside. We have so much space to wander and not meet anyone. And my farm work (the other work besides being an author) I am able to continue under the current lockdown. Farming is very isolating and in truth it's one of the things I love most about it. All that time to myself, thinking, singing (badly), listening to audio books, dreaming…I love 'me' time. We start seeding very soon, which means I'll be on the tractor from the early morning till late, anywhere from 5.30am till 8.30pm, usually around 12 to 14 hours a day and seven days a week. (Unless there is a break down or we are stopped due to rain.)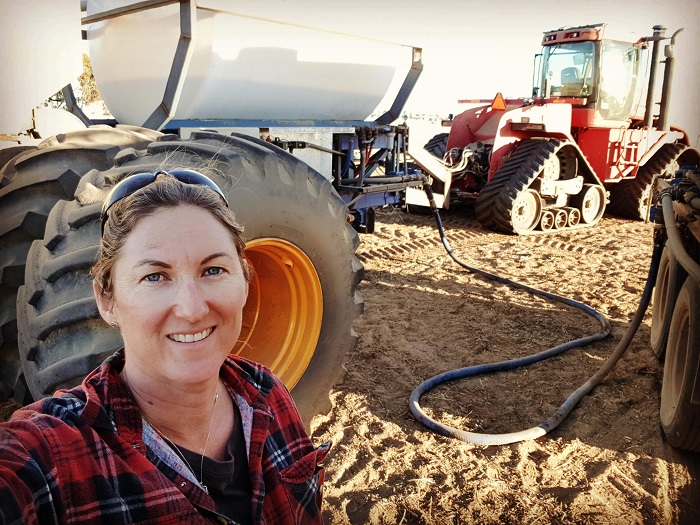 I drive Ruby, a big Case quad trac and she pulls a big cart full of 10,000 litres of liquid and a bin with seed and fertilizer in it, enough to seed most of the day before refilling. Behind the cart is the bar which distributes all this liquid, seed and fertilizer into the ground at a set depth.
I start off in the dark, it's freezing cold and sometimes icy.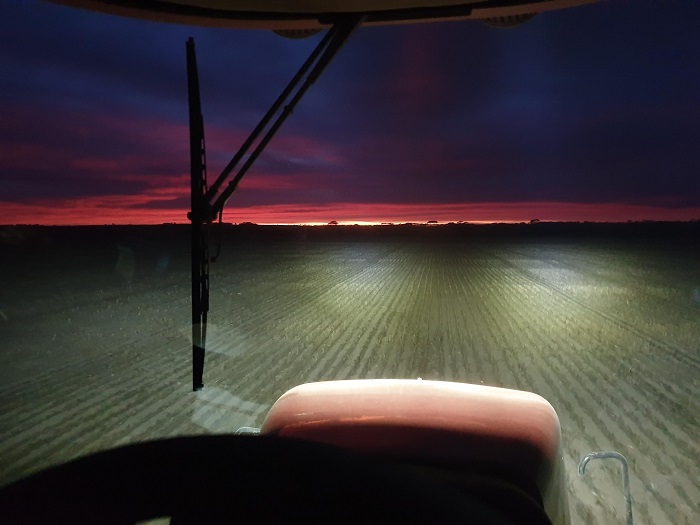 I check Ruby's oil before starting her up and getting everything running. I get the tank mixing, engage the fan and do a test run to check each tyne (the arms that dig into the ground) is working – ie that liquid is running through all the tubes and the seed/fert out the bottom as well. This is the easiest way to check for blockages. We are lucky that we don't get too many blockages, which is good because it can be a real pain to undo hoses and throw all that seed and fert on the ground to unblock it! Plus all the swearing, grunting, sweating, more swearing, skinned knuckles….
I also run my eye over the bar for any missing bolts, points or bent bits and then fix if needed. (Lots of rocks in these paddocks so metal fatigue happens!)
Once that's all good, I'll change the system back to running, sort the GPS and get seeding. Sometimes I'll have issues, it pays to watch all your gauges, as sometimes in the early morning the hydraulics don't like the cold and will spit the hoses out the back of the tractor. Which I hate because then I have to spend the next 12 hours smelling like oil in a confined space.
I have cameras to watch the levels of seed and fert (to make sure I don't run out) and lots of lights. At night you want to be able to see the bar as you want to seed as close to the fence as possible to stop any weeds from growing. But you don't want to hook up on a fence and rip it out…it gets quite scary when seeding in the dry and it's so dusty you can't even see the fence line during the day. And then there are trees to dodge and power poles. I'm well aware I'm driving a rig that costs more than my house!
The highlights are when I get to wave at the boss if he's spraying nearby or when it's load up time and I get to chat to both of them for a bit. Breaks the long time of sitting on my butt. It's also a battle not to eat everything in your lunchbox by 10am!!!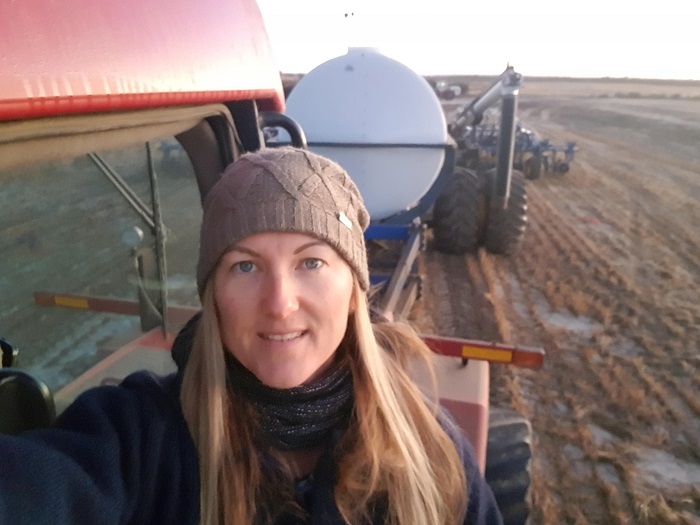 But the best bit about working such long hours is I get to see some amazing sunrises and sunsets which makes me really appreciate my life and how lucky I am to have this job.
xx Fee
What's the biggest thing you're missing?
Catching up with family!
Read more about Fiona and her books and discover where to find her on social media
Matters of the Heart
A classic love story about manners, men and modern romance retold by bestselling Australian author, Fiona Palmer.
(PS Fiona's next release is Tiny White Lies – out in July and up for pre-order now)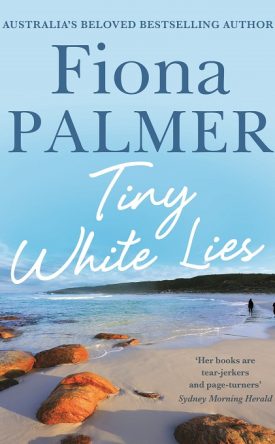 Meredith Appleyard
Bestselling Author of The Country Practice
Using her experience and fascination of providing health care to rural communities in her stories
Housebound in the Clare Valley
Truthfully, the pandemic hasn't made much difference to my every-day activities. I've been working from home for years, even before I became a writer.  On an ideal day I get up, go for a long walk, do the chores that need to be done, and then settle at my desk to write. However, some days present more distractions, or I'm more easily distractible, and desk-time is the casualty. The pandemic has brought no changes there, except perhaps more distraction.
But I do feel as if my world has shrunk. And although I live in a rural area, it's so quiet. There's not the usual energy about. No one sitting in the main street cafes drinking coffee, chatting, laughing; the library's closed for the duration. When I make the weekly foray to the supermarket people keep their social distance, and rightly so, but they have also become distant, scuttling down the aisles, avoiding eye contact. It's weird.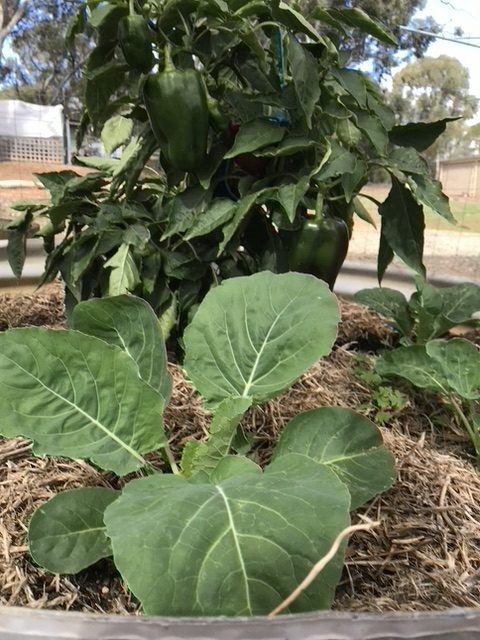 In the first days of lockdown I had the urge to bake. So I did. And my vegetable garden, which I don't normally bother with through the colder months, is currently chock-a-block with winter vegetables seedlings: cauliflower, kale, broccolini, baby spinach, strawberries, and the likes. I also did something I'd been meaning to do for years –  I joined the Diggers Garden Club. My aim is to grow more vegetables from seeds. In the past I haven't had much success at that, and it's been easier to go and buy seedlings. Not so much these days.
And we've had an addition to the family – four glossy, brown hens. They were point-of-lay when we bought them and our first egg was produced on the hour-long trip home!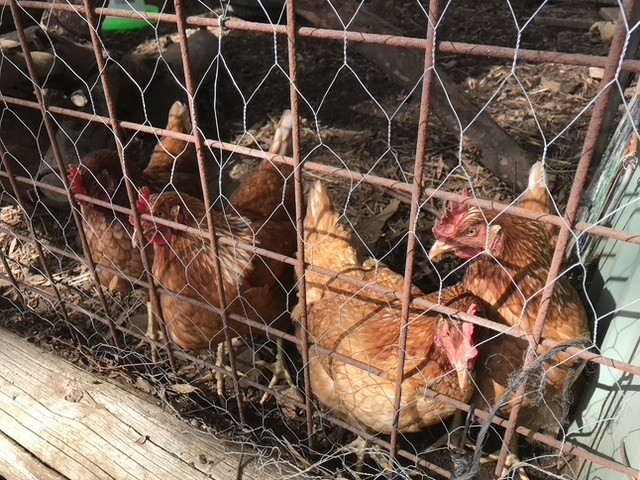 They've settled in nicely. Lily, our border collie still isn't real sure about them. She keeps her distance and doesn't like it if I spend too much time talking to them.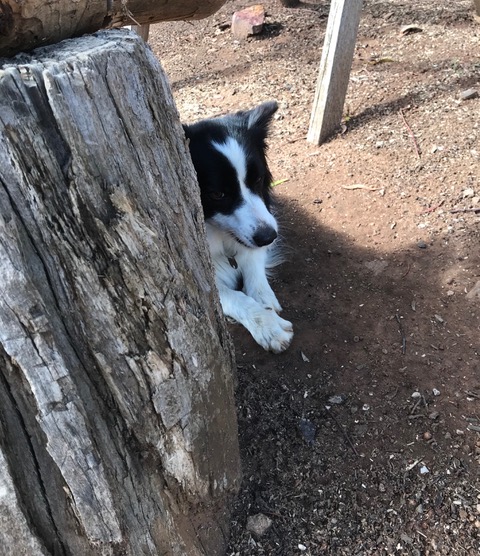 Tomato season is winding down. Sigh! It's always a delight to pick the first fruit of the season, but months later we're fed up with the sight of them. This season, after a slow start because of the heat, has been huge. We've made copious amounts of tomato paste, tomato soup, tomato sauce, pasta sauce, and then dehydrated what was left.
The best thing though, is that we've had rain, and there's more forecast. Gets any gardener tingling with anticipation.
As much as I say that this pandemic hasn't changed my life on a day-to-day basis, it has changed everything.
Be safe, and be sensible! They tell us it will end.
M xx
What's the biggest thing you're missing?
The freedom to come and go as I pleased, and to feel safe when I did.
Read more about Meredith and her books and discover where to find her on social media
Home at Last
Flying solo can be harder than it looks … A warm-hearted rural romance about finding your way home.
(PS Meredith's next release is When Grace Went Away – out in May and up for pre-order now)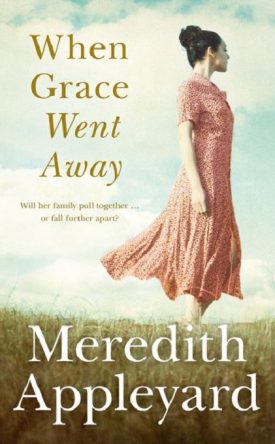 Why not take a read of our first HOUSEBOUND! post – with Fiona McArthur, Michael Trant and Cassie Hamer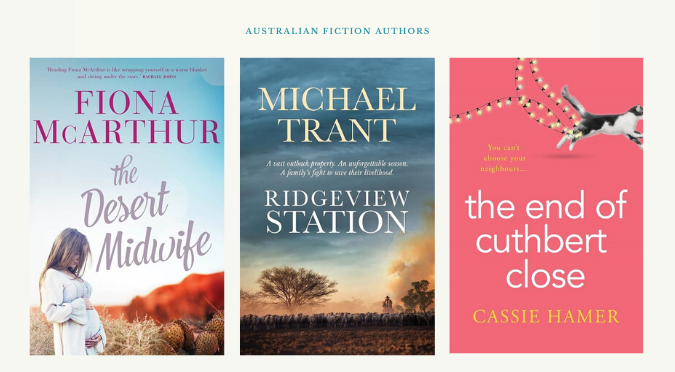 Subscribe by email to receive our occasional blog posts – and never miss a new book release!
POSTSCRIPT
Standing together while keeping our distance
reading throughout the COVID-19 crisis
Many of our wonderful bookshops and online bookstores are changing the way they work simply to keep us reading.
We thank them all for the tremendous support to Australian authors and we will support them right back.
Don't forget! Purchasing a book on pre-order also means you are helping to keep the wheels of small and independent businesses turning.
BOOKTOPIA
have *currently waived all postage costs in Australia – go buy! Then find them on Facebook and give them a Like.
DYMOCKS
stores have online ordering and *individual stores throughout Australia are offering various means of buying and delivering books. Check with your local store. Find your local Dymocks store and then give them a Like on Facebook to keep up to date.
Find a Dymocks Store
https://www.dymocks.com.au/stores
BOOK DEPOSITORY
*Free postage even if the books are coming from overseas – but don't be disappointed if your favourite author's books are not available. It's one of those things – not every author's book is available on Book Depository.
https://www.bookdepository.com/publishers/Australian
INDEPENDENT BOOKSHOPS
There are many in all states and territories. Some are offering *free postage for a certain length of time or free postage with orders over a certain amount. Check with your local independent bookshop. Contact them directly by phone or email or through their websites. Find them on Facebook and give them a Like to keep up to date.
BIGW
Order and *buy online including pre-orders
(*Standard delivery $3.90 – conditions apply)
TARGET
Order and *buy online
(*Free click & collect available, free home delivery on orders over a certain amount. Free delivery available for Club Catch members)
https://www.target.com.au/c/entertainment/books/adult-fiction/W406087
* Please note individual businesses may change their online purchasing conditions at any time. Always check with the individual business
Stay up-to-date on the latest Australian fiction releases and news