Home at Last – 5 Big Questions for author Meredith Appleyard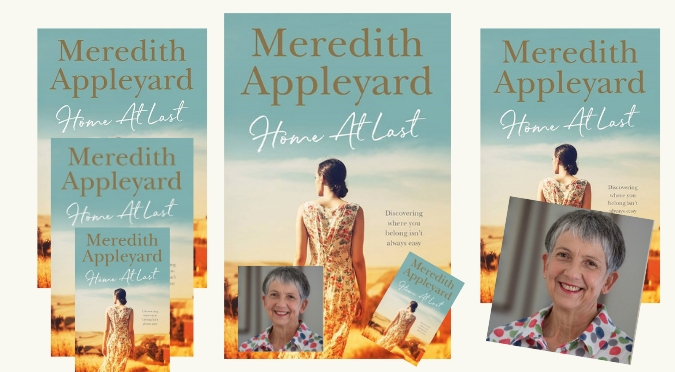 18th March is the release date for Home at Last by
Meredith Appleyard
We wanted to know more about this book, so here's the news!
Flying solo can be harder than it looks … A warm-hearted rural romance about finding your way home.
Flying solo for the first time had been the greatest high of Anna Kelly's life. So when the chance of a dream job as a pilot with the Royal Flying Doctor Service comes up she takes it, even though she has to leave her home in Adelaide and move to remote Broken Hill – a place she had hoped she would never see again.
The bad memories the town provokes remind Anna why she keeps men at arm's length but as her work proves fulfilling, her housemate becomes a friend and a warm community grows around her, Anna is surprised to discover that Broken Hill is starting to feel like home.
But there is no such thing as plain sailing and with errant mothers, vengeful ex-patients and determined exes on the prowl, life is becoming increasingly complicated. More than that, the distractingly attractive Flight Nurse Nick Harrison seems keen to get to know her better, and he has a way of finding a path through her defences. But will he still want her if the truth comes out?
Meredith Appleyard
Bestselling Author of The Country Practice
Using her experience and fascination of providing health care to rural communities in her stories
The 5 Big Questions
How long did it take you to write the book?
Good question … Probably longer than I would have liked it to. It stalled about halfway through when I changed publishers. Everything went a bit flat around that time. All good now.
What was the most difficult or complex aspect of writing your book?
In Home at Last, the main character, Anna, is a pilot. I'm not. Researching what drove her to make that career choice (flying seems almost an obsession with some), and gaining enough technical understanding to make her authentic, was interesting and challenging. Then there was the added dimension of pilots who fly doctors, nurses and critically ill patients around outback Australia. I watched a lot of YouTube clips. And I interviewed four Royal Flying Doctor Service pilots, and several flight nurses.
What gave you the most pleasure when writing your book?
Losing myself in the story. I love that part. Getting to know the characters and what motivates them. I'm constantly fascinated by the diversity and complexity of human relationships. I love creating the setting, especially floor plans for the houses. And I like drawing maps, working out the characters' comings and goings.
Are you nervous when a new release comes out?
Yes! Most definitely. I'm new to this publisher and they've taken a risk on me (a calculated risk of course). Just the same, I don't want to let them down.
What's the best thing a reader could do if they enjoyed your book?
Tell their friends!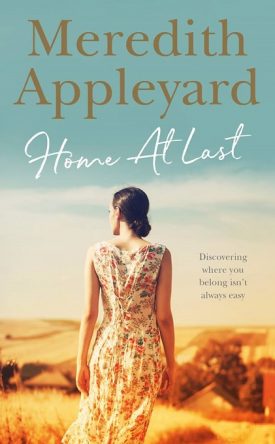 Home at Last is out in paperback and eBook on 18 March and is available for pre-order from all your favourite eRetailers
or hit the links below



Read more about Meredith Appleyard, her books, and where to find her on social media
Subscribe to receive our occasional blog posts by email and … never miss a new book release!
Stay up-to-date on the latest Australian fiction releases and news