Heart of the Cross – New Release from Emily Madden
Published:
August 19, 2019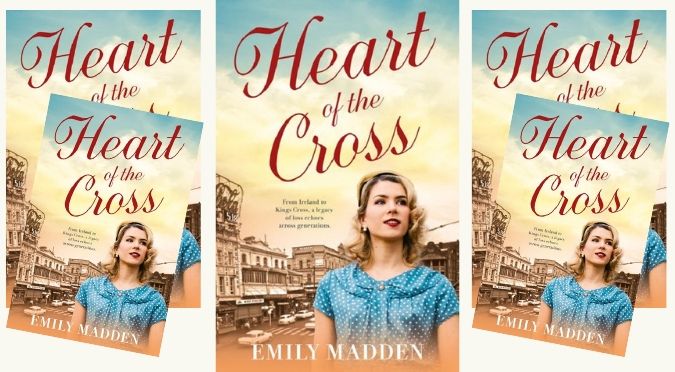 From Ireland to Kings Cross, a legacy of loss and hope echoes across the generations…
New release from the author of The Lost Pearl

'Expertly woven … a heartbreaking tale of first love lost, second chances, new beginnings and overwhelming guilt. It captured my heart and my imagination.' – Beauty and Lace on The Lost Pearl
Heart of the Cross
by
Emily Madden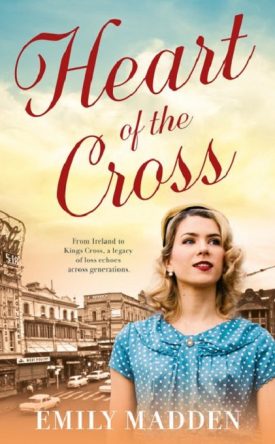 Out now in paperback and eBook
Read an excerpt, then read Emily's answers to The 5 Big Questions
Tinahely, Ireland, 1959
Rosie Hart is content leaving her home behind to follow her new husband to Australia. But she soon discovers there is no room for her or their young son in the life he has built in vibrant Kings Cross. As their marriage crumbles, Rosie will need to fight for the golden future her son deserves.
Rose Bay, 1984 
Haunted by her past, Rosie is determined her daughter Maggie will follow the path she has set out for her. But Maggie has plans of her own, and Rosie can only pray the grief that plagues the Hart name won't follow her.
Sydney, 2017
When her grandmother dies and leaves Brianna Hart a secret apartment in Kings Cross, Brie wonders what else Rosie was keeping from her. As Brie chases the truth of Rosie's past she uncovers an incredible story of passion, violence, love and tragedy. Is the Hart family's legacy of loss inescapable, or has Rosie gifted her granddaughter with a future of hope?
Excerpt from Heart of the Cross by Emily Madden
March 1959
There was a nip in the air. Summer was well and truly over. The moon seemed to be edging out the sun sooner and mornings held a chill that made you shiver and reach for an extra blanket.
It had been close to two months since Rosie and Jimmy had arrived at the house at the McElhone Stairs end of Victoria Street, perched on top of what seemed like a steep cliff, with a vista of terrace houses of Woolloomooloo, their never-ending gun-metal grey slate roofs meshing into one another.
The house was one of the older ones in the street, not like some that had their well-kept original cast-iron lace balconies. Its cream façade dirty and mouldy, its dim hallways dingy and robbed of light; the only saving grace was the front door with its stained glass and colourful bevels that seemed to catch whatever scarce sun there was. Rosie had taken the door as a sign—that while the rest of the house was depressing and uninviting, the door, the very heart of the house, provided some beauty, some hope.
'Come on, Jimmy.' She hurriedly ran her fingers through his fine baby hair. 'I need to get you to Mrs Hawkins so I can head to the shops early.' Dulcie Hawkins was their elderly neighbour who lived next door with her granddaughter, Mary.
Rosie's first impressions about the women next door were not particularly favourable. It quickly became apparent by the number of men coming and going at all hours of the day that she was living next to a house of ill repute. Perhaps much to her amazement, it seemed not to faze Tom when she shared her discovery with him. He simply grunted and made a comment that he had told her about the brothel next door. Rosie was sure he hadn't. She wouldn't forget something so shocking. Ruddy and gruff with a booming voice, Dulcie Hawkins cast an imposing presence, whilst Mary seemed to be flighty and floozy. But it didn't take long before Rosie realised how wrong she was about them both.
The first time Rosie thought that perhaps she had been wrong about the Hawkins women was about a week after she'd arrived. It was late in the evening. Tom had, as he done every night since her arrival, gone to the pub, and Jimmy was restless. He'd gone to sleep relatively easily but he'd woken not long after howling with pain. Rosie had noticed his swollen gums and wrapped a piece of apple in a cold cloth, just as she had done so many times before, only this time it wasn't enough. It seemed that the more she tried to sooth her son, the more he cried.
After what seemed like an age of trying to settle Jimmy, there was a brisk knock at the door.
'That child hasn't stopped crying in hours,' Mrs Hawkins noted sternly, her hair piled up on her head in elaborate curls and a cigarette precariously dangling from her lacquered lips.
'I'm so sorry, Mrs Hawkins,' Rosie struggled to voice her apology over Jimmy's incessant wailing.
'What's wrong with the boy? Is he sick?'
'Teething, I'm pretty sure. Although, nothing I've tried seems to be working.'
'Teething, ay?' She narrowed her eyes and leaned in, and much to Rosie's amazement, jabbed a bejewelled finger into Jimmy's gaping mouth, not seeming the slightest bit perturbed when he chomped down on her knuckle.
'Humph,' she declared after sufficient investigation, apparently satisfied that Rosie had been telling the truth. After retrieving her finger, she turned and left as abruptly as she'd arrived.
Moments later, when there was another knock on the door, Rosie was surprised to see Mrs Hawkins again.
'Here.' She thrust a small bottle into Rosie's hand. When Rosie simply stared, Mrs Hawkins explained with a brisk nod, 'It's clove oil, apply it directly to his gums.' She barked it more like an order rather than advice and was gone before Rosie could thank her.
She promptly followed Mrs Hawkins' directive, fearing that if she did not do as she was asked, her neighbour would be round once again. But even as she battled to rub the oil against Jimmy's swollen gums, she highly doubted it would work. When her son's cries subsided within minutes, she heralded it a minor miracle.
Later she would discover that Dulcie used the same oil on Mary as a child, as well as Mary's mother many years before. It would be the first of many things her neighbour would teach her.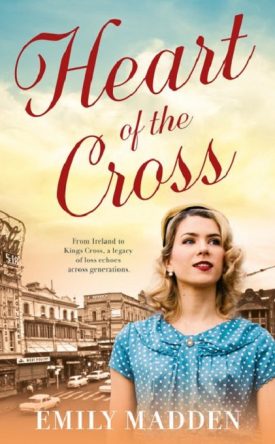 Buy Heart of the Cross
Emily Madden
Get swept away by love
Read more about Emily, her books, and discover where to find her on social media
The 5 Big Questions
How long did it take you to write the book?
From start to finish – 9 months.  This includes the research aspect which always takes too long!  I'm quite impatient and often want to just jump into writing the book.
What was the most difficult or complex aspect of writing your book?
Researching Kings Cross in the different time periods was both complex and time consuming. You want to make sure you give an accurate depiction of the time period so you research and read and research and read and hope that you've done the time period and location justice.
What gave you the most pleasure when writing your book?
Bringing the characters to life and watching their journey as the book progresses. These are people that you have fashioned from nothing and by the end of a book, they as as real to you as anyone else in your life.
Are you nervous when a new release comes out?
YES! I'm still waiting for a nerve free release. If there's a writer out there with the magical solution as to how, I want to know.
What's the best thing a reader could do if they enjoyed your book?
Tell everyone they know!  Word of mouth is powerful. Rating and reviewing on Goodreads and/or wherever they purchased it from is also greatly appreciated.  It helps build your profile and get the word out there.  I also love reaching messages and emails.  I love knowing that my words resonated with others and bought them enjoyment, because at the end of the day, it's why I write!
Subscribe by email to receive our occasional blog posts 
and never miss a new book release!
Stay up-to-date on the latest Australian fiction releases and news