Guest author Nicole Alexander with her new bestseller, Stone Country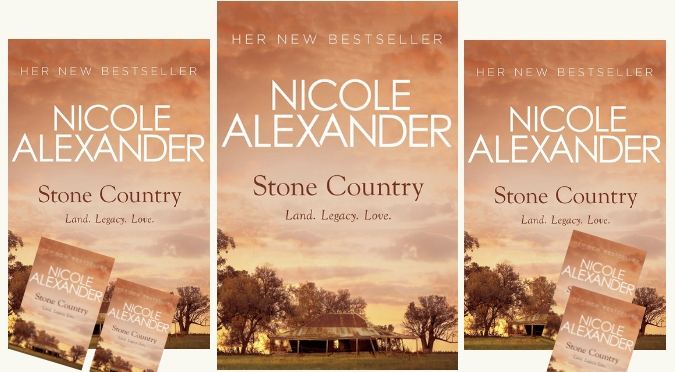 What sets us apart from our friends and family?
Why do we make certain choices during a lifetime?
We're delighted to have bestselling Australian author Nicole Alexander as our first guest author
Read what Nicole has to say about her new release
Stone Country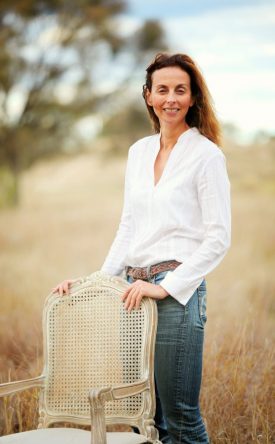 Nicole Alexander
The heart of Australian storytelling
Nicole Alexander is the Australian author of eight best-selling novels, including The Bark Cutters, A Changing Land, Absolution Creek, Sunset Ridge,
The Great Plains, Wild Lands, River Run and An Uncommon Woman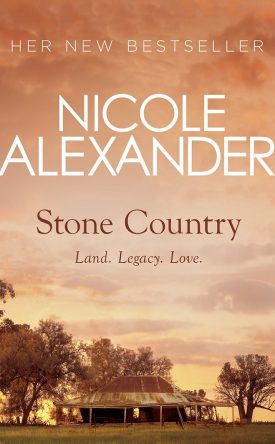 Land. Legacy. Love.
South Australia, 1919. Ross Grant has always felt like the black sheep of his wealthy Scottish family. An explorer by nature, he dreams of life on Waybell, their remote cattle station in Australia's last remaining wilderness, the Northern Territory. But when his brother Alastair is branded a deserter after going missing during the Great War, to help restore the Grants' damaged reputation, Ross is coerced into marrying Darcey Thomas, a woman he has never met.
Disgusted by his manipulative family, he turns his back on his unwanted wife just hours after the ceremony and heads to Waybell with no plans to return. He carries with him the hope of carving his own empire in the far north.
But Ross has not counted on Darcey's determination to be his wife in more than just name. Nor did he anticipate meeting Maria, a young woman who will change his life. And he certainly wasn't prepared for how this beautiful yet savage land will both captivate and destroy his soul . . .
From nineteenth-century Adelaide and the red dirt of mid-north South Australia, to the cattle stations and buffalo plains of the far north, Ross's journey is one of desire, adventure and determination, to the heart of stone country and beyond.
Stone Country is out now from all good bookstores
The duality of human nature lies at the heart of my new novel, Stone Country. What sets us apart from our friends and family? Why do we make certain choices during a lifetime? Ones that can just as easily mean our triumph or our downfall. Decisions that can affect not only oneself but also that of your family. Stone Country spans the period 1901 to 1940 and follows the life of Ross Grant, the second of two sons born into a wealthy Scottish family in Adelaide, SA. In his youth Ross idolises his older brother Alastair even though he often becomes the scapegoat for his troublemaking brother. When Alastair disappears during the Great War and is suspected of desertion, Ross is coerced into marrying his brother's fiancé to restore the family's reputation. His reluctant agreement comes with the promise that he can fulfil a childhood wish and travel to the Northern Territory.
Ross is an unlikely hero. His journey finds him caught between the woman he loves and the one he is forced to marry, between his personal desires and family duty and between the life he left behind and the country that captivates his imagination.
When I first set out to research Stone Country I had two initial characters in mind; Ross Grant, and our extraordinary Australian landscape. The land has always played a central part in my novels. My ancestors settled in the northwest of NSW in 1893 and we still farm that same property. From my family I inherited the treasure of oral history passed down through the generations and archives that cover weather maps, paddock books and mail order catalogues. All of these provide an invaluably authentic resource when researching an historical novel.
But back to that word, duality. The term refers to having two parts, often with opposite meanings, like the duality of good and evil. Peace and war. Love and hate. To a certain extent that word inspired Stone Country. Having decided on my central character I wanted Ross to embody the duality of human nature, the good and the bad. For that to occur he needed to be tested both physically and emotionally and he also needed to take two very distinct journeys. The outer one, sees him thrust into a foreign, isolated environment when he leaves South Australia and travels to the Northern Territory. While the second journey is Ross's personal one and the obstacles he encounters during his life, both from his own poor decision making and those difficulties imposed on him by his family.
Part of Ross's challenge comes from learning to live with the repercussions and guilt of not having served during the Great War. I drew on my own family history for this section of the narrative. My paternal grandfather served in the Great War however it was decided that his younger brother David would stay behind and look after the family property and their mother (their father having died in 1903). This apportioning of responsibilities, whilst logical made me consider what it would have been like for the brother left behind, waiting for news of an older sibling who may or may not return from the front. My grandfather was awarded a Military Medal and returned home eventually. But what of the boy at home on the farm. This was a period when men were handed white feathers for cowardice. In Stone Country Ross is the one who is told he must remain at home and this guilt haunts him for many years after his brother goes missing.
Stone Country is set in Adelaide and the mid-north of South Australia, as well as the cattle stations and buffalo Plains of the Northern Territory. I spent considerable time in both locations, researching the history of these regions, and tracing the steps my characters would take on the page. I hope you see, hear and breath what I saw on my travels and enjoy the journey.
Nicole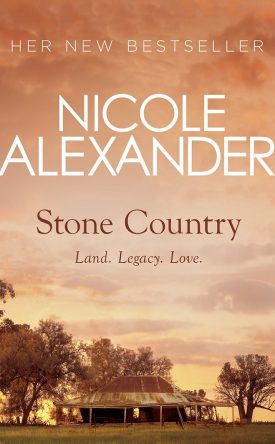 Buy Stone Country
Discover more about Nicole, her books and her popular blog on NicoleAlexander.com.au
Find and follow Nicole on Facebook
The content of this blog post was first published on NicoleAlexander.com.au  
Stay up-to-date on the latest Australian fiction releases and news