Guest Author Kylie Kaden – The Day The Lies Began
Published:
August 30, 2019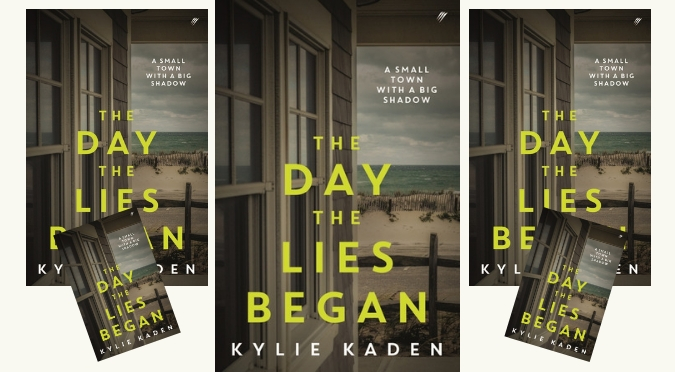 With a surfer-lawyer for a husband and three spirited sons, Australian author Kylie Kaden stays sane (and avoids the housework) by making things up for a living.
The Day the Lies Began marks Kylie's launch into the domestic noir-thriller market.
This a new release this month and we're delighted to have Kylie as a guest author on Australian Fiction Authors.
We've got the story blurb, an excerpt, plus a few words from the author…read on!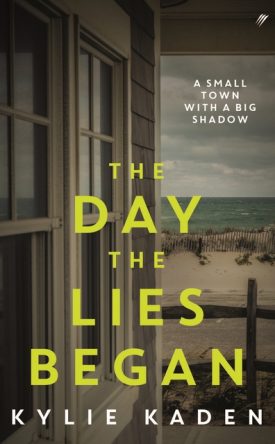 "It seemed simple at first – folding one lie over the next. She had become expert at feathering over the cracks to ensure her life appeared the same. But inside, it didn't feel fixed."
It happened the day of the Moon Festival. It could have been left behind, they all could have moved on with their lives. But secrets have a habit of rising to the surface, especially in small towns.
Two couples, four ironclad friendships, the perfect coastal holiday town. With salt-stung houses perched like lifeguards overlooking the shore, Lago Point is the scene of postcards, not crime scenes. Wife and mother Abbi, town cop Blake, schoolteacher Hannah and local doctor Will are caught in their own tangled webs of deceit.
When the truth washes in to their beachside community, so do the judgements: victim, or vigilante, who will forgive, who will betray? Not all relationships survive. Nor do all residents.
~
For those that know me for my romance novels, I need to come clean. I've been unfaithful. I've recently crossed over to the dark side (I'm not sure what that says about the state of the world, or my mental health) but my latest release The Day The Lies Began marks my foray into Domestic Noir.
This is an excerpt from the perspective of Abbi – the small-town wife and mother hiding a secret from the very people she hopes to protect. The scene occurs the morning after The Moon Festival when she starts to weave her well-intended web of lies…
Kylie
Excerpt from The Day the Lies Began by Kylie Kaden
There was a moment – a millisecond after she woke, when life was still as it had always been. A moment when Abbi recognised it was a school day. That there were lunches to pack, breakfast to prepare, a job to go to. She got as far as mentally scanning the freezer for what to defrost for dinner before it hit her. What she'd done.
She rose from the sheets and inhaled sharply, but the air felt like needles in her throat. Her heart pulsed and swelled, as if trying to break free from the jail her ribcage had become. The walls wobbled, distorted – like her life. She got up, reached for the wall, off balance as if she was standing on a moving platform that could give way at any moment. Nausea swelled in a great green wave. She ran to the en suite, heaved into the bowl, but felt no relief.
There was no undoing the done.
She reached to flush, mesmerised by the water as it swirled and sucked away, cleansed, renewed. But for her there was no reprieve. A stain on her life like permanent ink. It could never wash clean.
Abbi wiped her face dry, checked the mirror and saw lies.
She looked identical. Her reflection appeared as if she was the same person she had been yesterday – a little drawn, puffy-eyed, but no worse than after a night sinking too many reds. But the truth of it was, an imposter had replaced the self she knew.
Her husband's bulk blocked the door, his brow furrowed. 'You okay, hon?'
Her mind retraced the acts committed in the past twelve hours. She had no idea what this new self was capable of. But Abbi nodded and smiled.
The first of a thousand masks.
~
A few words from the author
So, what exactly is Domestic Noir, you ask? Suburban gothic, marriage thrillers, chick noir – whatever you want to call this crime subgenre, I believe it incorporates the best of romance – which hinges on the intricacies of intimate relationships, rich character development and high stakes, and blends these elements with the grit of a suspense novel. (Think Big Little Lies, Gone Girl, The Couple Next Door and The Cry.)
While thrillers depend on building tension to a climax, a crescendo of suspense to a final reveal, the domestic noir subgenre relies on the tension within relationships; stained, rotten and ruined by lies. Violence, mistrust, unreliable narrators, twists and turns – drama at its best is at the core. Family can be a cauldron of deception – and where else are the stakes higher than within a marriage?
While my first two novels (Losing Kate and Missing You) explore developing romantic relationships, The Day The Lies Began hinges on two couple's relationships unravelling, and explores what happens when lies start to dissolve the foundations of a happy marriage.
So, is it for you? It's for readers who enjoy the challenge of a moral dilemma that makes you wonder what you'd do in the same situation. For those who love flawed character and complex relationships, who like to ponder the push and pull of relationships…all with a few twists and turns along the way.
The Day The Lies Began drip feeds facts to the reader about an unspeakable event that plays out one autumn evening at a local festival. An event that Abbi must keep buried. It's about ordinary people under extraordinary circumstances, about good and bad and how sometimes they look the same…
If this genre sounds like you, why not sample it here, and thanks for having me on the Australian Fiction Authors blog!
Kylie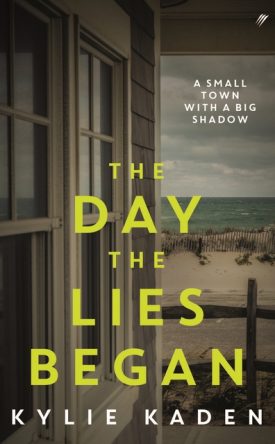 Buy The Day the Lies Began
For a sample chapter or to find out more head to  www.kyliekaden.com.au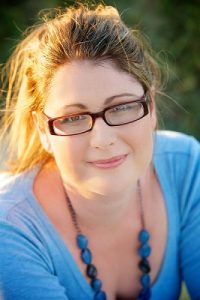 Kylie Kaden
Internationally published Australian Author
Kylie's debut Losing Kate (2014) was plucked from the Penguin Random House slushpile and later translated internationally. Missing You followed in 2015. She is also a columnist at My Child Magazine, but is the first to admit that despite having an honours degree in psychology, the wheels fall off at her place on a daily basis.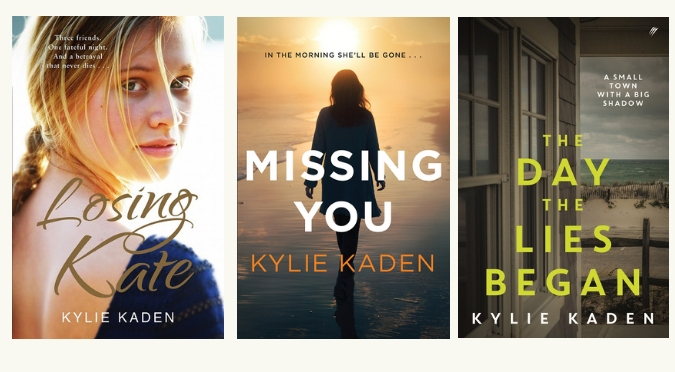 Huge thanks to Kylie for sharing her new release with us!
Find Kylie on her website: http://kyliekaden.com.au/
Find Kylie on Facebook: KylieKadenAuthor
Subscribe by email to receive our occasional blog posts 
and never miss a new book release!
Stay up-to-date on the latest Australian fiction releases and news