GUEST AUTHOR Janet Gover & new release CLOSE TO HOME
Published:
February 7, 2021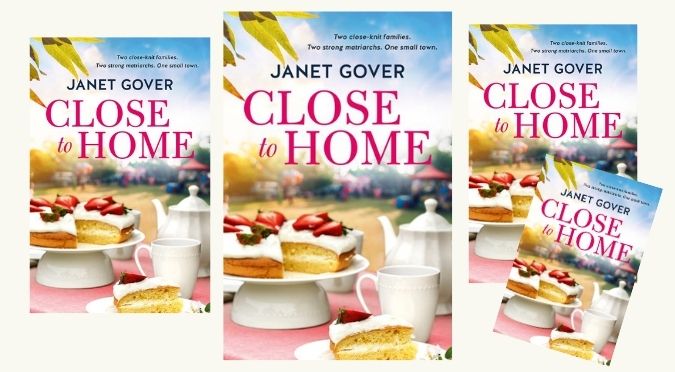 We're delighted to introduce you to our guest (and Aussie bred) author
Janet Gover
Many of you will know Janet from her plentiful Australian-set books and there's a new one just released
CLOSE TO HOME
new release
A delightful small town story of community and family with shades of Romeo and Juliet and The Dressmaker.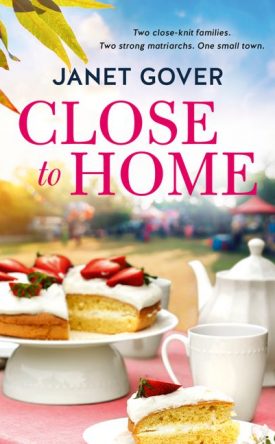 Two households, both alike in dignity…
Aunt Alice Dwyer loves her small Australian town. She's rarely left its comforting embrace. She knows everyone in it; in fact, she's related to most of them. All she wants is to keep her family safe and the town running exactly the way it always has. Her way. But when an exotic French artist comes to town, her hold begins to weaken…
Lucienne Chevalier, once the toast of Europe, has come to Nyringa after a tragic loss to hang up her sequins and create a place for her circus family to rest between tours. With her is Simon, her grandson, recovering from an injury so damaging he can no longer perform. Lucienne fears he'll never embrace a new future. That is, until she notices the chemistry between him and the new schoolteacher… All they need is a push.
Both grande dames think they know what's best, but with equal amounts of stubbornness on both sides, peace looks unlikely. Then a relationship between Alice's rebellious great-niece and a teenage acrobat sets the two communities on a collision course. But when the bakery starts making patisseries over lamingtons, the battle lines are truly drawn…
A story of community and family. Of the love that brings them together … and the fears that would tear them apart.
Read a few words from Janet then read an excerpt
Welcome to Nyringa – a small town in northern New South Wales.
Strangely enough the idea for this story came to me while on my last holiday – in an old amusement park in Spain.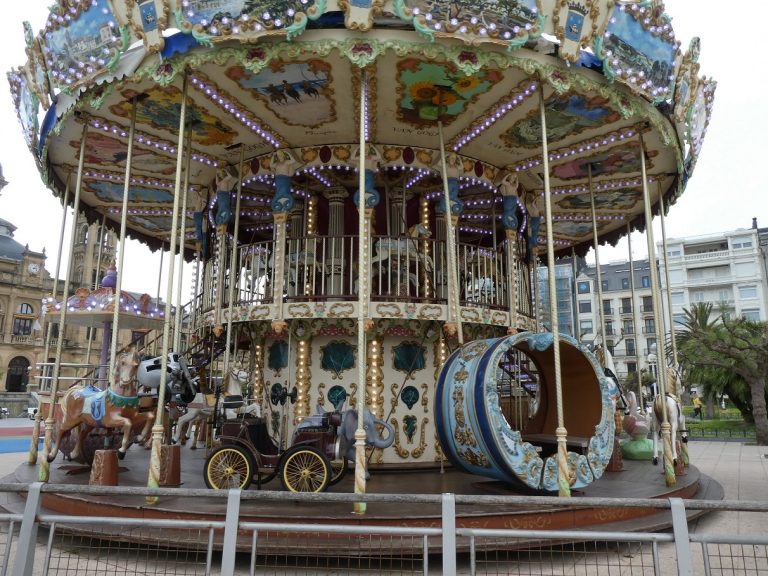 So there I sat, waiting for my wine and pinchos (small tasty bread snacks) to be delivered, travelling in my head back to the small town in Queensland where I grew up.
The more I see of the world, the more I appreciate the Australian bush. It is a unique and wonderful place and although I may leave it, it will never leave me.
In this book, I have two strong matriarchs. One is familiar from every small Australian town I've ever been to. The other is French and a circus performer. There's more at stake than just Lamingtons versus Mille-Fuille
I loved writing this book – quite apart from all the usual joys of exploring a new place and new people, part of my research involved cooking cakes and lamingtons. Which of course we couldn't waste!
Perhaps I need to write more books that involve cakes.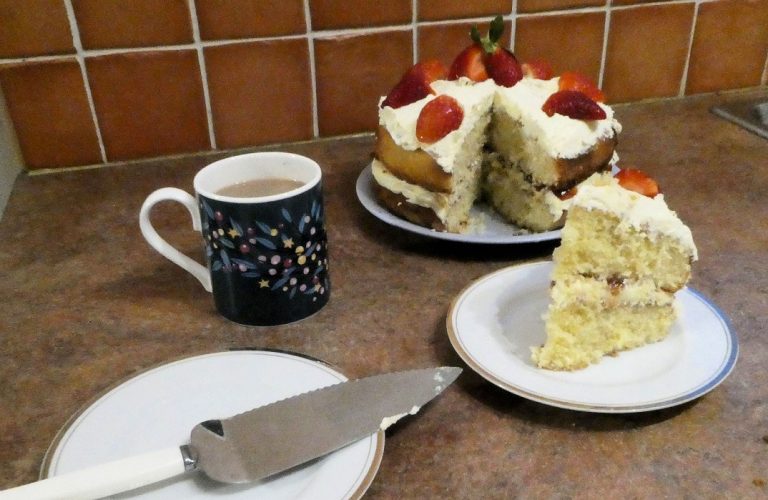 Janet
BUY Close to Home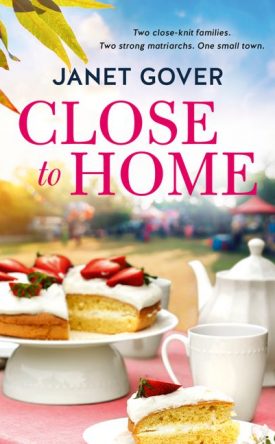 Excerpt from Close to Home
by Janet Gover
Prologue
Nyringa, New South Wales
Spring, 1956
Alice gave a twirl as she closed the wooden gate behind her and turned towards the centre of town. Her grandmother's welcome cake had been safely delivered to the new teacher and now she was free for the rest of this special day. The circus was coming to town for the first time ever and she didn't want to miss any of the excitement. Wayne was going to be there too, and they'd watch the parade together. After­wards they might slip down to that spot by the creek. That thought was enough to send a little tingle through her. Granny didn't hold with fifteen-year-old girls having boyfriends, but Alice was almost sixteen, and Wayne was her boyfriend. They'd been going steady now for nearly three months. Yesterday he'd slipped his hand under her blouse while they were making out down by the creek. She'd told him off of course, because she didn't want to seem easy or a tramp like that Suzie at school—Suzie went with anyone and girls like that never got married. But next time Wayne was with her down by the creek, Alice would let him touch her breasts. Maybe even today. After the parade, though. She'd never seen a circus before.
Alice was determined to find a place at the front so she could see the parade up close. According to Granny, Nyringa was going to be more crowded today than ever before in the town's history, and Granny would know because she was ancient and had lived in this boring little town forever. Then tomorrow, the circus was going to do a show. She'd go with Wayne and wear the new yellow dress her mum had made for her. She'd talked her mother into taking the hem up another couple of inches, and she wanted to see what Wayne did when he saw her in it.
Alice heard a low rumble of noise coming from the main street, and then a cheer went up. The circus must be here already. She was late. She broke into a run and sprinted along the last row of houses, past the car park at the back of the store and into the crowd lining the main street, where the highway passed straight through the centre of town. Her mouth dropped open and she skidded to a stop.
Elephants! There were elephants in Nyringa.
They were big and grey and slow, swinging their trunks as they walked. Their skin looked like old leather, and their eyes seemed too small for such a big animal. Their feet though … their feet were huge. Imagine if one of them stood on you! All four creatures were adorned with brightly coloured headpieces and a man sat on each one, waving to the crowd. Alice waved back as she pushed her way forward. Her friend Martha had been to the cinema once in New­castle. She'd seen a film with elephants in it and bragged about it for weeks. But this was better. These elephants were real! And they were so big! Alice felt a tiny frisson of fear that was exciting in its own way.
'Alice!' Wayne appeared next to her and grabbed her hand. He looked down at her, his whole face alive with excitement. 'Aren't they great?'
She nodded, too tongue-tied by everything to speak.
'Look, Alice. Look at the jugglers.'
Men wearing embroidered white shirts moved along the edge of the crowd, tossing small balls into the air with speed and precision and never dropping a single one.
'I could do that.'
The nearest juggler heard Wayne's words.
'Here you go, kid.' The man threw him a ball. 'Now try two. Like this.' The juggler tossed two balls into the air and kept them aloft with just one hand. He wasn't even really looking as he did it.
'Sure.' Wayne threw a ball in the air. Then a second. He caught one but the other bounced at his feet. The juggler swooped in to catch it with one hand and added it to his one-handed display.
'Good try, kid.' The juggler took the second ball from Wayne's hand and moved on.
'I would have done it next time,' Wayne muttered.
'Of course you would.' Alice took hold of his hand again and squeezed it. Wayne laced his fingers through hers and smiled down at her. For a moment Alice forgot the elephants and saw a future in which she and Wayne left Nyringa behind for good, and went out into the world. They would marry and have children one day, of course, but not before they had explored the whole world.
'Look, here come the horses!'
Alice followed Wayne's pointing finger. She loved horses. Most of the other girls in her class lived on farms and had their own ponies and horses. Living in town, Alice didn't have a pony. Every year since she was small she'd asked her parents for one for her birthday and for Christmas, but they never listened. The horses coming towards her were more beautiful than any she'd seen on the farms around Nyringa. They were all grey, with soft white manes and tails. Their harness glinted with silver as they tossed their heads. They didn't seem at all disturbed by the cheering people lining the street.
Then Alice saw the girl sitting sideways on the back of the lead horse. She was dressed in a tight pink costume like a bikini and a tiny skirt covered in sequins. She was wearing white ballet slippers and tights. There were jewels in her wavy blonde hair and dark mascara and shadow on her eyes, making her look very exotic. Granny would not have approved. As Alice watched, the girl stood on her horse's back and opened her arms to the crowd, who cheered loudly. Beside Alice, Wayne was cheering loudest of all. His eyes were shining and his attention was now entirely on the girl. He was ignoring everything else around him, including Alice. His fingers loosened in hers and their hands fell apart as he moved to get a bet­ter look at the girl on the horse, who suddenly leaped into the air in a graceful move that was almost like ballet, landing again on the horse without so much as a stumble. All around Alice, the crowd gasped and cheered even louder.
'The parade is nearly over.' Alice grabbed Wayne's hand and tugged at it. 'I have to get back soon. Why don't we go down to the creek and sit for a while?' She opened her eyes really wide and looked up at him through her eyelashes, because that's what the actresses did in the films, and everyone thought they were so sexy. Right now, Alice wanted to be sexy more than anything else in the world.
'I want to follow the parade,' Wayne said. 'I'll see you later.' Never taking his eyes off the girl on the white horse, Wayne again pulled his hand away from hers and began to follow the parade.
Alice looked down at her empty hand. How could Wayne just leave her like that?
She felt a strange pain in her chest, like nothing she had ever felt before. It felt as if her heart was breaking.
Janet Gover
Award winning author
I grew up surrounded by books. Both my parents loved to read and they shared that love with me. In the tiny Australian bush town where we lived, there wasn't a lot to do except read and ride my ponies.
As it's pretty hard to make a living out of riding ponies, I guess I was always going to be a writer.
After some fun-filled years at Queensland University (during which I passed the occasional exam), I became a television journalist, first in Australia, then in Asia and Europe. I got to see and do a lot of unusual things. I met some interesting people, including one Pope, at least three Prime Ministers, a few movie stars and a dolphin. I also discovered that most interesting people are often the 'ordinary' people – who sometimes have quite extraordinary stories to tell.
My first published fiction, a short story called The Last Dragon, appeared in 2002. I love writing short stories and you can check some of them out for free on my website.
My first novel, written when I was about 11 years old, involved a young girl (me) being rescued from kidnappers by two handsome men – one of whom was former James Bond Roger Moore.
My first published novel, The Farmer Needs A Wife was released in 2009. It might not surprise you to learn that it was set in Australia and featured men on horses.
Australia, horses and men still feature in my writing – although I have written one book without horses in it. There were penguins instead.
I travel a lot – and many years ago in Hong Kong, I met an Englishman with green eyes – which explains why I now live in London. My travels inspire me – but it seems that when I write, I often come back to the place I grew up.
Some things you never leave behind.
Find more about Janet on her website 
Follow Janet on Twitter – @Janet_Gover
BUY Close to Home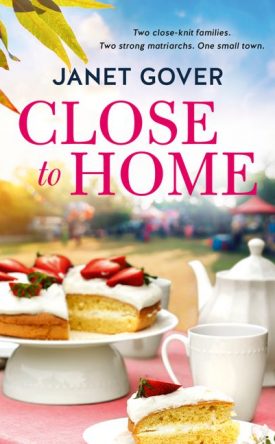 More Australian set fiction by Janet Gover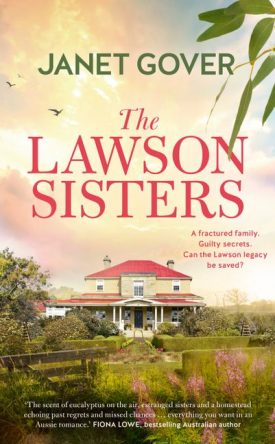 A heartfelt and compelling story of family, secrets and second chances, set in the heart of the beautiful Hunter Valley of NSW, from an award-winning new voice in Australian fiction.
A fractured family. Guilty secrets. Can the Lawson legacy be saved?
For many years Elizabeth Lawson has battled single-handedly to run the family's historic horse stud in memory of her beloved father. But a devastating loss puts her dreams at risk. With no options left, Liz is forced to turn to her estranged sister Kayla for help.
Kayla has built a new life in the city as a wedding planner, far removed from the stableyard sweat and dust of her rural upbringing. She never thought she'd go back. But when Liz calls out of the blue, Kayla forms a plan that could save their childhood home.
Kayla's return forces Liz to confront her past … and her future, in the shape of Mitch, her first and only love, who still watches over her from the other side of the creek.
But Liz still hides a terrible secret. When Kayla learns the truth, will the Lawson sisters find common ground or will their conflict splinter the family once again?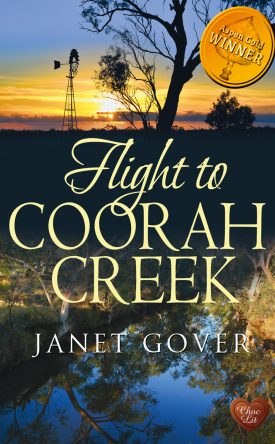 Book #1 in the Coorah Creek series
What happens when you can fly, but you just can't hide?
Only Jessica Pearson knows the truth when the press portray her as the woman who betrayed her lover to escape prosecution. But will her new job flying an outback air ambulance help her sleep at night or atone for a lost life?
Doctor Adam Gilmore touches the lives of his patients, but his own scars mean he can never let a woman touch his heart.
Runaway Ellen Parkes wants to build a safe future for her two children. Without a man not even one as gentle as Jack North.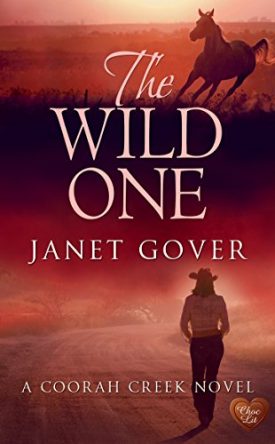 Book #2 in the Coorah Creek series
Can four wounded souls find love?
Iraq war veteran Dan Mitchell once disobeyed an order and it nearly destroyed him. Now a national park ranger in the Australian outback, he's faced with another order he is unwilling to obey.
Photographer Rachel Quinn seeks out beauty in unlikely places. Her work comforted Dan in his darkest days. But Quinn knows darkness too and Dan soon realises she needs his help as much as he needs hers. Carrie Bryant was a talented jockey until a racing accident broke her nerve. Now Dan and Quinn need her expertise, but can she face her fear? And could horse breeder, Justin Fraser, a man fighting to save his own heritage, be the one to help put that fear to rest?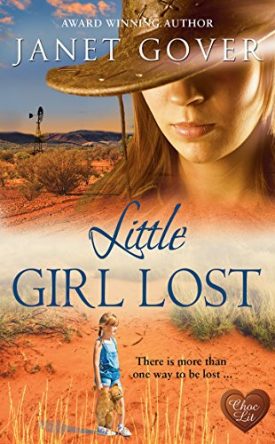 Book #3 in the Coorah Creek series
When a little girl goes missing, an entire town comes together to find her…
When Tia Walsh rides into the small town of Coorah Creek on a Harley Davidson, Sergeant Max Delaney senses that everything about her spells trouble. But Tia's trouble is not all of her own making, and the dangerous past she tried to leave behind is hot on her heels.
Sarah Travers has returned home after three years of college to find that her parents have been keeping a devastating secret. Her childhood crush, Joe Rankin, is facing his own struggle with a harsh reality that will take him away from the girl and the life that he loves.
Tia, Max, Sarah and Joe are all trying to find their future, but when a little girl goes missing in the harsh outback, nothing else matters except finding her safe…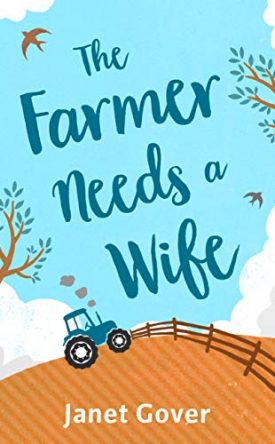 Is it time to stop playing the field?
The Farmer Needs a Wife is a feel-good romance set in the Australian outback, about finding love in the most unlikely places.
Glamorous magazine editor Helen Woodley has been hired as the new head honcho of magazine Australian Life, and she needs a feature idea to send the magazine rocketing back up the popularity stakes – fast. Little does she know how successful her new campaign will be.
As the country's lovelorn single farmers are profiled each week, readers start queuing up to date them. Soon rural romances are all the rage – but a lot of people (and Helen herself) are about to find out that the course of true love doesn't always run smooth…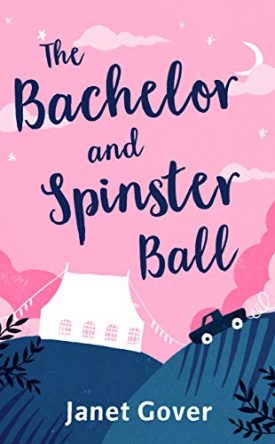 Join the guests at Australia's most infamous black-tie event, The Bachelor and Spinster Ball, in Janet Gover's life-affirming novel. 
Sexy Nick, feisty Bec and dreamy Hailey all grew up together in the tiny, one-horse town of Farwell Creek. In fact, Nick and Bec were the town's teen-dream couple, until Bec made a break for it and shook the small-town dust off her heels for the big-city lights. Now she's back – but Nick doesn't have romantic feelings for her any more … does he?
Sweet, idealistic Hailey is caught between her old friends, but has too many problems of her own to be able to worry about theirs. Devastated at the loss of her parents, who died in a crash a year earlier, she's too wrapped up in her own thoughts to even think about leaving town or finding love.
It will take a devastating bush-fire, a black-tie ball under the stars, and a road-trip to help all three friends work out who and what they want – and what they need.
Discover more books and more about Janet Gover on her website
Subscribe below by email to receive our occasional blog posts – and never miss a new book release!
Stay up-to-date on the latest Australian fiction releases and news