Guest Author Allison Butler with new release The Healer (Plus a Giveaway)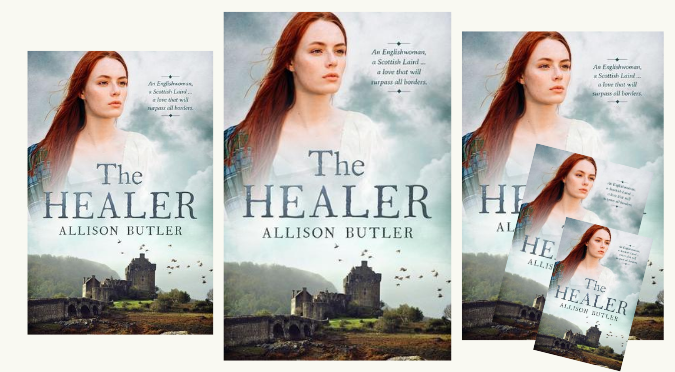 An Englishwoman, a Scottish laird … a love that will surpass all borders.
Australian author Allison Butler is whisking us out of our armchairs and taking us all the way to Scotland in 1402
with her new release
THE HEALER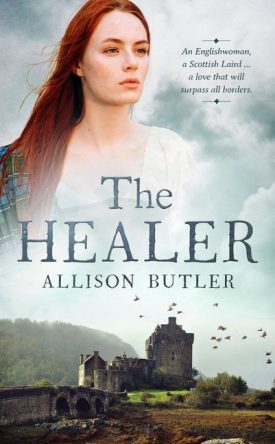 A sumptuous romance in the spirit of Diana Gabaldon.
1402, the Anglo-Scottish border.
Lynelle Fenwick is the daughter of an English lord, but was deemed cursed when her mother didn't survive childbirth and has been an outcast all her life. Raised by the village healer, who has since died, Lynelle truly is alone. When her younger half-brother is captured during a Scottish raid, she sees a last chance to redeem herself to the father who rejected her, and offers to be held captive in his place.
Across the turbulent border, Lynelle strikes a bargain with William Kirkpatrick, laird of Closeburn. She will spend two weeks inside the clan's castle tending William's younger brother who is in need of a healer's care. The laird has his own family curse to deal with, along with a deep distrust of healers – and Lynelle has exaggerated her healing skills to obtain her half-brother's freedom.
Despite their differences, William and Lynelle are drawn to each other … then an unexpected foe threatens to divide them forever … Enemies by birth and circumstance, they can only succeed together.
Read a few words from Allison, read an excerpt
– and enter the giveaway to be in the draw to win a paperback copy of
The Healer plus a coffee mug!
*GIVEAWAY HAS NOW ENDED
Congratulations to the winner, Karen Simmons!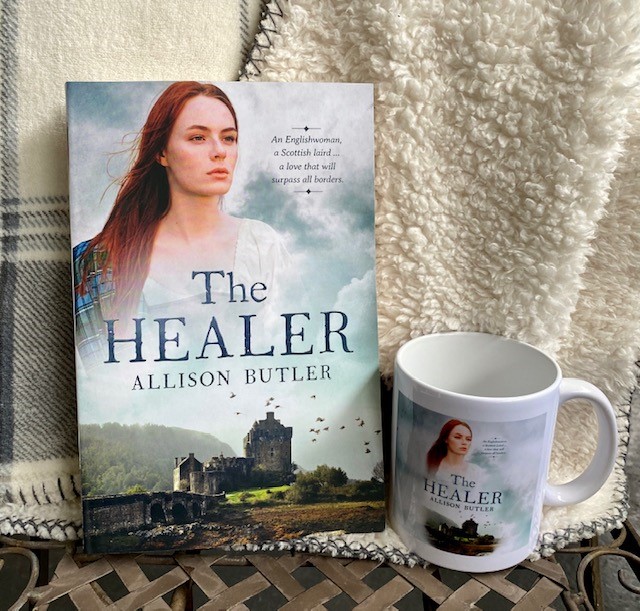 Hello Dear Readers,
my name is Allison Butler and I'm thrilled to be here. I'm an Australian author, published by an Australian publisher and I'd like to share why I set the historical romance stories I write in Scotland.
My love of Scotland was first awakened by my mum when I was a little girl. Once a year, every year, she'd watch the annual showing of The Royal Edinburgh Military Tattoo, traditionally broadcast on New Year's Day in Australia. Joy and awe lit her face as she watched performers who'd travel from all over the world to take part. Her love and wonder for what she was seeing was obvious and beautiful. From my place beside her, I can still picture and will always remember how her face grew impossibly brighter when the Massed Pipes and Drums marched out and filled the Castle Esplanade.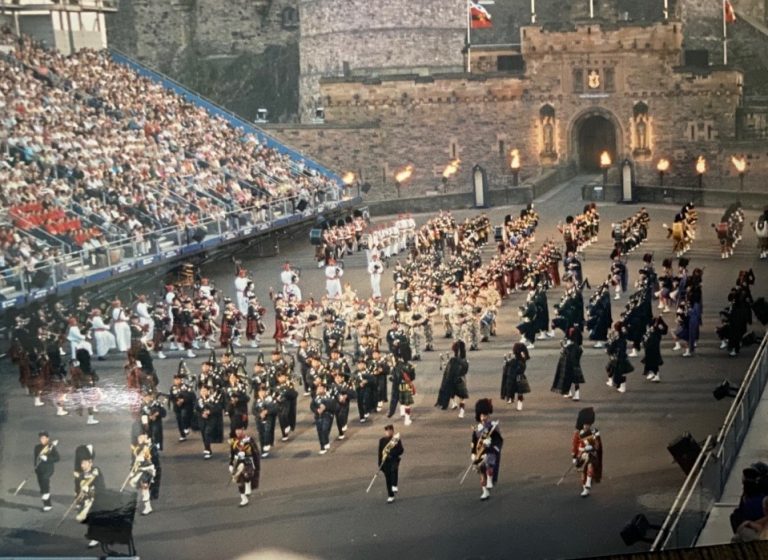 Some years later, I met a handsome, swaggering young gentleman who swept me off my feet and stole my heart. I'd fallen for a Scotsman. His love for his homeland and pride in his country's fight for freedom rekindled my curiosity about this faraway place that inspired powerful emotions. I began delving into this land called Scotland and discovered majestic landscapes, magnificent castles, turbulent history, and passionate people. I was lost.
The more I looked, the more I fell under Scotland's charm. My dream to visit Scotland, to set foot on her ancient shores, breathe in the air and explore her soul-stirring scenery came true in 2003 when my Scottish hero and I flew to Great Britain for a six week holiday. Three of those weeks were spent seeing as many places and covering as many miles of Scotland as we could. Gretna Green, Edinburgh, Bannockburn, Inverness, Culloden, from Dunrobin Castle to Ullapool, Eilean Donan Castle, Loch Ness, Mull of Kintyre and Ayr, just to name a few, we absorbed Scotland's beauty, learned of her peoples' triumphs, felt their heartache, losses and pain. We attended our first Royal Edinburgh Military Tattoo. It was incredible!
I stood on the side of a mountain near Braemar, with Runrig's, a Gaelic band's song 'an ubhal as airde' (the highest apple) playing from our hire car's CD player, the voice of the Highlands filling the glen. I held a photo of my mum in my hand and had tears in my eyes. Once again, I felt her joy. She had finally made it to Scotland.

~
Thanks to my mum, Lynette and my husband, Andy, I finally discovered the setting for the stories I wanted to write.
Scotland!
~
The Healer is a medieval romance set in Scotland and is the story of hope, love and belonging. Released as an eBook in 2014, I was thrilled when my publisher called to say they wanted to release it in print in Australia and New Zealand. We gave it a polish to make the story shine and the arts department created a beautiful new print cover. I not long ago received my first paperback copies. I love how they feel and look and smell. I cannot wait to see The Healer in the shops on the shelves.
Buy The Healer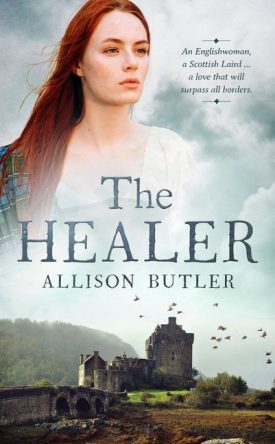 Buy from the publisher HarperCollins
Find more buy links on Allison's website   
Or head to your local department stores and bookshops (online or in person) for the paperback
Excerpt from The Healer
by Allison Butler
Chapter 1
Fenwick Keep
Northern Cumbria, April 1402
'RUN!' Lynelle shouted from the far side of the field as the horn signalling danger blasted from the keep.
Men and women grabbed sickles and hoes before fleeing to safety. Lynelle clutched her burden, lifted her skirts and ran as if the Devil were at her heels. Her chest burned with every indrawn breath as her leather-clad feet pounded the hard ground. Every footfall jarred her body, distorting the figures running toward the iron-studded gates ahead.
A blood-curdling cry erupted from the pack of mounted men spilling over the grassy ridge to the north. A noose of fear tightened around Lynelle's throat. Would she make it to the keep before they rode her down? She had to. She must!
Fenwick's people ran through the gates and were now safe within the stronghold. Cool shadows cast by the curtain wall fell about her as she neared the opening. She stopped at the threshold and searched for stragglers. Seeing none, she hurried inside.
'I am the last. Close the gates,' she said, hoping the guards would do her bidding despite who she was.
She pressed her bundle to her side to ease the ache there, as the giant beam was lowered into place. A faint lick of triumph sparked inside her. The barbarians would gain little this day.
Why were they attacking now? Raids usually took place between Lammas in August and Candlemas in February. It was now mid-April. They always came before dawn, or late at night, cloaked in darkness, yet the afternoon's sun still glowed brightly in the west.
The bailey was crowded. The air filled with tales of people running for their lives. Grasping her skirts, Lynelle raced up the uneven stairs to the battlements.
Straining for breath, knees weak as she reached the top, she forced herself to keep moving. She chose a section along the wall that granted the best view and slipped between two of the sentries. They shifted away from her, as she expected.
She set her bundle down at her feet, gripped the cold stone before her and peered at the scene beyond the walls.
Sunlight blazed upon every drawn sword the invaders brandished high above their heads. This was her first real glimpse of the men her father often named savages. A whisper of fear swelled inside her, mingled with a strange sense of awe.
Did they know her father was away? It was Truce Day and as Warden of the English West March, Lord Fenwick would spend his day dealing with crimes against the Border Laws – crimes committed by both the English and the Scots. Only a few men remained to guard the well-fortified keep. Once the gates were barred, those within were secure.
She watched the intruders, counted at least a dozen. One of the Scots at the head of the pack stood out from the rest. His dark hair rose and fell about his shoulders with his horse's rhythmic stride. Lynelle lifted her hand to block the sun's brightness. The man looked up at her.
Lynelle's heart skipped a beat. Time slowed. Her body heated. The distance was too great to discern his features, but his gaze seared her like a brand.
He turned, severing the invisible bond. The sound of thundering hooves filled her ears. Suddenly, in tight formation, the riders veered to the right, away from the fortress. Lynelle cupped her hot cheeks with cold hands and sucked in a huge breath.
The Scots rode to the far side of the open field where a thick line of trees marked the west wood. Why had they come? Were they searching for something?
Who was he, the man with the scorching gaze?
'God o' mercy,' said one of the guards to her left.
Turning, she bumped into someone. She drew back and took in Bernard's kind features. Bernard had been a guard at Fenwick for as long as she could remember and was one of the few who didn't avoid her gaze or keep his distance from her. He even dared to touch her. He must have followed her to the battlements once the gates were closed.
'What is it, Bernard?'
'I do not know,' he said, moving to peer out through the next gap in the wall.
Lynelle joined him and, leaning forward, she searched the ground below. Her heart lurched as she glimpsed a small figure outside, galloping away from the keep.
'Thomas,' she whispered.
No! It couldn't be. Had he escaped his personal guards again?
'We must help him,' she said, latching onto Bernard's sleeve. 'Bernard, you must tell the guards to open the gates.'
Bernard slowly shook his head. ''Tis too late, my lady.'
'It is never too late.' She'd never given in. She wouldn't now. But Bernard resisted her efforts to pull him along with her and continued staring out from the battlements.
Though part of her didn't want to know what was happening, she forced herself to look.
The wild men from the north surrounded Thomas. He was shouting and shaking his fist at the grown men who appeared enormous by comparison. They were enormous compared to her eight-year-old stepbrother.
'He is just a boy. Surely they won't harm him.'
'The master's age is not important to the Bloody Elliots,' Bernard said quietly.
A shudder rippled through Lynelle at the mention of the Elliots.
'I must go to him,' she said spinning away. A large hand grabbed her and spun her back around. She glanced at the weathered fingers holding her upper arm and then gazed into Bernard's beseeching brown eyes.
'No, mistress. They already have Thomas. Surrendering yourself will do the boy little good. You will only give the Scots another prize.'
'How can I do nothing?'
'You have no choice.'
Allison Butler
Allison Butler is an author of Scottish historical romance. She spent her early years in country NSW building pretend castles with hay bales and leaping white posts with her army of two older sisters and a younger brother. Many years later, with her mother's influence, she discovered a passion for words and history, read her first historical romance and was inspired to create her own. She writes most mornings and cares for the elderly in the afternoons. Her love of travel has given her the gift of many amazing sights but none more heart-stirring than the rugged beauty of Scotland. Allison lives in a small town in NSW, Australia, with her very own Scottish hero. Their two beautiful daughters have left the nest to feather their own and have begun their own adven­tures. Allison loves spending time with family and friends, travelling, taking photos, reading, dancing like no one's watching and seeing the sights from the back of her husband's motorcycle.
Find Allison on her website and on Facebook and discover more about her books
*Giveaway*
*GIVEAWAY HAS NOW ENDED
Congratulations to the winner, Karen Simmons!
To celebrate the recent print release of The Healer, I'm giving away a signed copy of the book along with a mug. Just leave a comment here on this blog post and I'll pop your name into a hat and draw the winner on Wednesday 12th August.
Good luck!
Thanks so much for having me 😊
Stay safe and well and happy reading!
Best wishes,
Allison Butler xx
*Giveaway open to Australian Postal Addressees only
*Giveaway ends midnight AEST Tuesday 11th August 2020
*Winner notified by email
Subscribe by email to receive our occasional blog posts – and never miss a new book release!
Stay up-to-date on the latest Australian fiction releases and news