GUEST AUTHOR – Allison Butler and The Thief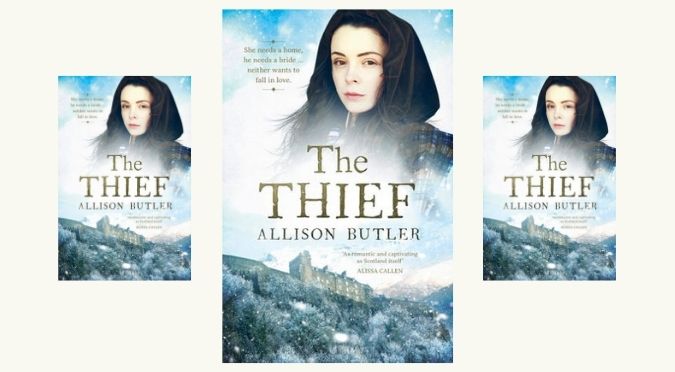 We're delighted to welcome back historical romance author Allison Butler with her new release
So without further ado let's head to the Anglo-Scottish border, 1402
THE THIEF
She needs a home, he needs a bride … neither wants to fall in love.
(Borderline Brides book #2 – can be read as a stand-alone novel)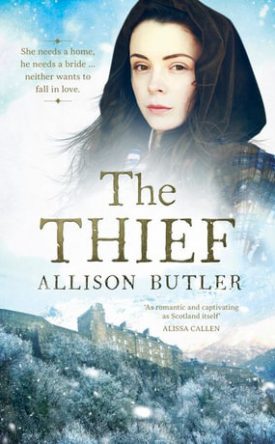 1402, the Anglo-Scottish border.
To fulfil his father's dying wish, border laird Lachlan Elliot must marry and sire a legitimate heir, cementing his family's name in the tumultuous borderlands. But he is determined his marriage will be one of convenience only – he has no time for the pain and betrayal of love.
So even when Lachlan catches a spirited thief stealing his horse, and she turns out to be the breathtaking daughter of a neighbouring laird, he vows to marry her, bed her, but never love her.
Kenzie never wanted an arranged marriage, but to be forced to wed the domineering laird who catches her thieving from his lands is even worse. Feisty, strong-willed and determined to make her own way, she may have no choice but to agree to the marriage, but she will never give up her independence. Lachlan may own her body, but he will never own her heart …
A few words from Allison
BELONGING
Everyone needs to belong: to fit in, to be a part of something.
When I was growing up, my sisters, brother and I changed where we went to school numerous times. The start of each new adventure began in a new place, wearing a new uniform – the navy belted box pleat uniform with the white shirt underneath was my favourite. Oh, did I mention my brown leather JC sandals? The first day was always filled with nervous excitement. I was excited to meet new people who over time could possibly turn out to be great friends. But along with my enthusiasm came an awful bundle of nerves that sat heavy in my stomach. How would the other students, the kids that already knew each other, act towards me. Would they smile, talk to me, and make me feel welcome? Would they accept me for the person I was?
Years later, I've spent my professional life working in a few different fields, and each time I started a new job, the first day was always filled with the same nervous excitement I'd experienced as a young girl. I found my place caring for the elderly at an aged care facility for the last twenty-nine years. I've seen residents and staff come and go, but whenever I see a new face, I make sure to smile at them and say hello 😊
In my latest release, THE THIEF, Kenzie Irvine was born the second daughter to a powerful man who was desperate for a son. Mostly forgotten, Kenzie made her own way in the world, adrift at times, but she's happy. Or so she thinks. The last thing she needs is to be caught stealing from Lachlan Elliot, another powerful man, who offers her the choice to marry him or to hang.
In love, in life, I hope you find your place, know your worth and feel like you belong.
Best wishes,
Allison Butler xx
BUY The Thief
The Anglo-Scottish border, 1402. A lush, sexy romance in the spirit of Diana Gabaldon.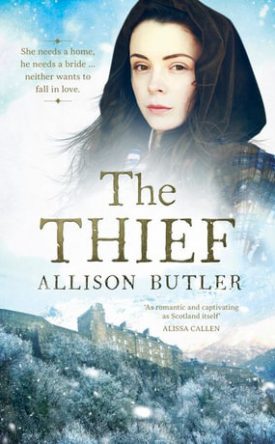 Excerpt from THE THIEF by Allison Butler
'What's it to be, lass?' He grasped the oak chair's armrests. 'Do I set my men to building gallows or do I ride to Dum­fries for a priest?'
She stared at him as if he hadn't spoken. It seemed she had more fight in her than her father. Or perhaps she was simply more stubborn.
'Your father was pleased by the prospect of a union between our clans.'
Her lips tightened. 'How many cattle did my father demand in return for sacrificing his remaining daughter?'
Lachlan inwardly flinched at the question. She knew her father well.
'How many cattle did you steal from me before you stole my horse?' He didn't know if she had stolen any of his cattle, but if she had, then he could lay the mystery of the worst reiver in the borders to rest.
'Why, do you plan on hanging me twice?'
Lachlan smiled, even as his fingers tightened their hold. 'Though it would be morbid, it can be arranged.'
Her chin angled a notch higher. 'Four. Two each time.'
Four. The precise number that had been lifted since the beginning of autumn. His fingers relaxed. Satisfaction slid through him at finally knowing who the thief was.
'Why did you take them?'
Defiance danced in her eyes. 'Because it was easy.'
She was doing her best to fuel his ire but he wasn't done yet. He needed to erase a niggling suspicion. 'Was your father involved?'
'Don't be ridiculous.' She spoke with complete convic­tion, without delay. The shocked expression she now wore suggested she was insulted by the idea of stealing alongside her father.
'Did you work alone?'
'Aye.'
He believed her. He returned to his initial question, hoping this time she'd reveal more. 'Why did you take them?'
Determination glittered in her eyes. She looked as if she could take on an army and single-handedly defeat them all. 'I had my reasons.'
Her reply was far from a clear answer but he suspected it was all he'd get from her. For now. Some skirmishes weren't worth the effort. He'd let this one go; he had a more impor­tant battle to win.
'Whatever you decide, I need to make the arrangements. The choice is yours, Kenzie.'
'Choice?' Disbelief infused the single word. 'You give me nae choice at all.'
She was right. She had no choice. It was a relief she'd finally acknowledged the fact. He rose from the chair and strode to the door. Turning, he looked at his soon-to-be wife.
'We will marry in the morn.'
'Forced marriages are doomed from the start.' A hint of desperation coloured her tone.
Lachlan ignored her dire prediction and scanned the sparse room. 'I will send someone to move you to a more comfort­able chamber.'
'Nae!'
His gaze darted back to Kenzie.
'I do not want to be moved,' she said firmly. 'I like this room. It reminds me of what I am.'
'And that would be?'
'A woman forced to do a man's bidding.'
Lachlan gripped the latch and swallowed the insult. His life would never be dull married to the she-devil glaring up at him.
'But first you were a thief caught stealing my horse.' He left the chamber.
On the shadowed landing outside the room, Lachlan drew a deep, fortifying lungful of air to cool the anticipation sim­mering in his blood. Soon he'd take Kenzie as his wife. Soon he'd have accomplished the first part of what he needed to achieve. They'd do well enough as man and wife. He'd glimpsed the vulnerability buried under her defiance and he understood her reluctance to marry.
He too was being forced to wed. The only difference was the man pushing her towards the altar was alive, while Lach­lan's enforcer was dead. The promise he'd given his father to wed continued to haunt him day and night. Despite Kenzie's aversion, but mostly because of it, she would marry him.
There'd be no chance for Lachlan to become a besotted fool and lose his heart to a woman who had openly admitted she'd rather hang than be his wife.
Allison – we love it! 
Allison Butler
Allison Butler is an author of Scottish historical romance. She spent her early years in country NSW building pretend castles with hay bales and leaping white posts with her army of two older sisters and a younger brother. Many years later, with her mother's influence, she discovered a passion for words and history, read her first historical romance and was inspired to create her own. She writes most mornings and cares for the elderly in the afternoons. Her love of travel has given her the gift of many amazing sights but none more heart-stirring than the rugged beauty of Scotland. Allison lives in a small town in NSW, Australia, with her very own Scottish hero. Their two beautiful daughters have left the nest to feather their own and have begun their own adven­tures. Allison loves spending time with family and friends, travelling, taking photos, reading, dancing like no one's watching and seeing the sights from the back of her husband's motorcycle.
Find Allison on her website and on Facebook and discover more about the author and her books
More books by Allison Butler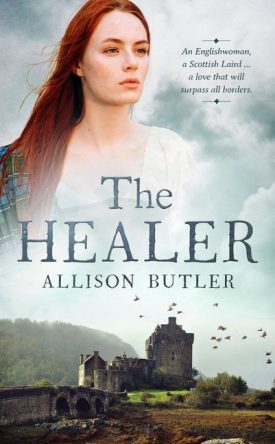 THE HEALER (Borderline Brides book #1 – can be read as a stand-alone novel)
An Englishwoman, a Scottish laird … a love that will surpass all borders. A sumptuous romance in the spirit of Diana Gabaldon.
1402, the Anglo-Scottish border.
Lynelle Fenwick is the daughter of an English lord, but was deemed cursed when her mother didn't survive childbirth and has been an outcast all her life. Raised by the village healer, who has since died, Lynelle truly is alone. When her younger half-brother is captured during a Scottish raid, she sees a last chance to redeem herself to the father who rejected her, and offers to be held captive in his place.
Across the turbulent border, Lynelle strikes a bargain with William Kirkpatrick, laird of Closeburn. She will spend two weeks inside the clan's castle tending William's younger brother who is in need of a healer's care. The laird has his own family curse to deal with, along with a deep distrust of healers – and Lynelle has exaggerated her healing skills to obtain her half-brother's freedom.
Despite their differences, William and Lynelle are drawn to each other … then an unexpected foe threatens to divide them forever … Enemies by birth and circumstance, they can only succeed together.
We hope you're enjoying our Book News 
Subscribe below by email to receive our occasional Book News blog post – and never miss a new book release!
We'd also love you to stay connected with us on Facebook & Instagram
Stay up-to-date on the latest Australian fiction releases and news