Cross My Heart – new release from Pamela Cook
Published:
September 26, 2019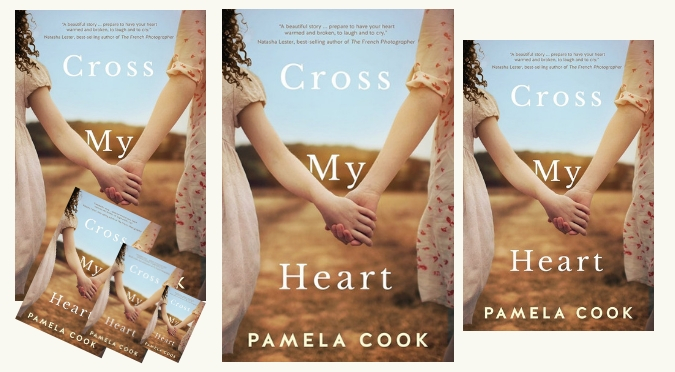 When a promise kept means a life is broken…
Cross My Heart
A haunting story of guilt, redemption and friendship that will have you turning pages well past bed-time.
Out now in eBook and paperback
Read an excerpt and read the author's answers to The 5 Big Questions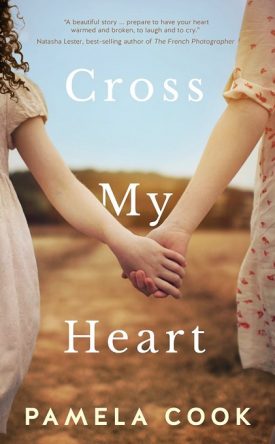 Tessa De Santis's child-free marriage in inner-city Sydney is ordered and comfortable, and she likes it that way.
When tragedy strikes and her childhood friend Skye Whittaker dies, Tess is bound to honour a promise to become foster-mother to Skye's ten-year-old daughter, Grace, throwing her life upside down.
Leaving her husband and work-driven life behind, Tess travels to an isolated property where the realities of her friend's life – and death – hit hard. The idyllic landscape and an unexpected form of therapy ease her fears, and her relationship with Grace begins to blossom.
But a secret from her earlier life with Skye refuses to remain hidden, and Tess is forced into a decision that will either right the wrongs of the past, or completely destroy her future.
Cross My Heart is a haunting story of guilt, redemption and friendship set in the beautiful central west of New South Wales.
Thanks so much to Australian Fiction Authors for sharing my new release Cross My Heart.
This is my fifth published novel and although it still has a rural setting it's more Women's Fiction than Rural Romance. It's a story about friendship and love, guilt and redemption, and so much more. Much of the story is set in the fictional town of Weerilla, very loosely based on the beautiful town of Millthorpe in the central west of NSW. I had a couple of research trips to the area and absolutely loved the countryside.
The characters in this story have become so real to me I find myself wondering what they're doing now. Putting a book out into the world is, in a sense saying goodbye to the characters you've written about (unless you're writing a series) but I hope they live on in the imaginations of my lovely readers and that they touch your hearts as gently as they have touched mine.
And I hope you enjoy this excerpt …
Pamela Cook
Excerpt from Cross My Heart by Pamela Cook
One tug on the curtain and Tess could watch the sunrise without getting out of bed. Beneath the silvery morning sky a soft blush dusted the hills, marking the outline of the distant ridge in a faint tinge of lavender. Yesterday's mist had returned, draping itself over the paddocks like a cloak, and another gossamer frost coated the tufts of grass closer to the house. The velvet throw rug she'd brought along for extra warmth was gentle and comforting, like the blanket she'd had as a child. Whenever she was sad or afraid she would snuggle into it and almost instantly she would feel safe and secure. The way Skye had wanted Grace to feel. It should have been so perfect, living a peaceful life out here, surrounded by paddocks and trees. All this space; all this beauty. Perhaps for a while it was, until the past had chased her down, chewing at her heels like a rabid dog.
A shrill cry sounded, high up. Tess shifted closer to the window. One solitary bird wheeled across the brightening sky. The night had been long, relentless. Lying there in the dark with everything red and black: the bleeding rat; those words flashing like a siren behind her eyelids. He has a daughter.
Even when she tried silently singing to herself, she couldn't drown out Skye's voice saying it over and over with that same sense of shock she must have felt when she'd found the report in the newspaper. A Melbourne paper.
How had she found it?
And why had she kept it?
The second question was one Tess wasn't sure she wanted answered. A headache was already niggling. Not the best way to start the day, especially when she would no doubt be called on for classroom duty. To be fair, Grace was pretty self-sufficient, probably following the routine her mother had set up. How either of them stood the monotony of doing the same thing day in, day out was the question. As good as Skye's intentions had been, Jules was right, the child needed company, not to mention a decent teacher.
A new noise, like the tinkling of a bell, floated in from the living room. Time to get up and investigate. The welcome smell of burning wood greeted her as she stepped through the doorway and belted up her dressing gown. They had this fire thing nailed. Grace was sitting at the piano, her left hand resting on the keys, her right hand playing some high notes at the treble end. It was a beautiful instrument, an antique upright, in pristine condition, a lighter shade of walnut than the wardrobe. It looked familiar, but where would she have seen it before?
Of course! It had belonged to Skye's grandmother. How was it only just occurring to her that the house was full of Jean's furniture: the wardrobe; the dresser in the kitchen with the leadlight doors; the double bed with its intricate wrought-iron bedhead; all of it had been in the house she'd spent so much time in while she was growing up.
Grace played on, both hands now on the keys, as she began to sing. The very first word stopped Tess mid-step. Her heart pounded out an erratic beat, like an overwound metronome, as she pictured the rainbow. Jean had sung the same song to Skye, and to her, when they were kids, the two of them crammed onto the armchair, watching the older woman's fingers caress the keys, the veins and brown spots patterning the back of her hands like the rivers and valleys of a foreign landscape. The rendition Grace was playing now was simpler, picked out mainly with her right hand with only the occasional chord added in the bass, but her voice, the sweet fragility of it, was achingly beautiful. Tess hugged herself tight at the mention of dreams and lullabies, bracing herself for the final line and the bluebirds flying away.
Finished now, Grace rested her hands on Grace rested her hands on her lap, head bowed, like one of the porcelain ornaments her great-grandmother might have had on her mantelpiece.
'That was lovely.' Her own voice sounded like a croak in the silence of the room.
Grace turned around, her face the colour of the clouds in the winter sky. She stared into the distance, as if at someone else, someone standing at the far end of the room, but then turned to look at Tess. 'Do you think that's where she is? Over the rainbow.'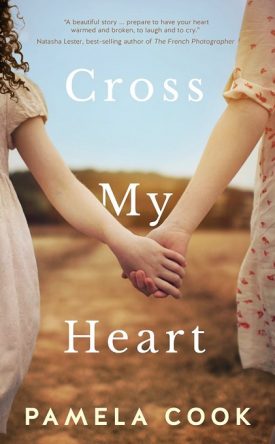 Buy Cross My Heart

Pamela Cook answers The 5 Big Questions
1. How long did it take you to write the book?
From starting the first draft to typing The End on the final revision probably took 18 months or more. There were a lot of stops and starts and a number of revisions to get it into the shape it's in now. I had quite a few beta readers this time around and it really helped me refine the story.
2. What was the most difficult or complex aspect of writing your book?
There were a couple of things …
This story has a darker edge to it than some of my others and without giving any spoilers away I wanted to make sure my descriptions of the experiences the main character, Tess, and her friend Skye went through were sensitively dealt with but also authentic. Some of my beta readers helped with this, along with feedback from my wonderful writing group, The Inkwell.
It's not a spoiler to say the story centres around the friendship between Tess and her friend Skye, who we find out very early on, passes away. I lost my best friend to MND almost four years ago. My life will never be the same without her – I miss her every single day. So writing about Tess and Skye's relationship was very difficult at times. Even though their friendship and story is very different to mine and Kathie's, the emotions were very similar which is why I've dedicated the book to her.
3. What gave you the most pleasure when writing your book? 
I hadn't really thought about this until now but writing about Tess's relationship with Skye's daughter Grace was definitely a huge pleasure. Watching both of them grow and begin to bond with each other was pure joy.
The other lovely experience was my research into equine-assisted learning, and my visit to Horsanity. There is plenty of light in the story as well as shade and it was wonderful to thread those happier moments through the narrative.
4. Are you nervous when a new release comes out?
Absolutely! Having writer friends and beta readers give you feedback does toughen you up but knowing the book is out in the world being read by strangers is both exhilarating and totally nerve-wracking. It's great to have it out there and to be able to talk about my characters though, and to let the story go and focus on the next one.
5. What's the best thing a reader could do if they enjoyed your book?
Three things:
Tell family and friends about it. Word of mouth is the best!
Write a review on Goodreads and/or your favourite online retailer. Reviews are crucial to writers – they let other readers know about the book and also push the book up the rankings so that there's more chance of people browsing the site finding out about it. It doesn't have to be a long review, just an honest report on what you liked about it and a ranking.
Do a shout-out about the book on social media – facebook, instagram or twitter. The more people hear about the book the more chance they will buy it
Pamela Cook
Australian fiction with a country heart featuring feisty women, tangled family relationships and a healthy dose of romance.
Read more about Pamela, her books, and discover where to find her on social media
Subscribe by email to receive our occasional blog posts 
and never miss a new book release!
Stay up-to-date on the latest Australian fiction releases and news