Coming soon – Something to Talk About by Rachael Johns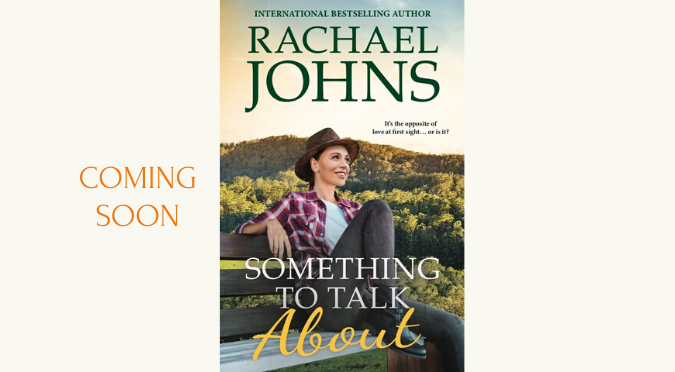 It's the opposite of love at first sight…or is it?
Something to Talk About
by International bestselling author Rachael Johns
Out 20 April and up for pre-order now in paperback and eBook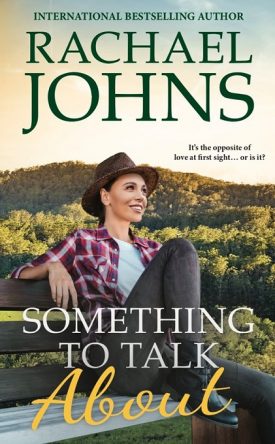 A moving story of overcoming obstacles and learning to love, from ABIA award-winning author Rachael Johns.
It's the opposite of love at first sight…or is it?
Dairy farmer Tabitha Cooper-Jones has a heart of gold, yet she's the eternal bridesmaid. Everyone's best mate. Despite facing some serious challenges over the years, she's built a successful ice-cream business and cafe, she's adored by her family and is an integral part of her hometown – there's just one thing missing from her life. But the last thing Tab wants is a man – or worse, love – to stop her achieving her dream.
In town for a temporary teaching contract, Fergus McWilliams thinks the small community of Walsh will be the perfect place to stay under the radar but he couldn't be more wrong. Suddenly, the kids' cricket team coached by Ferg is inundated with female supporters – single female supporters – and that's only the beginning.
The only woman who doesn't seem to have her sights set on Ferg is Tabitha. Despite a disastrous first meeting and a visit from a past love, circumstances keep throwing them together. Neither can deny the sparks between them, but can friendship even be possible for these two strong-willed people?
Find your pre-order links here or head to your favourite online eRetailer
(see our POSTSCRIPT below)
Read more about Rachael and her books
Subscribe by email to receive our occasional blog posts – and never miss a new book release!
POSTSCRIPT
Standing together while keeping our distance
reading throughout the COVID-19 crisis
If you're not comfortable visiting department stores and bookshops to buy your paperback books, there are alternatives. Many of our wonderful bookshops and online bookstores are changing the way they work simply to keep us reading.
We thank them all for the tremendous support to Australian authors and we will support them right back.
BOOKTOPIA
have *currently waived all postage costs in Australia – go buy! Then find them on Facebook and give them a Like.
DYMOCKS
stores have online ordering and individual stores throughout Australia are offering various means of buying and delivering books. Check with your local store. Find your local Dymocks store and then give them a Like on Facebook to keep up to date.
Find a Dymocks Store
https://www.dymocks.com.au/stores
BOOK DEPOSITORY
Free postage even if the books are coming from overseas – but don't be disappointed if your favourite author's books are not available. It's one of those things – not every author's book is available on Book Depository.
https://www.bookdepository.com/publishers/Australian
INDEPENDENT BOOKSHOPS
There are many in all states and territories. Some are offering free postage for a certain length of time or free postage with orders over a certain amount. Check with your local independent bookshop. Contact them directly by phone or email or through their websites. Find them on Facebook and give them a Like to keep up to date.
BIGW
Order and buy online including pre-orders
(*Standard delivery $3.90 – conditions apply)
TARGET
Order and buy online
(*Free click & collect available, free home delivery on orders over a certain amount. Free delivery available for Club Catch members)
https://www.target.com.au/c/entertainment/books/adult-fiction/W406087
* Notifications current at time of publishing this blog post and are taken from the business website. Please note that individual businesses may change their online purchasing conditions at any time. Always check with the individual business.
Stay up-to-date on the latest Australian fiction releases and news