COMING SOON – November 2022 to May 2023
Published:
November 16, 2022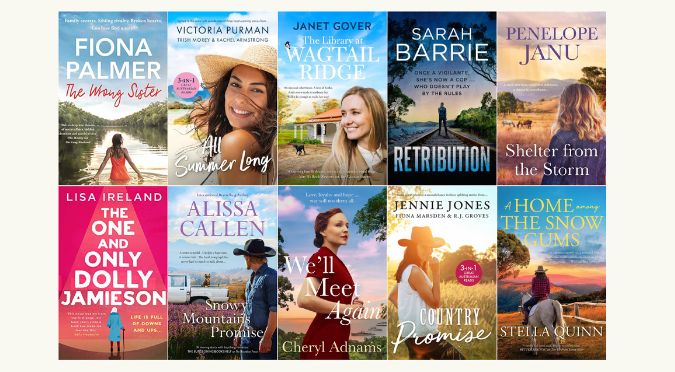 November 2022 to May 2023 new releases
up for pre-order now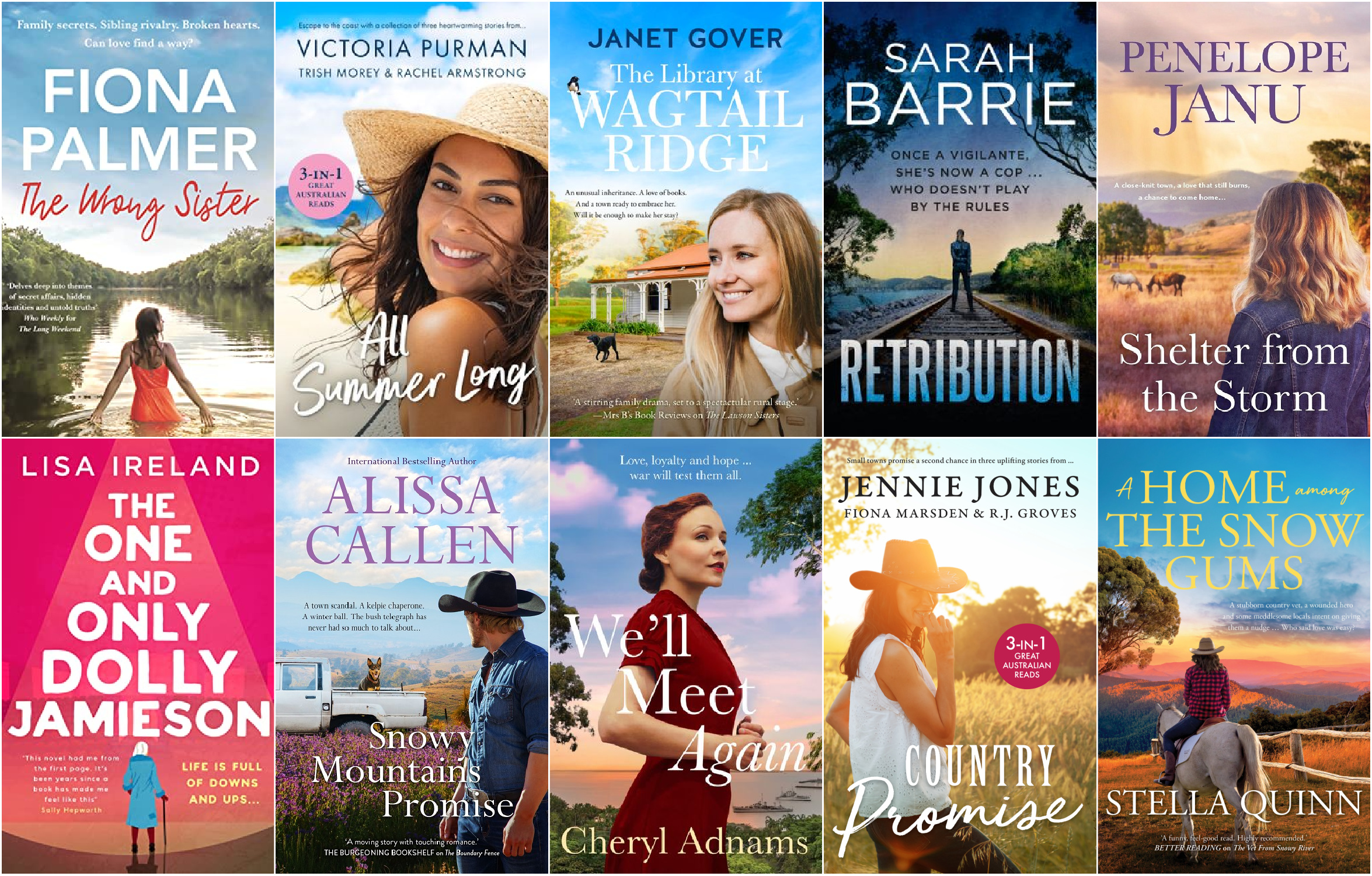 Read all the story blurbs in one place
Out 30 November 2022
Sometimes, your heart knows the truth even before you do.
'The new page-turning family drama from one of Australia's most popular storytellers.'
As she approaches thirty, dedicated nurse Ellen Sutton's life is how she wants it – well, almost. Her younger sister, Carrie, seems to have it all sorted though: a successful hair business, a devoted new boyfriend and a rosy future together. Even Ellen's brother, Bodhi, is settled with his petite, super-chill chef girlfriend, Ingrid. So why does Ellen suddenly give up her career and family for the red dust and toil of an outback cattle station? She's never run from anything before – it's new territory in more ways than one.
But Ellen can't run forever. And a family camping trip to Western Australia's beautiful Karijini country brings the three women together once again.
This trip won't be the dream camping holiday for any of them. But one way or another, it will show them the truth.
Pre-order The Wrong Sister
Read more about Fiona Palmer
Out 30 November 2022
'Escape to the coast with a collection of three heartwarming stories from Australian authors.'
*paperback only bindup
Nobody But Him by Victoria Purman
Fifteen years ago, Julia Jones left the small beachside town of Middle Point with a head full of grand plans. Plans that didn't involve a particular boy named Ryan Blackburn. Now Julia is back to finalise her mother's estate. But she didn't expect to run into her first love…or to fall back in love with him. Saying goodbye to her hometown – and to Ryan – turns out to be much harder the second time around.
One Summer Between Friends by Trish Morey
With a failed marriage behind her, and her career dreams in tatters, Sarah returns home to Lord Howe Island to run the family store. Paradise to most, it's the last place Sarah wants to be, trapped on an island with her two ex-best friends. Meanwhile Floss and Jules are dealing with their own problems, and Sarah's arrival just complicates things. This summer, can these women overcome the pain of the past and find their way back to the friendship they once had?
Reunited with the Millionaire by Rachel Armstrong
When Mirabella falls pregnant to her new boyfriend, it's not the end of the world … until she meets his wife. Pregnant, alone and contemplating life as a single mother, the last thing Mirabella expects is to run into her high school sweetheart or for him to invite her on an all-expenses trip to the Whitsundays. A platonic tropical holiday with an old friend could be the perfect remedy for heartache … or a recipe for more.
Pre-order All Summer Long
*paperback only bindup (each story is also available individually in eBook format)
Out 30 November 2022
An unexpected and unusual inheritance sets a young woman on the road to discover her mother's deepest secret. 'A charming and heartfelt rural romance perfect for readers of Rachael Johns and Karly Lane.'
When Lou Taylor inherits a quaint country cottage and a mobile library full of books from her birth mother, she heads to the small town of Wagtail Ridge to learn more about the woman she never knew. Curiously, the last piece of the bequest is a handwritten letter, the first of many Luca left scattered along the library's route in hopes of finally sharing her secrets with the daughter she had to give up.
The townspeople of Wagtail Ridge flock around Lou, wanting to share the stories of Luca's life, but she knows she must learn about her birth mother in the way Luca intended. Jake Barnes, her new neighbour, offers to help her follow the trail, but weighing on his conscience is a promise he made to Luca – a secret that now stands between him and the woman who's slowly capturing his heart…
As the kilometres fly by, Lou gradually untangles who her mother was and what lay behind the choices she made. At the same time, she finds herself drawing ever closer to kind, handsome Jake. But will it all be enough to keep her in Wagtail Ridge when she has another happy life waiting for her in the city?
'A captivating story of love, family and belonging from award-winning romance author Janet Gover.'
Pre-order The Library at Wagtail Ridge
Read more about Janet Gover
Out 30 November 2022
Once a vigilante, she's now a cop … but she still plays by her own rules. 'A fast-paced, suspenseful thriller for readers of Candice Fox and Sarah Bailey.' 
Ace hacker, ex-prostitute, Jack Daniels drinker and part-time vigilante Lexi Winter returns, now working with the police – mostly – with a new enemy in the target and an old foe at the back of her mind.
Most probationary constables would baulk at chasing a drug dealer into a train tunnel in the dead of night. Not Lexi Winter. She emerges injured but alive, to face the wrath of her boss. Lexi may now be in uniform, but she has as much trouble with authority as ever, and is quietly using her hacking skills to investigate a notorious drug-dealing Sydney crime family with links to her old prey, the paedophile Damon Vaughn.
Meanwhile, Detective Sergeant Finn Carson investigates a death on a Sydney building site … which oddly enough, leads him to the picturesque Wondabyne station on the Hawkesbury River, and Inspector Rachael Langley oversees an investigation that could tie it all together. Lexi holds the key … if only she'll toe the line …
Pre-order Retribution
Read more about Sarah Barrie
Out 4 January 2023
When Patience Cartwright is stranded in her home town, the last thing she expects is a second chance at love…
Fiercely independent naval officer, Patience Cartwright has never had a place to call home, but she knows where she doesn't belong. After an unhappy childhood and a badly broken heart, she'll never return to the country.
But to save her career, Patience is forced to accept a secondment – to an environmental team working near the town where she grew up. There she encounters once more the infuriatingly attractive biologist Hugo Halstead – the very man she's sworn never to forgive.
Given their history, Hugo, as self-assured and honest as Patience is secretive and self-contained, has vowed never to trust her again, but that doesn't stop him feeling just as helplessly drawn to her complicated mix of courage and fragility as he ever was.
As Patience recuperates from a life-threatening illness in the small country town of Horseshoe Hill, she realises the beauty of the landscape and close-knit community promise something very different to the future she's mapped out.
But could the secrets she keeps and the shadows of her past, send her adrift all over again?
Pre-order Shelter from the Storm
Read more about Penelope Janu
Out 10 January 2023
Life is full of downs and ups…
Dolly Jamieson is not homeless, she's merely between permanent abodes. The 78-year-old spends her days keeping warm at the local library, where she enjoys sparring with the officious head librarian and helping herself to the free morning tea. It's not so bad, really.
But it's certainly a far cry from the 1960s, when this humble girl from Geelong became an international star of the stage. As the acclaimed lead in the Broadway production of The Rose of France, all Dolly's dreams had come true.
So how, in her old age, did she end up here?
When Jane Leveson, a well-to-do newcomer to the library, shows an interest in Dolly, the pair strike up an unlikely friendship – and soon Jane is offering to help Dolly write her memoirs.
Yet Dolly can detect a deep sadness in the younger woman's eyes. Perhaps by working together to recount the glittering highs, devastating lows and tragic secrets of Dolly's life, both women can finally face their pasts and start to heal . . .
Pre-order The One and Only Dolly Jamieson
Read more about Lisa Ireland
Out 1 February 2023
'A delightfully charming rural story about love and healing from bestselling Australian author Alissa Callen.'
Hettie Burbrook is the first to admit she's happiest when flying solo through the outback skies. After her hobby of photographing farmers lands her a book deal, it provides the ideal cover story to visit small-town Bundilla. But every photograph brings her closer to uncovering the answers behind why she is really in the mountains…
Deer farmer Taite Lancaster is as strong as the tempered steel he welds into lifelike animal sculptures. Unlike his father, he will never allow feelings to break him. But when the old school friend of his twin sister lands on the airstrip of their high-country station, he knows he's in trouble. Hettie is the one woman he can't forget.
While determined to keep to themselves, between dog races, a ute muster and a winter ball, Hettie and Taite are forced to face how much they need each other. And when a long-buried scandal erupts into the present, relationships and lives are threatened.
Can a man who locks away his emotions reveal his vulnerability before the mountain snow melts? And can a woman intent on righting a decades-old tragedy listen to her heart before history repeats itself?
Pre-order Snowy Mountains Promise
Read more about Alissa Callen
Out 8 March 2023
'A poignant story of love, loss, ambition and family set against the dramatic backdrop of the second world war.'
November 1941
Australian sisters Elizabeth and Maggie Cardwell have accompanied their father on his diplomatic assignment to Hawaii where bright blue skies, a radiant sun and the swaggering confidence of flirtatious American sailors make war feel like a distant threat. When the sisters meet the handsome Baker brothers on the sparkling white shores of Waikiki beach, Maggie falls hard and fast for Cody while Elizabeth discovers an easy friendship with his older brother, Tom, under the shared responsibility of chaperoning their wild younger siblings.
But mere days after the Cardwells board a ship back to Australia, Pearl Harbor is attacked and memories of sun-kissed afternoons and beach romance are fast eclipsed by fear and uncertainty.
With the war now very real to them all, the sisters embark on two very different paths that will take them to opposite ends of Australia, threaten their safety, and test their bonds of friendship and family. As the war continues to tear lives and loves apart, neither sister expects to cross paths with the Baker brothers again. But perhaps the pull of fate is even more powerful than the chaos of war…
Pre-order We'll Meet Again
Read more about Cheryl Adnams
Out 8 March 2023
In three Australian small towns, the promise of a second chance is just around the corner. 'Three uplifting stories from Jennie Jones, Fiona Marsden, R.J. Groves.'
*paperback only bindup
The House on Jindalee Lane by Jennie Jones
When a big-time producer threatens to ruin Edie Granger's career the actress flees to her remote hometown and opens a theatre to produce her own play. Childhood friend and ex-commando Ryan Munroe is also back in Swallow's Fall and Edie is torn between her growing attraction to him, her career, and a rekindled love for her hometown. But when elements from the play start happening for real, things turn dangerous. Can Edie pull off the biggest role of her life? And can Ryan ensure everyone survives to make it to the curtain call?
A Matter of Trust by Fiona Marsden
Forced from his twelve-year-long self-imposed exile, Doctor Morgan Cavanaugh must face his demons and confront the girl he left behind. Only Becca Walters is hiding a secret … or two. Becca has finally fought her way to respectability, but with Morgan's return she must face the consequences of long-ago decisions, made without his knowledge. Together they'll have to face the past in order to make a future.
Say You'll Be Mine by R.J. Groves
Shannon Hopkins is content with his life – or so he'd thought until his best friend's little sister shows up. The longer Jannette is around, the more whole Shannon feels. The only problem is, she'll be headed back to the city soon, and he'll be the sorry fool left heartbroken in the country. But when it seems that Jannette might have a stalker and Shannon finds himself needing to marry to access an inheritance from his traditionalist grandfather, there's only one possible solution: a marriage of convenience. How could that not be a good idea?
Pre-order Country Promise
*paperback only bindup (each story is also available individually in eBook format)
Out 3 May 2023
The road to love is a rutted dirt track for the other vet from Snowy River … 'An unmissable funny, feel-good romance from the author of The Vet From Snowy River, Stella Quinn.'
Hannah Cody grew up sunny, carefree and loved in the Snowy Mountains town of Hanrahan, but a vicious prank at university in Sydney changed that. Instead of studying medicine, she moved to a small regional centre, switched to veterinary science and swore off romance for life. Ten quiet years later, she's settled. She's safe. And yeah, she hasn't left Hanrahan in years, but that's not agoraphobia is it? It's not hiding if you're happy.
After many years abroad as a naval analyst, Tom Krauss is drawn home by his estranged father's deteriorating health and his own secret injury. But as soon as he sets eyes on Hannah again, he realises that he's never forgotten the engaging little sister of his best friend. He loved her when he was a teenager, and now he knows he never stopped. Problem: romance is a no-go. There's a piece of shrapnel wedged against his spine, and the countdown is on for him to make a surgical decision that could free him from pain … or paralyse him.
But the Hanrahan townsfolk have other ideas: it's time for Hannah to work out that living with your heart wide open is worth the risk, and it's time for Tom to learn that love is messy and wonderful and necessary. Change is afoot in this small town, and these two will have to work out if they can be brave enough to make changes too…
Pre-Order A Home Among the Snow Gums
Read more about Stella Quinn
We hope you're enjoying our Book News 
We'd love you to follow us on Facebook & Instagram
You can also subscribe below by email to receive our occasional Book News blog post – and never miss a new book release!
Stay up-to-date on the latest Australian fiction releases and news