COMING SOON – May to September 2022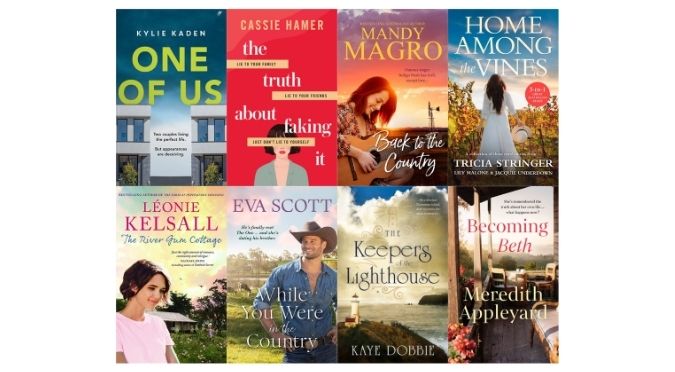 Eight fabulous books coming our way soon and all up for pre-order now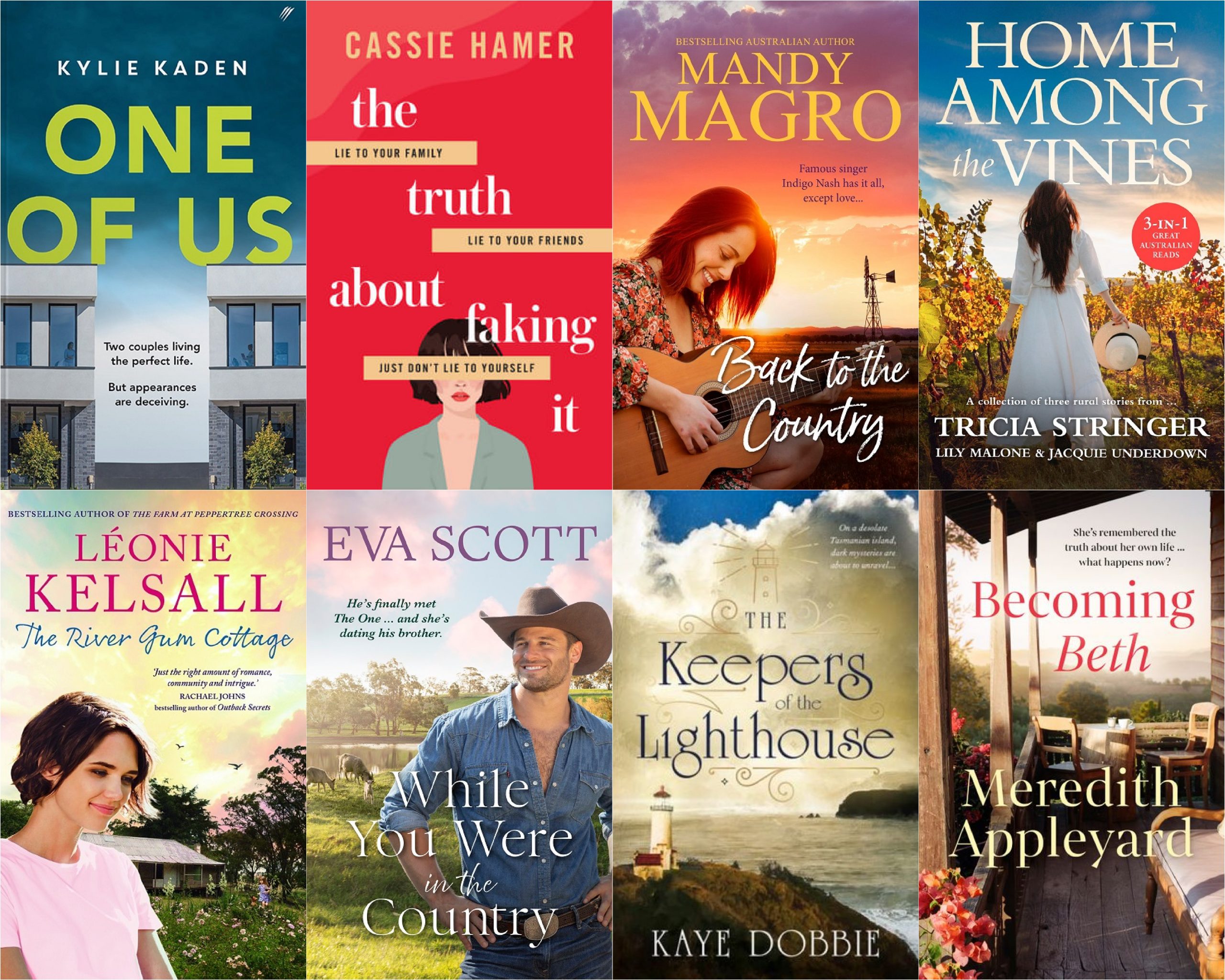 Read all the story blurbs in one place …
Out 3 May 2022
'A riveting domestic thriller with an explosive climax.'
Behind the tall hedges of the affluent, gated community of Apple Tree Creek, not all is as it seems …
Out of the blue, Gertie's husband decides they need a break and he's leaving her with their three children. Two streets east and three gardens down, successful businesswoman Rachael discovers her husband has cheated on her – again – even though she's pregnant with his third child. Thrown together by a chance encounter, the two women bond over the shared disaster that is their marriages.
But did one husband push his wife too far?
When the ambulance sirens cut through the serenity of Apple Tree Creek, the small community is shocked at the violence that's played out in their midst. CCTV reveals no outsiders visited the estate that night, confirming that the assailant must have been one of their own. Is the culprit still living among them? And why didn't any of the cameras, designed to keep them all safe, catch anything?
As the web of neighbourly relationships unravels and the workings of their inner lives are exposed, questions will be asked, but not everyone wants to learn the answers.
You can only push people so far.
Pre-order One Of Us
Read more about Kylie Kaden
Out 4 May 2022
'Funny, smart, heartfelt fiction for readers of Holly Wainwright from a distinctive new voice.'
Lie to your friends. Lie to your family. Just don't lie to yourself…
The Trainor women have always been excellent at hiding their true feelings… until now. Ellen's estranged husband, David, has managed to interrupt her fabulous life of bridge and zumba by getting himself killed in a Thai boating accident. She's hardly surprised. It's simply the final in a long line of mistakes, the first was leaving her to go on a worldwide sailing trip with his mysterious, long-lost brother. Ah, well. At least she's now free to marry her rich but dull boyfriend, Kenneth.
Regrettably, her daughter, self-possessed TV news broadcaster Natasha and granddaughter, reality TV producer Georgie, seem to take the whole 'dead' thing very personally and they decide to dig deeper, though neither really has time. Natasha is on the nose at her network and a toxic secret from her past is about to set off a catastrophic personal crisis. Meanwhile, Georgie is furiously focused on denying her true feelings for a contestant on her show, The Single Gal.
Neither Ellen, Natasha, nor Georgie are agreed on quite how they should feel about David's death but they're certain about one thing – it isn't quite what it seems – and discovering the truth will unravel the tapestry of lies they've been spinning to themselves and each other.
One way or another, all three women are faking it and as matters come to a head, the truth wills out in the most unexpected of ways…
Pre-Order The Truth About Faking It
Read more about Cassie Hamer
Out 4 May 2022
'Set in the heart of the Australian countryside comes a compelling romance with a touch of mystery from bestselling author Mandy Magro.'
Country singer Indigo Nash has it all, except love…
At the height of her musical career, Indigo should be nothing but happy. But Indi is disillusioned with show business, finding herself depressed and lonely. When she reaches breaking point, a simple life back in the country begins to beckon her. But the demons left lingering in the shadows from a childhood trauma follow her, and reoccurring nightmares of that fateful night plague her… Can she unearth the truth of her family's deep dark secrets?
For two years Harley Knight has travelled the world with Indi as her bodyguard. She's a stubborn woman who drives him nuts, but also, in her vulnerable moments, shows him a side of herself he secretly loves and always has since they were teenagers. When she hits rock bottom, he convinces her to return with him back to their hometown of Kuranda and stay at his property, where Harley hopes the peaceful landscape will give her the time and space she needs to heal.
With these precious few weeks, can he show her what she's missing by constantly running away, or is time to let her go?
Pre-order Back to the Country
Read more about Mandy Magro
Out 1 June 2022
A paperback-only bindup of previously published stories by Australian authors
A collection of three rural stories about finding home in unexpected places.
SOMETHING IN THE WINE by Tricia Stringer
High school teacher Keely's beach holiday plans are turned upside down when a medical emergency and an intervention by a kind stranger finds her recovering in a Margaret River vineyard instead. At first left downcast, slowly the lovely food, spectacular wine and beautiful landscape of the area begin to work their spell. Keely didn't mean to fall for anyone, but she can't help her feelings for clever, passionate wine-maker Flynn. Can what Keely feels be real? Or is it just something in the wine?
THE GOODBYE RIDE by Lily Malone
Olivia is a woman on a mission. The motorbike that once belonged to her late brother has come up for re-sale, and she is determined to buy it back. Only one person stands in her way; and she's just tripped and fallen at his feet. How far will Liv go to make the motorbike hers? Can a viticulturalist fall for a man who prefers beer? And will a weekend among the vines be long enough for Liv to believe she can trust him with her heart?
SWEET FROM THE VINE by Jacquie Underdown
Back in her hometown for a fresh start, newly divorced Matilda has landed the perfect job on the breathtaking local vineyard. The only catch is Mitch – widower, single dad, her old high school flame and her new boss. When the sparks between them grow so bright they can't be ignored, Matilda is forced to question what she truly wants in life. But first Mitch must learn that moving on is not a betrayal, and find the courage to fight for his second chance at love.
Pre-order Home Among the Vines
(paperback-only bindup)
*All stories in this bindup are available individually as eBooks
Out 5 July 2022
'A heart-warming rural romance from the best-selling author of The Wattle Seed Inn.'
Sometimes, home isn't a place: it's a feeling.
Lucie Tamberlani had it all: a business manager with a passion for naturopathy, she was set to take over the bookwork at the family strawberry farm in South Australia. But the unexpected fallout from a relationship sees her flee to Melbourne, raising her daughter alone. Summoned back to the farm after her father's death, Lucie must find a way to deal with not only grief, guilt, and the betrayal that forced her away – but the fear of losing her daughter.
Jack Schenscher is doing it tough: caring for his aged grandparents and managing their wheat farm while simultaneously pursuing his passion of sustainable eco-farming on his own acreage leaves him with little time and even less money. With the death of his business partner, he could lose all he has worked toward. Yet when he meets Lucie, can he set aside one passion for another?
Both Lucie and Jack must discover that home is wherever the heart is.
Pre-order The River Gum Cottage
Read more about Leonie Kelsall
Out 3 August 2022
'Inspired by the popular 90s romcom While You Were Sleeping, this is both a nostalgic throwback and a modern-day love story about what happens when the man of your dreams isn't quite who you expected.'
He's finally met The One … and she's dating his brother.
Ant Murphy has spent his life picking up after his famous AFL star brother. So when he gets a phone call telling him that Jed has ended up in the hospital after a drink-driving incident, Ant is far from surprised. He's not even shocked by Jed's manager's wild scheme to have him spend the next six weeks living in the country with a girlfriend Ant didn't even know about. All par for the course in his brother's crazy life.
In fact, Ant isn't thrown by anything … until he turns up at the new girlfriend's farmhouse and discovers that he already knows her. Intimately.
Frankie Fox has dealt with a lot over the last few weeks. She's turned thirty, lost her roof in a storm, been ghosted by The One, and is now somehow dating her longstanding celebrity crush, THE Jed Murphy. But none of these come close to the blow of having The One turn up on her doorstep after weeks of silence … and for him to turn out to be Jed's brother.
With a secret she's forbidden from revealing, growing feelings for her boyfriend's brother, two Murphys living in her home and her future happiness on the line, Frankie must ask the most important question of all: is all this trouble really worth a new roof?
Pre-order While You Were in the Country
Read more about Eva Scott
Out 3 August 2022
'A lonely windswept lighthouse island in Bass Strait hides a dangerous secret hundreds of years in the making … Secrets and sabotage keep readers guessing in the new novel from Kaye Dobbie.'
1882
Laura Webster and her father are the stalwart keepers of Benevolence Island Lighthouse, a desolate place stranded in the turbulent Bass Strait. When a raging storm wrecks a schooner just offshore, the few survivors take shelter with the Websters, awaiting rescue from the mainland. But some of the passengers have secrets that lead to dreadful consequences, the ripples of which echo far into the future …
2020
Nina and her team of volunteers arrive on Benevolence to work on repairs, with plans to open up the island to tourists. Also on the expedition, for reason of his own, is Jude Rawlins, a man Nina once loved. A man who once destroyed her.
But the idyllic location soon turns into a nightmare as random acts of sabotage leave them with no communication to the mainland and the sense of someone on the island who shouldn't be there.
The fingers of those secrets from the passengers lost long ago are reaching into the present, and Nina will never be the same again …
Pre-order The Keepers of the Lighthouse
Read more about Kaye Dobbie
Out 7 September 2022
'Beth has forgotten the core truth of her own life. In a cruel move, her dead mother is about to remind her. A wise and ultimately warm-hearted story about self-discovery, family and community for readers of Tricia Stringer and Liz Byrski.'
Since adolescence, 58-year-old Beth has lived her life with blinkers on, repressing the memory of a teenage trauma. Her mother, Marian, took control of that situation, and of all else in their family life – and as much as she could in the small town of Miner's Ridge as well.
Now Marian is dead, and Beth, unemployed and in the middle of an embarrassing divorce, is living with her gentle-hearted father in the family home. Beth feels obliged to take over her mother's involvement in the local town hall committee, which becomes a source of new friendships, old friendships renewed, and a considerable amount of aggravation.
Researching town hall history, Beth finds photographs that show Marian in a surprising light; sorting through Marian's belongings, she realises that her mother has left a trail of landmines, cruel revelations that knock the feet out from under her supposed nearest and dearest. Beth struggles to emerge from the ensuing emotional chaos … in middle age, can she really start anew?
'A deeply felt, acutely observed novel about mothers and children, about what people hide from themselves and each other, about the richness and difficulties of community, and about becoming your own person.'
Pre-order Becoming Beth
Read more about Meredith Appleyard
We hope you're enjoying our Book News 
We'd love you to follow us on Facebook & Instagram
You can also subscribe below by email to receive our occasional Book News blog post – and never miss a new book release!
Stay up-to-date on the latest Australian fiction releases and news