COMING SOON – March, April, May new releases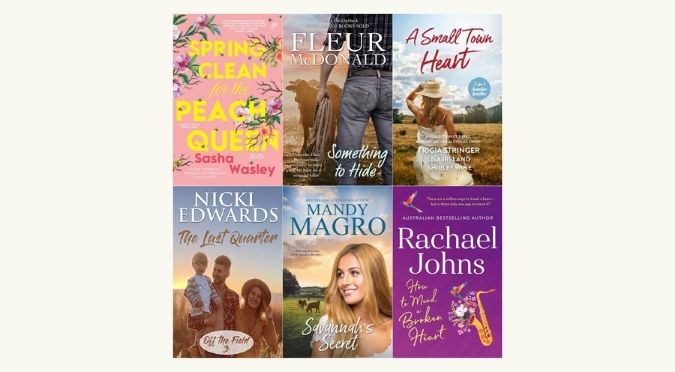 Coming soon and up for pre-order now in paperback and eBook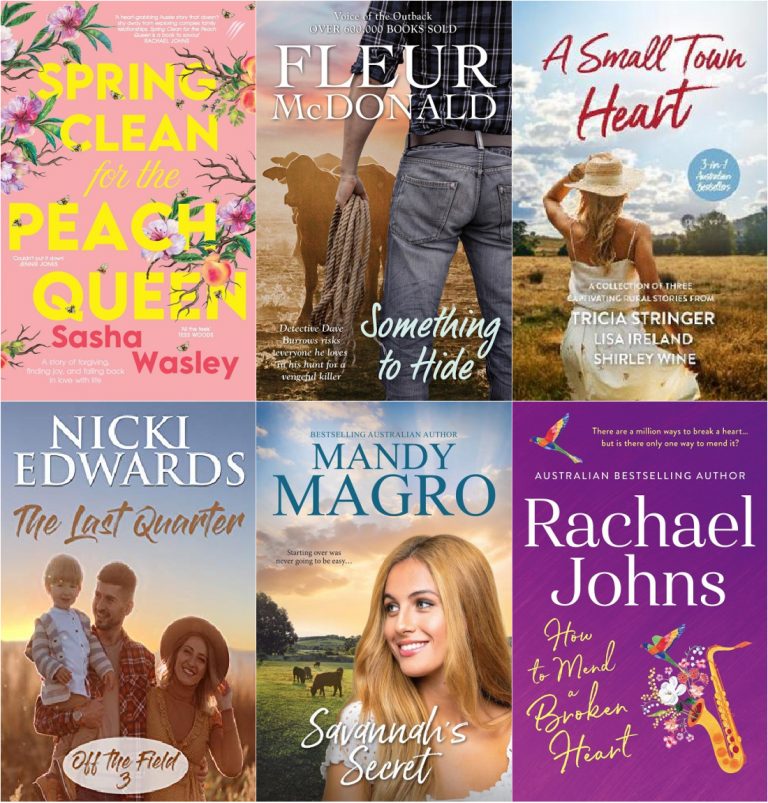 Let's take a walk through six fabulous upcoming new releases
Sasha Wasley, Fleur McDonald, Tricia Stringer with Lisa Ireland and Shirley Wine,
Nicki Edwards, Mandy Magro and Rachael Johns
Releasing 30th March 2021
A deeply moving story about forgiving, forgetting and falling in love with life again.
Twelve years had passed since the last Harvest Ball. I was just eighteen when my hometown crowned me their Peach Queen with a blossom coronet. And I was eighteen when I left.
One tanked career, one badly timed glamour shoot and one dead boyfriend later, thirty-year-old Lottie Bentz is finally going home.
Back in the orchard town of Bonnievale, Lottie embarks on a radical declutter of her life, Marie Kondo-style. She casts out everything that got her into trouble: her phone, socials, make-up and a tendency to tell little white lies – to herself and others. But home has its own issues, not least Lottie's staunchly feminist mother, who is furious with her.
When Lottie lands herself a place to stay in exchange for helping kindly Mrs Brooker try out the Kondo method, it seems like the perfect farm escape. That's until Angus, Lottie's former Peach King and heir to the Brooker orchards, makes it clear she's not welcome – especially when Lottie's declutter begins to stir up long buried memories and half-truths.
As Lottie finds her way back to herself, can she use her talents to coax Bonnievale and the Brookers out of the past? After all, everyone deserves to feel love, hope and the occasional spark of joy.
PRE-ORDER Spring Clean for the Peach Queen
Read more about Sasha Wasley and her books and discover where to follow her on social media
Releasing 30th March 2021
With her acclaimed skill for tension and drama, Fleur McDonald has delivered another compelling story in Something to Hide.
With the sickening realisation that his cover has been blown, Detective Dave Burrows knows his family is in serious danger from the vicious stock thieves and murderers, Bulldust and his brother Scotty.
Bent on revenge, Bulldust and Scotty are hiding out close to Dave and Mel's old home town of Barrabine. When devastating news brings Dave back there, he has to question his determination to stay in the police force. How could he face himself if anything happened to Mel and the kids?
Mel, understandably frightened, must decide who she'll listen to. Can she live with this threat hanging over her family, or is her father right to argue that she should leave Dave immediately?
Detective Dave Burrows risks everyone he loves in the hunt for a vengeful killer.
PRE-ORDER Something to Hide
Read more about Fleur McDonald and her books and discover where to follow her on social media
Releasing 7th April 2021
Paperback only although each story in this bindup can be purchased individually as an eBook.
A collection of captivating rural stories from three bestselling Australian authors.
Queen of the Road by Tricia Stringer
For struggling single mum Angela Ranger, a job driving trucks in small town Munirilla is a lifeline. But Munirilla may not be the godsend it seemed. Her accommodation is dingy, her fellow truckies are less than happy to see her, and the locals are reluctant to use her services.
As much as he likes Angela, farm-manager Coop has problems of his own – sheep are going missing, his neighbours are acting strangely and the demons of his past are urging him to move on again. Put to the test, will they follow reason and leave? Or follow their hearts and build a home…together?
Honey Hill House by Lisa Ireland
Newly divorced Bea Elliot needs Honey Hill House for more than just a quaint project – converting the ramshackle farm house to a successful B&B will prove to her family, and herself, that she is strong enough to go it alone.
Callum 'Mitch' Mitchell will be neighbourly to the new city girl. But experience has taught him not to get involved with out-of-towners – even if they're surprisingly irresistible. Good fences make good neighbours but in small town Dulili, it seems like barriers might instead be breaking down…
Ask Me No Questions by Shirley Wine
Returning to Darkhaven after ten years, Logan is greeted with suspicion and distrust. Cambridge residents have long memories and he quickly discovers he can't escape the ghosts of his past, Piper – the woman he left behind – or the grief that threatens to bring him to his knees…
He's heard it said often enough that you can never return home…and it looks like they were right. Will learning his secrets push Piper further away, or will he get a second chance at love?
PRE-ORDER A Small Town Heart

Releasing April/May 2021
Could this be her second chance at life and love?
Independent barrister Zara Pritchard never planned on returning to her hometown of Glengarrick, but a shock breast cancer diagnosis while pregnant with her son forces her to rely on others for a change.
For Dr. Ryan Dunlop, Glengarrick is exactly the place he needs to avoid the spotlight after a simple mistake as an AFL club doctor almost cost him his career. As soon as the dust has settled, he intends to return to Queensland.
At least that's the plan until he falls hard for the first woman he meets in town. But Zara doesn't have time for romance. She's too busy with a new business venture and raising Finn, whose DNA she needs to keep a secret.
Can Ryan convince Zara he's the one for her and Finn? And if Zara opens her heart to Ryan, will his feelings for her change when he discovers the truth about her past?
PRE-ORDER The Last Quarter

Read more about Nicki Edwards and her books and discover where to follow her on social media
Releasing 5th May 2021
Set in the heart of the Australian countryside comes a compelling romance with a touch of suspense from bestselling author Mandy Magro.
Starting over was never going to be easy, especially as he's looking for the one thing she can't give … the truth.
Savannah Silverton remains resolute in testifying as the sole eyewitness in Brisbane's most dangerous criminal case. For safety, the police have furnished her with a new identity and instructions to keep to herself. With a shiny new driver's licence in hand and job as a barmaid lined up, this die-hard city girl finds herself stepping off a bus and into the desolate street of the small country town she's now to call home.
Ash Sullivan has it all, money at his fingertips, his own property, and a successful chopper mustering business. But when it comes to love, he's failed miserably. Bitter experience has taught him that if he is ever lucky enough to meet a special woman he can fall for again, she has to be upfront from the get-go, no matter what.
These are two people, as different as chalk and cheese, who were never meant to meet until fate intervened. Will they grow to be the person each other needs? Or will their differences drive them apart?
PRE-ORDER Savannah's Secret
Read more about Mandy Magro and her books and discover where to follow her on social media
Releasing 5th May 2021
Summer in New Orleans means hot days, long nights, spooky stories and surprising new beginnings.
Felicity Bell has struggled to move on after her marriage broke down. Her ex has found love again, her children have their own lives, and it's beginning to feel like her only comfort comes from her dog and her job as a taxidermist. So when Flick gets an offer to work in New Orleans for a few months, she's drawn to the chance to make a fresh start.
Zoe is ready to start a family with her husband, but when he betrays her, she's left shattered and desperate for a change of scenery. Joining her mother on the other side of the world to drown her sorrows seems the perfect solution.
Although both mother and daughter are wary of risking their hearts to love again, Theo, a jazz bar owner, and Jack, a local ghost hunter, offer fun, friendship and distraction. But all is not as it seems in New Orleans…
A chance meeting with Aurelia, a reclusive artist who surprises them with lessons from her life, prompts Flick and Zoe to reassess what they want too. Can all three women learn from the past in order to embrace their future?
An uplifting novel about three women joyously learning to move on after heartbreak by the bestselling author of The Patterson Girls and Flying The Nest.
PRE-ORDER How to Mend a Broken Heart
Read more about Rachael Johns and her books and discover where to follow her on social media
We hope you're enjoying our Book News!
Subscribe below by email to receive our occasional Book News blog post –

 
and never miss a new book release!
Stay up-to-date on the latest Australian fiction releases and news